There's little doubt that there is a segment of the Republican party that is interested in stoking political violence. It has always been there among social conservatives, but in recent history, perhaps in some part due to technological advances, we're seeing more and more official representatives of the Republican Party produce implicit (and sometimes explicit) calls to violence against immigrants, TLGB, racial minorities, and liberals in general.
Here in Loudoun County, we saw two horrific images come from official representatives of the Loudoun County Republican Committee. The first was discussed in this diary by lowkell of Blue Virginia, and later reported by many national news sources. I won't bother re-posting the image, as it has been disseminated far and wide by now, but it is a collage of zombie Democrats. Though tasteless, the theme itself was not the problem. It was the image of President Obama with a bullet in his forehead that crossed the line that Republicans are, unfortunately, willing to cross all to often nowadays.
While that piece drew lots of criticism and condemnation from other Republicans even, it was rather tame in comparison to an image my Republican opponent for Loudoun County Supervisor, Eugene Delgaudio, distributed nationally to the three million member list that subscribe to his hate filled newsletter: 'Public Advocate of the US'.
Eugene Delgaudio routinely engages in the vilification of gay, lesbian, bisexual, and transgendered persons. It's how he earns his living. Most who know of his brand of politics have gotten used to his bizarre tales of the "homosexual agenda" and other nefarious liberal plots. Perhaps concerned that his membership has grown numb to his efforts at shocking money out of their pockets with his words, he decided to try his hand at creating imagery that would move them. The result was this:

His defenders tried to claim that it was not supposed to represent blood or violence, but as Stevens Miller of Without Supervision reported, if you google the term 'Blood Door', you find this: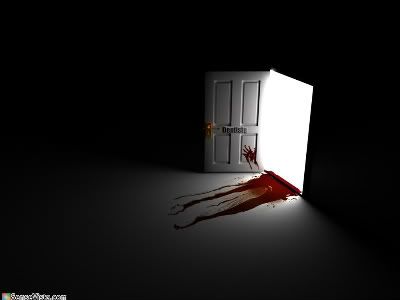 I noted some of my opponent's more bizarre positions in a previous diary, where I also provided some info about me and my campaign. We are statistically tied in the polls that have come out on the race, and we need to do everything we can to get out the vote. If you are in the DC area, we need your help at the doors. If you're outside of the DC area, we can use your help on our virtual phone bank. Please go to http://www.al4sterling.com/... and fill out the form so we can work together to take out this hate monger.
We could also use a little more money to send mail out to voters who don't know about Eugene Delgaudio's disgusting views and tactics. Please donate today so we can take away the legitimacy that comes form holding public office, and silence Delgaudio's megaphone once and for all.