In many senses this is a diary born out of frustration and anger, but with large measures of despair. Invariably and unsurprisingly, women are disproportionately bearing the brunt of cuts due to the introduction of austerity measures in the UK and in much of the advanced capitalist world. We are not only facing the brunt of cuts to jobs and wages, but attacks on benefits are also affecting women disproportionately in their role as mothers, carers, disabled people and retirees.
Partly this is due to the concentration of women's employment in specific sectors of the economy, many of which are in the state sector (e.g., education, health care, social work) which are facing both job cuts and wage cuts as the government attempts to destroy the state sector worker unions and shift control of social service provision to the private sector.
An additional part of the problem is the concentration of women in part-time work leaving them dependent upon government benefits which are also facing cuts. Additional problems arise as cuts to benefits and services are adding further hardship: child-care cuts, protection for victims of sexual, domestic and other forms of violence (http://www.guardian.co.uk/...), after-school youth clubs, cuts to benefits for pregnant women, disability benefits and pensions.

Undercutting years of hard work to increase women's labour force participation, raise women's wages, provide protection for mothers and children, the aged and disabled, these cuts are forcing women into poverty, especially those in that are disabled, in single-parent households and retirees.
Already elderly women are facing special hardship both due to historical circumstances of living longer than men combined with lower wages (and hence lower pensions). Decreased pensions due to shifts in inflation indexation for those on state pensions and benefits mean undeniably a cut in income for those on fixed incomes and benefits. The attacks on disability benefit add to the hardship already felt by women with both visible and invisible disabilities as the government attempts to push more people off of disability benefits (£91/week) and onto "paths towards employment" with lower benefit levels (£65/week) under the delusion that jobs are available for people determined eligible to work.
This pattern is also being found in those countries in the EU which are undergoing or facing austerity measures. In Spain (http://www.internationalviewpoint.org/...), and Greece (http://www.trust.org/...); for Europe in general see: http://www.bbc.co.uk/...) the impact of austerity measures hits women harder, both in terms of employment, wages, pensions and benefit cuts.
I. Women's Labour Force participation:
Important points with respect to the types and manner of women's employment and participation rates need to be raised to understand what is happening. There are differences in the type of employment women are engaged (agricultural, manufacturing or services) depending on the level of economic development of the countries being discussed. Historically, in countries in the periphery, women are concentrated in agriculture, as economic development increases, they move into manufacturing. In the advanced capitalist world, women are concentrated primarily in the service sector of the economy both in formal waged labour as well as in the informal sector.
We can look at two different levels of statistics relating to women's labour force participation; the first provided by the OECD relating to women in advanced capitalist countries (http://www.oecd.org/...); the second set of statistics examines women's labour force participation in the world. There are some distortions for the advanced capitalist world as this examines women from age 15 up and work for younger women is under legal constraint (http://data.worldbank.org/...).
The six sectors dominated by women (over 50 per cent) in the developed economies are: (1) private households with employed persons (domestic staff, nannies, cooks, maids) (2) health and social work, (3) education, (4) hotels and restaurants, (5) other community, social and personal services, and (6) finance intermediation (http://www.ilo.org/...). There is clear evidence in these charts that female workers are concentrated in services sectors that are characterized by low pay, long hours and oftentimes informal working arrangements. And even within these sectors where women dominate, it would rarely be women who would hold the upper level, managerial jobs. […] With regard to the health-care sector, a main employer of women (predominantly in nursing), the ILC report states that "women are poorly represented in the higher echelons (http://www.ilo.org/...).
Part-time work:
As is well known, female labour is heavily based in part-time work in the advanced capitalist world as well . Additionally, women are the dominant workers in the part-time sector (in many countries these workers do not have access to benefits and sickness and vacation days; this is not so in Italy and the Netherlands for example). Given that part-time work is lower-paid and does not come with benefits, this already places those working there at a severe disadvantage. In some cases, women working part-time are doing it voluntarily as they have to cover child-care and other carer responsibilities and prefer the flexibility afforded to those working part-time. However, what has also happened is that women are unable to work full-time formal work (due to lack of affordable child-care and carer availability); we are also seeing relegation to the part-time sector due to the fact that full-time employment possibilities are decreasing. As such, we are seeing a situation of involuntary underemployment. (ttp://www.oecd.org/dataoecd/25/5/31743836, page 3).
In Greece, Ireland, Italy and Spain […], both the female share of part-time employment and female part-time employment rates increased over time. These trends cement the fact that in the majority of countries found in the area of southern Europe, part-time work continues to be strongly a female domain. In the remaining countries (less France, Luxembourg and Belgium), the numbers showed an increase in female part-time employment rates accompanied by slight declines in the female share indicating that men in these countries (Austria, Finland, Germany and the Netherlands) have also started to take up part-time employment (http://www.ilo.org/...).
Working in the informal sector (self-employed, sub-contracting, seasonal, casual and short-term work in a non-regulated framework in terms of not being subject to national labour legislation guaranteeing benefits, wage levels, working hours and protection; "work paid under the table") again characterises women's work, especially immigrant labour and that of the poorest members of society (http://www.ilo.org/..., pp. 43-47). Needless to say, there are difficulties measuring this formally as the work is informal, but the ILO at least has tried to address this in the document (yes, a pat of the head is appropriate now and then). These are jobs that are essentially precarious in nature; the fact that more and more people are resorting to them as the formal economy is failing to provide sufficient levels of income or employment is serious. They are unregulated as they fall outside normal labour regulations and normally are low paid, transient and leave people vulnerable to unscrupulous employers in terms of wages and working conditions; workers in these sectors have literally no rights that we take for granted.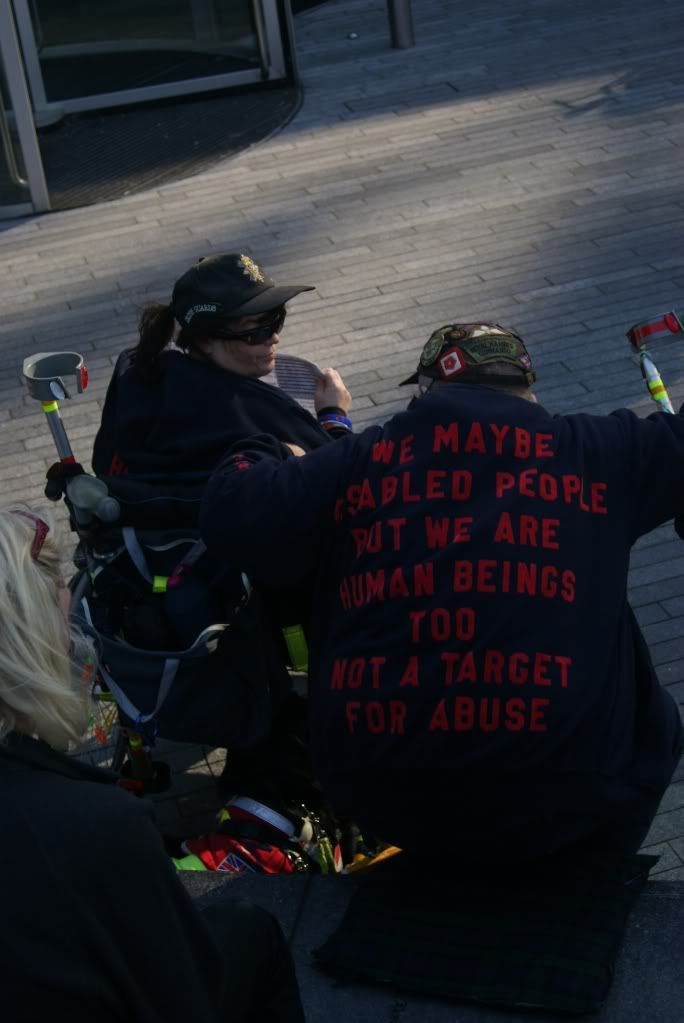 II. Austerity measures attack women:
According to the Fawcett Society:
Measures to reduce the deficit are hitting women hard: cuts to their jobs, cuts to the benefits and services supporting women's every day lives, and a growing likelihood that women will be the ones "filling the gaps" as state services are withdrawn.

This triple jeopardy is turning back time on women's equality. It is pushing women out of the workforce, driving down women's incomes and undermining women's hard won rights to protection from violence and access to justice.

Women on average earn less, own less, and are more likely to work and retire in poverty than men. They can ill-afford to bear the brunt of the cuts. It is those who have the least to lose – women who are unemployed or on low incomes, pregnant women, families, single mothers and pensioners, victims of sexual, domestic or other violence – who will lose most (http://www.fawcettsociety.org.uk/..., sic).
While the initial effect of the economic crisis certainly hit men harder as it impacted upon sectors in which male employment is dominant in the advanced capitalist world (e.g., manufacturing, finance sector and construction), austerity measures are hitting women harder as they work in sectors that are under attack (state and public sectors: education, health-care, carers, civil sector workers). Ironically, it is probably due to legislation preventing discrimination in hiring in the public sector that has lead to women being more vulnerable to cuts in the sector. As such, cuts in the public sector (both in terms of employment and wage and pension benefits) are affecting women that are more concentrated in the sector at all levels.
What seems to have happened is that the initial impact of the crisis hit the manufacturing, financial and construction sectors hard, the domain of predominantly male workers in developed countries. It was men in manufacturing that were among the first to experience job cuts. But the impact of the crisis and associated job losses have since expanded to other sectors, including service sectors where women are mainly employed (http://www.ilo.org/..., p.49).
The difference between the two is that one was a direct result of the economic crisis; what we are seeing now is an attack on the public sector in which women are more concentrated by the State, the IMF and the ECB. So, we are now facing attacks for a situation which not only have we not created, but which has been deliberately provoked by bailing out the banking sector which caused the crisis. As workers incomes have fallen throughout the advanced capitalist world since neoliberalism has taken hold, women's incomes are an essential part of household income. The idea that women have the choice to stay home and tend to their children is becoming rather quaint as the middle class has now joined the working class and poor in facing the misery imposed by our governments. With unemployment rising due to the economic crisis, women's incomes are essential for survival. Yet, we are watching an attack on women's employment and incomes as part of government austerity measures.
According to the Guardian:
The number of women out of work is at a 23-year high, with cutbacks in the public sector hitting women particularly hard: two-thirds of the 130,000 jobs lost in local authorities since the first quarter of 2010 were held by women (http://www.guardian.co.uk/...).
Secondly, there are the cuts in benefits that were specifically geared towards women (e.g., maternity benefits, pregnancy benefits). Then, of course, there are the cuts to child-care (including tax cuts, youth-centres, child-care benefits themselves).
Alison Garnham, chief executive of Child Poverty Action Group, agreed. "Child poverty and the incomes and services women are able to access are intrinsically linked. The vast majority of child benefit is received by women, whether as the main carer in a couple, or as a single parent.
"It is hugely unfair that such a large burden of the government's cuts should be falling on the shoulders of women and children, and it would be profoundly wrong if these unfair cuts to child benefit became permanent." (http://www.guardian.co.uk/...).
Finally, there is the re-pegging of benefits and pensions to the Consumer Price Index (as opposed to the Retail Price Index which covers housing costs); this means that increases in benefits and pensions will certainly be at a lower level as the CPI is lower than the RPI. Women live longer than men and they have had lower incomes (both in terms of pay for the same jobs and the fact that "women's work" pays less). As such, their pension contributions and hence pensions will be lower. This is reality; this means that women that are able to retire will be living longer on lower pensions (while women that are married may get their husband's higher pensions upon their deaths; this does nothing for single women or single mothers).
Two-thirds of pensioners living in poverty are women, and as many as half of all women are not able to make adequate pension provision for their future. The average pension for a woman working in local government is just £60 per week. Yet changes to the way that state pension contributions are calculated means that millions of public sector workers, the majority of whom are women, will be expected to work longer and pay more in contributions, only to get a smaller pension (http://www.fawcettsociety.org.uk/...).
III. Austerity measures punish the disabled:
For women that are disabled, there is a double penalty. Not only are they losing benefits as women and mothers, but they are facing reduction in disability benefits as the government in the UK is reducing the numbers of people on disability (see for a longer discussion of the attack on disability benefits: http://www.dailykos.com/...).
In a letter to the editor to the Hamstead and Highgate Express, the recounting of injustice against disabled and vulnerable women is painful for any but the most cold-hearted person:
We are dealing with a dramatic increase in refusals of benefits, housing and support services for women with disabilities and other vulnerable people in Camden. They include: a woman just out of hospital, threatened with court if she doesn't pay hundreds of pounds for homecare; a blind pensioner with multiple health problems, allocated minimal care hours; a mother and rape survivor with refugee status denied Disability Living Allowance despite medical evidence; a young woman with cerebral palsy at risk of falling downstairs, denied adaptations and physiotherapy; a woman with severe mental health problems whose benefit was cut without notice; a suicidal woman pressed to attend a "Pathways to Work" interview, contrary to Dept for Work and Pensions guidelines; a single mother with anxiety disorder denied Income Support and Child Benefit for her toddler. Some of these cases have been won, but only after hours of effort by our volunteers. We are a small organisation of disabled women. What is happening to the thousands of people who have no help? How many more will suffer and even lose their lives after the cuts planned for April (http://www.winvisible.org/...)?
People on disability are facing tests to determine if they are able to work and are being graded on their disability with their benefits accordingly reduced:
Some charities also argue that the government has failed to appreciate how few jobs are available for people with disabilities or health problems, and point out that if people with health problems are moved from incapacity benefit of around £91 a week to jobseeker's allowance at £65 a week, but stand little chance of actually finding work, the net result is simply to impoverish them (http://www.guardian.co.uk/...).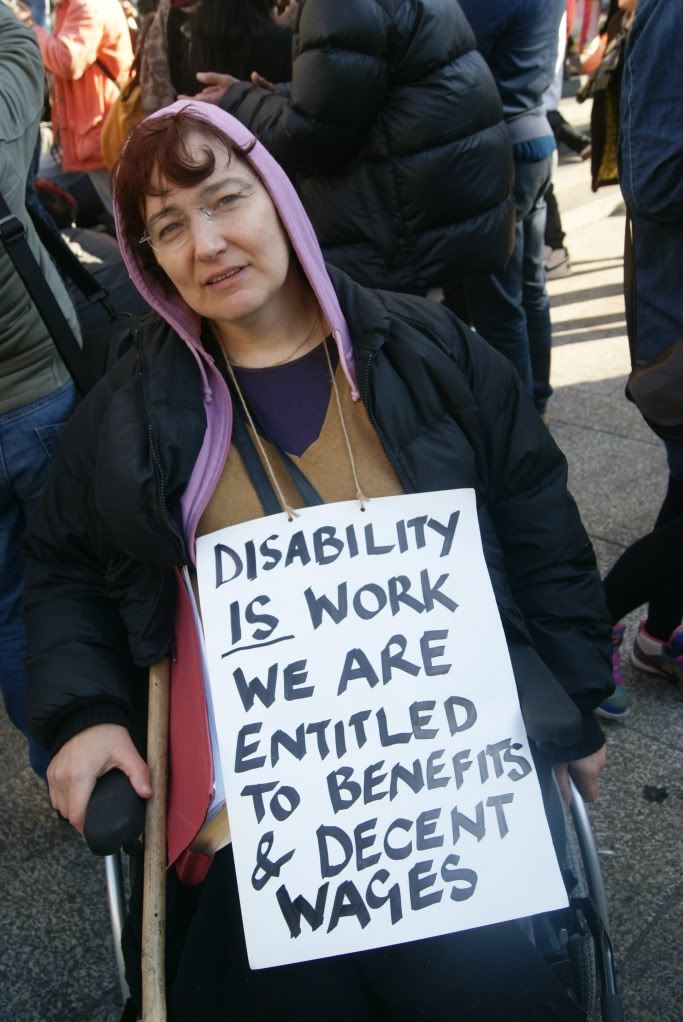 To add insult to injury, the government has hired a private company (ATOS Healthcare) to conduct the tests. This is not a medical company staffed by medical professionals; their sole purpose has been to reduce the numbers on benefit.
The Department for Work and Pensions (DWP) figures, which cover the period from 27 October 2008 to 31 August 2010, show that 887,300 of the 1,175,700 applicants for ESA failed to qualify for any assistance. Of those, 458,500 (39%) were judged fit to work, while 428,800 (36%) ditched their claim. A further 16% were placed in the "work-related activity group", in which individuals are deemed able to take on some level of work but still receive a level of ESA support. Over a third (36%) of people who made a claim for ESA between October 2008 and February 2010 and who were found to fit to work at assessment have appealed, with the original decision overturned in almost four in 10 cases (39%) (http://www.guardian.co.uk/...).
This indicates that there is something very wrong with the assessment criteria. There have been significant problems with the tests which are also geared towards those with physical disabilities. This has meant that those that are living with mental illness or disability are falling through the cracks. People with terminal conditions have been diagnosed as fit to work. Benefits for those with cancer are being scaled back as well; they are removing benefits for those diagnosed with cancer after 1 year (http://www.guardian.co.uk/..., http://www.democraticdeficit.com/...; http://www.guardian.co.uk/...).
Complaints against ATOS, the assessment tests and the accessibility of the centres have been rising (http://www.disabledgo.com/...). Perhaps one of the most painful things I have read recently was that disabled people in Croydon were prohibited from using the lift in an ATOS Healthcare testing centre (http://www.yourlocalguardian.co.uk/...) as that constituted a fire hazard. People that were being tested had to somehow negotiate the flights of stairs or go to another centre. But 29 centres of the 141 across the UK are not wheelchair accessible (http://www.yourlocalguardian.co.uk/...). One cannot help wondering if somehow negotiating the steps was used against you in the disability assessment test.
Disability activists have raised additional concerns against government measures arguing that benefit cuts will affect basic living standards of people with disabilities:
The disability amount in Universal Credit is likely to be too low to meet extra disability costs of living such as heating. Already, we are having to choose between paying for food, heating or charges for essential homecare services.

Disability Living Allowance, paid on top for care and mobility needs, is also being abolished and replaced with a stricter benefit called Personal Independence Payment. 78,000 fewer disabled people will get cash help with care and mobility needs. Many of us who use DLA to get to work, etc., will be forced to give up waged work. If we're in a residential home, we won't have any mobility money to go out independently, only group outings (if any) which we may not have chosen. Other provision is also being cut (http://www.winvisible.org/..., sic).
The government has insisted that benefits be capped at £500/week. This is inclusive: that means, rent, food, disability payments, and child benefits. As such, people caring for elderly parents can lose carer benefits if their overall benefits exceed this amount (http://www.winvisible.org/...). When you add to these benefit cuts for those on disabilities, the cuts in child care provision and housing benefit cut proposals and then take into account rising food prices, heating and energy prices and rents skyrocketing, you are looking at deliberate impoverishment.
btw: all photos taken by the author at the Disabled People Against the Cuts demo, October 22, 2011