Thursday evening, District Judge Hyatt ruled in favor of the Congressional map submitted by the Democrats in Colorado's redistricting lawsuit. This is a great victory and we needed one to make up for getting completely effed in other States.
The map's most drastic move is to redraw the 6th and 7th to surround Denver instead of the earmuffs we had before with the 7th and the 6th taking in all of Douglas and Elbert. The map basically becomes 2-2-3 and gives us a fighting chance at a 5-2 advantage in the Colorado.
So here's a brief run down of each below:
Statewide: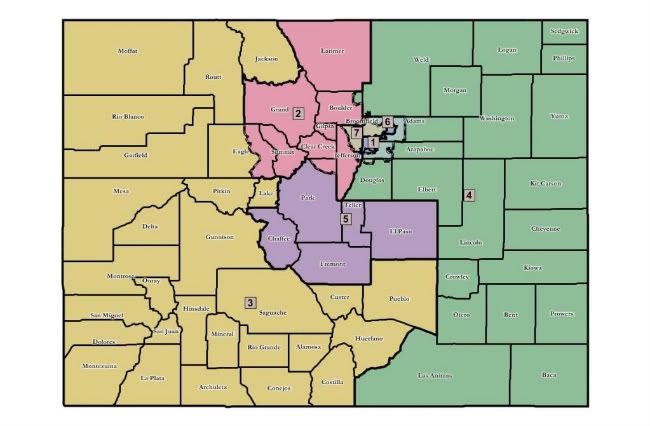 Denver Metro Area:
CD1 (D-DeGette): This district changes the least overall, it did have to take in more people. The way Democrats did it was the best way possible. CD1 now reaches down south-west of Denver to take in Ken Caryl and Columbine in Jeffco, the reddest parts of the county that were previously in CD6. Still more than safe for DeGette (in the general) at 70% Obama and 66% Dem average.
CD2 (D-Polis): This district keeps its core in Boulder County (minus Longmont) and the Ski towns, but rather than reach into the northwest Denver suburbs, it now takes in Larimer County, the bluest part of CD4 and the foothills region of Jeffco. It then reaches into Park County to take in Bailey for COI purposes. Still safe for Polis at 61% Obama and 56% Dem average.
CD3 (R-Tipton): The 3rd is hard to change in any substantial way without breaking up the western slope, so it only changes this time around were on the edges. The district gives up Las Animas and most of Otero County to CD4 in exchange for western Eagle County and all of Lake County. It does get a slight bump to the left, going from 47% Obama to 48.5% Obama and then 45.5% Dem average. Lucky for us Tipton is a moron so this district is as winnable as ever.
CD4 (R-Gardner): Here's where Democrats had to make sacrifices. To make the 6th highly competitive, the 4th picks up most of Douglas County and all of Elbert County, that plus the loss of Larimer moves this district several points to the right, going from 49% Obama to 42% Obama and 36% Dem average, I'd say it's out of reach for the next decade. Brandon Shaffer still lives here since Longmont remains in the district (as requested), but we'll see if he stays in the race now.
CD5 (R-Lamborn): The other district that changed the least was the 5th. Only change was losing Lake County to the 3rd, so less than a percentage point move to the right. At 39.5% Obama and 34.5% Dem average it remains the reddest in the State.
CD6 (R-Coffman): Now it gets good. The 6th was almost totally remade. Rather than taking in the southern and more Republican burbs plus Douglas and Elbert Counties, the 6th becomes centered around Aurora, one of Denver's bluer suburbs. The district then reaches around into Adams to take in Brighton and the far northern edge of the suburbs. It keeps the southern suburbs of Littleton, Centennial and Greenwood Village, which all tilt to the right, but were won by Obama. The reddest part of this district is Highlands Ranch, which is now the only part of Douglas in the 6th, except for a single precinct that is part of Aurora. The new district is basically 1/3 Democratic, 1/3 Republican and 1/3 Unaffiliated and is 53.5% Obama and 47% Dem average. With Coffman the Republicans best hope at taking out Udall in 2014 expect a real fight for this seat, and look for other Democrats to jump in as well.
CD7 (D-Perlmutter): Perlmutter has proven unbeatable in even the worst year, so this new district gets a little redder. Rather than make a ring around the north of Denver, this district takes in most of the Adams County suburbs and the Jeffco suburbs, making it the northwest ring around Denver, while the 6th is the southeast ring. Most of these suburbs are highly competitive and Democtas have done very well here. The new district is 57% Obama and 51% Dem average, definitely competitive, but Perlmutter should be fine.
Overall this map is great for Democrats, putting one more seat within reach that wasn't before and keeping at least one other seat competitive. If 2012 turns out to be a great year we could end up with a 5-2 advantage again, but even in an ok year a 4-3 advantage is definitely attainable. The Republicans are sure to appeal, but they did so 10 years ago and that went nowhere so I don't expect this one to either.
12:33 PM PT: And here's another close in metro map with shadows showing where the cities are: