No freaking way!
That stuff does get into the Ground Water -- What about all these heart and flowers PSA's, we've been forced to watch on the TV, promising us how fracking safe, Fracking is?

Busted! Fracking Chemical Found in Wyoming Water Supply
by Tina Casey, cleantechnica.com -- Nov 13, 2011

The U.S. EPA has just released test results indicating that at least one common fracking chemical has contaminated drinking water in the town of Pavillion, Wyoming. The finding is significant because the natural gas industry has long denied any systematic connection between its fracking operations and harm to water supplies, despite a growing body of anecdotal evidence. Denial has traditionally been a pretty easy call for the industry, given its exemption from chemical disclosure rules that would have definitively revealed (or disproved) any such link years ago. However, the new investigation may be only a taste of things to come, as the EPA gears up for closer scrutiny of fracking chemicals and their impacts.
[...]

Denial, isn't that the first defense, of all Polluters?
Especially, when they have been granted convenient "Exemptions" from even having the responsibility to keep our drinking water safe ...



Now for some of the alarming grimy details, of what Wyoming residents have be forced to live with for years, as found in a new EPA study and uncovered by ProPublica reporter.

Bon Appetit!

EPA Finds Fracking Compound in Wyoming Aquifer
The U.S. Environmental Protection Agency​ finds fracking compounds in environmental monitoring wells
by Abrahm Lustgarten and ProPublica -- Nov 10, 2011
Reported by ScientificAmerican.com

[...]
A pair of environmental monitoring wells drilled deep into an aquifer in Pavillion, Wyo., contain high levels of cancer-causing compounds and at least one chemical commonly used in hydraulic fracturing, according to new water test results released yesterday by the Environmental Protection Agency.
[...]

Last year -- after warning residents not to drink or cook with the water and to ventilate their homes when they showered -- the EPA drilled the monitoring wells to get a more precise picture of the extent of the contamination.

The Pavillion area has been drilled extensively for natural gas over the last two decades and is home to hundreds of gas wells. Residents have alleged for nearly a decade that the drilling -- and hydraulic fracturing in particular -- has caused their water to turn black and smell like gasoline. Some residents say they suffer neurological impairment, loss of smell, and nerve pain they associate with exposure to pollutants.
[...]

The wells also contained benzene at 50 times the level that is considered safe for people, as well as phenols -- another dangerous human carcinogen -- acetone, toluene, naphthalene and traces of diesel fuel.

And what about those convenient "Exemptions" that have let these, ground water trashing brigades (aka. Natural Gas Companies) do as much damage as they have, with little oversight -- and apparently no consequences?

Regulation of Hydraulic Fracturing Under the Safe Drinking Water Act
Water.EPA.gov
Water is an integral component of the hydraulic fracturing process. EPA Office of Water regulates waste disposal of flowback and sometimes the injection of fracturing fluids as authorized by the Safe Drinking Water Act and Clean Water Act.

Safe Drinking Water Act

Several statutes may be leveraged to protect water quality, but EPA's central authority to protect drinking water is drawn from the Safe Drinking Water Act (SDWA). The protection of USDWs is focused in the Underground Injection Control (UIC) program, which regulates the subsurface emplacement of fluid. Congress provided for exclusions to UIC authority (SDWA § 1421(d)), however, with the most recent language added via the Energy Policy Act of 2005:

[...]

excludes –

(i) the underground injection of natural gas for purposes of storage; and

(ii) the underground injection of fluids or propping agents (other than diesel fuels) pursuant to hydraulic fracturing operations related to oil, gas, or geothermal production activities."

Hmmmm? Who was VP at the time of that those Fracking Exemptions were granted?

And who is in charge now?
And WHY are we still using an Energy Policy, designed by the Kingpin of Big Oil, Mr. Haliburton himself?

And more to the point ...
Who are the residents of Wyoming supposed to sue when they end up with Cancer, and when the relevant law assuring them Clean and Safe Water, has a GIANT loophole, that pre-emptively blocks the "causal linking" to whoever is fracking responsible, for causing their toxic illnesses? (ie. Big Oil has gotten yet another billion dollar subsidy, courtesy of Bush and company, and their GOP-enabling Congress, at the time.)
Maybe the residents of Wyoming can just sue each other, for Polluting their own aquifer ... it would probably do as much good.
How many more States will join this exclusive club, as the NG ads whine on, about "how perfectly safe hydraulic fracturing is -- coming soon to a neighborhood near you"? Move over Wyoming, you won't be alone for long.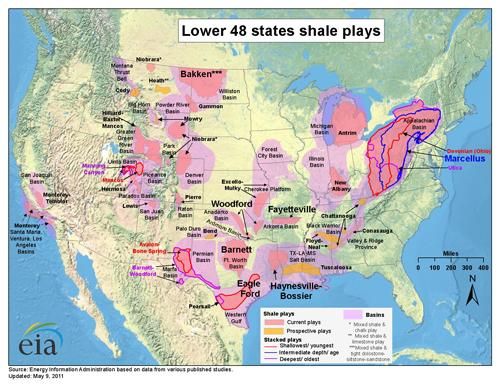 much larger
Image Source: CleanTechnica.com