Writing was developed in many different parts of the world. The ancient Scandinavian writing, known as runes, was probably created sometime in the second century C.E. in the Germanic area under the influence of the Greek and/or Latin alphabets. In Scandinavia, the oldest runic inscriptions date to the beginnings of the third century C.E. At the beginning of the Viking Age (793 to 1066), runic inscriptions become more frequent.
Runes consist of a main staff from which one or more less staves point diagonally up or down. Prior to the Viking Age, there was a twenty-four-character rune series known as Old Germanic or Primitive Norse furthark (after the phonetic values of its first six letters: f, u, th, a, r, k), that was used by all Germanic peoples. At the beginning of the Viking Age, a new sixteen-character rune series was developed. Philologists feel that this new series was a conscious reform intended to make the rune script conform more closely to spoken language. However, with the sixteen-character series, each rune had to symbolize more than one sound.
According to mythology, Odin, the god of wisdom, had received the knowledge of the runes when he was hanged from the Yggdrasil for nine nights, pierced by a spear. At this time he passed the threshold of death and received the knowledge. He later passed this knowledge to humans.
Runes were used as a way of writing down spoken language and they were used for everyday messages as well as for religious incantations. In some situations, runes were felt to have had magical powers. In these cases, the runes were generally hidden, such as underneath a belt buckle.
Runic inscriptions were carved in wood, bone, stone, or metal. Today, between 5,000 and 6,000 runic inscriptions are known, and of these more than 3,000 are found in Sweden. Most of these were inscribed on stone, hence they are known as runestones. Runestones were usually brightly colored when erected, though this is no longer evident as the color has worn off.
One of the best-known runestones is the eight-foot (2.43 meter) tall Jelling Stone in Denmark (shown above) which was erected in 865 between two large burial mounds. The runestone was commissioned by Harald Bluetooth Gormsson (Haraldr blátǫnn Gormsson in Old Norse and Harald Blåtand Gormsen in Danish) and was erected in memory of his father King Gorm the Old and his mother Thyra Dannebod.
King Gorm the Old had died in 958 and Harald buried him in a mound with many goods, an ancient pagan practice. The mound itself had originally been constructed about 500 C.E, but Harald had it built higher over his father's grave and then he added a second mound to the south. Mound-building at this time was a newly revived custom which reinforced the old traditions in the face of Christian customs practiced by the Germans to the south of Denmark. However, the inscription on the stone reads:
"Harald had this stone erected in memory of Gorm his father and Thyra his mother—that Harald who won all Denmark and Norway and made the Danes Christian"
After his conversion to Christianity in the 960s, Harald had his father's body reburied in the church next to the now empty mound and erected a stone in memory of his parents and his conversion to Christianity.
The province of Uppland in eastern Sweden has about 1,300 Viking era runestones. The primary function of runestones was for memorial purposes. The runestones were generally erected in public places, such as along roads, at bridges, in cemeteries, and in other public places where many people would see them. The public placement of the runestones strongly suggests that most people could read them, or there would have been little sense in putting them in these places.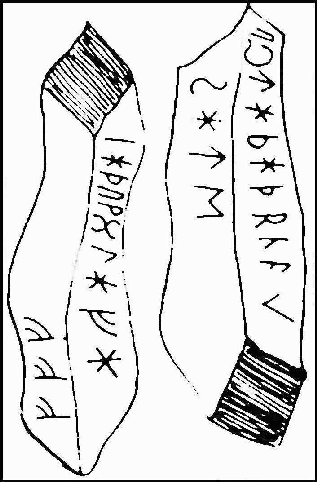 The texts of the runes can often provide some insights into Viking history. For example, while the Anglo-Saxon Chonicles describes the Viking invaders of England as Danes, there are a number of inscriptions in Sweden that make it clear that Swedes were also involved in the invasion.
Several runestone carvers signed their names to their work: Asmund, Fot, Őpir. Some people today feel that one carver would make the ornamentation and another would carve the runes.
While many people feel that the runestones were erected primarily by men and described male-oriented events, it is not uncommon for the texts to mention women. For example, one inscription from a stone in Morby, Lagga Parish, Sweden, states:
"Gullög had the bridge made for her daughter Gillög's soul, who was the wife of Ulf. Őpir cut the runes."
As the Vikings expanded across the North Atlantic, they also left runestones in Iceland and in Greenland. They may have left some in North America as well.
A runestone from Greenland is shown above.