Over the Thanksgiving holiday, conservative blog Redstate featured not one but two stories on their front page calling out Mitt Romney as unelectable in the general election. What is most surprising is that along with the usual accusations of Romney being a fake conservative, these posts added a new line of attack into the mix: Romney is too closely associated with big money.
As the diarist writes: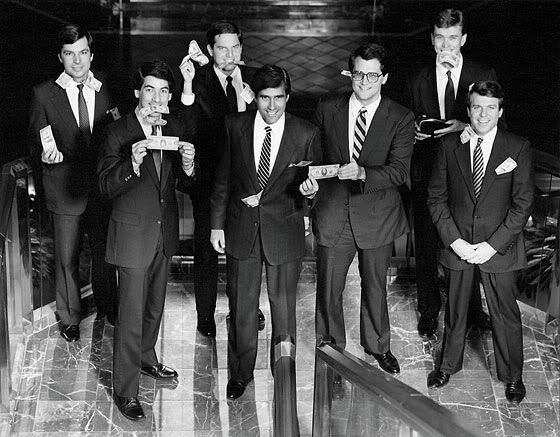 The above photo features a younger Mitt Romney (in the center, naturally) when he was part of Bain Capital. Get used to seeing it. It will be on busses and billboards across the nation if Romney wins the nomination. And it will be the image people take into the voting booth on Election Day.
And later in the comments:
Romney is caught between a rock (his political career) and a hard place (his bankster career) .. and cannot successfully argue his way out of either. He's literally the worst positioned candidate for this.
The fact that a conservative blog would reach this conclusion is interesting, and a sign of just how much Occupy Wall Street has already changed the national conversation. However, the diarist actually makes an interesting point. So far, the attacks on Romney have focused on the low-hanging fruit - i.e., Romney's shameless flip flopping on virtually every issue. In a Bloomberg article, establishment pundit Ramesh Ponnuru argued that the real campaign against Romney would focus on his right-wing views. But in fact, the "sleeper" Bain Capital line of attack has the potential to be much more devastating to Romney than either of those.
I didn't realize how devastating until leafing through Josh Kosman's book The Buyout of America: How Private Equity Will Cause the Next Great Credit Crisis. There is an entire chapter on Mitt Romney and Bain Capital. Kosman describes in detail how Bain and Romney bought up troubled companies, slashed budgets and pensions, and then used the savings to pay huge dividends to themselves, often leaving the company for dead.
"Bain Capital had a business model that was intended to essentially transfer wealth from its holdings to itself," said current Ampad chief executive Don Meltzer, who was not involved with the business in 1995. "... [They did this] instead of building the wealth of the company that they owned and extracting gains through selling the company."
Contrary to the selling of Romney as a "turnaround artist," many of Bain's actions were not intended to right their properties over the long term. For instance, after acquiring medical equipment maker Dade Behring, Bain slashed its research and development budget:
While lab-equipment manufacturers typically allocate between 10 percent and 15 percent of sales to R & D, Dade was spending only 6 percent to 7 percent—$61.7 million in 1997 and $88.2 million in 1998. For Bain the anemic R & D budget made sense. Often one sells medical equipment in three- to five-year deals—and Bain, like all private-equity firms, tries to exit businesses within five years. There was little upside three years into its investment to investing for the future because Bain was not planning to be part of it.
As for the employees:
The company froze their pensions and converted them from a defined-benefit plan, in which employees upon retiring were entitled to 75 percent of the average of their combined salary in their last three working years, to a cash-balance plan, in which they would get a lump sum equal to what they were owed in 1999.
Meanwhile....
The same month that Dade converted the pension, it used the projections of that very savings as part of the basis to borrow $421 million, which it then turned around and used to buy shares from its owners... Bain and Goldman had only put $85 million down to buy the company, yet in June 1999 they received $365 million from the dividend, 4.3 times their money.

Dade borrowed so much to make this payment that its debt more than doubled to $871 million (68 percent of sales.) Standard & Poor's lowered Dade's credit rating from the BB to B category, believing it likely that the company with the added debt would be unable to pay its interest if it faced adverse business conditions.
In other words, conservatives are right to be nervous about Romney's Bain Capital ties. There's a huge amount of material there (the quotes above barely scratch the surface), if Democrats are able to distill it down effectively for the voting public. Ted Kennedy's unused ads from 1994 took a similar line of attack.
On the flipside, it's interesting, in light of his background, that the GOP establishment is so determined to make Romney the next President. At a time when conservatives will no doubt be claiming a mandate for "deficit reduction" and "entitlement reform," the perception of Romney as a milquetoast, flip-flopping conservative seems to me to miss the point entirely. Instead, he's exactly the guy for the job of dismantling the federal government and selling it off to the highest bidder.