Turns out the Georgia business owner who won't hire till Obama is gone, is also a Birther, a Truther, an Oathkeeper, a Militia member, and he has ties to terror.
The Georgia business owner, who gained instant notoriety after posting signs on his company's trucks saying he won't hire anyone until President Barack Obama leaves office, is part of a militia group connected to two separate terror plots. Bill Looman, owner of US Cranes LLC, has been under investigation by federal authorities in the week leading up the publicity related to his company's controversial hiring policy.

Looman and his fellow North Georgia Militia members maintained a number of websites and Facebook pages with enough explicit content to keep a team of terrorism research analysts busy for a while. Looman has not been arrested and his supporters insist that he hasn't committed any crimes and hasn't been involved in any wrongdoing.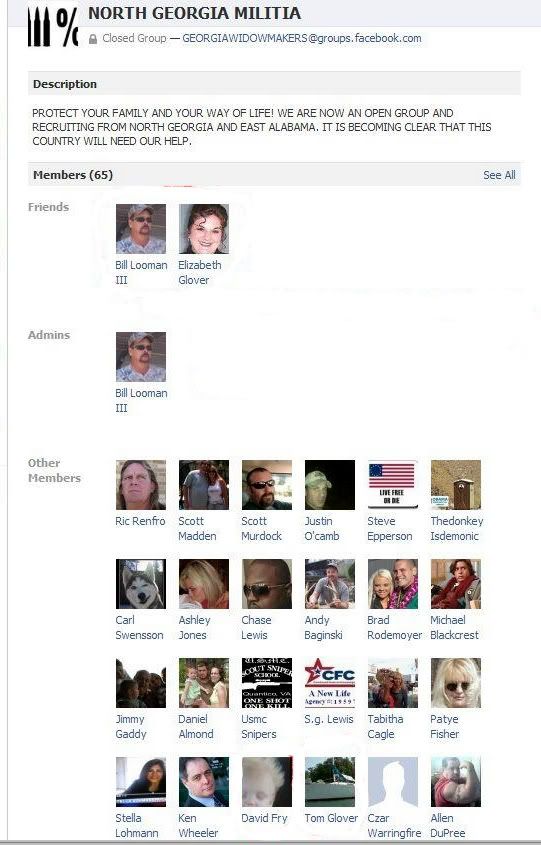 Materials posted online seem to indicate that Looman was connected to Darren Wesley Huff, convicted in October on a charge of carrying a firearm "in interstate commerce with the intent to use it in a civil disorder." Huff testified in his trial that he travelled from Georgia to Tennessee in an attempt to carry out a plot to topple the presidency of Barack Obama.
Looman has also been connected to the arrest of four Georgia men in early November. The men face charges of plotting to attack cities including Atlanta with deadly ricin, and further terrorist activity including a plot to bomb federal buildings and murder law enforcement officials and others. The plot was allegedly based on a novel written by Mike Vanderboegh. an anti-government activist, founder of the Three Percenters, and former Fox News analyst. Looman's online messages connect him with Vanderboegh as well. His North Georgia Militia Facebook page prominently displayed the " III% " Three Percenter logo.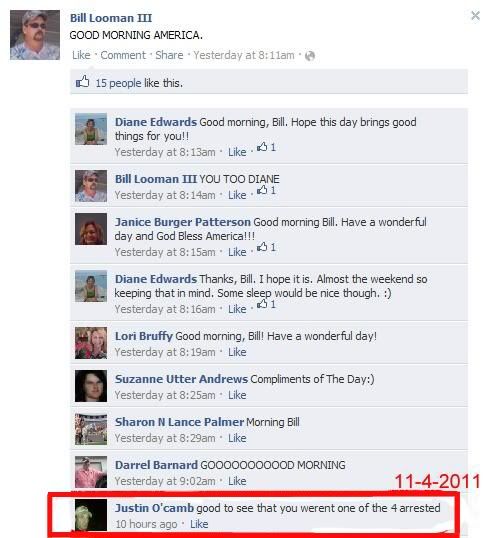 Baltimore Liberal Examiner reporter Bill Schmalfeldt broke the story about Looman's connections in a series of in-depth pieces published Nov 21-23. Schmalfeldt's work was based on website content including anti-government manifestos allegedly written by Looman himself, at BillLooman.com, BRLOA.com, a website that represents the Beaver Run Land Owners Association, which is headed by Looman and appears to be engaged in an ongoing dispute with him, and Facebook accounts for Looman and the North Georgia Militia. The North Georgia Militia Facebook group had 65 members. Most of the online material that Looman had posted was taken down during the week and the Facebook accounts were closed. Screen captures of the materials have been posted elsewhere.
Looman has been interviewed by a local Atlanta television news reporter and he claims that his meeting with federal authorities was friendly and that they were only called in because of a misunderstanding.

This diary will be updated as new information becomes available.

8:39 PM PT: A friend sent a link to this Facebook event with a note saying that Bill Looman set it up, though I wasn't able to substantiate that.

Sun Nov 27, 2011 at 12:11 PM PT: Nowadays the press deliberately ignores facts and ridicules the few who try to present them. All the while they create an alternative version of events, tailored to an agenda. I know that first-hand from my own observatons of Occupy Wall Street compared to the way it was mischaracterized when it wasn't being ignored. I socialize with conservatives and I see first-hand how they gleefully participate in the prank. This weekend the cocktail banter is about the persecuted patriot in Georgia. The honorable business owner expressing his freedom of speech.

A word of thanks to Bill Schmalfeldt. I'm astonished at the amazing work he did and just as astonished that it fell in my lap when it did. The story about Looman can be regurgitated by people like me because Bill did all the work. In my mind, the reason the Pulitzer Prize is awarded is so that writing like Bill's will be recognized. There aren't many journalists left in America who have the determination and yes, courage, to do what he did.

It's worth the time to read more of Bill's unique expose. Here are the links:
Part 1: Is Bill Looman running a personal militia fiefdom in Georgia?
Part 2: Bill Looman takes charge of Beaver Run Landowner Association


Part 3: Looman gets his militia playground


One thing about this 'no hiring until Obama gone' guy - he has pals!


Part 1: What this 'No Hiring Until Obama Gone' story teaches us -- about Media.


Part 2: What 'no hiring until Obama gone' story tells us - about the right wing


'No hiring until Obama gone' guy involved in botched terror plot?


TV Station falls for 'No Hires until Obama is Gone' guy's act. We do not.


'No Hiring Until Obama Gone' guy scrubs Facebook page.


Not hiring until Obama is gone? In this economy? Isn't that... kinda traitorous?

~~~~~~~~~~~~~~~~~~~~~~~~~~~~~~~~~~~~~~~~~~~~~~~~~~~~~~~