A History Lesson

In 2000, the (absolutely beautiful) state of Connecticut lost a Congressional district, going from six to five seats.
At the time, freshman Congressman Rob Simmons held CT-02, Chris Shays held CT-04, and Nancy Johnson held CT-06. Because of the bipartisan commission, and a Democratic legislature with Republican John Rowland in Hartford, a compromise was passed. Johnson and Waterbury area Congressman James Maloney were placed in a "fair fight" district, with some conservative areas of Johnson's seat going to CT-01, and some liberal areas of Maloney's seat going to CT-03 in order to create a fair fight seat seat. Democratic towns and cities like New Britain Meriden, Waterbury, and the mountains of northwest Connecticut created a Democratic base, while southern Litchfield County created a Republican base. Nancy Johnson also made a fatal flaw when she pushed to keep New Britain, her home town, in CT-05. New Britain ended up providing half of Chris Murphy's margin in 2006. Unexpectedly, the race wasn't even close. Johnson thumped Maloney. The newly drawn three Republican seats all voted for Al Gore in 2000, foreboding bad times in CT for the GOP, but the CT GOP was able to survive initial expectations for a few years.
Fast Forward to 2006-2008

In 2004, CT-02 voted 54% for Kerry, CT-04 voted 52% for Kerry, and CT-05 voted 49% for Kerry. Those numbers didn't seem too terrible for Republicans, and the three Republican Congressmen were cruising in Connecticut... until 2006. Rob Simmons lost his seat by eighty-three votes in a rematch to 2002 challenger and State Rep Joe Courtney. Nancy Johnson lost her seat in a brutal and nasty race to State Senator Chris Murphy, only garnering 44% of the vote (a 16 point drop off from 2004). Only Chris Shays survived, and he was the only Republican incumbent in New England... until he lost to Jim Himes in 2008 by four points, even as Himes only carried three towns in the district. Bridgeport was just too much for Shays to overcome
Connecticut Congressional Races in 2010
In 2010, the GOP nominated State Senator Sam Caligiuri in CT-05. Interestingly enough, Caligiuri held Chris Murphy's old State Senate seat. In CT-04, State Senator Dan Debicella was nominated. In 2008, CT-04 gave Barack Obama 60% of the vote, an 8 point boost from 2008, and in CT-05, Obama won with 56% of the vote, giving Democrats a 7 point boost. The CT GOP seemed bullish about its chances, and poll showed the GOP slightly favored in each race in the home stretch, but Murphy and Himes won by 8 and 6 points, respectively. While those same seats seemed to love their Republicans for years, they now seemed to love their Democratic incumbents.
The 2010 Connecticut Governor Race
In the 2010 Connecticut Gubernatorial election, former Stamford Mayor and Democrat Dan Malloy defeated former Ambassador to Ireland Tom Foley by a razor thin .56 percent margin. I compiled data from the race and created this map of results by town, much like the Boston.com Massachusetts election results maps. Mayor Malloy over-performed President Obama by 11 points, so realize that most of those Republican towns that are under 60% Foley were probably won by President Obama.
Here is the color key for the map.
65+ R: Almost brown
60-65 R: Crimson
54-60 R: Bright Red
50-54 R: Tomato
50-54 D: Light Sky Blue
54-60 D: Dodger Blue
60-65 D: Blue
65+ D: Navy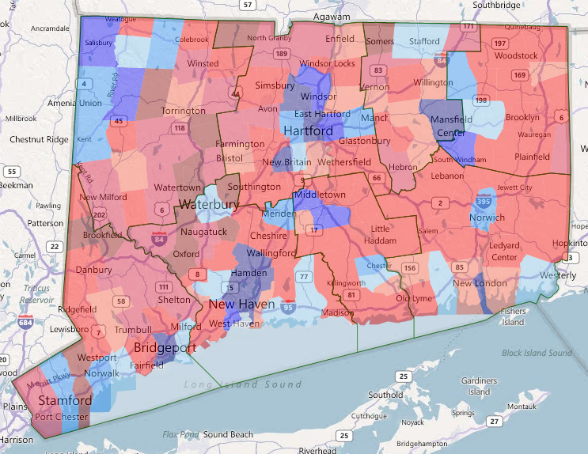 The following table shows the two party vote share between Foley and Malloy in the Congressional Districts from this past decade. (yes, it is mislabeled) The 4th District is wrong... I forgot Bridgeport in this table.

The 5th District Today:

Very early in 2011, newly re-elected Chris Murphy announced his (likely successful) candidacy for the US Senate, and the D+2 PVI CT-05 is now open. A prime opportunity for a pick-up, the GOP is fighting hard to win this seat. Democratic House Speaker Chris Donovan (D-Meriden) will be the Democratic nominee, and while he is popular, the seat will likely be very competitive. Legitimately moderate Republican State Senator Andrew Roraback is also the likely nominee, and he will likely make a very strong Congressional candidate. While CT-05 in current form should be competitive, I attempted to draw two possible CT-05 seats. The first is a Republican drawn seat that would likely lock in CT-05 for the GOP in 2012, and the second is a compromise that pushes CT-05 to R+2. I wonder if CT-05 will once again become comfortable with electing a Republican long-term if it elects Roraback in 2012.
Connecticut Redistricting

In Connecticut, there is a bipartisan commission with a mutually agreed upon tiebreaker. Therefore, Republicans aren't shut out of the process. If Democrats and Republicans can't agree on a map, a court may draw the map, and a court is very likely to keep both New Britain Meriden out of the 5th, severely hurting Donovan's bid. Therefore, Democrats will likely compromise with Republicans. My proposed Republican 5th District and compromise 5th District are below the fold.
Before looking at these numbers, here's another reminder. They represent the two party vote (with the WFP Malloy numbers added to the Democratic numbers), so Republican numbers may be ~.5% off. The numbers are quite accurate, but since I couldn't split towns, they may be very slightly off.

A Republican Fifth District
Going into negotiations with the Democrats over redistricting, we should aggressively push for a clean but Republican 5th District. In this version of the Fifth District, I removed Waterbury, Meriden (which is the home town of likely Democratic Fifth District nominee Chris Donovan) and Northwest Connecticut. Democrats would never agree to this R+4 seat, but Republicans might as well be aggressive as negotiations start. Not a single town in this seat voted for Dan Malloy. This map would also shore up 4th District Congressman Jim Himes, forfeiting his seat for the near future, unless Bridgeport sinks into the ocean.
Anyway, here is the proposed district: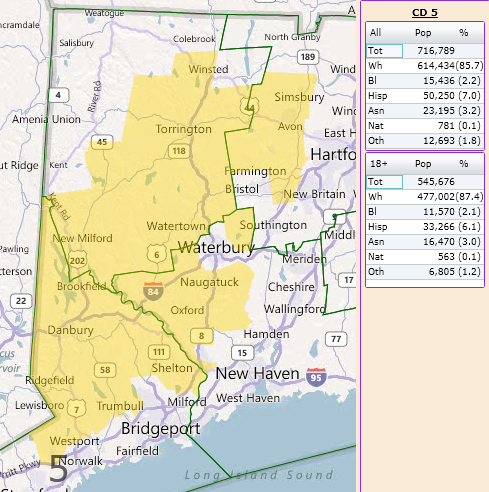 Changes: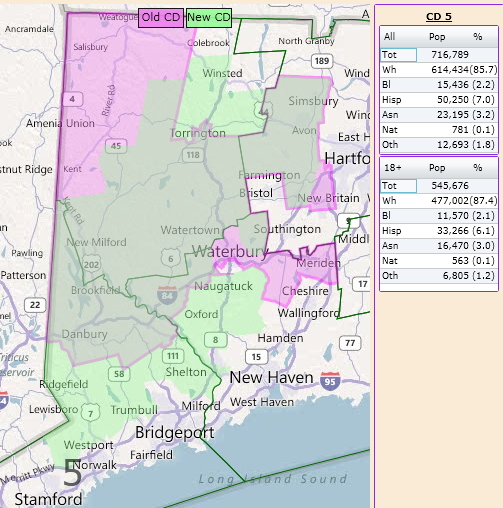 Connecticut as a whole
The tables below shows the Obama/McCain percentages, and the Foley/Malloy percentages of the proposed seat.


A Compromise Fifth District
This compromise district cherry-picks some Repubilcan towns from Himes, shoring him up, and gives heavily Democratic New Britain and Plainville to the First District. It also keeps Meriden, allowing Donovan to keep his base. Litchfield County is kept together, as are most of the Western Hartford suburbs. All of Andrew Roraback's State Senate seat is also in this district.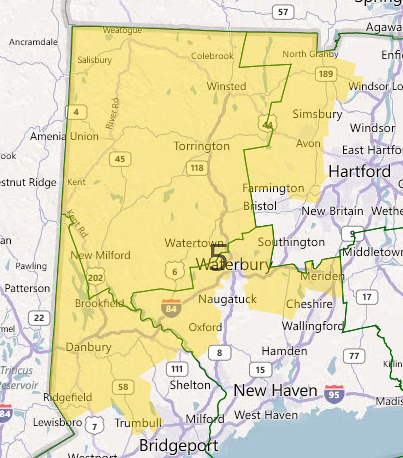 Statistics
Obama 53.47%-45.23%
Foley 58.32-40.14%
Bush 51.90%-46.45%
Deviations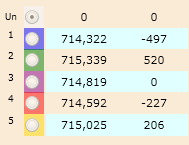 Changes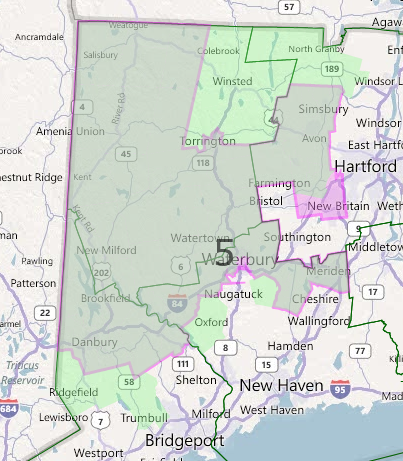 Connecticut Congressional Map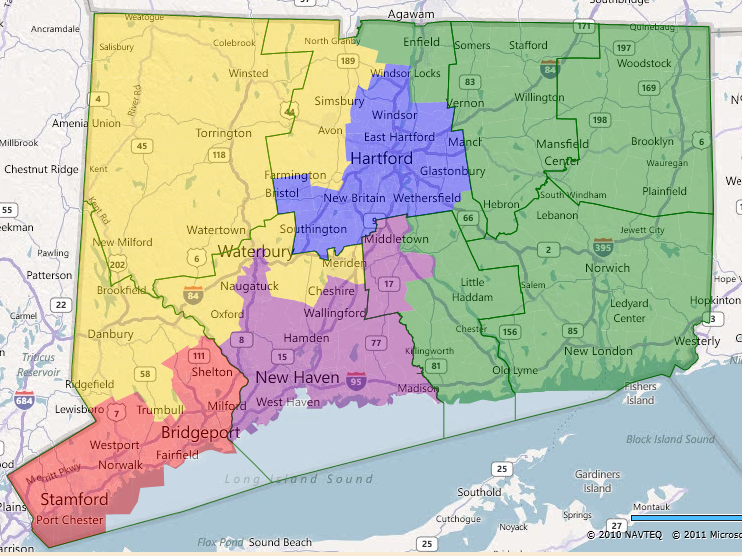 Conclusion
Republicans should not accept anything worse than what I drew as a compromise district here. A court map of Connecticut would likely yield a better result for the GOP, and almost certainly would not include Meriden in the district. It may not even include Waterbury, instead including rural or suburban areas more similar to the 5th (like retaining the wealthy suburban Hartford areas I dropped in the compromise, or rural/exburban areas like Granby). Therefore, a compromise (and not a "no change" map) is the only good option for the CT GOP. They have nothing to lose, so why not be aggressive?
Remember, Democrats will try to avoid a court map, as Donovan likely would be drawn out of the 5th. I think both sides would be willing to play ball on a compromise. Jim Himes would probably get a safer seat as a result, and CT-04 could be won by Republicans. if he runs for Governor in 2018 in current form.
There is a history of Connecticut redistricting compromises; the map from this past decade was a compromise. Republicans should push for one for the next decade, too.
It is quite possible that Frank Guinta could be the only Republican Congressman from New England in 2012. It is also remotely possible that there may not be any Republican Congressmen anywhere north or east of New York. Richard Tisei, Kevin Raye, and the CT-05 nominee can change that. If Republicans are going to try and gain on their Congressional majority, New England gains need to be in the game plan.
Thank you, Merrimackman, for your suggestions and revisions on my original RRH diary.