Here's the 2nd part of the resubmitted maps, the State Senate! This one isn't as fun, but there's a few good changes, I don't see how Republicans take the Senate next year on this map.
For those with questions about timing of elections (since Senate terms are 4 years), the rule is an incumbent elected in 2008 will be up in 2012, those elected in 2010 will be up in 2014. For other districts I'm using what was put out in the last submitted maps as those shouldn't have changed.
Here we go...
Statewide: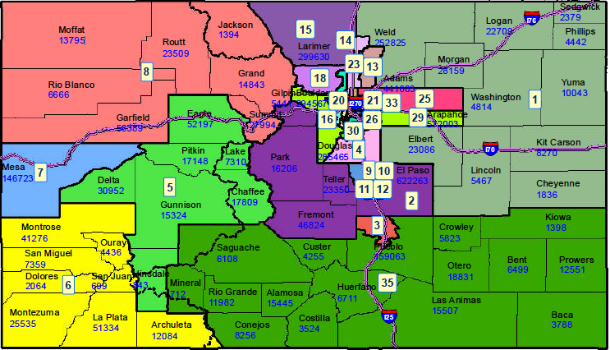 SD1 - Brophy (R) - 28%-65% (29%-65%) The Eastern Plains district. Blood red, end of story.
SD2 - Grantham (R) - 34%-58% (n/a) This new seat basically takes in all of the old SD4 minus Douglas County because of growth and it's El Paso portion comes from the south and west to take in Fountain and the rural county. Solid Republican.
SD3 - Giron (D) - 56%-39% (56%-39%) Same as before, Pueblo and Pueblo West, 44% Hispanic, safe Democratic.
SD5 - Schwartz (D) - 49%-45% (49%-45%) This district loses the San Luis Valley and picks up Dem-leaning Eagle County, it all seems to even out, however, as the percentages stay the same.
SD6 - Roberts (R) - 42%-52% (42%-52%) South-west district, virtually unchanged, home of Senator Ellen Roberts, one of the few moderates left in the Colorado Republican Party.
SD7 - King, S. (R) - 32%-60% (32%-61%) Mesa County. period.
SD8 - White (R) - 46%-47% (47%-47%) This district exchanged Eagle for Summit, shrinking some for growth in other counties, just a tick redder and home to Senator Jean White, my other favorite Republican.
SD35 - NEW - 45%-49% (39%-54%) Formerly SD2, this district was transformed from a south-east Colorado seat that included Republican-heavy Fremont County to a south-east and San Luis Valley district that took Fremont out (along with the incumbent). The result is a district that is 36% Hispanic and now only leaning Republican instead of overwhelmingly so.
El Paso: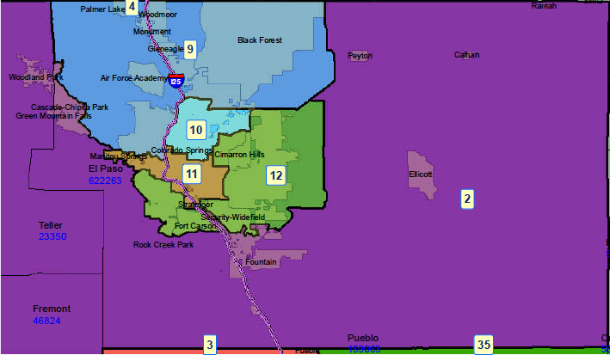 SD9 - Lambert (R) - 27%-69% (29%-66%) This district takes in Rockrimmon, Black Forest, NorthGate, and Monument, so red it hurts!
SD10 - OPEN (R) - 32%-62% (30%-63%) This district moves from the east to become a north-central Colorado Springs district and loses its incumbent (Cadman).
SD11 - Morse (D) - 52%-41% (51%-42%) The Democratic stronghold in El Paso County, this district takes in almost every Democratic precinct there is. The Commission's local Republican member Bob Loevy agreed that Dems deserve one seat, and this is it!
SD12 - Cadman (R) v. King, K. (R) - 34%-60% (38%-56%) This is fun, in adjusting El Paso County to make it less Colorado Springs-centric, it is now eastern and south-western Colorado Springs district and has 2 Republican incumbents in it!
Weld County/Broomfield County: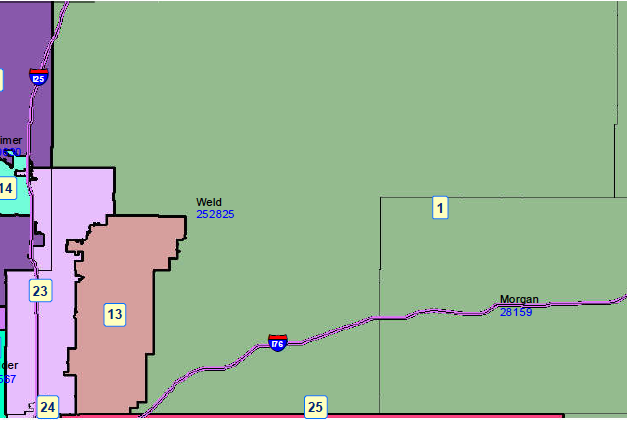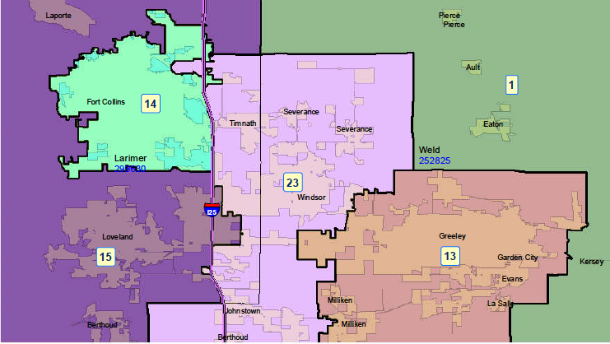 SD13 - Renfroe (R) - 41%-54% (37%-58%) This district changes for population growth, reaching south instead of north, containing all of Greeley and the towns directly south not taken in by SD23, 38% Hispanic now, but still out of reach for Democrats for now.
SD23 - OPEN (R) - 41%-53% (43%-51%) This district needed to grow and does so unfortunately, but reaching further north and taking in all of Windsor and Johnstown and Timnath, all Republican areas added, making this district even more Republican.
Larimer County:
SD14 - OPEN (D) - 56%-38% (57%-38%) The Fort Collins district. Definitely Democratic.
SD15 - Lundberg (R) - 42%-51% (41%-52%) The rest of Larimer County district, including Loveland and Berthoud. Still solidly Republican.
Boulder County: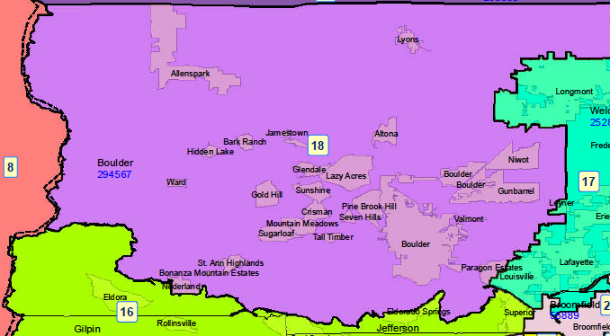 SD17 - OPEN (D) - 58%-37% (58%-37%) This Longmont-to-Louisville district is about the same, and just as Democratic.
SD18 - Heath (D) - 76%-20% (77%-19%) This district takes in Boulder and most of the rest of the county except in the south.
Jefferson County: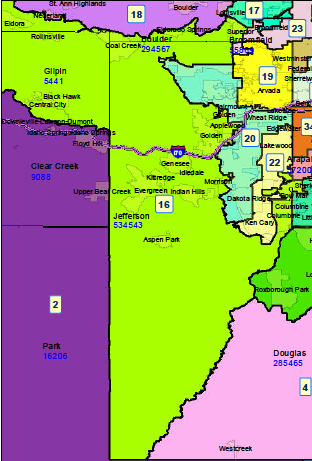 SD16 - Nicholson (D) v. Neville (R) - 48%-47% (53%-42%) This district has only stayed consistent in keeping Gilpin County. The final version takes in southern Boulder County, the foothills region in Jeffco, Golden, up through Littleton to southwest Denver! The result is a pure tossup district, luckily this one shouldn't be up until 2014 so Jeanne Nicholson has some time to adjust.
SD19 - Hudak (D) - 49%-45% (48%-46%) Unfortunately this district changed little, Democrats tried a couple different ways to shore up Evie Hudak, but Carrera was having none of it, it remains Westminster/Arvada and a pure tossup seat for an incumbent who barely won in 2008, not ideal to say the least.
SD20 - Jahn (D) - 49%-46% (53%-40%) This district stayed centered on Wheat Ridge, then picks up the remainder of Arvada, western Lakewood, then part of Dakota Ridge. Other versions kept this district's Democratic lean, this one made it another tossup district, luckily it's Cheri Jahn and she's up in 2014.
SD22 - OPEN (R) - 49%-45% (43%-52%) This was my favorite change in this map, rather than go with the south Jeffco district Sen. Kopp (R) held, it was pulled into eastern Lakewood to resemble the old SD21 and now contains that and Ken Caryl/Littleton, it also manages to draw out the incumbent who was just appointed to replace Kopp. Definite tossup and both Andy Kerr and Ken Summers live here so could face off in this district instead!
Douglas County: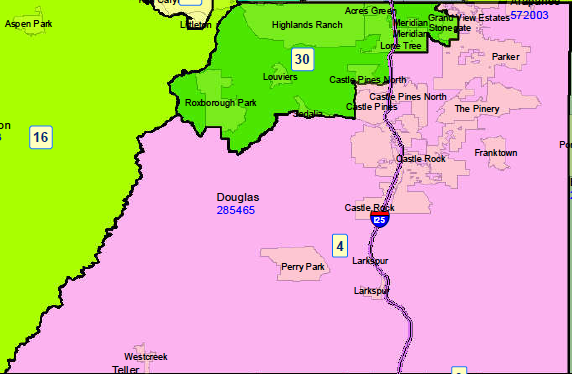 SD4 - Scheffel (R) - 33%-66% (31%-64%) This seat is now just the rest of Douglas County, home to Mark Scheffel, who is more than safe.
SD30 - Harvey (R) - 38%-58% (38%-58%) Highlands Ranch, Lone Tree and some extras, safe for Steve "I make every decision based on the Bible" Harvey.
Adams County: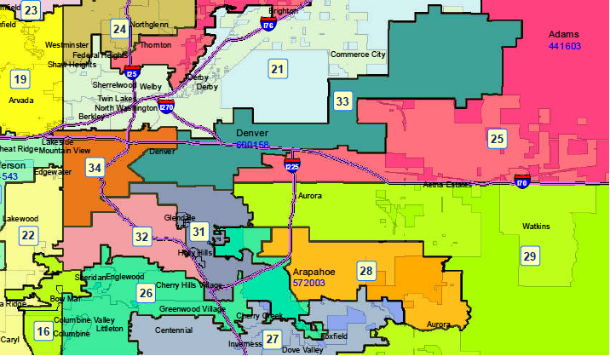 SD21 - NEW - 55%-36% (n/a) This new district is .5% from being majority hispanic and based in Commerce City, definitely safe for Democrats.
SD24 - Tochtrop (D) - 49%-45% (51%-41%) This seat moves a bit to the right with the loss of territory to the new SD21, still Thornton-based, it will be one to watch in 2014 when it's up.
SD25 - Hodge (D) - 48%-45% (47%-45%) This district is the same, definitely swingy and luckily Mary Hodge is the incumbent, this district is 41% Hispanic, making it one of the Hispanic influence districts.
Arapahoe County:
SD26 - Newell (D) - 50%-45% (48%-47%) The rules on county-splits made this district much uglier (at least in Democratic maps) so it reaches into unincorporated Arapahoe County instead. This will be another tossup, but has been pushed towards Democrats.
SD27 - OPEN (R) - 46%-50% (44%-51%) Instead of reaching into rural Arapahoe, this district because almost purely Centennial, leans Republican, but will become more competitive as time goes on.
SD28 - OPEN (D) - 51%-43% (54%-40%) This south-Aurora district goes into more red territory to become a tossup.
SD29 - Carroll (D) - 52%-42% (60%-33%) Still majority-minority, but now this northern Aurora district reaches out into rural Arapahoe. This is why county boundaries don't work! Still leans Democratic.
Denver:
SD31 - Steadman (D) - 69%-27% (64%-32%) Some cosmetic changes from other proposed maps, but this district is safe for Steadman, especially with Joyce Foster retiring to avoid a primary.
SD32 - Aguilar (D) - 67%-28% (65%-31%) 60% White, central and south Denver, Irene Aguilar will have no problems. Safe Democratic.
SD33 - Johnston (D) - 82%-15% (81%-15%) Almost even between whites (34%), Latinos (33%) and African-Americans (28%) and the most lopsided district in favor of Democrats. Safe Democrat.
SD34 - Guzman (D) - 76%-19% (76%-18%) Majority-hispanic, this northwest Denver district is an easy hold for one of our 2 LGBT State Senators.
So here's the totals:
Old Map:
Solid D: 10 (55%+)
Lean D: 4 (54%-52%)
Tossup: 7 (51%-47%)
Lean R: 1(46%-44%)
Solid R: 13 (43%-)
Submitted Map:
Solid D: 10
Lean D: 3
Tossup: 6
Lean R: 2
Solid R: 14
Resubmitted Map:
Solid D: 9
Lean D: 2
Tossup: 9
Lean R: 3
Solid R: 12
Again this map expands the playing field quite a bit, Senate districts tend to be more stable in their leanings so a 51% Bennet district isn't as scary as it looks. Could Republicans win the Senate with this map? Yes! Are Republicans likely to do pull that off? Not this group. I couldn't be more happy with this map really.
And who's up when:
2012: SD4 (Scheffel), SD8 (White), SD10 (Open R), SD12 (King, K. v. Cadman), SD14 (Open D), SD17 (Open D), SD18 (Heath), SD19 (Hudak), SD21 (NEW), SD22 (Open R), SD23 (Open R), SD25 (Hodge), SD26 (Newell), SD27 (Open R), SD28 (Open D), SD29 (Carroll), SD31 (Steadman), SD35 (NEW)
2014: SD1 (Open R), SD2 (Grantham), SD3 (Giron), SD5 (Open D), SD6 (Roberts), SD7 (King, S.), SD9 (Lambert), SD11 (Open D), SD13 (Open R), SD15 (Lundberg), SD16 (Nicholson), SD20 (Jahn), SD24 (Open D), SD30 (Open R), SD32 (Aguilar), SD33 (Johnston? Open?), SD34 (Guzman)