Tonight we again join together to remember a young man who passed away while in the service of the United States of America. Corporal Adam J. Buyes was from Salem, Oregon. He traveled from his home on the west coast to Japan and then to Afghanistan. He was due to return to Japan soon. From there, he planned to return to the states, and already had purchased a ticket to be in his hometown for Christmas.
Corporal Adam J. Buyes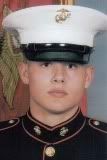 Adam J. Buyes grew up in Salem, the capital city of Oregon, and was very athletic. He was a member of the bowling team, the track and field team, and the football team in high school. He graduated from North Salem's McKay High School in 2008. A story at The Oregonian site indicates that many at the school remember Adam. An article says:

Jay Minyard, McKay's varsity football head coach, got to know Buyes both on the football field and in the classroom. "He had high morals, a great work ethic," Minyard said. "His peers loved him; his teachers loved him."

OregonPrepSports.net named Buyes a Central Valley 6A honorable mention all-star in his senior year.

"It's not easy to lose such a good kid at such a young age," Minyard said.
Buyes joined the Marine Corps on January 12th, 2009. He served as a field radio operator, assigned to 3rd Reconnaissance Battalion, 3rd Marine Division, III Marine Expeditionary Force, which is based in Okinawa, Japan. He arrived in Okinawa in September of 2009 and deployed to Afghanistan in this past May.
Corporal Buyes was scheduled to return to Okinawa next week. He had tickets for a flight home on December 22nd, so he could spend Christmas with his family.
On November 26th, Corporal Adam Buyes died while conducting combat operations in the Helmand province of Afghanistan. He was 21 years old. The incidents surrounding Buyes' death are under investigation by the military.
Service awards earned by Corporal Adam J. Buyes include the Combat Action Ribbon, Navy Meritorious Unit Commendation, Afghanistan Campaign Medal, National Defense Service Medal, Global War on Terrorism Service Medal, and Korean Defense Service Medal.
He is the 31st Oregonian to die in Afghanistan. Buyes' unit in Afghanistan has planned a memorial service to be held at Camp Leatherneck on December the 4th. A press release from the Marine Corps unit is quoted at the
KATU News
site:
"Cpl. Adam Buyes was a truly dedicated professional who cared for his Marines as if they were brothers from the beginning," said 1st Sgt. Daniel J. Wilson, the battalion first sergeant. "He was often emulated and adored by many of the Marines he came in contact with. Cpl. Buyes was just one of those Marines that made being in Okinawa, Japan or deployed to Afghanistan better and more enjoyable for everyone."
The Corporal is survived by his parents, Mike and Carla Buyes; 3 brothers; and a sister. His brother, Joshua, also is a Marine and returned from Afghanistan three weeks ago. Several family members were visiting relatives for Thanksgiving when they heard the news of Adam's death.
**********************
Helping our troops:
If you wish to assist our military and their families, consider contributing to Fisher House. Donating to Netroots for the Troops provides care packages that make a real difference in a military person's life. To assist the animal companions of our deployed military, information is available here. Also, you could visit:

When our veterans come back home, they need jobs. Look at the programs of Hire Heroes USA and Welcome Back Veterans to see if you can help out.
About the IGTNT series:
"I Got the News Today" is a diary series intended to honor, respect, and remind us of the sacrifice of our US troops. Click here to see the series, which was begun by i dunno, and is maintained by Sandy on Signal, Monkeybiz, Noweasels, Blue Jersey Mom, Chacounne, Twilight Falling, Joyful, SisTwo, Spam Nunn, True Blue Majority, CalNM, Wide Awake in Kentucky, Maggie Jean, Jax Dem, Kestrel 9000, & TheFatLadySings. These diaries are heartbreaking to write, but show our community's respect for those who have died.
Fallen service members whose names have been released by the US Department of Defense will usually be diarized two days after the official announcement on the DoD website. This allows the IGTNT team to cover each person more fully, but still in a timely manner.
Please bear in mind that these diaries are read by friends and family of the service members mentioned here. May all of our remembrances be full of compassion rather than politics.