Jed's front-pager contains a line that reiterates a common--and mistaken--assumption about the GOP's current top dog:
. . . given that all his baggage is so widely known, it's not clear what any of his opponents can do to bring him down.
That's the "everybody knows" about Newt Gingrich: that everybody knows, that the worst of his personal and political sins are so widely-known that they apparently can do him no damage.
But is that really true? Do Americans--even those famously forgiving Americans, the Republicans--really know just the kind of man their newly anointed savior is?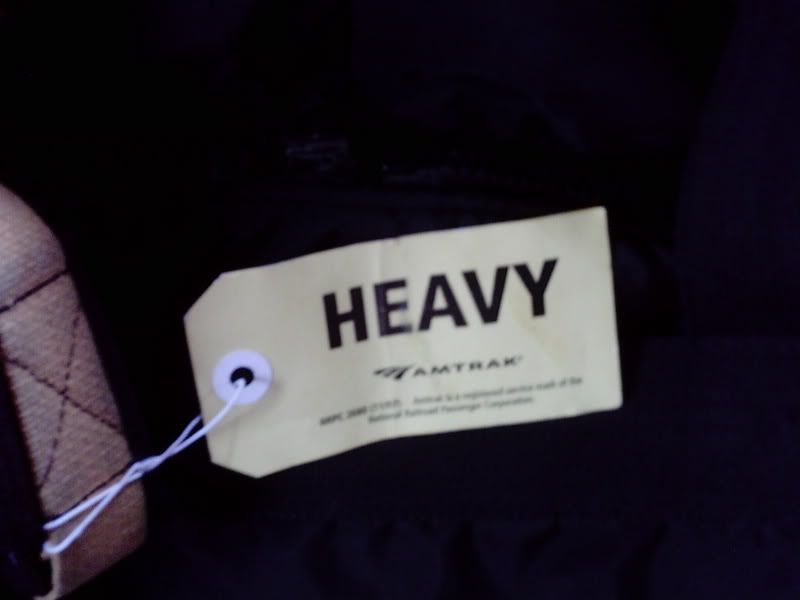 Newt indeed has more baggage than a long-haul train. But not everyone understands just how fully-packed and heavy some of those bags really are. Let's pull on some disposable gloves and do a bit of TSA-style hand-checking, shall we?
Dr. G's Bedside Manner
The story most oft-told to illustrate the former Speaker's moral bankruptcy is the tale of how he dumped his first wife while she was in bed recovering from surgery. Much effort has been made to smooth the jagged edges of this story, including an attempted myth-busting by Gingrich's own daughter.
Though her account disputes Mrs. Gingrich's assertion that the divorce was a "complete surprise" to her, it doesn't attempt to "correct" the main point: that not only did Gingrich attempt to hammer out the details of their split in her hospital room. Moreover, her story confirms what many with real family values find most heinous in the episode: he did this with his two daughters in the room as well.
There are a couple of aspects to the story that indicate a severe lack of personal integrity on Mr. G's part that no one in his camp has disputed. One is that that the divorce was a result of Gingrich's inability to keep his pecker in his pants and his indifference to how it affected his wife and daughters.
. . . during his 1974 campaign, a former aide described "approaching a car with Gingrich's daughters in hand, only to find the candidate with a woman, her head buried in his lap."
The second is, perhaps, the most damning indictment of Gingrich as a man utterly without moral compass. Rather than paraphrase and open myself up to accusations of distortion, I'll simply quote Kip Carter, Gingrich's campaign treasurer from the mid-70s:
It wasn't long after that that, you know, Jackie was supposed to be getting alimony and child support and he refused to pay. And so Jackie and the kids were down there in that house with no food and, you know, electricity and water and all that sort of stuff. So at the First Baptist Church and some other places in town, we took up money and we took up canned food and took it down to the house so that she could keep the lights on and keep the kids fed.
Please, read that paragraph again. These were his own children and the woman who bore them and the story is told by his own friend and ally. Is it such a great surprise that Mr. G thinks your kids should clean toilets for the privilege of an elementary school education?
(The account comes from Peter Boyer's Frontline report The Long March of Newt Gingrich, a piece worth viewing or reading for anyone interested in the history of this, um, person.)
Waaah! Wanna Sit in Front!
Another episode, from many years later, is often downplayed (or even denied) by Gingrich partisans: the federal government shutdown based on a tiff over seating arrangements.
"Conservatives" argue that the demands then-Speaker Gingrich brought to the budget battle in 1995 were matters of principal and had nothing to do with Mr. G's being relegated to the back of Air Force One coming back from Rabin's funeral in Israel.
The problem with this attempted revision: Gingrich himself admitted his reasons for the standoff: "It's petty, but I think it's human," was his excuse.
So millions of Americans found themselves wondering where their paychecks, pensions and basic services were coming from because this guy was pissed at not getting to sit up front with the grownups. It is certainly not inconceivable that a President Newt might precipitate similar crises to settle personal scores.
These are just two examples of the moral unfitness of L.N. Gingrich. Many more can be easily cited. With the deference of address paid to "Mr. Speaker" by party and press, voters might need reminding that Gingrich did not lose his House seat and Speakership by election. He quit. After being fined $300,000 for ethics violations. The title "Mr. Speaker" reflects precisely the same courtesy-without-respect that "Mr. President" did for Richard Nixon in his later years.
His honorifics of "historian" and "author" are, judging by the quality of his work in these fields, equally charitable. His writing does not indicate the depth of knowledge and analysis that would merit the titles.
In a different, and better, time, reports of Mr. Gingrich would begin with none of these largely-unearned identifiers. Rather that would read, "Serial adulterer, crybaby and vicious Washington insider Newt Gingrich said today. . ."
I had hoped to compile a comprehensive account of Mr. G's sketchy personal qualities, but just dipping a toe in those waters has left me a bit illish. Feel free to add your own clarifications and expansions of Newt's record below. I myself feel in need of a good scrubbing right now.