Our beloved cat, Tiger, crossed the Rainbow Bridge earlier today. He was about 20 years old, and he spent almost all of those years here with us at Casa Blue Jersey. Like almost all of our cats, he was a kitty that no one else wanted.
We first encountered Tiger when the big boys were in primary school We were out waiting for the school bus, and we saw him dash in front of a oncoming car. He missed being hit by about 6 inches. He seemed like a friendly little guy, so I told the kids that I would take him in the house and we could try to find his owners after school. When the kids came home that afternoon, we knocked on all the doors on our street until we found his owner. His owner said that we could have him because her husband didn't want the cat anyway. He was named "Lucky", and we renamed him Tiger. He was a true sweetie.
Tiger probably spent 8 of his 9 lives in New Year's Day in 1994. He had an autoimmune problem, and he collapsed on the table right in front of us. All five of us jumped into the car, and we rushed to Columbus veterinary hospital. The problem was that the two drugs that he needed interacted badly with one another. The vet did not think that he was going to make it, but she kept him overnight. We were stunned and overjoyed when she phoned us the next day. She said that he was going to be OK, and we were able to take him home. He lived with us for another 18 years.
Tiger grew up with my kids. When we first adopted him, Son 3 (DeviousPie) was just a toddler. He is now a college sophomore. Tiger was Son 1's special friend. He was always there to share life's highs and lows with Mike. He was there when when Mike returned from college, and even when Mike returned after 4 years abroad in graduate school.
Here are two of my favorite pictures of Tiger. He is sharing his pootie pad with Marmalade, who is a teenager.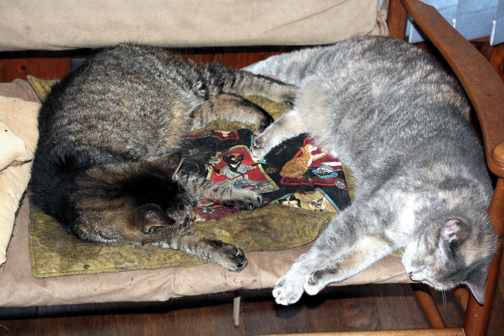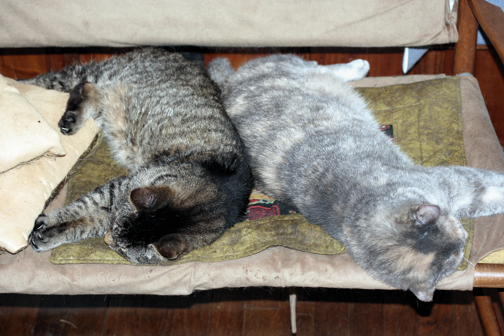 Tiger died in his sleep earlier today. He never suffered, and he only slowed down in the last day or so. We buried him in the back yard. He rests there along with Spooky, Angel, and Mr. Nicky. He and Nick had more than a few spats when they were young, but they became good friends as they both got older: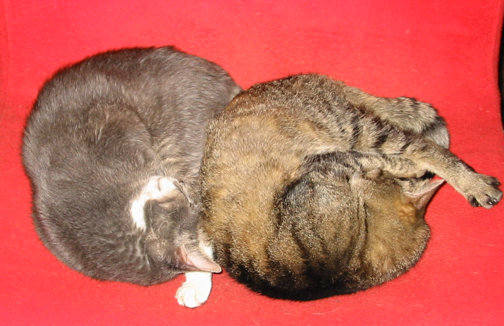 Thank you Tiger for being part of our lives for so many years. We love you, and you will be missed.