We all have stories about how we arrived here. Some of us have been here since the beginning, others are newly arrived, and some of our journeys have been more serendipitous than others. Mine is one of those serendipitous paths because, in looking for one thing, I found another.
I was a long-time lurker. I don't remember when reading Daily Kos became part of my daily ritual, but it was around the time of Hurricane Katrina. After having been forcibly retired, put on disability and essentially sent home to die from stage 4 breast cancer, I tried to put aside my anger and focus. That focus returned me to my first craft, writing, and I hoped I would have time enough to leave something for my husband to remember me by and for my son, then 7, to get a sense of who I was, because he would not remember me when he grew up.
Writing every day requires a warm up and, since television is too distracting, I developed a morning news tour--the Huffington Post, Drudge Report (just to see what the opposition was up to) and Daily Kos, where I lingered more with every passing week. I read selectively and enjoyed the depth and variety of diaries, as well as the pleasure of knowing a week ahead of time about news that was going to break. Soon I was checking in a few times a day, and it wasn't just from writer's avoidance.
And so it went for some years. To the dismay of my long-term disability provider, I kept on living on a chemotherapy regimen that worked. As the crisis sensation that comes of counting survival from month-to-month faded, I started writing fiction. A sprawling fantasy series took shape in my head. I kept up my daily news tour, dropping the far right rather quickly, as righteous rage is not the best emotional condition for writing. Over time, Huffington Post grew less and less satisfying as a news source, and I spent more time with Daily Kos, where I went for politics, science, history, anthropology, human interest, and pooties. Still, I was only a contented lurker.
Until one morning I read a diary by Lorikeet, who asked if it was worthwhile to return to chemo after a cancer recurrence. She received an outpouring of affection and good wishes but, after a couple of hours, no one had been able to answer her question--is it worth the pain and illness to go back to chemo after you've found out your cancer is back?
This is something I happen to know about. I know a lot about it. I've done it a few times. I know what it's like to hear a doctor say, "This is not going to work and you're going to die in a few months, tops." I know how to react to "We just want to make you as comfortable as we can for the time you have left." I know what it's like when even your doctor has given up, but you haven't. So I wrote every reason I could think of to go back to chemo, what it was like to live with recurrence, and why it's important to make the most of the time you have. In those days you could sign up and post a diary immediately, which is what I did. And then I clicked away, hoping Lorikeet would see the diary and be comforted.
I was not prepared for the outpouring that would come my way.
First the diary was rescued, which surprised and delighted me. Then there were the comments, wonderful messages from people whose names I knew, whose diaries I'd read for years, all sharing their own experiences and telling me I had written something they found good. And there, best of them all, was a comment from Lorikeet, saying she had read it and thanked me for writing.
A week later, I got an email from SaraR. Because of my diary, some Kossacks wanted to give me a love-catcher quilt.
To say I was stunned would be an understatement. I've known the kindness of a physical community, but had no experience with the generosity and caring of a virtual one.
My first reaction was to decline in favor of someone whose need was greater. After all, I'm stable, I have a good life--should I not pass on blessings to those who really need them? My husband, who is often smarter than I am, reminded me that to reject a gift is to insult the giver, and that I needed to learn to how accept the generosity of other people with more grace. So, swallowing my unworthiness, I said yes, and thank you.
When the quilt arrived, I cried. I tear up every time I read the messages written on it, loving words from friends I haven't met in person, but for whom I've come to care deeply.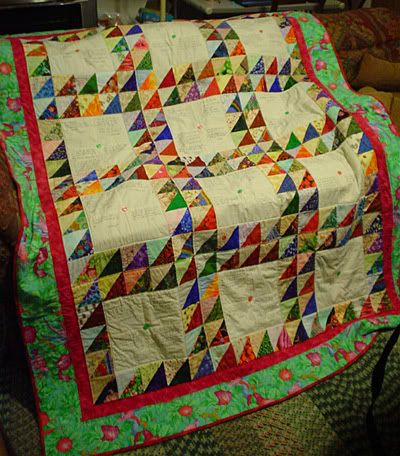 That was how I joined Daily Kos. Slowly, timidly, I started commenting. I wrote an occasional diary. Eventually I joined Diary Rescue. At the time, I thought it was a small way to give back to a community that has given me so much. But even being a Ranger has been a gift. I read more deeply and thoughtfully, I've interacted with more authors, and I've seen wonderful things. I've seen people fallen on hard times who have been lifted up and carried to a better place, I've seen homes saved, I've seen peoples' very lives saved. I've received far more than I've given.
This is not something that's supposed to happen online. Online is where people are prickly and combative, a place where ego and insult rule the day. You're not supposed to find objectively-sourced analysis on a news blog--you're supposed to find egregious lies and propaganda; you're supposed to find scams, ripoffs, snake oil salesmen, cruelty and the worst of human nature, not the best. Especially on a site where user-written content is so prominent. But here, reliably, every day, I see caritas at work.
Caritas. The Greeks have four main words for love: eros, philios, storgy, and agape (there are others, but these are the biggies.) Eros you already know. Philios implies fondness and commonality--in other words, friendship. Storgy is the love a parent feels for a child, or a person feels for a pet. Agape is the best of them. Agape translates in Latin to caritas, which forms the root for our word "charity," but it means much more. Caritas is often defined as "brotherly love," but it's more than that--it's a selfless, unselfish, unselfconscious love, a generous love, a love of people for their own humanity. It's the word in that so-overused-at-weddings verse from First Corinthians 13, originally composed in koine Greek: If I speak in the tongues of men and of angels, but have not love....So faith, hope, and love abide, these three; but the greatest of these is love.
That love is caritas and here, among the politics and minor squabbles, among the jokes and the woozles, the joy and sorrow, the personal stories and flights of fancy, that is what I've found.
A Note From A Gilas Girl
As someone who has come and gone and come back again several times I confess that community is the thing that brings me back. Community, and the variety and quality of the writing. This time around I landed with the rescue rangers which exemplifies both. The best I can do is echo two of my fellow Community Spotlight Team members, Dr. Lori and pico and observe that a subscription brings far more value than just its surface cost: it is, as pico notes here a way to give back, and as Dr. Lori has pointed out, the heart of this community is giving. If you've read anything on the boards in the past few days, you'll note the way that giving takes on a life of its own.
-a gilas girl
(agg)
So what does all this have to do with subscriptions?
Well, subscriptions help keep the site going, keep it expanding, keep support in place, keep planned enhancements rolling out. Already we have an incredible archive and knowledge base, and there's more coming. Many people have started out with monthly subscriptions, but after the end of the year there will be no more monthly subscriptions available (for the time being, existing accounts will be grandfathered).
Until December 31st, you can take out a lifetime subscription for $100. After that, there will be only annual subscriptions, which will cost $40 per year.
Subscribing gets you a much faster load time (very important when you're on dial-up). Without ads, your computer won't freeze or crash because your flash player is ten minutes out of date (also important when you're on dial-up). You'll also have access to three e-books for download this month. If you give someone else a subscription, both you and your friend will have access to the e-books. You'll have unlimited access to the upcoming photo organizer, which will let diarists upload photos to Daily Kos itself, and let you access the Daily Kos editorial team's news photo library. The photo organizer is the next big enhancement that will be rolled out, sometime in the first quarter of 2012.
Whether you subscribe or a year or a lifetime, whether you buy for yourself or make a gift to someone who can't afford a subscription, know you're contributing to a community that does amazing work on the meta level: informing voters, analyzing and influencing politics; supporting Netroots as well as military families and their soldiers in the field, OWS organizers and protesters, Native American communities, (and I'm forgetting many others) as well as touching lives on the individual level: a family without heat, a gifted photographer with a bad infection and no insurance, a would-be novelist with stage 4 cancer. You can find help with any question or difficulty at the help desk. You'll get back much more than you put in.
You can buy a subscription for yourself or a friend on the subscription page. If you would like to make a donation to the site, you can do so on the donations page.