Last week, in Number Sense 31, we made a graph of a more continuous function: how much grass a herd of goats might eat each hour. We also took a look at what the graph might look like if it were an inequality, rather than a strict equality. This week we are going to solve a problem using a graph.
Last week we introduced a herd of goats. Why are we keeping goats, anyway? They are cute, that's true, but they are also a lot of trouble. Well, in addition to the pleasure of their company, we get goat milk. It's a herd of dairy goats. Our herd produces 20 liters of goat milk per day. We use some of it as liquid milk: some goes in our coffee, some we drink, some we feed to the baby goats. We use the rest of the milk to make cheese.
Here is our first equation:
Liquid milk + cheese milk = 20 liters
If we call liters of liquid milk "x", and liters of cheese milk "y" then x + y = 20.
We also know that we use more milk to make cheese than we use as liquid milk, and we have measured how much more: 4 liters.
Here is our second equation:
Cheese milk - liquid milk = 4 liters
or
y – x = 4
We want to know how much milk is used to make cheese every day.
We can use these equations to put two lines on the same graph
We can make a T chart for the first equation,
x + y = 20
and we will pick x = 0 and x = 20 for our x values,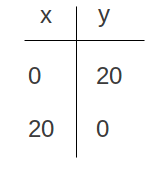 which makes figuring out the y values super easy, since the two numbers must add up to 20.
Here is the graph of the different amounts of milk we could use for cheese and as liquid milk, given that the total amount of milk is 20 liters. If you check any spot on that line: (18, 2), (10,10), where ever... the two numbers add up to 20.
Now we will make a T chart for our second equation
y – x = 4
We will pick x = 0 and x = 10 for our t chart values, again choosing numbers that make y easy to calculate
We plot these two points on our graph, and draw a line that goes through both points
The green line shows all the solutions to cheese milk is four more liters than liquid milk, including the extreme case of zero liters of liquid milk. If we add up the total liters of milk using the green line, we will get different amounts of milk.
The spot where the green line crosses the red line, though, it the spot where the total number of liters is 20.
That says we use 12 liters of milk for cheese, 8 liters of milk as liquid milk.
12 + 8 = 20, so our first condition (20 liters per day) checks out. 12 – 8 = 4, which satisfies our second condition (four more liters used to make cheese).
Have fun in the comments