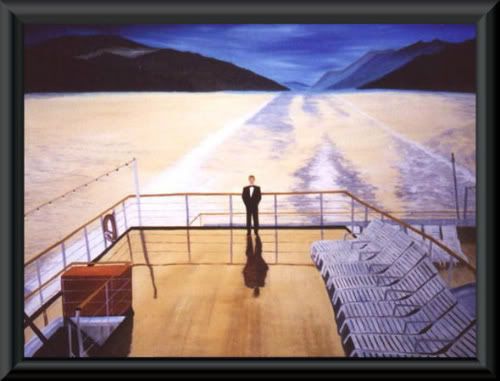 Alaska by David W (oil on canvas 36x48") $850

When I lived in Washington, DC, one of my favorite things to do was to go to the opening nights of the art galleries around Dupont Circle -- and most especially the opening nights of my favorite gallery, Gallery K. That gallery is sadly no more as both owners, Marc Moyens and Komei Wachi, passed away some time ago. I spent many pleasant hours in that gallery, talking with Komei about art and learning to look.
It is art that makes life, makes interest, makes importance, for our consideration and application of these things, and I know of no substitute whatever for the force and beauty of its process. Henry James, in a letter to H.G. Wells
I would like to duplicate that experience here at Daily Kos. We have a long list of fine artists in the Kos Katalogue -- so why not hold some shows? One of the benefits I see, beyond the obvious one of enjoying beauty, is that money spent on art is very economically stimulating. Artists tend to be low income folk and anything coming in will be spent. That's one reason the WPA was so successful in the Great Depression. But, as Patriot Daily pointed out to me, we can also be Secret Santas all year round and pool money to buy art pieces to go to institutions serving people who would be lifted by a beautiful work of art. Think women's shelters, hospices, clinics, and so on... These sorts of gifts would give over and over again.
Art is not a handicraft, it is the transmission of feeling the artist has experienced. Leo Tolstoy
With all of this in mind, Gallery Kos will begin to host openings for artists, one at a time, beginning with the work of DavidW tomorrow at 5pm pacific. Everyone is invited! We will enjoy David's paintings, some music, virtual canapes and wine. As with any opening, we'll also learn something about the artist and what inspires him. He'll be present to answer any questions about his work. This will be an online party for one and all to enjoy. Dress up if you like, and mingle with like-minded people. As with any gallery, looking is always free...but oh, how nice it is to buy a work of art to enjoy forever!

Everglades Lake by DavidW (oil on canvas 24x36") $650

Fine art is that in which the hand, the head, and the heart of man go together. John Ruskin
Please let me know what you think -- and if you have any ideas about good things this gallery can do, speak up! I'd also like to hear from any artists who might like to show at Gallery Kos in future.