So. I've been ill for a while now. Not just "I have a cold" ill, but "I might just lay down and die" ill. But I'm the caregiver in my family, the one that holds it all together and ministers to the needs of one and all. And as always happens when a caregiver goes down and needs some help, all of my charges have lost their minds, had their own health go into the critical zone or in some other way become incapacitated and needy.
This means that I've spent the last couple of months running around like a chicken with my head cut off, trying to juggle all the balls and keep the plates spinning while avoiding dropping like a pair of dirty socks at some crucial juncture. I've spent my time driving back and forth between Chicago and Missouri, having cameras shoved in various orifices one day and driving six hours to handle some looming crisis the next. It's been tough going, so tough that there have been many sleepless nights where I've laid in bed in pain, crying like a baby. In other words, I've not been at my best.
Since nearly all of my people live in areas where access to the internet and even cellphone reception is nonexistent, I've necessarily been away from Daily Kos and my beloved Diary Rescue. And of course my email inbox has exploded all over my desk. It's only been the last few days that I've had a chance to sit down and get it cleared out and sorted, and what I found there turned out to be very interesting indeed.
After clearing out the spam and such, there were emails from friends who are worried about me (and I promise to answer you all as soon as I can) and the usual stuff from the causes to which I donate what little money I can at this time of year. But there were two other emails that caught my eye, and are the impetus for this diary.
The first one was from SusanG asking me if I'd mind writing a diary to help with the Daily Kos subscription drive. And of course I wanted to help, and not just because Susan (who has always been a source of support and inspiration where Diary Rescue is concerned, and an all around good egg) had asked. I've been a member of Daily Kos for six years now, and over the years Daily Kos has become so very important to me. It's given me a place to vent, a place to rally folks around causes that are important to me, a place to find information that I otherwise wouldn't know. When I first started lurking here all those years ago I never would have believed how much a website would come to mean to me. There is no other place that has brought so much goodness into my life, and at a time when I desperately needed some goodness. It has brought me some of the very best friends that anyone could ask for, friends that are loving, caring and helpful in all things. These people aren't just anonymous names on a computer screen, these are people whom I've met and spent some of the best times of my life with, people I've shared rooms and beds with, have broken bread with, people who have shared their homes, their time, opened their hearts and listened to my deepest fears and fondest hopes. They have enriched my life beyond measure, I don't know what I'd do without them. Who knew that a political website could bring so much joy to someone? I sure didn't.
But there was a problem. I didn't have a subscription. I live on a limited income, and what little spare money I do have I use to keep my family afloat or donate to causes that are important to me. Whenever I considered buying a subscription I just couldn't justify it in my mind, not when my neighbor needed that hundred dollars to keep her kids from starving or I could donate to a Shelter Box for someone suffering through a disaster abroad or help provide medical care through Doctors with out Borders. As much as I loved Daily Kos, I couldn't afford to buy a subscription. How was I going to ask people to buy subscriptions when I didn't own one myself?
I was still pondering how to write about all that Daily Kos meant to me and get around that whole "no subscription" issue when I came upon another email, one from donotreply at dailykos.com. Intriguing! So I opened it up, and this is what I found: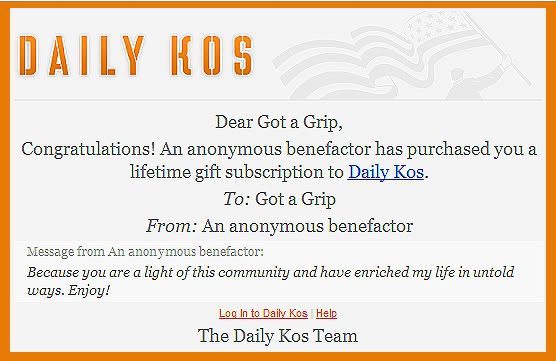 I've been working really hard to cut down on the crying of late, as it's detrimental to my health at this point. But this is just too much. Someone who loves me, someone who knows that I wouldn't do this for myself, has given me a lovely gift. And at a time when I could really use a lovely gift of any kind.
So I ask all of you who are able, please buy a subscription to Daily Kos. You'll be supporting a place that has so much to offer to so many. And if you already have a subscription, then please consider gifting someone less fortunate than yourself, as I was gifted. You'll be giving more than just an ad-free site, you'll be giving them a chance to have their lives enriched as mine has been. It truly is the gift that keeps on giving.
I am truly blessed.
If you can afford it, please subscribe for yourself, or for another worthy kossack.