It's not. Stop telling me this is a grand campaign promise that was kept by President Obama. It wasn't. This withdrawal was all a result of the SOFA signed in 2008 and put together by the Bush administration and the Malaki government in Iraq. This administration had little to do with it except for the fact that this administration preferred to have more troops stay in Iraq for longer than this year.
On top of all of this, to add insult to injury, recently we found out by surprise that one of the disgusting lies about the war is alive within this Democratic administration and its Secretary of Defense. Way to pick 'em, Mr. President.
"As difficult as [the Iraq war] was," and the cost in both American and Iraqi lives, "I think the price has been worth it, to establish a stable government in a very important region of the world,"
It's almost as if we're living with the same McCain administration I was afraid of when I illustrated this in support of Obama during the 2008 general election. Sadly the same kind of neoconservative propaganda McCain was spouting on his "not listening" tour in Iraq is now being spouted within what is somehow called a "Democratic administration."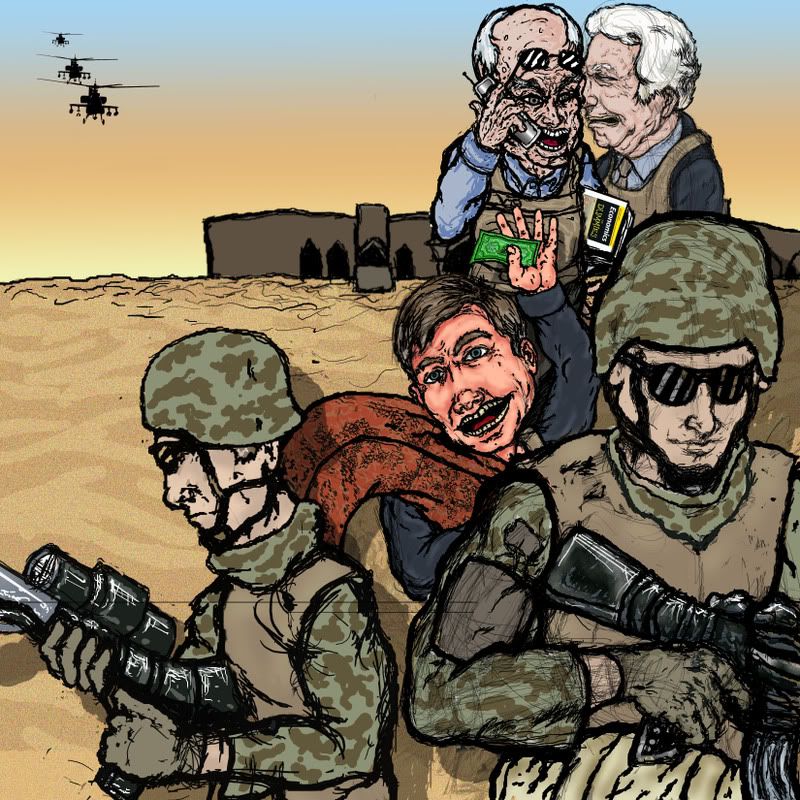 Original art by ©priceman
Defense Secretary Leon Peneta's neoconservative nonsense is a slap in the face to the over 4,500 soldiers who died and the over 30,000 wounded over an immoral illegal war and it was NOT WORTH IT! I guess I should expect this from someone who scoffs at reducing military spending while gunning for Medicare cuts, but I didn't expect the president to agree when he said that.
And yet we hear that the war was worth the price. Huh? There are some estimates that count the death toll of Iraqis of over a million or at the very least in the hundreds of thousands. I wonder how they feel about this statement? Will we be seeing a real rebuke of some kind from the President? Or does the President not care enough as he didn't care about the SS hating Alan Simpson insulting Social Security recipients when the first Catfood commission was created by him to fit this harmful narrative?
It matters not whether the President wants a big song and dance about the war being over because it is not really over. The damage will live on. I can't imagine why only 10 people showed up to Obama's Chicago "I ended the war" celebration, except for the fact that people are not as dumb as this White House apparently thinks they are at times.
And as I mentioned in my last diary which bears repeating from Marcy Wheeler, Presidents that keep invoking the horrendous abusive authority granted to George W. Bush in 2001 are NOT Presidents that get to celebrate ending a war they claimed they were against as emptywheel said:
And while it is true that the Administration had a campaign event dog and pony show yesterday declaring the war over, it is not.

After all, Rand Paul tried to formally, legally end the Iraq war last month. And 67 Senators refused to do so.

snip

And, as I keep noting, the Iraq AUMF serves another purpose. That AUMF's general language on "terrorism" has been used to authorize the use of "war powers" against people the Executive Branch claims are terrorists who have nothing to do with al Qaeda. The Iraq AUMF has been interpreted by the Executive Branch to authorize a war against all so-called terrorists, not just the terrorists who hit us on 9/11. And based on that argument, it was used to authorize the wiretapping of American citizens in the US.
This is a war that could have and should have ended in 2007-2009 when former WI progressive Senator Russ Feingold tried to end it(h/t geomoo) but Democrats kept funding it using the innocent bystander fable to fool the public into thinking they had no other choice.
Even as most troops are leaving Iraq now, we can be sure that Iraq will not be leaving them when they get home. With the busting of the housing bubble and the great crash of 2008 partially caused by a Goldman Sachs Treasury in two administrations now and Tim Geithner, what will they come home to? The prospects are not good.
NO, the war is NOT over. Not for veterans or anyone else. And now, on top of everything else, veterans have to deal with the class war waged on them by the 1% as Scott Olsen found out after he heroically served in Iraq and found the enemy when he came home. He suffered brain swelling from being hit in the head with a projectile by the police sworn to protect and serve him as he served them only for marching for economic justice and his rights as a US citizen and veteran.
It may bore some, but now I have to include macroeconomic policy, particularly fiscal policy because the shockingly poor fiscal policy that is part of the debate embraced by Republicans and Democrats will affect soldiers coming home from Iraq. Many soldiers will also be "sharing;" I'm sorry, bearing most of what Republicans, Democrats, and our President call "shared sacrifice" which is a concept brought on by the same bipartisan deficit error-ists who have created this economic nightmare for soldiers to come home to.
Of course veterans will bear it all and NOT Wall St CEOs who didn't serve this country. The neoliberals, neoconservatives, and their enablers all work in tandem with our bought Congress using their war, their Bush tax cuts, and their great recession they helped cause in order to gut our social safety net for what I call scared sacrifice.
It's very similar to the way they sold the Iraq war except they are using those deficits as a political weapon instead of 9/11 to hurt the public and the soldiers who serve the public. This the only true danger of deficits since everyone in Washington and the media is stuck on stupid and spreads that deficit stupidity everywhere financed by big money. Deficits are not dangerous or financially constraining for our country in and of themselves but they are political Weapons of Mass Destruction and Weapons of Mass Distraction. This will affect the well being of every veteran coming home from Iraq.
It won't help them that their commander in chief buys into the deficit hysteria Republicans hypocritically perpetuate via "getting the deficit in order" instead of spending which equals jobs for veterans when they get home. When sellout politicians and their enablers of failed economic policy in Congress(in the short term or the long term) praise cuts, austerity, and balancing the budget in any way right now, it does have a harmful effect on everyone and hurts veterans' families too. That's why I have to talk about it and urge you to read my links. It matters to veterans and everyone else.
Given the broken families, high suicide rates, and casualties this war has created among veterans and their families, the human damage will last many lifetimes for many lives connected to it which is a real tragedy. That's what the politicians and the White House don't get. Wasted human potential from all the deaths in these wars are the most damaging waste of all. Human misery from the lack of investment in these human beings when they get home from serving their country is not spoken of in a serious vein like it deserves.
The fact that the labor value of human beings and their limited time on this earth being wasted in misery is never discussed in dire terms like the deficit, is insulting, immoral, and bad economics in general. This is also true whether we are talking about Iraqis, the Pashtun people, Greeks, or US citizens. Income inequality and economic suffering is a tragedy. It kills.
In a time of low demand, to talk about the deficit and to acknowledge that POV from sociopaths in the GOP and Democrats like them is having a detrimental effect on those that this president and his enablers of the "dangerous deficits" propaganda claim to care about the most. This is a cruel way to imply that we as a country can't afford to care for the general welfare of our citizens and veterans because of "scary deficits in the long term" even though we can afford 3 trillion dollar wars. Granted raising revenue and long term deficit reduction is better than the short term cuts to balance the budget that the GOP wants, it still took the Occupy movement to change the narrative entirely from deficits back to jobs.
This is especially important for our veterans so they have some form of dignity when they get back from Iraq instead of finding the country in shambles including their family and friends. The GOP obviously doesn't care which is a given so I don't write diaries about it. Democrats are supposed to care more but they absolutely failed on defunding the war before too many died. Democratic efforts were half ass and uninspiring on the 1.4 trillion of deficit spending we needed at the time ripe to try to push for it to alleviate veterans' economic suffering among everyone else's.
To acknowledge even long term deficits at this time is just cruel idiotic framing and economics. I wish even progressive Democrats understood how harmful their "yeah they're right, but not right now" narrative is on deficits. It's bad enough as it is, but it's even worse when the damage from this deficit idiocy takes the form of a human face, an unemployed person's face, or any soldier's face; a face that sacrificed more than most just trying to readjust after leaving the hell of a warzone.
If Democrats and Republicans want to talk about debt, they need to talk about the private debt Americans and particularly veterans are facing as they are being foreclosed on once they get home. Democrats should also realize the effect of deflation on veterans' homes so they can't cash out on their equity anymore or readjust. Private debt deflation is where the debt problem lies, not the government's books which are not like a veteran's family's books no matter how many times the president says it.
We have to combat the private debt overhang for veterans and their families like all Americans employed and unemployed. We also needs to spend like it's a demand economy because it is and we must make domestic spending as priority for every veteran coming home and everyone else. Although it's true that war spending creates some jobs, they really pale in comparison to other domestic sectors in our economy.
That money could have been spent in our economy and could have built up our crumbling infrastructure having a much larger multiplier effect than the paltry payroll tax credit being fought over by the bought Congress that won't spur hiring and threatens Social Security. There was always massive waste from the start to the supposed finish of this war even though our President said he would work to rid us of the abuses of war contractors and war profiteers who still do business with his DHS.
Probably the best summation of all of this comes from my favorite New Keynesian Nobel Laureate Joseph Stiglitz who co-wrote the book: The Three Trillion Dollar War
The True Cost Of The Iraq Conflict
The growing use of contractors in Iraq and Afghanistan doing everything from cooking and cleaning to servicing weapons systems and protecting U.S. diplomats has increased operational expenses far more than if we had relied solely on the Army. A 2006 survey by the Department of Defense's Central Command showed that the United States is employing more than 100,000 private contractors; this number represents a tenfold increase over the use of contractors during the Gulf War in 1991. Given our failure to increase the size of the military, the United States cannot operate without them. For the most part, these people work side by side with U.S. troops and share the risks and hardship. An estimated 1,000 contractors have been killed since 2003.

The invasion of Iraq opened up new opportunities for private military security firms. The State Department alone spent more than $4 billion on security guards in 2007—up from $1 billion three years ago. Blackwater Security got an initial toehold in 2003 with a $27 million no-bid contract to guard L. Paul Bremer III, the administrator of the Coalition Provisional Authority (the U.S. occupational authority in Baghdad). That contract was expanded to $100 million a year later. By 2007, it held a $1.2 billion contract for Iraq and employed 845 private security contractors.

In 2007, private security guards working for companies such as Blackwater and Dyncorp were earning up to $1,222 a day; this amounts to $445,000 a year. By contrast, an Army sergeant was earning $140 to $190 a day in pay and benefits, a total of $51,100 to $69,350 a year.

Worse, the military has been competing against itself: the high pay for the contractors is one of the factors forcing the Army to offer ever higher bonuses for reenlisting. Soldiers, as their tour of duty comes to an end, can go to work for contractors at much higher wages. Despite huge increases in reenlistment pay, the military is losing some of its most experienced personnel to the private contracting firms.

Many have questioned the wisdom of such reliance on private contractors instead of strengthening the core military force, but not just because of the higher costs. Not only were these contractors more expensive than troops; they were not subject to military discipline or supervision. Of course, most contractors are hardworking, honest people, performing under difficult conditions. But the brutality of a few has become legendary and has inflamed the conflict.

The use of contractors is, in essence, a partial privatization of the armed forces. Yet there are good reasons why countries do not privatize their military. It makes sense for governments to privatize steel mills; or even to privatize natural monopolies like electricity or gas, provided adequate regulatory frameworks are implemented to make sure that these monopolies do not use their market power to overcharge consumers. It does not make sense to privatize the military. Proponents of privatization often argue that it encourages customer responsiveness. Steel companies can enhance their profits by offering products that are more to the liking of their customers, of higher quality and greater reliability. For the most part, those who interact with military contractors do not do so voluntarily; there is no market where they can choose to be interrogated by a contractor from the United States, or by some other provider. Indeed, the incentives are perverse. The incentives of the contractor are to minimize his costs, and those incentives do not take into account the nation's broad range of public objectives.
After all I've said, you might still ask yourself why I don't feel like joining in the celebration that most of our troops are finally leaving Iraq, well this is a very good reason, among many. Especially when you take into account that we will be leaving 52,637 military contractors in Iraq and 101,789 military contractors in our undefined seemingly endless military adventure in Afghanistan.
Jeremy Scahill is on this.
A couple of years ago, Blackwater executive Joseph Schmitz seemed to see a silver lining for mercenary companies with the prospect of US forces being withdrawn or reduced in Iraq. "There is a scenario where we could as a government, the United States, could pull back the military footprint," Schmitz said. "And there would then be more of a need for private contractors to go in."
When it comes to armed contractors, it seems that Schmitz was right.

According to new statistics released by the Pentagon, with Barack Obama as commander in chief, there has been a 23% increase in the number of "Private Security Contractors" working for the Department of Defense in Iraq in the second quarter of 2009 and a 29% increase in Afghanistan, which "correlates to the build up of forces" in the country. In Iraq, the Pentagon attributes the increase to better accounting. But, these numbers relate explicitly to DoD security contractors. Companies like Blackwater and its successor Triple Canopy work on State Department contracts and it is unclear if these contractors are included in the over-all statistics. This means, the number of individual "security" contractors could be quite higher, as could the scope of their expansion

Need I remind you all of the murder and rape by Blackwater and Halliburton/KBR contractors? I would hope not. So no, this is not an end to war, hostilities, the theft of public resources, war crimes, or overall waste in Iraq or Afghanistan whether anyone likes it or not or how I said it.
I'm happy for the families that get to see their loved ones again, but that certainly isn't a given considering the Obama administration is ramping up our presence in the Persian gulf while boasting about ending the war in Iraq with little to nothing to do with it including ground troops in Kuwait.
U.S. Planning Troop Buildup in Gulf After Exit From Iraq (h/t Agathena)
MacDILL AIR FORCE BASE, Fla. — The Obama administration plans to bolster the American military presence in the Persian Gulf after it withdraws the remaining troops from Iraq this year, according to officials and diplomats. That repositioning could include new combat forces in Kuwait able to respond to a collapse of security in Iraq or a military confrontation with Iran.

snip

In addition to negotiations over maintaining a ground combat presence in Kuwait, the United States is considering sending more naval warships through international waters in the region.

With an eye on the threat of a belligerent Iran, the administration is also seeking to expand military ties with the six nations in the Gulf Cooperation Council — Saudi Arabia, Kuwait, Bahrain, Qatar, the United Arab Emirates and Oman. While the United States has close bilateral military relationships with each, the administration and the military are trying to foster a new "security architecture" for the Persian Gulf that would integrate air and naval patrols and missile defense.

snip

Mr. Obama and his senior national security advisers have sought to reassure allies and answer critics, including many Republicans, that the United States will not abandon its commitments in the Persian Gulf even as it winds down the war in Iraq and looks ahead to doing the same in Afghanistan by the end of 2014.

"We will have a robust continuing presence throughout the region, which is proof of our ongoing commitment to Iraq and to the future of that region, which holds such promise and should be freed from outside interference to continue on a pathway to democracy," Secretary of State Hillary Rodham Clinton said in Tajikistan after the president's announcement.

During town-hall-style meetings with military personnel in Asia last week, the secretary of defense, Leon E. Panetta, noted that the United States had 40,000 troops in the region, including 23,000 in Kuwait, though the bulk of those serve as logistical support for the forces in Iraq.
The President must think we have our head under Iraq or something. Isn't it nice that we can afford to keep feeding the war machine in Iraq and Afghanistan among the whole Middle East? Isn't it nice while the American people who voted him in must be condescended to about how we "must understand that we deserve to be equated with Republicans in this debate and that we need to share sacrifice with the bankers who brought the economy down" that the leisure class's last dollar is nowhere near being drawn nor are their assets?
Our assets are deflating and our last dollar is a matter of life or death which will surely be drawn like our last breathe.
Glenn Greenwald's reference to military historian and former Army Colonel Andrew Bacevich's apt statement about the Iraq war, the Bush administration, and the Obama administration is a painfully accurate take on all of this so I will end with it.
The disastrous legacy of the Iraq War extends beyond treasure squandered and lives lost or shattered. Central to that legacy has been Washington's decisive and seemingly irrevocable abandonment of any semblance of self-restraint regarding the use of violence as an instrument of statecraft. With all remaining prudential, normative, and constitutional barriers to the use of force having now been set aside, war has become a normal condition, something that the great majority of Americans accept without complaint. War is U.S.

One senses that this was what the likes of [Vice President Dick] Cheney, [Secretary of Defense Donald] Rumsfeld, and [Deputy Secretary of Defense Paul] Wolfowitz (urged on by militarists cheering from the sidelines and with George W. Bush serving as their enabler) intended all along. By leaving intact and even enlarging the policies that his predecessor had inaugurated, President Barack Obama has handed these militarists an unearned victory. As they drag themselves from one "overseas contingency operation" to the next, American soldiers must reckon with the consequences. So too will the somnolent American people be obliged to do, perhaps sooner than they think.
So don't you dare tell me the Iraq war is over!
Don't you dare tell me that this is a victory for President Obama or the American people!
Don't you dare tell me that this bloody quagmire was worth the price!