The next time a GOP-er tells you that we can't raise taxes on the Job Creators, that we can't give hand-outs to the Unemployed -- simply tell them:
Don't be a Grinch! Quit trying to hurt everyone in Whoville.

You will be in good company if you do.
The president caricatured Republicans as the "Grinch" for failing to support a proposal in his $447 billion jobs bill to extend and expand last year's payroll tax cuts, which expire in December.

"Tell them, 'Don't be a Grinch.' Don't vote to raise taxes on working Americans during the holidays. Put the country before party. Put money back in the pockets of working families. Do your job. Pass our jobs bill,"

Obama told the crowd of roughly 1,300 [at a high school in Manchester, N.H.]
Obama to GOP:
Don't Be a 'Grinch,' Extend Payroll Tax Cuts
abcnews -- Nov 22, 2011

Grinch
Wikipedia

The Grinch is a fictional character created by Dr. Seuss. He first appeared as the main protagonist in the 1957 children's book, How the Grinch Stole Christmas!

The devious, anti-holiday spirit of the character has led to the name "Grinch" becoming a term used to describe a person opposed to Christmas time celebrations or to someone with a coarse, greedy attitude.

The Grinch may be fictional -- the GOP's determination to protect only the interests of the super rich, isn't ...




This might be an idea with legs: The GOP is just the Party of Grinch.

There is even a Facebook page for the Grinch Only Party:
Facebook: Grinch.GOP -- The Grinch = Republican
larger



And when the stingy cap fits ... I say Let's make them wear it.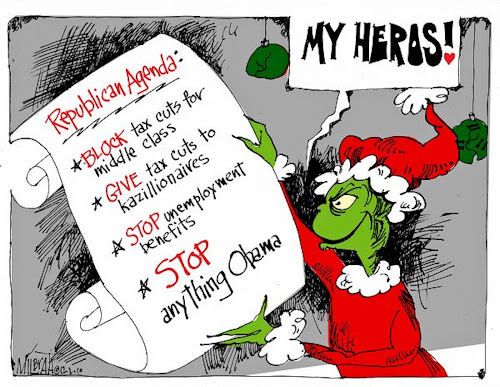 larger
[Creative Commons Attribution]
Cartoons of the Day -- GOP Grinch
by Paddy, The Political Carnival -- Dec 19, 2011



This, afterall is the GOP's game plan: Tax the workers, and Un-Tax the Rich.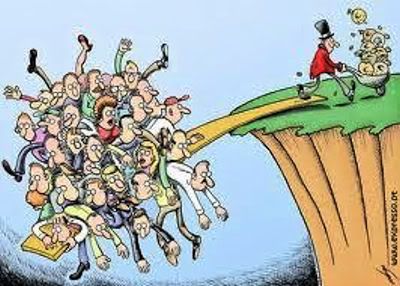 smaller
[hat tip to fellow dkos member jmknapp]



Hmmm, that seems to be the philosophy of the 1% uber-class too.
Well long as they, the Job Creators, have their "Grey Poupon" ...
Then I guess, Everything must be just fine down in Whoville, isn't that right, Mr Grinchy Grinch GOP-ers?