Good Morning Kossacks and Welcome to Morning Open Thread (MOT)

We're known as the MOTley Crew and you can find us here every morning at 6:30 Eastern. Feel free to volunteer to take a day - permanently or just once in awhile. With the auto-publish feature you can set it and forget it. Sometime, the diarist du jour shows up much later, that's the beauty of Open Thread...it carries on without you! Just let us know in the comments. You can click on the Morning Open Thread "heart" if you'd like us to show up in your stream every day.

Doing one of these diaries is a good way to get your feet wet if you have been hesitant about writing a diary. You can write as much or as little as you want. The audience here is always supportive.
Since this is Christmas Eve, I had thought about doing a diary on angels. And then, lo and behold, JaxDem did a diary on Snow Angels and Snow Art earlier this week on Monday. Still this diary is a slightly different take on the subject of angels in art and real life.
According the biblical narratives, angels played a large role in the Christmas story. Even though many of us associate angels specifically with Christianity, angels have been around in other religions and mythology long before the advent of Christianity and are an integral part of many religions today, including Christianity, Judaism, and Islam.
Historians have found angel like images in the art of ancient cultures such as Greece and even as far back as ancient Mesopotamia. The study of angels is called "angelology." Basically in Christianity, Judaism, and Islam, angels are benevolent messengers or agents of God or Allah. Fallen angels such as Lucifer (the Devil) are demons.
Angels were commonly seen in Byzantine and Renaissance works of art, which were often depictions of biblical stories. Particularly during the Renaissance, much of the art work was commissioned for churches in the form of altar pieces and frescoes which were financed by wealthy patrons. The two angels below are an example of the Byzantine style which was very flat and often highly decorative, reminiscent of the Byzantine mosaics. This was painted in the early 13th century, and perhaps it may have been an altar piece.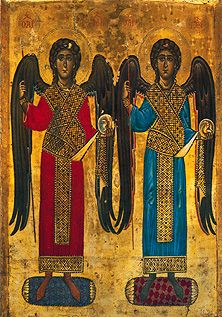 This next painting is by one of the most important artists in all the history of art, Giotto. Giotto is credited with being the first artist of his era to break with the stylized Byzantine form and return to the classical style based upon three dimensional forms with realistic shapes and perspective. In effect, Giotto's art ushered in the early Renaissance. This example of Giotto's work is a fresco which is where the artist paints in wet plaster. Frescoes were a very popular form of art in churches, especially in the early Renaissance. This work was painted in the early 14th century and is the Lamentation of Christ. Note that Giotto literally filled the sky with angels, ten in all.
During the Italian Renaissance, perhaps the three most important artists of the High Renaissance period were Leonardo da Vinci, Raphael, and Michelangelo. Below is Leonardo's Annunciation which was painted between 1475 and 1480. Leonardo did extensive studies of the human anatomy and the angel in this painting reflects his knowlege of the human form.
Finally, I had to include the two cherubs by Raphael for two reasons. First, because I believe that Raphael was the most beautiful painter of the high Renaissance artists and second, because these cherubs have probably appeared on more Christmas cards than any other angels over the years. They are actually a small portion of a larger painting called the Sistine Madonna which was painted in 1513. Not only do these cherubs have a realistic physical form, but they also have impish human expressions on their faces.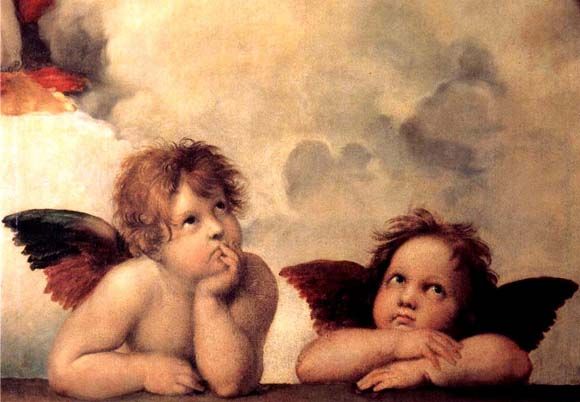 So are celestial angels, such as the ones depicted in the paintings above, real or simply a part of our mythology? That is for each one of us to decide for ourselves.
What I do know is that angels here on earth do exist. We see it regularly here in our community at Daily kos, when angels among us constantly reach out to help others, especially those in need. Sometimes an angel appears to those of us who feel undeserving. That happened to me a little over a week ago when an angel touched me with the gift of a lifetime subscription.
So even if you do not believe in celestial angels, I think we can all believe in the human angels among us. I do and I am very grateful to my angel here at Daily kos.