Headlines. They are there to grab out attention, to call out and reel us in to read the small type. But one morning three weeks ago, the headlines on the site for the local paper, The SF Chronicle / SFGate.com, stopped me in my tracks. I took a screenshot knowing that if I stepped away, what I saw could be gone in a matter of minutes. Such it is with headlines on the internet. Some days, they can change like the stock ticker.
I could get no further than the first four that appeared "above the fold"...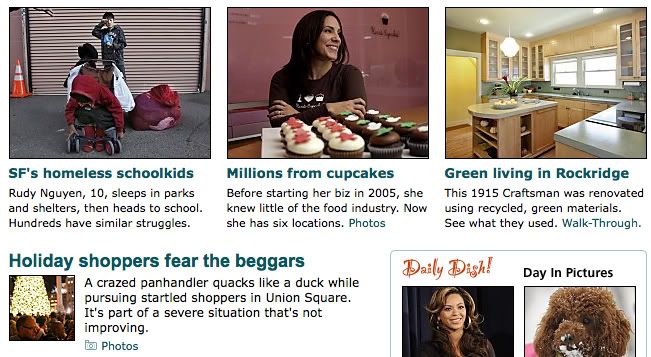 My eyes pinged from one to the next trying desperately to string together a coherent sentence to describe how opposite and ironic they were, and instead, here are pieces of the train of thought that raced through my mind:
• Kids love cupcakes.
• The woman making millions selling cupcakes can afford to buy and live in the green home.
• The kids who love cupcakes cannot afford to buy a cupcake and they have no home.
• It's likely that many of the beggars who are scaring the holiday shoppers have no homes.
• The holiday shoppers have homes.
• The holiday beggars might be parents of the homeless schoolkids, and they cannot buy cupcakes for their kids.
• Reading about features of a green home intrigues me on all sorts of professional and environmental levels, but how could I even go there right now?
• I'm afraid of the holiday shoppers.
Over a month before this media menage was created, I was invited to consider joining a board for a local nonprofit that has breaking the cycle of childhood poverty at the core of its mission. The first meeting is in early January.
If I join, I have a crazy side mission: I want those kids in the headline to enjoy cupcakes.