Tonight, we have two to remember. One was a sailor in the highly specialized area of Explosive Ordnance Disposal and the other a soldier and father to two children. Both died in Afghanistan.
Since 2001, there have been 1865 American troops killed in Afghanistan. Please take a moment to honor their sacrifice.
Please bear in mind that these diaries are read by friends and family of the service members chronicled here. May all of our remembrances be full of compassion rather than politics.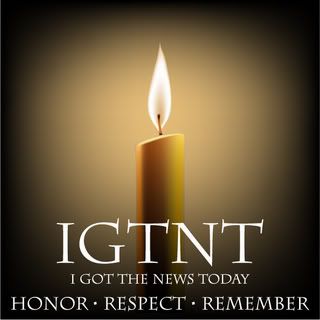 DoD Announces Navy Casualty

Petty Officer 1st Class Chad R. Regelin, 24, of Cottonwood, Calif., died Jan. 2 while conducting combat operations in Helmand province, Afghanistan. Regelin was assigned as an explosive ordnance disposal technician to Marine Special Operations Company Bravo. Regelin was stationed at Explosive Ordnance Disposal Mobile Unit 3, San Diego, Calif.

In October 2011, Petty Officer 1st Class Chad Regelin was awarded USO's "Sailor of the Year" for his brave work in explosive ordnance disposal from October 2010 to March 2011. Regelin's parents accepted the award on their son's behalf because he was on deployment in Afghanistan. From the USO 2011 Banquet, Regelin "personally located and destroyed 24 IEDs (improvised explosive devices or roadside bombs), trained 13 commando engineers in counter-IED tactics and fought in more than 20 direct fire engagements," according to the USO's 70th anniversary banquet program. His mother and father were invited by Michelle Obama to visit the White House. Anderson Valley Post spoke to his mother about the experience in 2011:
"Words cannot describe the pride we felt for our son. We've tried to describe it to our three other children and we couldn't even do that," Shirene Regelin said last week as she told about touring the White House and meeting the First Lady.
Mrs. Obama eventually returned all freshly showered and coiffed. She remembered our son Chad had served for two months at the White House between his overseas deployments," Mrs. Regelin recalled.

"I was not an Obama fan, but I came out of there loving Mrs. Obama because she said such nice things about our son. We even had our pictures taken with her by the official White House photographer," she added.

Regelin earned the USO Sailor of the Year award for his bravery in many situations. From the paper and USO:
While spending two days to clear a village of such hazards "in the battle-ravaged Panjway District of Kandahar Province, (Regelin) came under heavy gunfire. Without hesitation, Petty Officer Regelin returned fire and passed critical information of his enemy's position to his element leader" thus preventing the enemy from out-flanking his team, the biographical statement continues.

The next day, Regelin discovered a 60-pound bomb inside a booby-trapped building. "As he worked tirelessly to render the building safe, he intercepted a signal that an enemy attack was imminent. While under attack, Petty Officer Regelin orchestrated the safety of his 10-member team, cleared the compound, collected forensic evidence and prepared the bomb for disposal," the booklet's bio concludes.

For his bravery under fire, the Navy has nominated Regelin, stationed at San Diego Naval Base, for the Bronze Star with a V for valor.
Petty Officer 1st Class Chad Regelin was on his second tour of duty in Afghanistan when he was killed by a bomb. His brother, Justin, spoke to Chad an hour before the explosion. He told the paper his brother was upbeat and would be home for a break on February 15th. Shortly after they ended the conversation, a bomb exploded outside of the base. Regelin and others were called out to look for evidence. As he was searching the site a second explosion from a direct switch took place and killed Regelin. From the Andersonville Valley Post:

"He suffered some broken bones, but they believe he died from head injuries. They were able to airlift him out of there and he was conscious for about a half-hour before he died in a military hospital," Justin Regelin said.

Justin later told the paper:
"I've been through a time of sadness. It's tough to lose your littlest brother. But he said he was at peace with what he was doing (as a bomb disposal expert.) That is what he loved to do."

Petty Officer 1st Class Chad Regelin graduated from Anderson Union High School in 2005. He joined the Navy in 2006. During high school, he helped form the school's Surf Club and was named Outstanding Senior for the Anderson Cubs varsity football squad.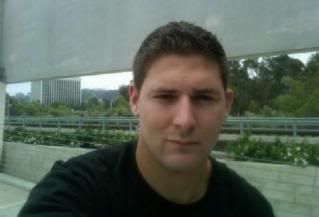 Chad's mother, Shirlene wrote on her Facebookpage:

Thank You Everyone...My heart is absolutly breaking at this time!! I wish someone could tell me it is not true!!! I don't think I will ever get the picture out of my mind of the four men standing at the door to give me the news. I just want him to come home and let me hug him. I honestly do not know how I am going to get through this!! I LOVE YOU CHAD!!!
Sources:Andersonville Valley Post, USO.org, KRCTV.News, UPI

DoD Announces Army Casualty
Spc. Pernell J. Herrera, 33, of Espanola, N.M., died Dec. 31, in Helmand province, Afghanistan, of injuries suffered in a non-combat incident. He was assigned to the 1st Battalion, 171st Aviation Regiment, Santa Fe, N.M.

Spc. Pernell Herrera wrote about himself on his Facebook page:
I am a Very Easy Going Dad of one Son, and one Daughter. They are the biggest joys of my Life! I enjoy Spending my free time with my Mom, and Brother, Family and Friends! I am currently in Afghanistan with the United States Army. I have served in the Military for Five years.
Spc. Herrera was a 2006 graduate of Espanola High School. After High School, he joined the New Mexico State Guard. He worked on making sure equipment worked properly.
Herrera passed away after strenuous activity from cardiac arrest.
From the KOAT.com:
"It broke my heart. I broke down in tears knowing that their son was not coming home to them," Española mother Melanie Salazar said.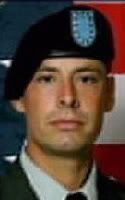 Rest in peace, Spc. Pernell Herrerra.

In Flanders Fields
by Lt. Col. John McRae, MD, (1872-1918)

In Flanders Fields the poppies blow
Between the crosses row on row
That mark our place, and in the sky
The larks, still bravely singing, fly
Scarce heard amid the guns below.

We are the Dead. Short days ago,
We lived, felt dawn, saw sunset glow,
Loved and were loved,
and now we lie
In Flanders fields.

Take up our quarrel with the foe:
To you from failing hands we throw
The torch; be yours to hold it high.
If ye break faith with us who die
We shall not sleep, though poppies grow
In Flanders fields.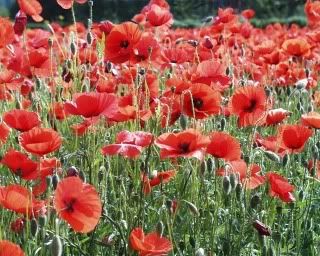 I Got the News Today is a diary series intended to honor, respect and remind. Its title is a reminder that almost every day a military family gets the terrible news about a loved one. Diaries about the fallen usually appear two days after their names are officially released, which allows time for the IGTNT team to find and tell their stories.

All of the U.S. fatalities can be seen here and here. They all had loved ones, families and friends. The DoD news releases are here. I Got the News Today is intended to honor, respect and remind. Click the IGTNT tags below for previous diaries.

Click the IGTNT tags to see the series, which was begun by i dunno, and which is maintained by Monkeybiz, Noweasels, Blue Jersey Mom, Chacounne, twilight falling, joyful, SisTwo, Spam Nunn, True Blue Majority, CalNM, Wide Awake in Kentucky, Maggie Jean, Jax Dem, Kestrel 9000, TheFatLadySings, Ekaterina, and me, Sandy on Signal.

Please bear in mind that these diaries are read by friends and family of the service members chronicled here. May all of our remembrances be full of compassion rather than politics.