For Tonight's Entertainment we have a little quiz of common misconceptions. Is water really wet? [insert your own rude question here concerning bears, pigs, and ducks] Follow us beneath the orange gnocchi-doodle to see how many you get right, and let us know any other misperceptions you've been laboring under.
But First, A Word From Our Sponsor:
Top Comments recognizes the previous day's Top Mojo and strives to promote each day's outstanding comments through nominations made by Kossacks like you. Please send comments (before 9:30pm ET) by email to topcomments@gmail.com or by our KosMail message board. Just click on the Spinning Top™ to make a submission. Look for the Spinning Top™ to pop up in diaries posts around Daily Kos.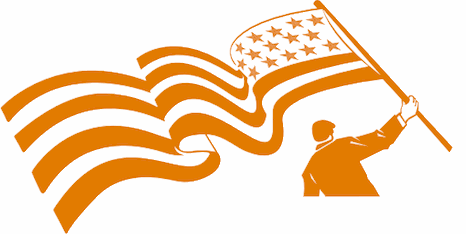 Make sure that you include the direct link to the comment (the URL), which is available by clicking on that comment's date/time. Please let us know your Daily Kos user name if you use email so we can credit you properly. If you send a writeup with the link, we can include that as well. The diarist poster reserves the right to edit all content.
Please come in. You're invited to make yourself at home! Join us beneath the doodle...
Common Misperceptions Quiz
Ok, here's the rules: You're on your honor-- no googling, or you might get Santorum all over you. No yelling at the quiz-meister. Answers and sources will be in the comments. And, as my dad used to say, Be true to your teeth, or they'll be false to you.
TRUE or FALSE?

The Roman Vomitorium was special room used for binging and purging during feasts.
George Washington did not have a set of wooden false teeth.
At 5'2" Napolean Bonaparte was actually slightly taller than the average Frenchman of his time
During World War II, King Christian X of Denmark thwarted Nazi attempts to identify Jews by wearing a yellow star himself.
Albert Einstein did not fail mathematics in school. Before he was fifteen he had mastered differential and integral calculus.
Food items cooked with wine or liquor will be non-alcoholic, because alcohol's low boiling point causes it to evaporate quickly when heated.
The expression "rule of thumb" was originally coined from a law allowing a man to beat his wife with a stick, provided it was not thicker than the width of his thumb.
"420" did not originate as the Los Angeles police or penal code for marijuana use.
The Great Wall of China is the only human-made object visible from the Moon.
Redheads are gradually going extinct due to the recessive gene for red-headedness.




TOP COMMENTS
January 5, 2012
Thanks to tonight's Top Comments contributors! Let us hear from YOU
when you find that proficient comment.
from Horace Boothroyd III:

We are considered terrorists for marching and feeding the homeless. Why are the anti-abortion wingnuts allowed to spread fear and misery with impunity? Sychotic1's comment in Another day, another 'pro-life' terrorist bombs an abortion clinicsums it up:


The nut jobs can protest clinics day after day, but let a few occupiers show up somewhere and the riot gear comes out. I will believe in equal protection under the law when the riot gear shows up at clinic protests.
From Ed Tracey:

In the diary by Olisterhosen about US Army Cpl. Jesse Thorsen (an Afghanistan
war veteran) who may have violated military policy when he wore his fatigues on stage and praised Ron Paulis presidential bid - Timaeus cites his law partner's knowledge of military law, and predicts that Thorsen will not be as lucky as some others were:


A few years back, under the Cheney regime, there were some very
high-ranking Air Force generals who got away with this kind of thing.
From Dragon5616:
I really liked what NNadir had to say about President Obama in Four reasons why Mitt Romney will be the nominee by DemFromCT.
and from your humble poster, smileycreek:

happy camper applauded cjsalamon's "nice, concise explanation of why Paul is wrong, even when he's right:"


When you support a politician it is seen as validating their belief system, not just a few issues.

The entire comment is well-worth sending to progressives who think Ron Paul is worth their vote.
AND
Ecclesiastaverbs took issue with the notion of a veto-proof law, saying:


BLAH BLAH VETO PROOF BLAH The only way to know that something is veto proof, is to veto it and then have it be overridden by congress.

Since that did not happen any mention of the bill being veto proof is baseless speculation likely from a mind sickened by the gymnastics of justifying laws that run counter to the spirit America.
AND
In Eclectablog's New Hampshire Republicans jump the shark, introduce bill mandating laws reference the Magna Carta VigilantLiberal nominated homo neurotic for Top Comment of the Day for this:


next up?
repackaging the feudal system as "job creation."
TOP PHOTOS
January 4, 2012
Enjoy jotter's wonderful PictureQuilt™ below. Just click on the picture and it will magically take you to the comment that features that photo. Have fun, Kossacks!