---
GoodFellas (1990) is director Martin Scorsese's stylistic masterpiece... It is a nitty-gritty, unflinching treatment of a true mobster story about three violent "wiseguys" [Mafia slang for 'gangsters'], enhanced by the Italian-American director's own experience of his upbringing in Little Italy...
The real-life story concerned a low-level, marginalized gangster (or 'foot-soldier') of mixed ethnic roots (half-Irish, half-Sicilian) - Henry Hill, who ultimately broke the gangster's code of 'never ratting on your friends', and turned informant for the FBI and entered the Federal Witness Protection Program to save his life by disappearing from view.
The fast-moving, energizing, episodic story, with plentiful profanity (the F-word is repeatedly spoken by Joe Pesci's character), forceful editorial cuts and visuals, shifting points of view, and characters speaking directly to the camera, is told with voice-over narrative commentary by Henry Hill (Ray Liotta). It includes about thirty years in his life, from his teen years as a Brooklyn Irish neighborhood kid to maturity as an adult gangster, covering the years from the 1950s to the drug-saturated 1970s when married to wife Karen (Lorraine Bracco). The additional voice-over of his wife's point-of-view provides even further insight into the all-encompassing culture and lure of life within the 'family.' Freeze frames sprinkled through the film accentuate the indelible, impressionable moments in Henry's experiences. link
What are the elements that make for a good crime or gangster movie? Is it the characters, the storyline, the desperate lives portrayed, or the violence?
Crime and Gangster Films are developed around the sinister actions of criminals or gangsters, particularly bankrobbers, underworld figures, or ruthless hoodlums who operate outside the law, stealing and violently murdering their way through life...

Crime stories in this genre often highlight the life of a crime figure or a crime's victim(s). Or they glorify the rise and fall of a particular criminal(s), gang, bank robber, murderer or lawbreakers in personal power struggles or conflict with law and order figures, an underling or competitive colleague, or a rival gang. Headline-grabbing situations, real-life gangsters, or crime reports have often been used in crime films. Gangster/crime films are usually set in large, crowded cities, to provide a view of the secret world of the criminal: dark nightclubs or streets with lurid neon signs, fast cars, piles of cash, sleazy bars, contraband, seedy living quarters or rooming houses. Exotic locales for crimes often add an element of adventure and wealth. Writers dreamed up appropriate gangland jargon for the tales, such as "tommy guns" or "molls."

Film gangsters are usually materialistic, street-smart, immoral, meglo-maniacal, and self-destructive. Rivalry with other criminals in gangster warfare is often a significant plot characteristic. Crime plots also include questions such as how the criminal will be apprehended by police, private eyes, special agents or lawful authorities, or mysteries such as who stole the valued object. They rise to power with a tough cruel facade while showing an ambitious desire for success and recognition, but underneath they can express sensitivity and gentleness. link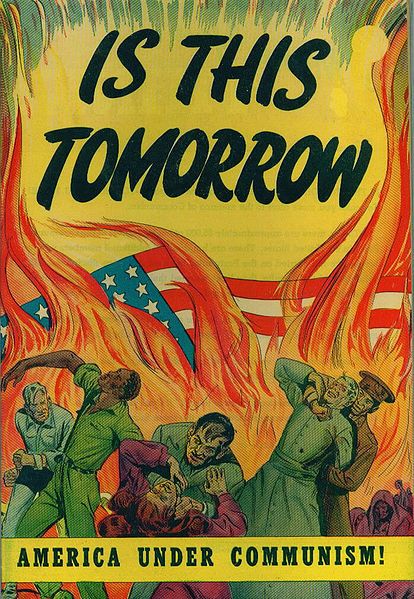 The late 1940's and much of the 1950's McCarthy Era was a tumultuous period for many directors, writers, actors, and others involved in the Hollywood film industry. Imagined fears of pervasive Communist influence in American society made friends turn on friends. Loyalties were discarded. Suspicions were aroused. So it was in the case of two former friends - Arthur Miller and Elia Kazan.
Miller is one of the heroes of the McCarthy Era. He defied the House Committee on Un-American Activities (HUAC) in 1956, and refused, unlike Kazan, to name those whom he knew to be "fellow travelers." For this he was held in contempt of Congress, fined, and sentenced to jail time. Even if one thinks of Kazan's 'snitching' before the House Committee on Un-American Activities (HUAC) in unflattering terms, there is no denying that he was a great director, having directed what one British magazine called the greatest five minutes in movie history. When I lived in London in the mid-1990's in grad school, Timeout magazine described the scene between Marlon Brando (Terry Malloy) and Rod Steiger (Charley 'the Gent' Malloy) in the back seat of a car in the movie On the Waterfront as the best ever in movie history. (The poster is the cover to the 1947 Propaganda comic book "Is This Tomorrow?")
This movie is about mob infiltration, violence, and union corruption and if you've seen it, you'll remember this memorable exchange
---
On the Waterfront (1954) is a classic, award-winning, controversial film directed by Elia Kazan - a part drama and part gangster film. The authentic-looking, powerful film is concerned with the problems of trade unionism, corruption and racketeering. And it is set on New York's oppressive waterfront docks, where dock workers struggled for work, dignity, and to make ends meet under the control of hard-knuckled, mob-run labor unions that would force them to submit to daily 'shape-ups' by cruel hiring bosses. link.

Charlie: Look, kid, I - how much you weigh, son? When you weighed one hundred and sixty-eight pounds you were beautiful. You coulda been another Billy Conn, and that skunk we got you for a manager, he brought you along too fast.
Terry: It wasn't him, Charley, it was you. Remember that night in the Garden you came down to my dressing room and you said, "Kid, this ain't your night. We're going for the price on Wilson." You remember that? "This ain't your night"! My night! I coulda taken Wilson apart! So what happens? He gets the title shot outdoors on the ballpark and what do I get? A one-way ticket to Palooka-ville! You was my brother, Charley, you shoulda looked out for me a little bit. You shoulda taken care of me just a little bit so I wouldn't have to take them dives for the short-end money.
Charlie: Oh I had some bets down for you. You saw some money.
Terry: You don't understand. I coulda had class. I coulda been a contender. I coulda been somebody, instead of a bum, which is what I am, let's face it. It was you, Charley.

---
The Shawshank Redemption (1994) is an impressive, engrossing piece of film-making from director/screenwriter Frank Darabont who adapted horror master Stephen King's 1982 novella Rita Hayworth and Shawshank Redemption (first published in Different Seasons) for his first feature film. The inspirational, life-affirming and uplifting, old-fashioned style Hollywood product (resembling The Birdman of Alcatraz (1962) and Cool Hand Luke (1967)) is a combination prison/dramatic film and character study...
Posters for the film illustrate the liberating, redemptive power of hope and the religious themes of freedom and resurrection, with the words: "Fear can hold you prisoner, Hope can set you free." Darabont's film is a patiently-told, allegorical tale (unfolding like a long-played, sometimes painstaking, persistent chess game) of friendship, patience, hope, survival, emancipation, and ultimate redemption and salvation by the time of the film's finale.
It was nominated for seven Academy Awards, including Best Picture, Best Actor (Morgan Freeman), Best Adapted Screenplay, Best Cinematography, Best Editing, Best Original Score, and Best Sound - but it failed to win a single Oscar. And the film's director failed to receive a nomination for himself! link

---
The Godfather, Part II (1974) of the Godfather trilogy continues the saga of the Corleone Family, serving as both a prologue and a sequel, extending over a period of 60 years and three generations...
The prologue portion follows the background story of the rise of youthful Don Vito Corleone (Robert DeNiro replacing Marlon Brando) to Mafia chief in the early 1900s in the Little Italy section of New York City. About fifteen minutes of the prologue portion is in Sicilian with English sub-titles. The major portion of the sequel begins in 1958 - about three years after the conclusion of the first film (The Godfather, Part I - 1972) and follows the career of Corleone's son Michael (Al Pacino again) from his patriarchal prime to his decline a year later. The saga leads to the inexorable passage of 'sins' from the immigrant father to his modern-day son.
Similar themes from the original are carried over and arise in Part II: revenge, intrigue, betrayal, alliances, violence, the corruptive influences of power, and devoted loyalties to the family. Unlike the first film, the forbidden words "Mafia" and "Cosa Nostra" are each mentioned once - in one of the Senate Hearings scenes. The film contains fewer deaths, though - a total of 16. But the tragic film is more somber with Gordon Willis' un-nominated cinematography highlighted by sepia-toned, golden amber, and darkish tones. link

The rest of the movies included in the diary poll are
A Note About the Diary Poll
---
As usual, the movies on the diary poll do not represent the "best of" in this genre of crime and gangster movies.
A few other notable films include Double Indemnity (1944); Se7en (1995); Key Largo (1948); Wait Until Dark (1967); Reservoir Dogs (1992); Anatomy of a Murder (1959); Dillinger (1973); Prizzi's Honor (1985); Taxi Driver (1976); The Defiant Ones (1958); Dirty Harry (1971); Dick Tracy (1990); Eyes of Laura Mars (1978); The Untouchables (1987); The Silence of the Lambs (1991); Dog Day Afternoon (1975); Natural Born Killers (1994) and Bugsy (1991).
If your favorite is not mentioned in the diary, you can look up literally hundreds of additional movies on the below web sites. Tell us why you liked it and what impressed you most about the movie.