I AM!!! Jesus Christ, I can't believe how ridiculous this so called news channel is. I used to be able to watch it without going Office Space on fax machines but it is impossible now.
So they just reported that a Hillary Clinton write-in campaign was underway. I searched the 'nets couldn't find anything about it.
Why would people be writing Hillary Clinton in for the Dem. nom anyway? The one thing that I get from people on the left who dislike Obama is his moderate views and corporate ties. Um HELLO, can we say Hillary! She's a great Sos but the notion that she may be replacing Joe Biden for VP has been thrown out the window by Debbie Wasserman Shultz & the Obama campaign.
Then they reported on Obama's speech where he said something to the effect of. Don't vote GOP because they aren't helping out minorities.(sorry I couldn't find the link, but if you turn on the TV right now you will can get the live coverage of this story) The guy who "broke" story, Eric Bolling, proceeded to demonize the President by calling him Barack instead of President Obama. SERIOUSLY. WTF is up what that? I don't remember people calling Fmr. President Bush (see, even I write his appropriate name) George. He then turned to Bob Beckel and after Bob refuted the race baiting Bolling said, "his name is Barack isn't it, or would that be Barry, or Barry Sortero as he went by when he was a model?"
(This is an accurate depiction of what I looked like while watching FoxNews)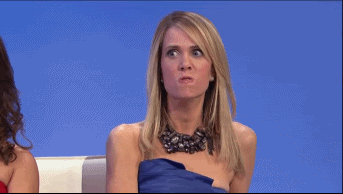 The GOP insists that it is Obama's policies that are the factors in their hatred of the guy. Then what the hell is the basis for these stupid personal attacks. I recall the Birther Movement using the name Barry Sortero instead of Barack Obama when referencing his birth in another country. Were they claiming he born in Kenya or was it Indonesia? I had a hard time keeping up with their bullshit.
Imagine how the right would feel if we started attacking their presumed front runner with personal attacks. For the most part, I see objection to Mitt Romney based on his Mormonism from the RIGHT not from the left. Last night Brian Williams had a show based on the Romney's that lived in Mexico. I thought the show was a very good look at the Romney family that was left behind. But was it an attack on Mormonism for doing the segment? No, it was quite favorable towards Mitt Romney and allowed for his cousins to show the quaintness of their lifestyle.
My theory is Fox News is freaking out. They know their guy is going to lose so they are upping the ante on their antics. No matter, Obama will spank Romney in the General Election and the GOP can slink back to Middle Earth from whence they came.