We join together tonight to offer condolences to those who knew and loved Private First Class Dustin P. Napier. The young man from Kentucky was stationed in Afghanistan with a Stryker Brigade team when he was killed by small-arms fire.


May he rest in peace, back in his hometown, in Kentucky.

Private First Class Dustin P. Napier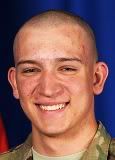 Dustin P. Napier attended South Laurel High School in London, Kentucky. He joined the Army in July 2010 after his graduation.

Napier was assigned to the 1st Battalion, 24th Infantry Regiment of the 1st Stryker Brigade Combat Team, 25th Infantry Division, which is based out of Fairbanks, Alaska. He arrived at Fort Wainwright in November of 2010. The brigade began a year-long deployment to Afghanistan last April.

Napier married Tabitha Sturgill who was from Eolia, Kentucky, last October. He and his wife lived in Alaska.

On January 8th, Napier was in the Zabul province of Afghanistan. He was playing volleyball at a camp when a man dressed in an Afghan Army uniform opened fire. Napier and two other Stryker soldiers were wounded in the attack. Private First Class Napier died from his injuries in the city of Qalat. He was 20 years old.

Those who knew Dustin were quoted in an article on the Anchorage Daily News website:

Napier's father was also soldier and served for five years. He told the Herald-Leader that his son was born in an Army hospital and died in one.

Napier's friends were in shock.

"Woke up this morning and was hoping it was a bad dream," said Shawn Philpot, a close friend, according to WLEX-TV news in Lexington. "I just dropped my phone, collapsed on the floor. I don't think I've ever cried so hard in my life."
A New York Times report identified the shooter as a man named Shafiullah from the Pashtun region of Pakistan. Shafiullah was shot and killed by a US soldier at the scene of the attack.

Discussion of a memorial for Napier was covered by the Fairbanks Daily News-Miner:

"The last couple of days have been really trying around here with his loss," Cummins said. "A lot of students really looked up to him as a role model and someone they could believe in."

High school senior Devan Burkhart, who is cadet captain of the school's JROTC program, said he remembers Napier as "a good friend, a good mentor, and truly a good person."

"He really had a kind of charisma about him that you liked," Burkhart said. "What I learned in the JROTC program as far as the Color Guard, the Drill Team and other things, I learned from him. He was the one who would tell me, 'Stick with it,' when I got frustrated with the program, and I did stick with it."
Napier is survived by his wife, Tabitha Sturgill Napier; his parents, Darrell and Marianne Napier; a brother and a stepson.
In Kentucky, the London Funeral Home is handling arrangements for the arrival of the Stryker soldier's remains. While memorials have already been held at Dustin's high school, details about the final service and resting place have not been announced.
**********************
Helping our troops:
If you wish to assist our military and their families, consider contributing to Fisher House. Donating to Netroots for the Troops provides care packages that make a real difference in a military person's life. To assist the animal companions of our deployed military, information is available here. Also, you could visit:

When our veterans come back home, they need jobs. Look at the programs of Hire Heroes USA and Welcome Back Veterans to see if you can help out.
About the IGTNT series:
"I Got the News Today" is a diary series intended to honor, respect, and remind us of the sacrifice of our US troops. Click here to see the series, which was begun by i dunno, and is maintained by Sandy on Signal, Monkeybiz, Noweasels, Blue Jersey Mom, Chacounne, Twilight Falling, Joyful, SisTwo, Spam Nunn, True Blue Majority, CalNM, Wide Awake in Kentucky, Maggie Jean, Jax Dem, Kestrel 9000, & TheFatLadySings. These diaries are heartbreaking to write, but show our community's respect for those who have died.
Fallen service members whose names have been released by the US Department of Defense will usually be diarized two days after the official announcement on the DoD website. This allows the IGTNT team to cover each person more fully, but still in a timely manner.
Please bear in mind that these diaries are read by friends and family of the service members mentioned here. May all of our remembrances be full of compassion rather than politics.