Inequality means different things to different people. A lot depends on which definition of "fair" one uses.
First there's the way our National GDP wealth pie keeps being divvied up ... it's reaching epic disproportions by some measures ...

A have and have-not world
Is it fair that 1 percent of the state's population pockets 22 percent of its income?
Issue: Fall 2011/The American Dream Special Issue -- commonwealthmagazine.org
by Bruce Mohl November 03, 2011
What the numbers say

The richest 1 percent of the nation's population takes an 18 percent slice of its income pie, a figure that rises to more than 20 percent when capital gains are included. Those figures are nearing levels not seen since the late 1920s, just prior to the Great Depression. [...] Over the last 30 years, the rich steadily became richer, while the rest of the population failed to keep pace.

Here's what those Pie slices look like, depending on which 20% block of the population you might find yourself in: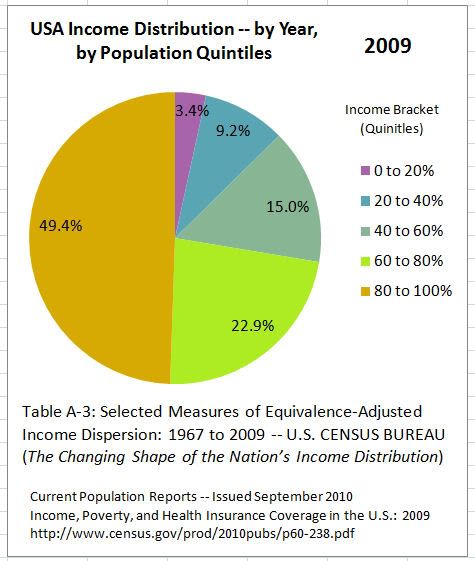 Image Source: jamess -- Dec 12, 2010

Kind of gives some meaning to "Who gets the lion's share, and who gets the crumbs?" ... doesn't it.



Inequality means different things to different people. A lot depends on which definition of "society" one uses.
Excuses for it are a dime a dozen ... we've basically been taught to just accept it ... by some very clever think-tank people.

A Simple Look At Income Inequality
by Kevin Drum, motherjones.com -- Sep. 18, 2010

There's long been a cottage industry in efforts to show that income inequality isn't as bad as the raw numbers say it is. Until recently, the most popular tactic was to insist that we should look at consumption instead of income. This was mostly just an attempt at misdirection, [...]

But there are plenty of others. We're measuring inflation wrong. Cheap plasma TVs and Chicken McNuggets have made the life of the poor better than you'd think by just looking at their earnings. The whole thing is just a statistical artifact of the 1986 tax reform bill. The composition of households has changed, so household income goes farther than it used to. Income distribution looks better if you count government transfers. Etc. etc. etc.

If you look at the raw CBO figures, they show that a full tenth of the national income has shifted since 1979 to the top 1% of the country. The bottom quintiles have each given up a bit more than two percentage points each, and that adds up to 10% of all earnings. That 10% has flowed almost entirely to the very tippy top of the income ladder.
[...]

Is the middle class worse off because of this? Of course they are.

Inequality means different things to different people. A lot depends on which definition of "income ladder" one uses.
Some people are just lucky, and are born on the Top rungs ... while most of us have to scramble just to hang on to our meager perch ... Who said Life was fair?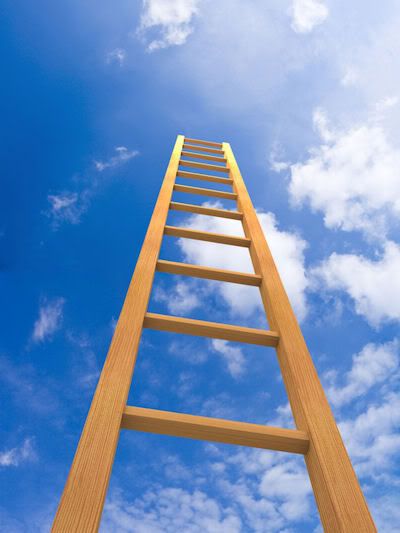 Jacob Hacker & Paul Pierson on Engineered Inequality
Bill Moyers and Company -- January 13, 2012

around time mark 7:00
PAUL PIERSON: I think a lot of people know that inequality has grown in the United States. But saying that inequality has grown doesn't begin to describe what's happened. The metaphor that we had been using lately is if you imagine a ladder, with the rungs in the ladder, and you think, "Okay, well inequality's growing. So the rungs are getting further apart from each other."

That's not what's happened in the United States. What's happened in the United States is that the top one or two rungs have shot up, you know, into the stratosphere while all the other ones have stayed more or less in place. It's really astonishing how concentrated the gains of economic growth have been.

around time mark 9:00
BILL MOYERS: Let's take a look at just how dramatic the inequality is. You have a chart here. I'm not an astute reader of charts, but this one did hit me. What are you saying with that chart?

JACOB HACKER: It says how much did people at different points on the income ladder earn in 1979 and how much did they earn in 2006 after adjusting for inflation?

It exploded at the top. The line for the top one percent, it's hard to fit on the graph because it's so much out of proportion to the increases that occurred among other income groups including people who are just below the top one percent. So, that top one percent saw its real incomes increase by over 250 percent between 1979 and 2006. Yeah. Over 250 percent.

PAUL PIERSON: And actually, even this graph-- we couldn't find a graph that fully describes it because even this graph actually really understates the story. Because it --

BILL MOYERS: Understates it?

[...]

BILL MOYERS: But we've all known for a long time that the rich were getting richer, and the middle class was barely holding its own. I mean, that was no mystery, right?

JACOB HACKER: Oh, it is. It's a mystery when you start to look beneath the familiar, common statement that inequality has grown. Because when you think about rising inequality, we think, "Oh, it's the haves versus the have-nots." That the top third of the income distribution, say, is pulling away from the bottom third.

And what we found is it's not the haves versus the have-nots. It's the have-it-alls versus the rest of Americans. And those have-it-alls, which are households in say the top one-tenth of one percent of the income distribution, the richest one-in-a-thousand households are truly living in an unparalleled age.

Since we've been keeping records on the incomes of the richest from tax statistics in the early 20th century, we never saw as large a share of national income going to the richest one-in-a-thousand households as we did just before the great recession.

Their share of national income quadrupled over this period, to the point where they were pulling down about one in eight dollars in our economy. One-in-a-thousand households pulling down about one in eight dollars in our economy before the great recession began.

around time mark 16:00
PAUL PIERSON: The Bush tax cuts in a lot of ways were written like a subprime mortgage. You know, they were designed to make people see certain things, and not see a lot of the fine print.

JACOB HACKER: Fully 30 to 40 percent of the benefits were going to the very top, of the income distribution. The top one percent. And when you broke it down, it was really the top one-tenth of one percent that did so well because of the estate tax changes, and because of the changes in the top tax rates, the changes in the capital gains taxes. And if you go to 2003, changes in the dividend tax.

I mean, these were all tax breaks that were worth a vast amount to the richest of Americans and worth very little to middle class Americans.

PAUL PIERSON: Within a few weeks after the legislation was passed, we all get a letter that says Congress and the President have given you this tax cut. And then that's pretty much it for the middle class. But for higher income groups, the further forward you go in time, the bigger and bigger the benefits get. So it was really designed to front-load the relatively modest benefits for the middle class, and to back-load the benefits for the wealthy.

JACOB HACKER: So why? Why do the winners get policies that make their winnings even larger? You know, this is not a trivial change. If you say from the mid-90s to 2007, those top 400 tax payers, they've seen their tax rates decline so much that it's worth about $46 million for every one --

BILL MOYERS: For every --

JACOB HACKER: Of those 400 tax payers. So it's -- the numbers are staggering. When you start to look within the top one percent, and look at what government has done to help those people out, through taxes, through changes in the market, financial deregulation and the like, and through protecting them from efforts to try to push back.

Inequality means different things to different people.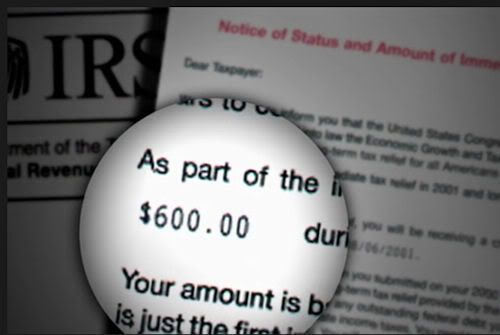 A lot depends on whether you get a one-time simple tax rebate, or whether you can keep reaping the big million-dollar rewards, year after year.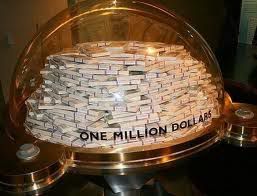 Because in our current Capital Gains system -- Wealth does have its privileges.
And afterall our established Tax Laws -- says "They're worth it!"

Inequality -- It's the Gift that keeps on Giving -- especially to those at the Top.
and taking from those still looking for some old-fashioned Opportunity; from those of us naive enough, to still believe in the American Dream.

But even dreamers have to wake up, eventually ... even Million Dollar dreamers ...