This afternoon was an anti-Emergency Manager law march on the home of Michigan Governor Rick Snyder. It was an amazing experiencing marching with 1,000+ people from all around the state for civil rights on MLK Day. There were people of all colors, ages and political persuasions from all over the state including cities with Emergency Managers like Benton Harbor, Flint, and Pontiac, as well as Detroit. The event was a stunning success.
[Note: this is a repost of my liveblog. The photos suck, I know. The lighting was poor and I was using my iPhone and uploading on the fly. We'll have better photos tomorrow - see note at the end.]
Rick Snyder recall group Michigan Rising on the scene (along with media). Buses starting to roll in.
Lots of ominous-looking black SUVs along the march route. Weird.
3:55 pm - The crowd gathers. Several hundred and its not even the official start time yet.
4:03 - The march begins! Just spoke with Rev. Fred Pinkney from Benton Harbor.
People are walking and taking shuttles to the staging area for the rally near Governor Snyder's home.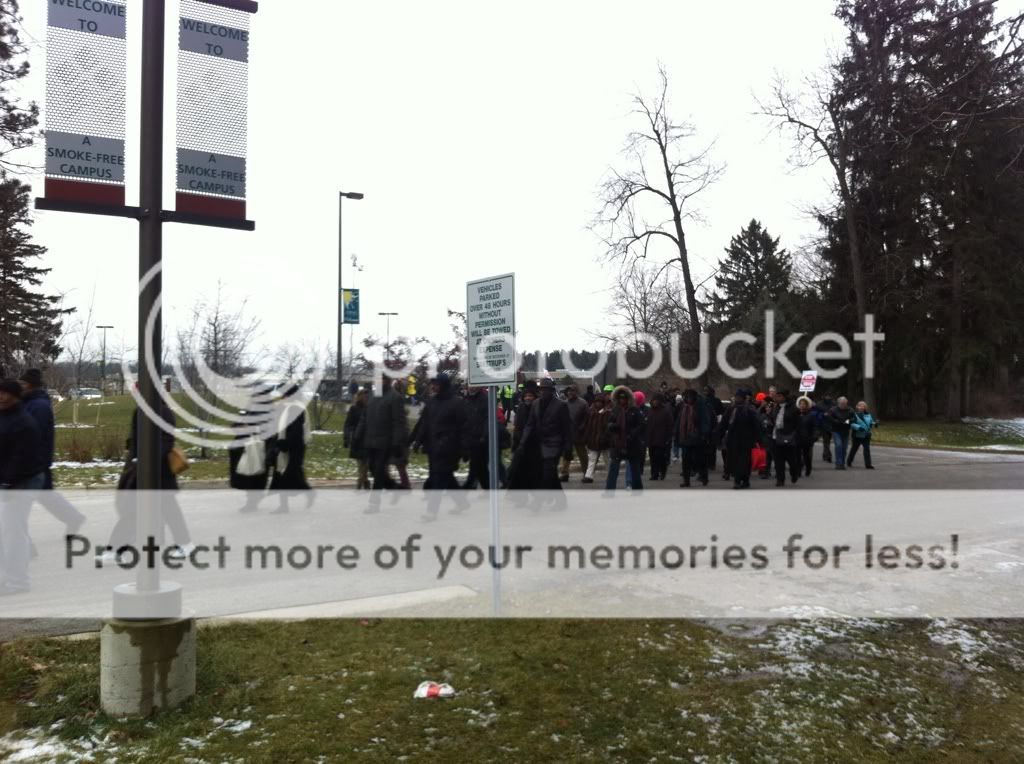 Washtenaw County Sheriff's office cooperatively gives marchers a whole lane.
Staging at Parker Mill County Park near Snyder's home, ready for some speeches! Crowd of at least 500.
Rare sighting of an African American tea partier, caught in the wild.
Pastor Cedric Williams of Ypsilanti fires up the crowd.
Heading to Governor Snyder's home, at least 1000-strong.
Video of marchers. This is about half the crowd.
Video at Snyder's gated community:
6:00 - Back at the parking lot, buses getting ready to take weary protestors home.
NOTE: Rachel Maddow will be covering the march tonight on her show and my video will be featured. (I was also told they' "love to have me on the show sometime" and would have had me on tonight if they hadn't gotten ahold of Reverend David Bullock. #misseditbythatmuch)
Also, too, stop by Eclectablog tomorrow for quality photos taken by my wife, Anne C. Savage.
Cross-posted from Eclectablog.