This is my second attempt at drawing an 11-5 map of Ohio and is much more successful. I was able to make all 11 seats strong enough for Democrats to win, even in a 2010 type of wave election. All but two are D+6 or greater, one is D+5, while the last one is just as strong given how Obama underperformed local Democrats in southeastern Ohio. All 5 incumbent Democrats get districts they should be happy with (even Kucinich, unfortunately) while districts are drawn to suit comeback bids by Charlie Wilson, Mary Jo Kilroy, and Steve Driehaus if he were interested.
Note, this map only uses crossover touch point contiguity twice, once between the 5th and 8th and once between the 3rd and 8th. Additionally, the small sliver of the Ohio river from Cincinnati to the Pennsylvania border is used by the 2nd district for water contiguity.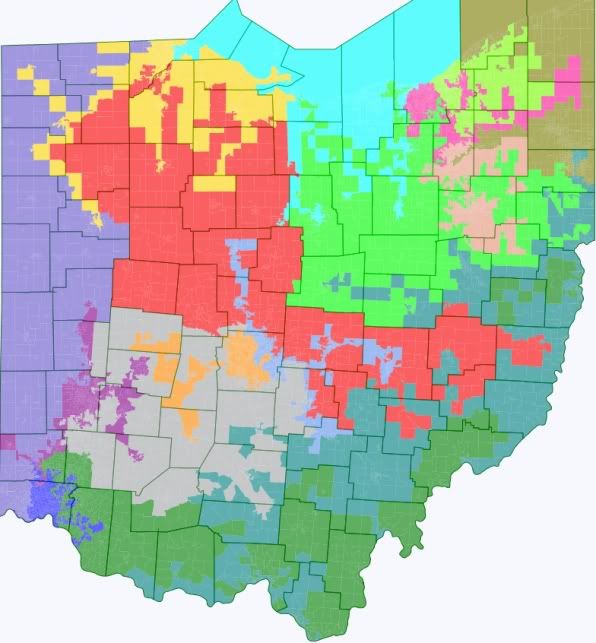 Starting with the Republican vote sinks, I'll simply note that Boehner is safe in the 8th, Schmidt is safe in the 2nd, Turner and Austria are evenly deathmatched in the 7th, Latta and Jordan are paired up in the 4th although Jordan is favored, while Renacci and Gibbs are paired in the 16th with Renacci favored slightly. All of the districts gave McCain around 60% of the vote or more.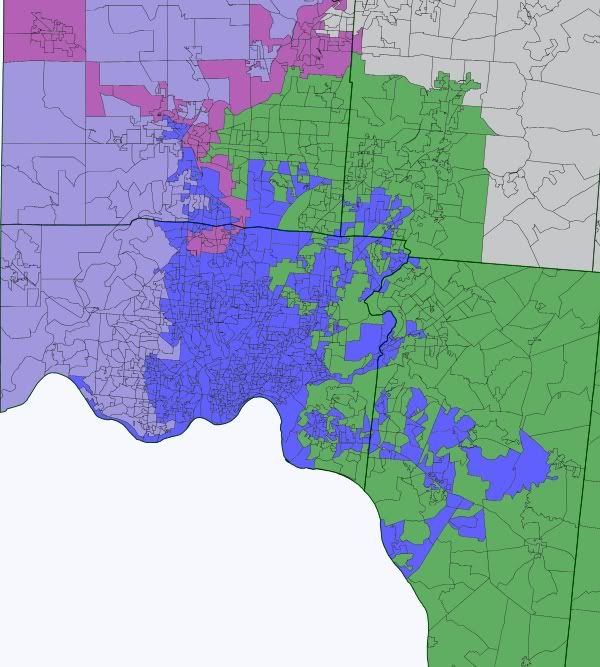 The 1st district contains Cincinnati and its more friendly suburbs/exurbs, and since the city is no longer cracked between two districts it moves 4% to the left and would send Steve Chabot packing. Steve Driehaus would easily win here, although a mainstream liberal could easily as well.
The 3rd district contains the liberal parts of Dayton and also includes Springfield, Hamilton, as well as other small towns. This district moves 11 points to the right, and although it contains Mike Turner's base of Dayton, he would have a much better chance of winning the 7th. At D+5, this district should be a solid Dem pick up.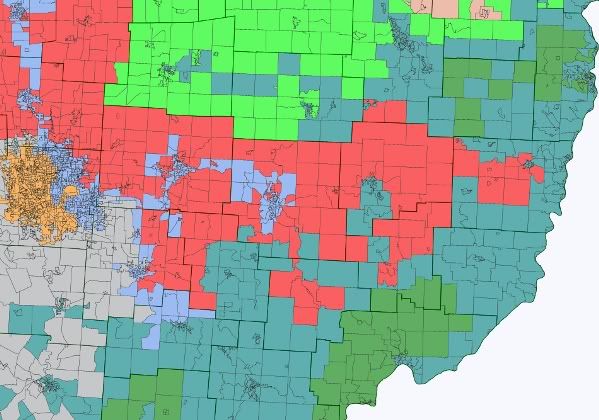 The new 6th combines Bill Johnson and Bob Gibbs's old districts, but not in a way the GOP would like. This seat would be perfect for former Rep. Charlie Wilson who is running again this fall, as it contains 312k of his old district, while 265k comes from the old 18th. It gains the more Democratic cities from the 2nd and 7th, as well as part of Youngstown from the 17th. I also included his home of St. Clairsville and New Philadelphia from his old senate district, so Wilson should have absolutely no trouble here, especially since this district is 8% more Democratic than his old district. This seat is also very friendly to local Democrats, and Obama underperformed here so this one should be just as safe as the other seats.
The 12th and 15th split Columbus just as before, but instead of containing dark red surrounding rural territory instead reach out to the cities in the neighboring counties to find every Democratic voter. I kept the split of Columbus as close as possible to its current form so that Mary Jo Kilroy will have a strong base in the 15th district primary. The 12th is notably over 20% black, but would probably still elect a white rep. The 12th and 15th move 4% and 5% towards Obama, respectively.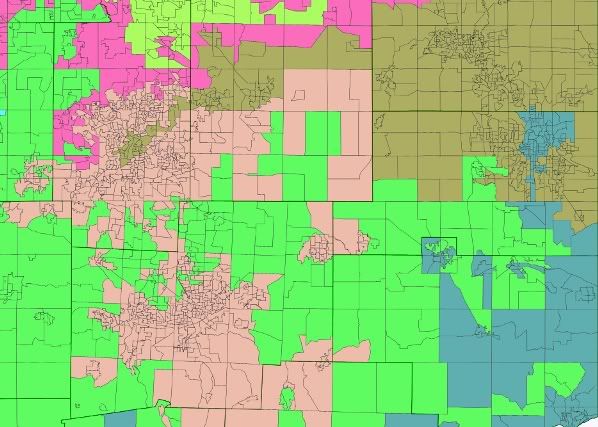 The 13th is the only district where the incumbent Dem represents less than half their original constituents, however Betty Sutton retains her base in Akron and still has 207k of her current constituents. The district no longer stretches to Lorain, but instead picks up Canton and is 2% more Democratic than her current district.
Tim Ryan is combined with Steve LaTourette in the renumbered 14th, but it's really Ryan's district and he shouldn't have a problem holding it. Like the other seats, it's D+6 but local Dems outperform Obama here, so LaTourette really doesn't have any good options. The seat is just 3% weaker than Ryan's old one, while 10% more Dem than LaTourette's.
The VRA protected 11th can no longer be made majority black without a racial gerrymander, and since Ohio is not a section 5 state, I believe that minor retrogression is allowable. The highest black VAP percentage possible while staying in Cuyahoga county is 47.7%, and this district is only slightly below that at 44.4%. This allowed me to unpack it significantly as this district goes from 85% Obama to roughly 72% Obama. Marcia Fudge should have absolutely no problems though, since she loses white liberals in exchange for white conservatives who won't pose a threat to her in the primary.
Dennis Kucinich would hopefully lose the primary here, but his 10 district seat is basically the same. It contains western Cleveland and is the same Obama percentage as before. If Kucinich survives the primary then this is probably the weakest seat on the map, but any Republican would be defeated after one term, and Kucinich only got around 50% in the primary in 2010 anyway.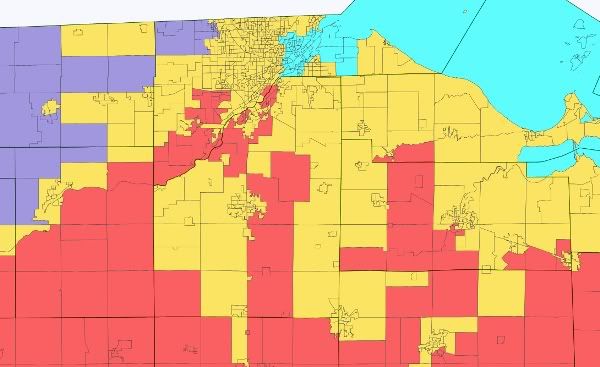 The 9th is basically a new seat as it only contains 210k of Kaptur's constituents while the majority of the 5th is hers at 376k. It spans from western Cuyahoga county to Toledo, but unlike the current 9th delves down into towns such as Mansfield and is solidly Democratic. This seat should be an easy Dem pick up at D+6.
Kaptur is combined with Bob Latta, though he would run in the 4th. The new 5th contains most of Toledo, as well as Dem friendly towns such as Bowling Green and Lima. Although this seat is 3% weaker than her old one, it is a whopping 14% more Democratic than the old 5th, and Kaptur should have no problem in either the primary or the general.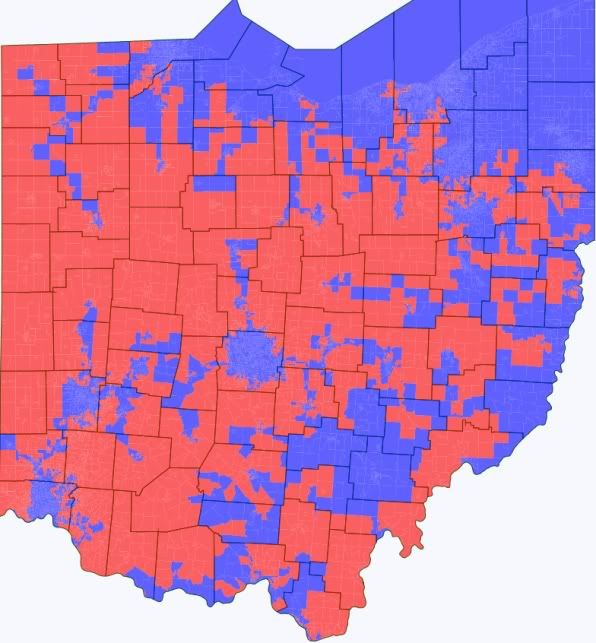 So there you have it, 11 of 16 districts which are solidly Democratic in a state where the actual map Republicans were able to draw gives them 12 of those same 16 seats.