Good Morning Kossacks and Welcome to Morning Open Thread (MOT).
We're known as the MOTley Crew and you can find us here every morning at 6:30 Eastern. Feel free to volunteer to take a day - permanently or just once in awhile. With the auto-publish feature you can set it and forget it. Sometime, the diarist du jour shows up much later, that's the beauty of Open Thread...it carries on without you! Just let us know in the comments. You can click on the Morning Open Thread "heart" if you'd like us to show up in your stream every day.
Doing one of these diaries is a good way to get your feet wet if you have been hesitant about writing a diary. You can write as much or as little as you want. The audience here is always supportive.
I try to do three mile power walk each day through my neighborhood. I don't wear headphones or anything to distract me while I am walking. My neighborhood is fairly quiet, so it is usually just me, nature around me, and my thoughts. It is often during these walks that I come up with the subject for my Wednesday Morning Open thread diary.
UPDATE: As per this comment, I have updated this diary to remove references to environmental problems with using chemical herbacides on kudzu. I am not a biologist and personally never use herbacides or pesticides, so I made that ssumption that the chemicals used to kill kudzu had a negative impact to the environment. Apparently at least some herbicides break down and become inert.
Early this week, I noticed tree trimming crews under contract to the City of Tallahassee working in my neighborhood. Even though I live in the unincorporated area, the city owns the electric utility that serves my neighborhood. Tallahassee is a Tree City USA which also means it is heavily canopied with trees. While this makes Tallahassee a truly beautiful city, it also presents a major maintenance problem for the city owned electric utility. The most common cause of utility outages in this area is falling trees and limbs. So sometime in the mid 1990's, the City of Tallahassee began a systematic tree trimming program and it seems to have helped in preventing electric blackouts.
As I was watching the tree trimmers and fascinated by their efficiency, I thought an interesting diary might be about my city's solution to kudzu, a highly invasive vine which also poses a huge maintenance problem for utilities and can literally destroy a piece of property in a very short time. So I had this diary planned.
Then this morning, I read this beautiful diary by matching mole for the Backyard Science series. The diary has some great photographs that he took while volunteering to clear invasive species out of a nearby state park. In that diary, fellow kossack, PHScott who also worked on the clearing project made this wonderful comment:
Equilibrium is the key word isn't it? The plants we had been removing are past that. There is no equilibrium. Take kudzu for example. Anyone in the southeast has seen the destruction of this introduced species intended for erosion control along railroads. Then on the other hand you have a non-native tree like the sweetgum, introduced from Europe centuries ago and in balance with the forest.
Balance is the difference between a non-native species living in harmony with native species and an invasive exotic such as chinese tallow tree which was originally imported as a decorative landscape tree or kudzu which was originally used to stabilize slopes and railroad beds. Kudzu is often called the "vine that ate the South" because it is so pervasive throughout the southern states. It is a highly invasive vine and now has been seen in other locales throughout the United States.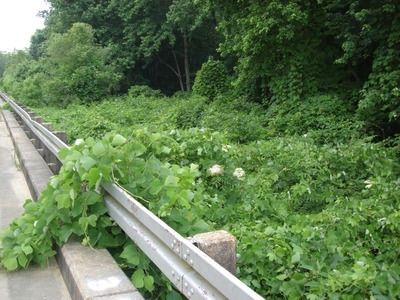 Kudzu knows no barriers to its growth. It can grow one foot or more a day during its growing season. It will kill any other vegetation in its way, including trees, by smothering them and preventing the sunlight from reaching their leaves. Kudzu has been known to literally cover abandoned houses and barns.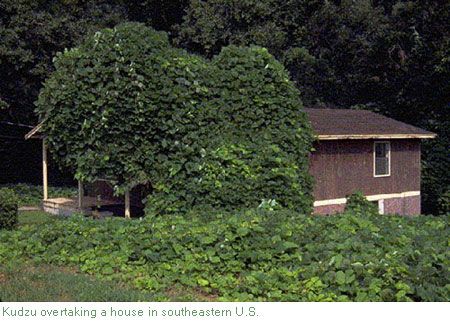 Traditionally, the most common way to control kudzu has been with chemicals. Other methods for smaller patches are to remove the vines by the roots or to cover them with black plastic.
But there is another age old, and very effective method for controlling kudzu. Because kudzu is also an edible vine, it can be controlled by grazing sheep. Several years ago, the City of Tallahassee received a demonstration grant for the control of kudzu using sheep grazing to first cut back and then ultimately kill the vines. The sheep love kudzu and eat it like it was a delicacy. The City hired a company out of New England that provided the sheep, shepherd, guard dogs and fencing used in the project. Using sheep was not only environmentally responsible, but proved to be very effective for controlling the kudzu.
The grazing sheep also provided a lot of entertainment value to the residents of Tallahassee. It was fun to drive by where the sheep were feeding on the kudzu and see a dozen or more cars stopped by the road. The people would be just standing along the fence line watching the sheep. Sheep watching became a popular pasttime for many people here, particularly for families with children. The sheep project went on for several years and was a source of a lot of goodwill and civic pride. It also resulted in removing about 80% of the kudzu on City owned properties and rights of way.
I had not seen or heard about the sheep program lately, so I called the City Parks Department which oversaw the project. The woman I talked with there said that the program had been a huge success, but was eventually discontinued due to budget cuts. Kudzu does not go away, so hopefully they will be able bring back the sheep in the future to continue to control the kudzu.