Well, folks, I've returned from visiting my family in Florida, coming back with a photo I'd needed to write a diary I'd long planned on the subject of my German ancestors - my fourth contribution to this group. However, I'm in a bit of a muddle: there's enough material for two diaries on this family, but I've already written about my paternal grandmother's line for two of the last three postings (suicidal dentist Ural Traub and Michael Holihan's sort-of wife). Wanting to move on to other branches in future, I'll be condensing a fair amount material that might work better as two diaries; so, apologies if I seem to be jumping around a bit.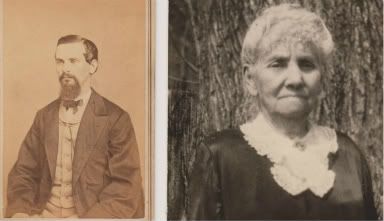 Meet my great-great grandparents: Adolph (a/k/a Adolphus) Traub (1836 - 1877) and Charlotte Stillwell (1843 - 1940), married October 19, 1864. Adolph was born in Bavaria, arriving in NYC sometime in the 1850's; Charlotte was Anglo-Dutch colonial NYC stock.
Until I began this genealogical adventure roughly ten years back, I hadn't given much thought to his origins; he was just sort of "the German one" who died young leaving a widow and all those kids. In thirteen years, Charlotte gave birth to seven live children, five of whom survived to adulthood (including my great-grandmother Grace, and her brother Ural) - the family's later story of poverty and resiliance I plan to include as part of another diary. For now, here's what I knew of Adolph at the time I began looking a decade ago:
He was from the town of Aufsess, Bavaria
He had attended the Gymanseum of Mainz (a sort of German prep school)
He was an intellectual
He was a Civil War Veteran
... and not really much else
I asked my dad whether the Traubs were Catholic or Lutheran; he shrugged.
A few years later, I became acquainted with a person who had some of my mom's tree online, and was interested in making hers as expansive as possible (we were related very distantly through a couple of marriages), so I gave her what I knew of my dad's family. In my newbie-ness, I had neglected to look for Adolph in previous censuses, so was quite taken aback, though I cannot say shocked when Sharon found him in New York City in 1860 (age 24), with his mother Barbary (sic) 55, and brothers Hyman 28, and Elias 26, all three brothers showing as cigar makers.
With that, a fifty year old "mystery" was solved. Before we get to that though, a recap of my efforts to learn more about the widow Barbary, and her unknown husband ...
Adolph died as the result of a railroad accident in Westchester County, NY one evening in July 1877. According a newspaper account of the incident, (his) hat and a shoe were discovered lodged into the train when it arrived at a station, being a signal that the authorities needed to go look for the owner. He was found a few miles back in very bad shape, dying the next day. What he was doing on the tracks was never clear - just another Victorian tragedy. NYC had issued death certs since the mid 1860's (although they didn't give parents' info until much later), but the State didn't require them until 1881, and effectively enforce filing until the early 20th century. So, I sent for the LDS film of "Bodies in Transit" for that period, finding his destination as "Cypress Hills" in Queens; unfortunately, that was used as shorthand to include all of the tiny cemeteries (mostly Jewish) nearby as well - Cypress Hills itself replied that they have no record of him. I also sent for Charlotte's Civil War widow's pension record, which didn't really tell me anything I didn't already know.
Hyman died in Cincinnati in 1930 (his wife Henrietta having pre-deceased him in 1915). His death cert showed "father's info unknown," which I could understand as his 70 year old daughter (informant) had likely not heard the name since childhood, if at all. From census records, Hyman had one son, Hermann (who disappears after 1880), and several daughters. What I did learn was that his mother's name was given as "Babette" (maiden name unknown). Lo and behold - up came an 1898 NYC death record for Babette Traub, the same age as "Barbary" would have been, with her parents recorded as Abraham Rosenbein and Rachel Rosenbaum, no mention of a husband. I tried contacting the burial society that had interred her at Washington Cemetery in Brooklyn (not the photo above), but they had no historical records whatsoever.
Elias has proved a slippery character, essentially disappearing in the 1890's with no NYC death record, and none in the State index either (nor for his wife Julia). I would guess that he died outside NYC, probably just before the 1900 census. However, in searching the web for Jewish Aufsess I did encounter the following:
Of facilities were available: a synagogue (see below), a religious school, a ritual bath and a cemetery . To attend to religious duties of the community, a teacher was hired, who also worked as a cantor and ritual slaughterer (see tenders for the site below). Among the teachers are well known: to 1818, Baruch Moses, 1822 Moses Dessau, 1826 Fremb Herrmann, 1841 Hermann Traub, 1848 A. Wormser, 1856 Joseph Lehmann, 1860 Judah, Richard, 1874 Alexander Weil, 1875 to 1928 Leopold Castle.
So, I feel fairly confident that Hyman's son Hermann, following Jewish custom, was likely named for his deceased grandfather, who is probably buried in the Aufsess Jewish Cemetery, pictured above. Beyond that, I'll likely need to engage the services of a genealogist specializing in German-Jewish research. Before signing off for the week, however, it's time to return to the "mystery" angle, and the question posed in the diary title ...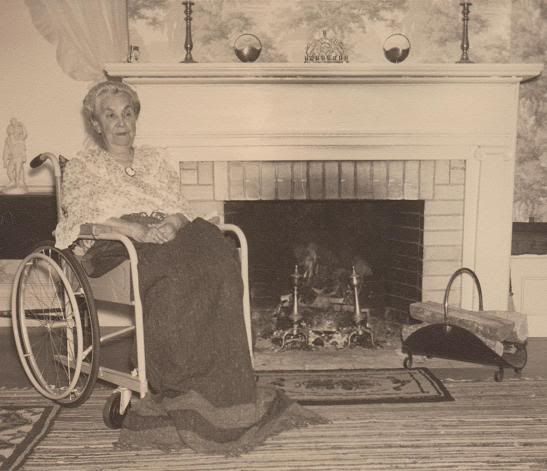 The Wayback Machine has landed at the Nantucket, MA home of Adolph's daughter, Grace Stillwell (Traub) Holihan in the summer of 1955. My great-grandmother would've been 87 years old when this picture was taken, dying two years later. She'd purchased the house in 1917, not long after the death of her husband, along with a winter residence in Montclair, New Jersey. As my father told me recently, she had been visiting the island, and liked the house that had been put up for auction, but was outbid; afterwards, the "winner" visited her hotel, admitting that he'd been a ringer to drive up the price, and that the seller would be happy to accept her money. Anyway ... my great-aunt bought out my grandmother's half of the house from their mother's estate. The story goes that one of the few Jews on the island (there is now a congregation that meets at the Unitarian church, and one can purchase yarmulkes with embroidered whales I believe) had been by to visit, stopping dead in his tracks, exclaiming: "You have a menorah in your living room on Nantucket???" I do not know what response Aunt Edith provided. My father had said that the object had been used as a "letter holder" for the various members of the extended family who stayed there during the summer. I'm left feeling terrible for poor Grace, who did know that it was a family heirloom, but couldn't tell anyone because of anti-Semitism. Furthermore, I'm now fairly certain that she kept her daughters away from their paternal cousins in NYC (the Holihans), let alone any of Elias' large family, for fear of shattering their image as German-American gentiles.
Being Friday, I suppose it's fitting to wish Good Shabbes to all - from an incredibly lapsed Episcopalian at that!