Welcome to Brothers and Sisters, the weekly meetup for prayer* and community at Daily Kos. We put an asterisk on pray* to acknowledge that not everyone uses conventional religious language, but may want to share joys and concerns, or simply take solace in a meditative atmosphere. Anyone who comes in the spirit of mutual respect, warmth and healing is welcome.
January is almost over. Even with the weather as weird as it has been (global weirding, I tells ya!), we in the Northern Hemisphere are still in the depths of winter. But since Yule, the days have been growing longer. I notice it as the sun hitting my TV screen at a different time and angle than it had been a month ago, and adjust the blinds accordingly. I also notice that our place is inundated with mud (mud season, yo) and the alpacas all look the same color - mud brown.
But I also notice something in the air. A scent, a rustling, a promise. I smell Spring.
Behold, my friends, the spring is come; the earth has gladly received the embraces of the sun, and we shall soon see the results of their love! ~~ Sitting Bull
According to the ancient Celtic calendar, February first is the first day of Spring. In Ireland, the earth in the fields is turned, ready for the seeds of new life. Ewes and cows give birth at this time, inspiring the name Imbolc/Oimelc, words that refer to the flow of their milk. Ravens and other early birds begin to build their nests. The life-giving forces of Spring begin to appear, even in this dark and dreary month.
The goddess Brighid - who became Saint Brigid - is the deity most closely associated with Imbolc in the British Isles. Her name means "exalted One" and she is the queen and mother goddess of many European tribes. She is also known as Brigid, Bridget, Brighid, Brighde, Brig or Bride and some scholars believe that her name originated with the Vedic Sanskrit word brihati, a word for the Divine. In her Celtic manifestation, She has three aspects; Brighid the Poet, Brighid the Healer and Brighid the Smith.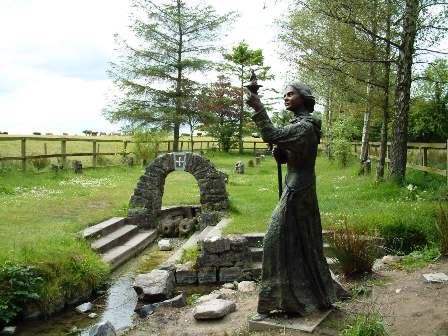 The Christianized goddess appear in Saint's robes as Saint Brigid or Bridget. She is associated with milk, with healing and with flame, all of which appear prominently in her hagiography. At Kildare in Ireland, where she was traditionally the Abbess, her well is still a pilgrimage site and an eternal flame burns in the Sanctuary.
The Catholic Church, as they did with so many Pagan holidays, adopted the day as the Feast of the Purification of the Virgin Mary. This day falls forty days after Christmas so that Mary, observing the traditional fortieth day after childbirth, was supposed to have gone to the Temple at Jerusalem to make the traditional offering to purify herself. The Feast was celebrated in medieval churches with candles: each member of the congregation carried a lighted candle in procession around the church and, ultimately inside to be blessed by the priest. Can you imagine every corner of the cathedral glittering with candlelight on a dark February day?
When I was High Priestess at the Aquarian Tabernacle Church, we had a light snowfall one year the night before the Imbolc circle. Seizing the opportunity, we grabbed every candle we could find and placed them around the circle, along the path, on every stone... candles everywhere we could put them! It took 6 of us 20 minutes to light them all but the effect of all the candle flames glowing softly in the snow was well worth it.
A couple of years later, I spent another Imbolc in the hospital. I was pregnant with our daughter but it had gone all pear-shaped, as the Brits say. I had developed pre-eclampsia towards the end of an otherwise perfect pregnancy. I was upset not only because of the danger to her and myself, but I had a great Imbolc ritual that I wanted to do! "Feel the life within the Mother", I would say as I went around the circle letting each participant feel my swollen belly (and hopefully, the baby would do her part and kick a few times). But she had other plans. So on Imbolc, I was lying in a hospital bed waiting....
Imbolc or Candlemas, whichever you prefer, is a time to start a new. To begin new projects or to renew your commitment to an old one. It's a time to refresh and cleanse your soul and your psyche. It's time to get ready for Spring!
Here's a few things you can do in celebration of this day....
☼ Clean your house (I know, I know).
☼ If you have any Christmas greenery lingering, burn it now.
☼ Make some Brighid's crosses and hang them up (especially in the kitchen where her influence is welcomed)
☼ Put food (cake, buttered bread, milk, cookies) outside your door. When Brighid and her cow walk through the neighborhood on Imbolc eve they will appreciate your offering.
☼ Leave a green ribbon on your doorstep for Brighid to bless. It can then be used for healing.
☼ Plant a seed in an indoor pot, concentrating on what you would like to see grow in your life this year. Ask for Brighid's blessing and take care of that seedling!
☼ Gather some small stones from around your house on Imbolc and place them on your altar or hearth.
☼ Gather a bunch of candles and arrange them outdoors into a symbol that represents your desire. Indoor is ok if the weather is too bad, but be careful!
☼ Open your door at midnight on Imbolc and invite Brighid inside.
☼ Dedications are appropriate for Imbolc; dedicate your altar, your shrine, your home, your work area, yourself - to what you hope to achieve.
Prayer to Saint Brigid

Saint Brigid
You were a woman of peace.
You brought harmony where there was conflict.
You brought light to the darkness.
You brought hope to the downcast.
May the mantle of your peace cover those who are troubled and anxious,
and may peace be firmly rooted in our hearts and in our world.
Inspire us to act justly and to reverence all God has made.
Brigid you were a voice for the wounded and the weary.
Strengthen what is weak within us.
Calm us into a quietness that heals and listens.
May we grow each day into greater wholeness in mind, body and spirit.
Amen
So, tell us if you will, what do you wish to grow, to renew, to dedicate, to begin?