Perhaps, given Grover Norquist's impeachment rhetoric threat, it's high time he did -- study this CBO Chart he's obviously never seen: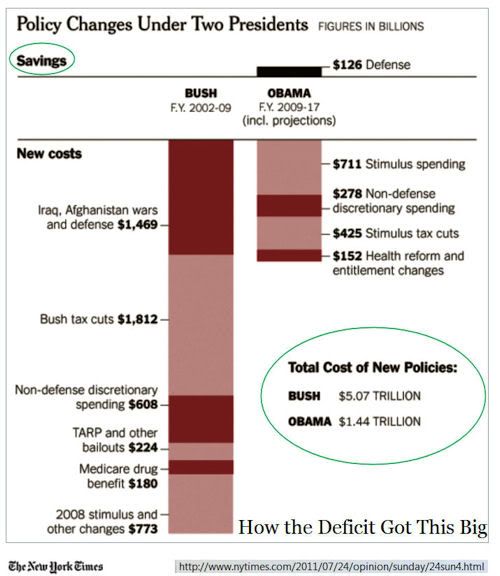 larger image

The Chart That Should Accompany All Discussions of the Debt Ceiling
by James Fallows, The Atlantic -- Jul 25 2011

[...]
It's based on data from the Congressional Budget Office and the Center on Budget and Policy Priorities. Its significance is not partisan (who's "to blame" for the deficit) but intellectual. It demonstrates the utter incoherence of being very concerned about a structural federal deficit but ruling out of consideration the policy that was largest single contributor to that deficit, namely the Bush-era tax cuts.

An additional significance of the chart: it identifies policy changes, the things over which Congress and Administration have some control, as opposed to largely external shocks -- like the repercussions of the 9/11 attacks or the deep worldwide recession following the 2008 financial crisis. Those external events make a big difference in the deficit, and they are the major reason why deficits have increased faster in absolute terms during Obama's first two years than during the last two under Bush. (In a recession, tax revenues plunge, and government spending goes up -- partly because of automatic programs like unemployment insurance, and partly in a deliberate attempt to keep the recession from getting worse.) If you want, you could even put the spending for wars in Iraq and Afghanistan in this category: those were policy choices, but right or wrong they came in response to an external shock.

The point is that governments can respond to but not control external shocks. That's why we call them "shocks." Governments can control their policies. And the policy that did the most to magnify future deficits is the Bush-era tax cuts. [...]

Do you see that big Budget-busting section in the middle of the left-hand bar Mr Norquist, labeled 'Bush Tax Cuts'?
Who's name in on that nearly $2 TRILLION worth of Debt, anyways?
What do you think pays off those Bush Debts anyways Grover -- more GOP wishful thinking?




The Atlantic borrowed the Debt graph from the New York Times. The New York Times has a few observations on what the graph means:

How the Deficit Got This Big
by Teresa Tritch, Editoral, NYTimes -- July 23, 2011

[...]
The second graph shows that under Mr. Bush, tax cuts and war spending were the biggest policy drivers of the swing from projected surpluses to deficits from 2002 to 2009. Budget estimates that didn't foresee the recessions in 2001 and in 2008 and 2009 also contributed to deficits. Mr. Obama's policies, taken out to 2017, add to deficits, but not by nearly as much.

A few lessons can be drawn from the numbers. First, the Bush tax cuts have had a huge damaging effect. If all of them expired as scheduled at the end of 2012, future deficits would be cut by about half, to sustainable levels. Second, a healthy budget requires a healthy economy; recessions wreak havoc by reducing tax revenue. Government has to spur demand and create jobs in a deep downturn, even though doing so worsens the deficit in the short run. Third, spending cuts alone will not close the gap. The chronic revenue shortfalls from serial tax cuts are simply too deep to fill with spending cuts alone. Taxes have to go up.
[...]

It seems that Grover Norquist really doesn't understand how a healthy Government works. Maybe he doesn't know that without a Government -- you end up with chaos.
Of course, with Grover's avowed goal of being able "to shrink government to the size where we can drown it in a bathtub" -- it would appear THAT he really doesn't care about HOW Government is supposed to work.
Given Mr Norquist's well-stated Revenue-killing goals, and the chaotic destruction he intends to cause our very unique form of Government -- perhaps Greedmeister Grover should just "Go Impeach himself".
It is Grover and his Government-strangling agenda, that seems to be the one, intent on committing "high crimes" against the revenue-generating sections of our founding document -- the Constitution.