U.S. filmmaker arrested at House hearing on shale gas
by Ayesha Rascoe, Reuters -- Feb 1, 2012

Police handcuffed Josh Fox, director of the Oscar-nominated Gasland, and led him out of a House science committee room after he refused to stop filming.

Republicans in charge of the committee said Fox lacked credentials to tape the hearing, which was being broadcast live on the Internet.
[...]

Here are some of the low-lights -- that Josh Fox never got a chance to film:
Witnesses Say EPA Ground Water Research Report Requires Further Scrutiny
Feb 1, 2012
Subcommittee on Energy and Environment



Washington DC – Today the Subcommittee on Energy and Environment held a hearing to review the EPA's approach to ground water research in Pavillion, Wyoming. On December 8, 2011, the Environmental Protection Agency (EPA) released a draft report summarizing the Agency's findings of its groundwater investigation in Pavillion.
[...]

[Subcommittee Chairman Andy Harris (R-MD)] further noted that, "in a remarkable display of arrogance and disregard for the plain facts, the President last week proclaimed his support for expanded shale gas production, while at the same time allowing every part of his Administration -- from the EPA to Interior to the CDC – to attack these practices through scientific innuendo and regulatory straight-jacketing."
[...]

Mr. Tom Doll, State Oil and Gas Supervisor at the Wyoming Oil and Gas Conservation Commission [...]


"The EPA conclusion that hydraulic fracturing caused ground water contamination is limited to the data found in a single sample detect from single monitoring well located a natural gas field in central Wyoming. Yet this fact is lost in the public reaction to EPA's announcement and results in a worldwide damnation of hydraulic fracturing,"

explained Doll.

No wonder, the GOP Committee never wanted this testimony these accusations to see the light of day.



Well WHAT was in that EPA Report anyways, sounding the alarm about fracking operations, possibly contamination groundwater in Wyoming?
Was there only "a single sample detect from single monitoring well" as State Oil and Gas Supervisor Tom Doll testified before Congress, in Committee?
In that not-so-public Committee Hearing ...

Ground-Water Quality Investigation -- Pavillion, Wyoming (pdf)
U.S. Environmental Protection Agency
Methods, Graphics, and Data Tables
November 8, 2011
[pg 1]




Methods



Four sampling events (Phases I - IV) were conducted commencing in March 2009 and ending in April 2011. In March 2009 (Phase I), EPA collected samples from 35 domestic wells in the area of investigation, 2 post-reverse osmosis, and two municipal wells in the town of Pavillion.
[...]

During this phase [II], EPA collected: (1) ground-water samples from 17 domestic (ten previously sampled), 4 stock wells and two municipal wells; (2) a filter sample from a reverse osmosis system; (3) surface-water and sediment samples from five locations along Five-Mile Creek (a creek traversing the area of investigation); (4) gas and produced water/condensate samples (organic compounds only) from five production wells; and (5) ground-water samples from three shallow monitoring wells and soil samples near the perimeter of three known pit locations. Detection of elevated levels of methane and diesel range organics (DRO) in deep domestic wells located close to one or more gas production wells then prompted EPA to install two deep monitoring wells in June 2010 to differentiate potential deep versus shallow sources of ground-water contamination. Both wells were drilled to a depth of 305 m.
[...]

Finally, in April 2011 (Phase IV), EPA resampled the deep monitoring wells to compare previous findings and expand the analyte list to include glycols, alcohols, and low molecular weight acids. Eight previously sampled domestic wells and three previously sampled stock/irrigation wells were also sampled at this time. The location of production wells, monitoring wells, and sampled domestic wells is illustrated in Fig. 1.

Here's the main EPA site concerning this study, that got short shrift in Congress the other day:

EPA -- Groundwater Investigation
Pavillion, Wyoming

Here are the results of the EPA extensive ground water sampling in the Pavillion area. Sure sounds like a LOT more than "one sample" to me:
EPA Pavillion
Groundwater Investigation
--
2010-2011 Sampling
(pdf)
Summary of Results and Next Steps
[pg 4]



Drinking Water Well Sampling Results



-- A total of 42 private drinking water and 4 stock wells were sampled

-- Similar constituents/concentrations found in all phases:

-- Thermogenic methane in 10 of 28 wells from ~10 to ~800 ppb

-- Diesel and Gasoline Range Organics are widespread (10s to 100s ppb)

-- Specific petroleum-related compounds (e.g. adamantanes) found in some wells at ppb levels

-- 2-butoxyethanol phosphate (9 wells), phenols, naphthalene

-- High sodium and sulfate (characteristic of entire aquifer)

-- No significant nitrate or pesticides

-- Low levels of DRO in public wells but no exceedance of primary drinking water standard

-- ATSDR recommended that residents use alternate water for cooking and drinking. And ventilation of bathrooms for those wells with high methane

[...]

[pg 6]


Monitoring Well Sampling Results



-- Elevated pH– ranging from 11.2-12

-- Potassium (8-18x) and chloride (18x) significantly elevated

-- Synthetic organic compounds including glycols, alcohols and 2-butoxyethanol

-- Methane at near-saturation levels (up to 19 mg/L) -- similar isotopic signature to production gas

-- Other petroleum-related detections – BTEX (including benzene at 50x the MCL), phenols, trimethylbenzenes, DRO
[...]

[pg 9]

Next Steps



The data has already gone through a rigorous quality assurance review process that was recently completed

-- EPA is sharing the data and background information with the work groups and the public to provide an opportunity for input prior to releasing our findings

-- EPA plans to issue our report and findings by late November and to initiate a formal peer review process with opportunity for public comment

-- The peer review process may take several months. The peer review panel will accept comment from all stakeholders and the public. Once that is completed and our findings finalized, we will release a final report in the early spring


Here's the fallout zone for fracking, in just one valley, in just one State -- where the EPA responded to local citizens, and spent over a year studying, sampling, and gathering scientific data:

EPA -- Groundwater Investigation
Pavillion, Wyoming

[...]
The Pavillion area has approximately 80 domestic wells. The town of Pavillion provides municipal water to residents through eight groundwater wells. Private water wells just outside the town of Pavillion are used for drinking water, irrigation, and stock watering, and are completed at depths from 50 feet to 750 feet or more. Pavillion is within the Wind River Indian Reservation as described by the Northern Arapaho and Eastern Shoshone Tribes in a pending application for treatment in a similar manner as a state under the Clean Air Act. The site is located west of Boysen State Park.
[...]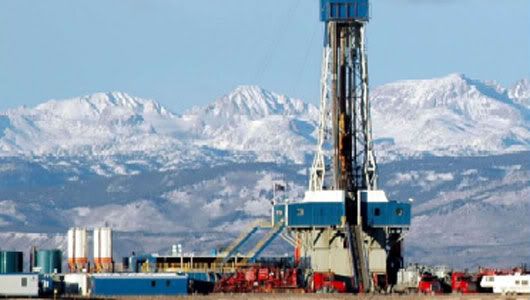 Hydraulic fracturing near Pavillion, Wyoming (Photo: Wikimedia Commons)
from site: mnn.com

Does it really matter, that one town is forced to avoid their ground water resources, and learn to survive with bottled water?
If you live there, YES it does.

If you make your Billions from fracking operations, not so much.
It doesn't much matter to Congressional Chairmen either, who get their donations from Oil & Gas industries, apparently.

It matters so little, they will arrest anyone trying to "report the facts" being considered in their Committee Chambers.