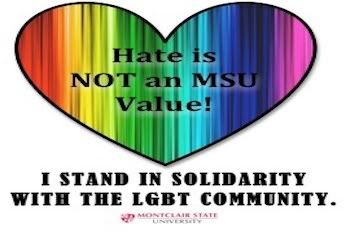 MSU students received notification via email on January 31.
On January 26th, the words, "Die Fags," were written in marker on the wall adjacent to room 104K in the Student Center CSI complex. On January 27th, a written note with the words, "you will die soon Faggots," was reported to have been left under the door of room 104K. And, on January 30th, the words, "Fags will die on 2/7," was written on the wall of the first floor women's restroom near the Rathskellar.

--President Susan Cole, Montclair State University
Local Fox affiliate:
PS: I'm sure that some will object to my title. Yeah, well, we object to the idea we should be killed because of our sexual orientation and/or gender identity, but it doesn't stop it from happening or being threatened.
CBS NY uses javascript, so their video isn't going to show here. I actually liked their coverage best because of the student commentary.
"I definitely don't like it. I know a lot of gay people," student Mike Meerovich said.

"It's definitely surprising that something like this would happen in this school," Cesar Archila said.

"It's ignorance, man," Carlan Edwards said.

It is ignorance that has sent a chill across campus.

"More terrified at first and now I'm enraged that someone would actually go to that extent," Jackie Loder said.

"It's sort of disturbing," the LGBT's Anna Montenegro added.

Other LGBT members said, unfortunately, they aren't too surprised.

"Hate doesn't have a location; it's everywhere. People are prejudiced all over," Chris Perez said.
That's not Susan Cole in the above video, but rather Vice President for Student Development and Campus Life Karen Pennington.
WPIX also reported.
The online presence of the print media took note.
These actions are grossly unacceptable in our community and a clear violation of university policies, as well as the basic tenets of human decency. A bias incident is a criminal act, and anybody found responsible for such actions will be arrested and prosecuted to the fullest extent of the law.

--Susan Cole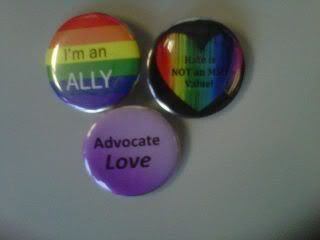 Worse yet, the incident will be noted on their permanent record.
The local Montclair blog Baristanet wrote the story.
The MSU LGBT Center is available on Facebook.
Students, faculty and staff were informed of a meeting:
A meeting will take place tomorrow, February 1st at 3:30pm in SC 419 in response to the bias incidents mentioned in Dr. Cole's email to the campus. The meeting will be an opportunity to ask questions and discuss how we, as a university community, can stand strong and united. Representatives from various campus offices and departments will be available and present at the meeting. HATE IS NOT AN MSU VALUE.
And there was reporting about the meeting.
The Montclarion
(the student newspaper) has excellent coverage.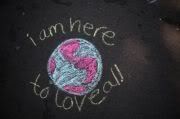 With the hope that there is safety in numbers, events are planned for the 6th and 7th.
A rally is scheduled for the supposed kill date.
The day before will have another event, Let's chalk about love. Students, chalk and sidewalks.