We're known as the MOTley Crew and you can find us here every morning at 6:30 Eastern. Feel free to volunteer to take a day - permanently or just once in awhile. With the auto-publish feature you can set it and forget it. Sometimes the diarist du jour shows up much later, that's the beauty of Open Thread...it carries on without you! Just let us know in the comments. You can click on the Morning Open Thread "heart" if you'd like us to show up in your stream every day.
Doing one of these diaries is a good way to get your feet wet if you have been hesitant about writing a diary. You can write as much or as little as you want. The audience here is always supportive.
I consider myself very lucky in many ways but not least is that I love where I live: the house, the land, the state. Its beautiful and I take a big interest.
My girlfriend---now mrs exlrrp---and sold our properties and moved up to Oregon in Mar 2005. We could not have timed this better historically because that turned out to be real close to the peak of the bubble (mixed metaphors?) and not long after that home prices started to take a downward turn.
I ve always considered myself lucky to have this place, mrs e found it on the internet. I was charging up here every other week from the SF East Bay to check places out. I went to 10, then she came up and confirmed, then we bought. It ours, we own it. Of course its lost about maybe 20% of its value since then but that doesn't make any difference because we're not selling. Theyre going to carry me out of here feet first so it doesn't mattter what its worth
its a big old rambling place that I started fixing the day after I got here. ive done a lot to iit by now and you can see a lot of it in the archives of the Saturday Morning Home Repair Blog.We have 10 acres, 2 ponds, a barn and a large kennel that hippies used to live in but now its a kennel.
Our land is situated inside what could be called a huge private tree farm. There's a bout 60 square miles of it in a big rough triangle, maybe 8 or 9 miles per side. We llive inside this but not WAY inside this. I have made it a point to get to know the timber company that runs this---they fix the roads, etc. I know them pretty good and have the #2 key to the gates. Its vehicle gated but anyone can just walk in and there's a lot of hunting in here come season. There's gravel roads through this and they open them during hunting season
I walk a 3.5 mile loop through this forest at least 3 times a week, more if I can. There's different lengths of loop: the halfloop, the Megaloop, the loopdeloop.
Tbought I'd take you on a little stroll here on The Full Loop
Ok so we're walking out my gate and down my driveway. This first one is looking back at the house along the driveway. You can see the little square of roof in the center
At this point we're close to a half mile away from the house. The driveway winds around---A reckless person who has to proves something can get up to 50mph in this stretch. Just saying. How many can do that in your driveway?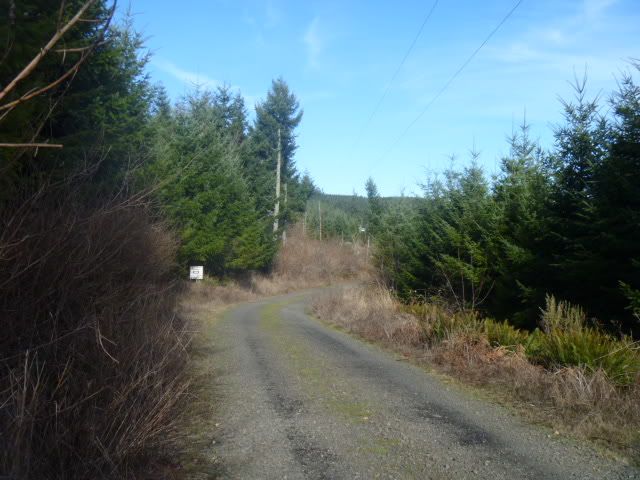 Ok, here we are at the halfway point of the driveway, about half a mile from the house. To the left here is whats called the Strawberry Gate. I don't know why its called that but everybody calls it that so I do too. Maybe because parts of it are red. I have the key to this gate and can drive in but rarely do. I usually walk or every now and then ride the ATV or me and mrs e ride horses.
To the right is my house, behind me is another half miles of driveway to the main road.


Time to introduce my friend and walking companion, Grip. He's an australian cattle dog. Don't ask me why that brand, mrs e made me take him. Anyway this is the smartest dog I ever had---well trained, friendly, an excellent watch dog. If he barks, there's something to bark at!
He always goes with me and loves it. There's ponds along the way and he has to jump into every one of them, even tho there be ice on the surface.
The trees here look about 15 years old. There's a great variety of ages in the forests we'll be passing through.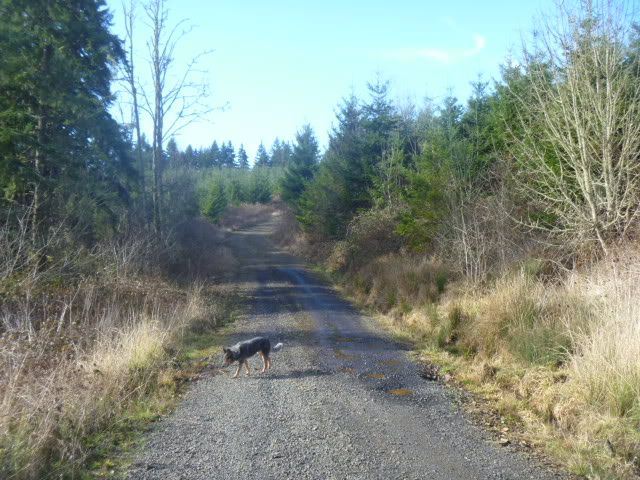 this next is looking down over my town, Brownsville. From here its about a 2 mile walk to the center of town, through an old pioneer cemetery. Its about 6 miles driving by road. There's many view spots like this on the walk, the clearcuts give a great view. Don't worry, they grow it all back
Youre looking southwest into the WIllamette Valley way out is Harrisburg. Behind the hills to the midleft about 22 miles is Eugene.

Ok now we're back in the woods again. One of the interesting things walking through here is how the trees go from one age to the next. You may be walkng through a forest, then a clearcut, then maybe a replanted area, then a different age. One side of the road can be one age and the other side anopther age. Sorta makes the hills look like they have a bad haircut.At this point we're over a mile on our walk.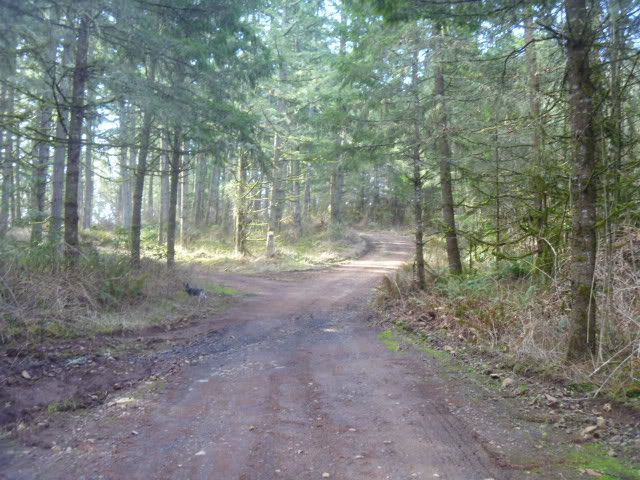 We're another half mile along now. I bring guns and shoot at this little quarry sometimes. It points away from town, the bullets go into the walls. I come up shooting about once a month. I like target shooting and am better than fair at it

Now we're lookiing back down over my land again. All the land youre looking at is part of the tree farm. Remember this view, we'll be looking at a view from acrosss the vallley in a while

Here's another view across the Willamette Valley, looking WNW toward Corvallis, about 30 miles away. You see the clear cut but its already been replanted. They have to by law replant within 2 years of a cut. Thats Mary's Peak rising on the left, Bond Butte is those 2 little hills closer in the middle. This is about the halfway point of a 3.5 mile walk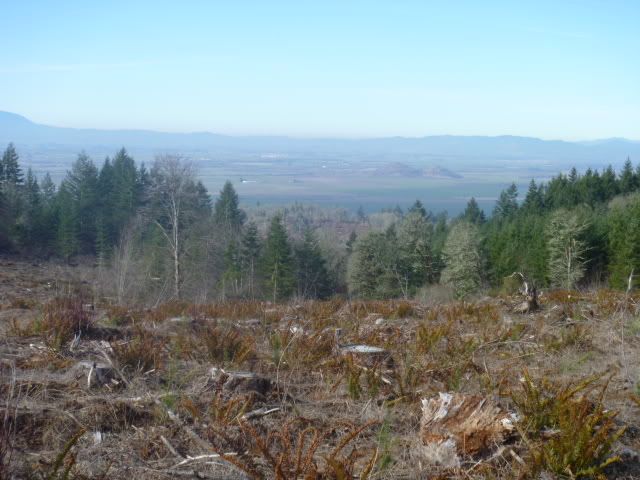 Every now and then a tree falls across the road. I could drive up and chop this into firewood but............. I'm too lazy. The timber company has a road crew that takes this.

Another view across the Valley of the Wammy at Corvallis. Sorry it was such a hazy day, on a clear day you can see Corvallis, 25 miles away. This walk is full of views like this. They cut this 4 years ago. Look how big the trees are already. They grow 18" a year.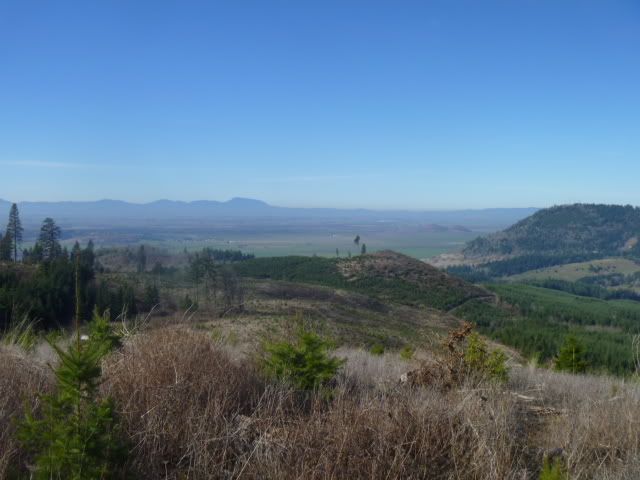 All the land you see here is part of my "park." That what they call Cochran Creek Drainage

Ok, remember I said to remember that view? Here's one looking back the other way. The first view was taken up on the ridge, right side of the picture. you can see my house in the center right. We've made a big loop around the mountain. Look to the left of the house, between the house and the cut spot---there's a patch of trees, We'll be taking all those out this summer and a bunch more. This will provide for a killer view.
they cut this patch 2 years ago. Its already been replanted. These people take care of their land and trees really well.

Here's another view from close to the same place. Thats Crawfordsville about 8 miles out. If this was a clear day you'd be looking at 2 of the 3 Sisters off in the distance midpicture.

Ok, we're walking through woods again now. We're getting close to my property now, couple of hndred yards away.

here's our back gate. The building you see is our "guest house" the kennel nee hippie house. Mrs e picks up a little butter and aig money boarding dogs. She keeps em up here.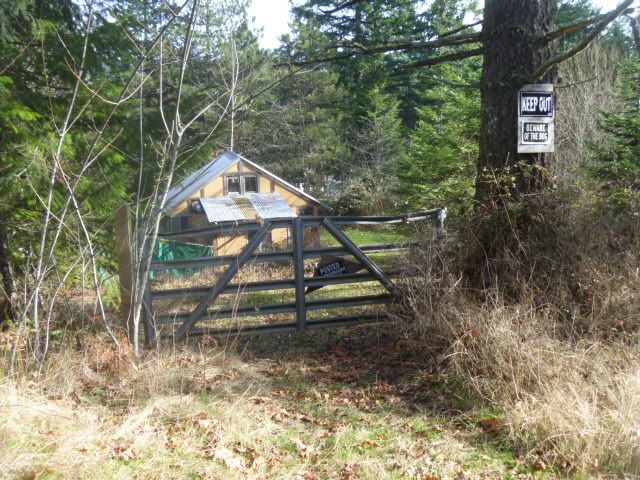 So we're almost home now. To the left is the Upper Pond, you can see the house through the trees on the right.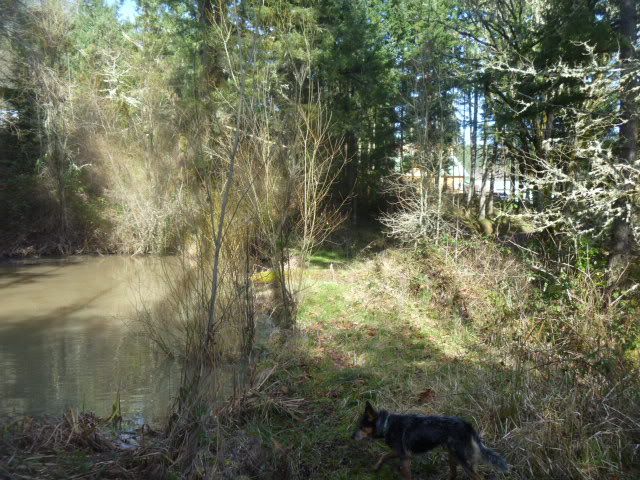 Thanks for taking our tour and remember our tour guides live on what you give them because we're too freaking cheap to pay them!!
You may start complaining as soon as I finish loading