Who calls the shots in the DC Bubble?
Who puts the 'grid' in Tea Party Gridlock?
Who puts the 'joy of austerity' in slashing Government Services?
Who would 'starve Government' out of existence?

Two words: Grover Norquist.
The Pledge: Grover Norquist's hold on the GOP
60 Minutes -- Nov20, 2011

Steve Kroft takes a look at Grover Norquist, the man many blame for holding up the deficit-reduction process because of the anti-tax pledges he has obtained from nearly all the Republican politicians in Washington.

If Grover wants to shrink all Government services, through the exploiting "branding" of the GOP, as he puts it, as the No Taxes Party
-- then Grover should have to claim ownership of the Tax-starved Economy, his clever branding has left for the rest of us.
Fair is only fair.




He's still at it too. Fall in line, or fall out of king-maker favor.
It's Grover's way, or the Highway ... as most GOP Candidates know.

Grover Norquist Reminds GOP Lawmakers Of His 'Naughty Or Nice' List
Christina Wilkie, huffingtonpost -- 12/12/11

[...]
"He's making a list, checking it twice, gonna find out who's naughty or nice!" said the first of two passerby in the cartoon. "That's Grover Norquist!?" exclaimed the second. Click here to see the cartoon.

Even tongue-in-cheek, the implication is clear: Republicans who aren't on board with Norquist can expect to face consequences.

It's hardly a secret on Capitol Hill that Norquist revels in the outsized influence he wields over Republican lawmakers, all but a handful of whom have signed his pledge against any form of tax increase on any sector of the economy. [...]

Love him or hate him, the guy knows how to get results! He has virtually single-handedly shut down Congressional progress, all for the sake of enshrining those GOP ideals of "selfishness and greed".

And this ultimate Me-first guy does seem kind of proud of his accomplishments too ... Hah! He made Gridlock a household word, without even having to run for office. "Kings" aren't elected , you know -- they're self-appointed.

Grover Norquist on the success of the Conservative movement:Link to Clip

Norquist deserves MUCH more notoriety than he gets. Without his "No Taxes Pledge" Congress might actually be able to get stuff done. Congress might actually be able to do the "hard work" of balancing the budget -- just like the Democratic Party DID once before.
Without the Norquist "Pledge of Allegiance" holding us back with his No Growth philosophy -- we might actually be able to carry out the goals and missions of the Constitution -- to promote the general welfare and the overall tranquility of our Nation.
Grover may instruct us NOT to raise Taxes -- but the Constitution doesn't. In fact perpetuating Tax Cuts for the sake of Greed can actually worsen the Deficit, not make it better. If we want nice stuff, well then someone has to pay for it. That's only common sense. In the long run, if we are to succeed as a Nation, we ALL need to pony up. Even the Norquist cohorts. Even, including ending of Bush Tax Cuts ... like they promised. Like they wrote "into Law" over a decade ago.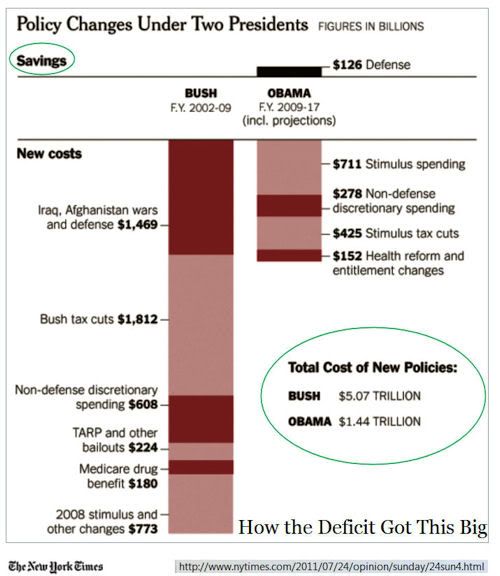 larger image -- How the Deficit Got This Big -- by Teresa Tritch, Editoral, NYTimes -- July 23, 2011

Taxes are Patriotic. Taxes are our economic duty to society; to restoring our fading national well-being.
Because, without Taxes a country will crumble away, starting with its Infrastructure. Next with its Education system. And finally the dearth of Revenues will cripple our safety and security, by withholding funds from Police and Fire Departments ... etc. etc.
Taxes ARE the price we pay for civilization. Government DOES, what individuals and companies, could NOT do on their own. Government ensures -- or tries to ensure -- that we all play by the same set of rules. Government has the duty to act as "fair referees".
Imagine a Super Bowl contest, without a single Ref -- that's what the Norquist "Development Plan" would give us:
A country of Like-to-Haves-Someday, and a country of Have-it-all-already.
That is what the Norquist Revenue-Starvation Plan is all about.

Ronald Reagan, who used to be advised by Grover Norquist, often said that "Government is the problem".
When in reality, it is the mantra of 'Greed is Good' -- THAT is America's real problem.

That is what the Norquist Economy, has set loose on America -- and indeed the World. This Norquist principle of unstoppable greed has infected far, far too much already.
He turned loose the unfathomable notion that we can aspire to having a civilized world, without anyone ever have to pay for anything.
That Taxes are Bad. Greed and endless Profits are Good. That is the Norquist way.

That is what has brought America to economic impasses on every front; that is what prevents the country from moving forward. Simply because Grover Norquist says:
Stop! No further. Think small America. Everyone get behind my line, WAY over there. Put your 'Economic Patriotism', your love of country, on hold people -- who needs it? It's a cowardly new world. It's a Norquist world.

With the Norquist Development Plan, what gets shrunk down to the size of a bathtub, is our land once-full of Opportunities, Compassion, Ingenuity, and Hope.
That is what Grovernomics has done to America. And if allowed to continue, it will eventually end up "drowning," what's left of the American Dream, itself.
Indeed, it is the rampant Norquist's Trickle-down Tax-phobia that already has ... killed the dream, for those unfortunate few of us who's luck has already run out ... long, long before the Big Game was even over.

Who knew the American Dream, could be made so cheaply ... so that almost anyone can afford a shot at it?
Two words: Grover Norquist. He knew. He planned it.

That Opportunity-for-all to strike it rich is always alive, and not-so-well, in Grover's unmentionable, dictatorial world.