Appalachia is a region of the United States that has long been distinct from the standard definition of the North and South with which it overlaps, both culturally and politically. Central Appalachia has long been a bastion of the Democratic Party, but has moved rapidly towards Republicans in recent elections. Southern Appalachia has a mix of areas that have been Republican for many decades and some that have become Republican strongholds more recently.
In this diary, I take a look at how the political landscape would be different if the Appalachian regions of several states in the eastern US were to form one large state comprising Central and Southern Appalachia. This part will focus on the statewide political effects state by state, including how various elections would have played out, while the next part will take a look at how redistricting could play out in each state given the resulting statewide changes using Dave's Redistricting App. I have included several maps and graphs to keep this long diary organized.
The point of departure from actual events is election day 2010. All races and all candidates are the same, regardless of whether the candidate still lives in the state just for simplicity, however the results from counties that form Appalachia have been removed to see what would happen to those states without them. All congressional races and state legislative races went the same way simply to make this diary more feasible. For legislative districts that cross the new state lines, I assigned the district to the state the majority of the district's constituents are in. I used the remaining legislative partisan breakdown to determine the partisan control of the new states' legislatures, although for Appalachia itself there are vast disparities in district population sizes.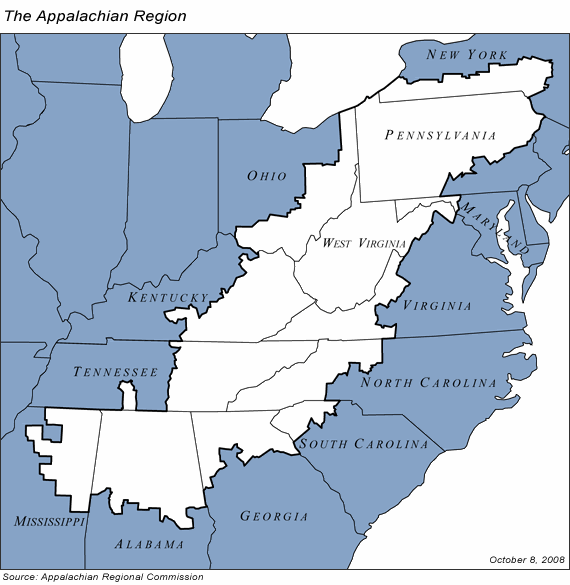 The Appalachian Regional Commission, which is a state-federal development agency, defines Appalachia as over 400 counties spanning from northern Mississippi to western New York. I used this definition as the basis for this diary, but made some slight changes such as the omission of New York and the inclusion of the Shenandoah Valley, among others.
Central Appalachia is comprised of parts of Ohio, Pennsylvania, Kentucky, West Virginia, Maryland, and Virginia. Southern Appalachia covers parts of North Carolina, Tennessee, South Carolina, Georgia, Alabama, and Mississippi. Central Appalachia still has a strong local presence by the Democratic party thanks, especially those regions which have coal mining and high rates of unionization. Southern Appalachia on the other hand was a longtime bastion of the Democratic Party outside of Tennessee and North Carolina as part of the old Solid South. Since the 1960s this area has trended away along with the rest of the South, but began to move sharply towards Republicans after the 1994 midterm elections. Today this area is staunchly Republican and will have zero Democratic congressional representatives after the 2012 elections.
Most amazingly, Bill Clinton won the ARC counties in 1996 by a mere 393 votes out of 8,186,841 cast. That results in a margin of just 0.0048% which is even smaller than Florida in 2000. If the ARC counties had been their own state in 1996, Clinton would have also won Georgia, bringing his total up to 403 electoral votes.
Regional Overview


Click for larger map
This map shows the counties I included in Appalachia, as well as the changes to the surrounding states. Differing from the Appalachian Regional Commission, I excluded northeastern Ohio, Gwinnett County, Georgia, Forsyth County, North Carolina, and a few other smaller counties. I included all of West Virginia to avoid dealing with orphaned counties and also added more of Virginia that I felt should be included. Three counties were split: Iredell in NC, and Franklin and Dauphin in PA. Only Iredell and Dauphin have any significant population in both states.
This table displays the basic VAP demographic data for all 12 states, their 2000, 2004, and 2008 presidential percentages, as well as their CPVI and how it has changed from the actual state. All this data will be presented in more detail by state later on. The bottom row shows the data for all of the states combined.
As can be immediately seen, every single one of the 11 states that shed some territory to the new state of Appalachia becomes more Democratic as a result and some would have even flipped to Democrats in one of the presidential elections.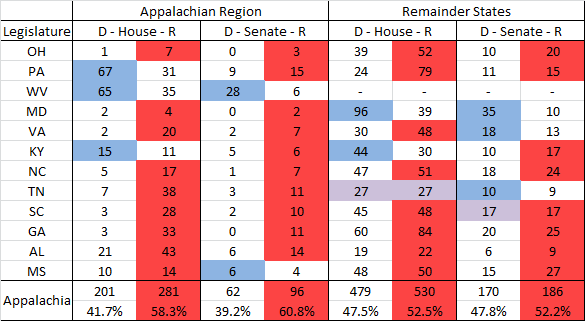 This table shows the changes to state legislatures; the left side shows the partisan breakdown of the seats removed from each state to form Appalachia, while the right side shows the new partisan composition as a result. Most of the Appalachian regions in these states have large Republican majorities, especially in southern Appalachia. As with the statewide elections, some legislative chambers held by Republicans in reality would now have only narrow majorities or even be held by Democrats.
The States
First up is Appalachia itself. With nearly 23 million people, this would be the 3rd largest state after Texas. It is the whitest of the 12 states, being the only one other than Kentucky not to have a VRA district. With a PVI of R+11.4 it is also the most conservative of the 12 just from the 2004/2008 presidential elections. However, the region has been moving steadily away from Democrats as can be seen from the Clinton and Gore performances, and after 2012 the state would probably have a PVI of around R+13.
Its largest metropolitan area and the heart of Democratic strength in the state is Pittsburgh. Other sizeable cities include Knoxville, Chattanooga, and Birmingham. Compared to the rest of the United States however, a much higher portion of the population is rural, as well as poorer than average.
Even with the addition of Democratic supermajorities from its Pennsylvania and West Virginia portions, Appalachia has a large Republican majority in its legislature. For this part of the exercise I'm assuming that redistricting would equalize the district sizes and possibly reduce the total number of seats since at 640 total legislators they would outnumber members of Congress. In keeping with the same candidates and races from 2010, I'll just posit that Joe Manchin narrowly holds on due to his strong appeal to Central Appalachia and John Raese's many failings as a candidate. As a result, he would face a very tough race in 2012, and Republicans pick up the governor's office in the 2011 special election, giving them the trifecta.
By electoral performance, the last Democratic presidential candidate to win this state would have unsurprisingly been Jimmy Carter in 1976. Bill Clinton comes closest in 1996, losing by just 1.74% to Bob Dole. Since then however, the Democratic vote share has been in decline. Both John Kerry and Barack Obama failed to crack 40% of the vote, and it is unlikely Obama would surpass 40% in 2012. While this state could be seen as a second Texas in terms of being a large-state Republican stronghold, it is largely composed of electoral votes Republicans have to win anyway, and as we will see next it makes the surrounding states more favorable to Democrats in ways that Texas does not.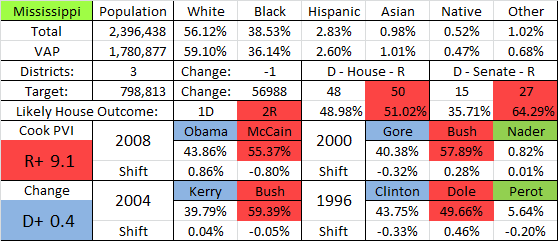 Starting in the south, Mississippi loses some of its northeastern counties in the fringes of Appalachia. Unfortunately for Democrats, this isn't really helpful since these areas were friendly to conservative Democrats and actually had a Democratic majority in their state senate delegation even after the 2011 elections. However, the state house is now only narrowly divided, with Republicans holding a 50-48 majority, though with Republicans controlling legislative redistricting here as they actually do, Democrats probably wouldn't be flipping the chamber anytime soon.
Mississippi is rather boring in this exercise since no statewide races are changed at all, and the partisan balance of the state still heavily favors Republicans.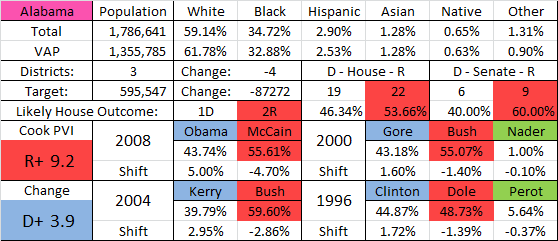 Alabama is the only state other than West Virginia to see more than 50% of its population absorbed by the state of Appalachia. It sheds most of its territory north of the black belt region, which was surprising to me since I wouldn't normally think of Birmingham as being Appalachian. The state experiences roughly an 8% increase in the black share of the population, which should only grow over time.
The state shifts substantially towards Democrats; Obama sees an improvement of 5% here from his actual 2008 performance. Still, Alabama is strongly Republican and even Bill Clinton still lost the state by 4% in 1996. The state would remain competitive to Blue Dog Democrats though. Dems are only 2 state house and state senate seats short of a majority. With only 15 state senators and 41 state house members, Alabama would have the smallest bicameral legislature in the country and it would be unsurprising to see it expanded during redistricting.
In terms of statewide elections, Republicans still hold all of the statewide offices. Jim Folsom narrowly lost the Lieutenant Governor's race in 2010 to Kay Ivey by slightly over 4,000 votes, or only 0.8%. As the black share of the population rises Democrats should start being more competitive here, especially in the event of good Democratic years such as 2006 or 2008.
Georgia is where the fun for Democrats would begin in earnest by yielding them a bonanza of electoral goodies. Right off the bat, Barack Obama actually won the state and its then 12 electoral votes by a non-trivial 4.66% margin. Obama does almost 5% better with the removal of the blood red Appalachian counties north of Atlanta, and the state would potentially vote more Democratic than the nation in 2012 due to rapidly changing Demographics. B ill Clinton also would have won the state against Dole in 1996, meaning that Democrats carried the state in the 3 of the last 5 presidential elections.
But wait, there's more! In terms of local statewide races Democrats also performed much better. Jim Martin would have defeated incumbent Saxby Chambliss with 51.08% to 45.79%, clearing the 50% runoff threshold. In terms of this diary's scenario involving the 2010 elections, Democrats also come out ahead. Roy Barnes would have won a plurality of 48.89% to Nathan Deal's 47.19%, and would have a better than 50% chance of winning the runoff a month afterwards due to Deal's unpopularity. Attorney General candidate Ken Hodges won a plurality of 48.63% to Sam Olens' 48.10%, and the races for Lt. Governor and Insurance Commissioner would have gone to a runoff as well. It is quite possible that Democrats would have won all 3 down-ballot runoffs with Roy Barnes' coattails.
In the state legislature, Republicans' majorities are whittled down substantially. They hold a much narrower 25-20 senate majority, meaning Dems need only 3 seats to flip the chamber. The house has a slightly wider Republican majority, but with now Governor Barnes' veto of legislative redistricting, Democrats would have a good chance to win both chambers under court-drawn maps.
Georgia is now majority minority by total population and shifting demographics, which was one of the reasons I didn't remove Gwinnett County, will continue to make Georgia more Democratic. In 2012 it would be a tossup at the presidential level and Dems would have a good shot at defeating Saxby Chambliss in 2014. Georgia is one of several states where Democrats now get to run under court-drawn or compromise maps instead of Republican-drawn ones.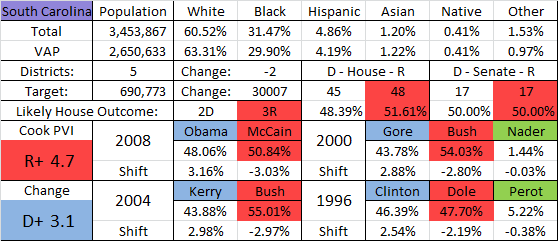 South Carolina sheds its most Republican friendly parts in the northwestern part of the state. It also becomes a couple points less white. As a result it moves 3% towards Democrats and Obama only lost to McCain by 2.78% in 2008. That's the closest margin since Bill Clinton came within 1.3% of Bob Dole in 1996. For other federal elections, Jim DeMint would have only won by 3.5% in 2004 and would face a very tough time if he were seeking reelection in 2016.
The local level is where Democrats would see their biggest gains. Instead of Republicans having control of the trifecta, Nikki Haley actually lost the gubernatorial election to Vincent Sheheen by just 941 votes, or 0.1%. Compounding this, their large legislative majorities are reduced to just a 48-45 majority in the house and a 17-17 tie in the state senate. However, Lt. Governor Ken Ard still won by 4.6% so Republicans keep the chamber with his tiebreaking vote.
With court-drawn maps thanks to Governor' Sheheen's veto, Dems would have a much better shot at actually taking over one or both legislative chambers in 2012, especially if the Obama campaign decided to heavily contest the state due to the closeness of the 2008 election. The state should continue moving towards Democrats, but at a slower pace than Georgia.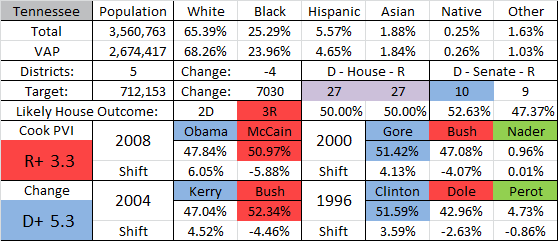 Tennessee experiences the largest shift towards Democrats, which is unsurprising since eastern Tennessee has been a Republican bastion since the Civil War. Obama sees his vote share rise over 6% to give him a much narrower 3.13% loss in 2008. John Kerry also sees just a 5.3% loss. Perhaps most unsurprisingly, Al Gore carried the state in 2000 with 51.42% of the vote, however with only 7 electoral votes it wouldn't have been enough to counter the loss of 8 to 10 electoral votes from Pennsylvania.
The state is also substantially less white and has demographics more typical of a southern state. Perhaps as a result of this decline in the white population, Harold Ford would have handily beaten Bob Corker in 2006 with 52.56% to 46.25%. Corker might even be vulnerable in 2012 to a challenge by a Blue Dog like Jim Cooper.
What I was surprised to find though, is that without Appalachian eastern Tennessee, Republicans lose their very large legislative majorities in both chambers. Democrats have a 1 seat majority in the state senate and a tie exists in the now incidentally even numbered house. A power sharing situation would probably emerge, although perhaps a Republican would vote to organize with the Democrats as had happened prior to 2010, but that's unlikely. Republicans still hold the governorship though, but Dems are still better off under court-drawn legislative maps than the actual Republican gerrymandered ones. It would be interesting to see whether Dems can hold their ground in the legislature and whether or not the state would continue its rightward trend.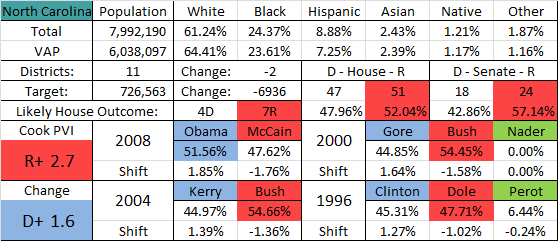 Unlike Tennessee, North Carolina's share of Appalachia isn't nearly as conservative, so it only sees about a 2% shift to the right. Still, Obama now beat McCain by nearly 4 points in 2008 and is probably a slight favorite over Mitt Romney in 2012. Bill Clinton would have narrowly lost the state in 1996, but now won the state in 1992 by a little under 1%. Instead of her narrow 3% win in 2008, Bev Perdue would have won with 51.52% to Pat McCrory's 45.72%. Democrats would also have a much better chance at holding the governorship in 2012 as well.
Unfortunately, Democrats don't flip either legislative chamber and since the governor can't veto redistricting Republicans still get to gerrymander the shit out of the state. They do however lose their supermajority in the state senate and only hold a narrow 51-47 majority in the state house, meaning that there probably wouldn't have been a gay marriage ban on the 2012 ballot, as well as measures such as voter ID laws.
The good news for Democrats is that the state will continue to trend leftward thanks to migration from other parts of the country and the growing minority population. It is even conceivable that Obama receives a higher percentage in North Carolina than nationwide in 2012.
Kentucky experiences only a slight shift towards Democrats given that much of the eastern coal counties which are a strong base of support for local Democrats is removed. Still, the state shifts nearly 2.5% towards Obama, but little else is changed from a statewide perspective. Mitch McConnell still beat Bruce Lunsford in 2008, though by a slightly narrower 4.74%. However, both McConnell and Rand Paul would be very vulnerable in 2014 and 2016 even after just a few points of movement to Democrats.
The state legislature also doesn't see a whole lot of change: Democrats still hold the state house while Republicans hold the state senate. Dems do see their percentage in both chambers decline though, and this is the only the second state so far where Democrats had the majority of legislative seats in the Appalachian region in either chamber.
Without rightward trending Appalachia, Democrats might start seeing a trend towards them in Kentucky as they continue to improve in places such as Louisville.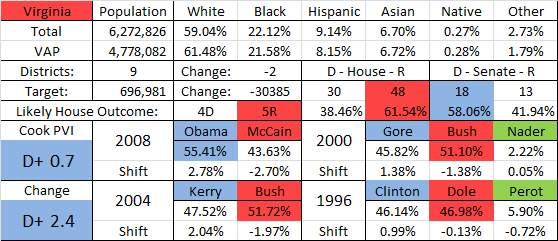 Virginia is yet another state that sees substantial improvement for Democrats that goes hand in hand with a substantial decline in the white population. Without rightward trending western Virginia, the state will only get more Democratic over the next decade. Obama's vote share increased by almost 3% to give him a double digit margin over McCain, and even Kerry kept the state somewhat close. Clinton almost won the state in 1996, coming within 0.85%. Jim Webb would have beaten George Allen by a wider margin in 2006, and Tim Kaine would now be a strong favorite over Allen in 2012, as would Obama over Romney. Virginia is also the first state so far to change from an R+ to D+ PVI.
Without conservative western Virginia, Democrats would have retained their state senate majority in the 2011 elections and now have a much more stable 18-13 majority. Republicans also lose their supermajority in the state house, although they still have over 60%. As a result, the congressional map for Virginia would be court-drawn instead of Republican gerrymandered. After the 2012 elections the state will probably have a PVI of about D+3 and it will be very difficult for Republicans to stay competitive statewide if they insist on running very conservative candidates like George Allen or Ken Cuccinelli.
Maryland sheds the smallest population of any state and as a result doesn't even lose a congressional district. Since I wanted to keep all of West Virginia in the state of Appalachia, the Maryland panhandle would have been jutting into it so it made sense to include it anyway even though those counties have experienced growth from DC exurbs. Maryland is now only 53.25% white and will probably become majority-minority at some point during the decade.
Even though only about 250,000 people were removed, Maryland still moves 1% to the left to become almost D+10. Republicans would have practically no chance at winning elections statewide and it would have to take a serious scandal for them to pull off the upset. On the legislative level, Democrats see their majorities increased to over 3/4ths of the state senate and over 70% in the state house, which probably allows them to pass gay marriage legalization as governor O'Malley has been trying to do.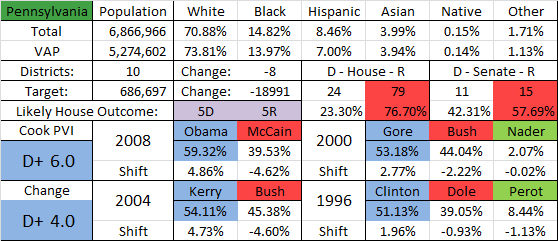 Although it loses most of its land territory, Pennsylvania actually keeps the majority of its population due to Philadelphia and its growing suburbs. Again, this is a state where Democrats benefit massively although some of those benefits won't be realized immediately.
For starters, Obama obliterated McCain by nearly 20% in 2008, and Kerry, Gore, and Clinton all won quite comfortably. Most excitingly, Joe Sestak, whose 2010 loss was probably the most upsetting for me, wins against Pat Toomey with 52.37% to 47.63%. More amazingly, Dan Onorato beat Tom Corbett by a razor thin margin of 202 votes out of 2,158,590 cast, or just 0.0009%, and thus denying Republicans control over redistricting.
An unfortunate consequence is that Republicans now absolutely dominate in the state legislature. I hadn't realized how much Democrats dominate western Pennsylvania on the local level, but over 2/3rds of the state house seats in the Appalachian region were held by Democrats. This turns the Republicans' small majority in that chamber into a supermajority exceeding 75%. However, their state senate majority is much narrower, at only 15-11 and they would need 3 defections to override now Governor Onorato's vetoes. Republicans' majorities would be in great danger under court-maps through the course of the decade.
Due to a divided state government, all of the 2012 maps would be court-drawn and benefit Democrats greatly; although with the recent action by the state Supreme Court Pennsylvania might have court-drawn legislative maps anyway. Aside from redistricting, the large 4% shift in the state's PVI, nearly 5% shift towards Obama, and the continuing Democratic trend of the Philadelphia suburbs will make winning future statewide elections in Pennsylvania a daunting task for Republicans.
Ohio was really the only state where I could have added a significant amount of territory that actually made sense to go with Appalachia; however the Youngstown area seemed like a better fit remaining in the state than going to Appalachia. I might have even kept Erie Pennsylvania out if it wouldn't have necessitated finding it a new home.
Anyway, Ohio sees relatively slight shifts towards Democrats, though none of the 2010 elections or 4 prior presidential elections was changed. The state now has a barely D+ PVI thanks to John Kerry's 2004 performance, however he still lost by 1%. Obama now beat McCain by a margin a bit closer to his national average, nearly 6%. Interestingly, the Appalachian portion of Ohio has been increasingly more Republican than the rest of the state with each subsequent presidential election.
Ted Strickland loses by almost the same margin in 2010, which is unsurprising seeing as the Appalachian region was his base. Richard Cordry's loss gets narrower though, however Mike DeWine still prevails by 11,000 votes for a 0.34% margin.
In the state legislature Republicans have all but one of the seats in the Appalachian region, so Democrats see their deficit narrow somewhat. Republicans still maintain their 2/3rds majority in the state senate though, so Democrats would need to win 7 seats in the house to flip that chamber. As with North Carolina, Republicans still get to go crazy gerrymandering the state, but at least the area that was trending Republican the fastest is removed.
Summary
Democrats undeniably are the beneficiaries of Appalachia becoming its own state. They gain 1 Senate seat, 3 governorships, 2 legislative chambers and producing ties in 2 others. Though this is offset by the loss of the governorship and legislature of West Virginia, Democrats now get court drawn redistricting in 4 additional states. Democrats also become much safer in Pennsylvania and Virginia, while North Carolina, South Carolina, Tennessee, and Georgia all become considerably more competitive.
Part two of this diary will look at congressional redistricting and the 2012 Congressional elections in the 11 states plus Appalachia itself.
Additionally, thanks is owed to twohundertseventy for help with data and excel, and SaoMagnifico who gave me the idea in the first place.
So what do you all think? Some questions to consider are:
Would conservadems like Joe Manchin be able to win Appalachia?
Would Roy Barnes have won the runoff in Georgia in 2010?
Would Democrats win one or both legislative chambers in TN, SC, or GA under court-maps?
How many Democratic vote-sinks would Republicans try to draw in Appalachia?