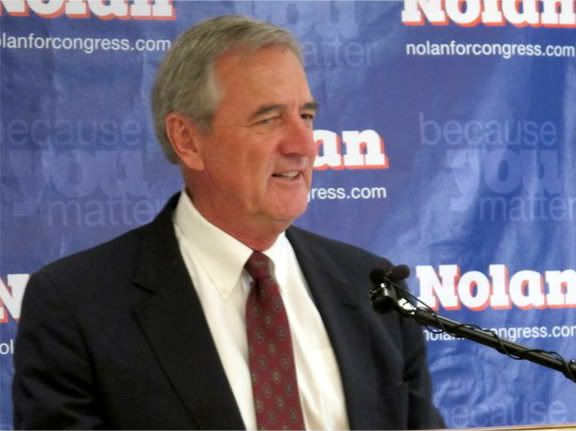 Cuyuna Iron Range native Rick Nolan sees the momentum building in his campaign for the DFL endorsement for congress, winning new endorsements from 8th district leaders and a former lieutenant governor as he heads into the precinct caucuses Tuesday.
State Rep. Bill Hilty of Finlayson,
Koochiching County Commissioner and United Steelworkers labor activist Rob Ecklund of International Falls, former Pine County DFL chair and Minnesota Farmers Union official Thom Peterson of Pine City and former Perpich Lt. Governor Marlene Johnson have joined an ever-growing list of DFL, labor and community leaders endorsing the former three-term congressman.
Johnson, who served as lieutenant governor under the only Iron Range governor in Minnesota history, cited Nolan's extensive experience in business, in creating jobs and in building coalitions among diverse groups as the reasons for her support:
When Governor Perpich needed a real leader to transform his vision of a Minnesota World Trade Center into reality, he turned to Rick Nolan. Rick worked tirelessly with Rudy and me and with so many others to help generate new jobs and transform Minnesota into a leader in global export and trade. Now more than ever, we need his wisdom and courage back in Congress.
Former Congressman Nolan previously served as chairman of the House Subcommittee on Family Farms & Rural Development and is widely recognized as an expert in agriculture policy and as an advocate for family farms. Thom Petersen of the Minnesota Farmer's Union praised that record of championing rural America in Congress:
Minnesota family farms, small businesses and rural communities have never had a better friend in Congress than Rick Nolan. Rick will be so much more than a dependable vote for farms and rural America. Rick will return to Congress as a champion for farmers and our rural way of life.
Rep. Hilty, former chair of the Energy Finance and Policy Division, says he admires Nolan's honesty and integrity as well as his record of remaining true to his DFL/labor roots and progressive values:
Are you as tired as I am of listening to candidates mouthing politically correct (and safe) platitudes? Of course you are! Rick Nolan is the breath of fresh air and the courageous truth-teller that we all have been hoping for. Don't let the rare opportunity to support a real democrat slip through your fingers. We need a majority of Rick Nolans in Congress. Let's at least start with one. We'll work from there.

Former Congressman Nolan, a strong proponent of single-payer universal health care, is clearly pleased to have earned the support of his fellow progressives:
Over the past eight months, our campaign has become a rallying point throughout northern Minnesota for those who want regular people to matter again in Washington DC.

Marlene Johnson, Bill Hilty, Thom Peterson and Rob Ecklund have always been leaders and champions for the progressive values we share, and I am so very honored to have their confidence and support.

With these new endorsements, the Nolan campaign continues to build a broad based coalition with strong support throughout the 8th district, from the Mesabi Iron Range and Duluth in the north to the Cuyuna Iron Range and Kerrick in the west and south.
DFL, labor and community leaders who have previously endorsed the former congressman include Iron Range Labor Assembly President Tom Cvar, Duluth Central Labor Body President Dan O'Neill, Carlton County Labor Body President Mike Kuiti, former Duluth Central Labor Body Presidents Al Netland and George Sundstrom; Duluth State Rep. Kerry Gauthier; Brainerd State Rep. John Ward; former Minnesota Senate President Don Samuelson; Iron Range Legislative Delegation Chair and IRRRB member State Rep. Tom Anzelc; former Cuyuna Range State Rep. Kris Hasskamp; Iron Range publishing icon Veda Ponikvar of Chisholm; former State Representative and Eveleth Mayor (and present Citizen Representative on the IRRRB) Joe Begich; House Assistant Minority Leader State Rep. John Persell of Bemidji; Duluth community activists Erik Peterson and Tina Welsh, Bemidji native State Rep. Ryan Winkler; Duluth businessman John Goldfine, former State Sen. Becky Lourey of Kerrick; former State Rep. Tim Faust of Mora; former State Sen. George Perpich of Chisholm; and former Minnesota Congressmen Gerry Sikorski, Bill Luther and Martin Sabo.
Nolan is seeking the DFL endorsement to challenge Tea Party Rep. Chip Cravaack (R- MN/NH) in November. Also vying for the endorsement are former City Councilor Jeff Anderson of Duluth and former State Senator Tarryl Clark of St. Cloud. Nolan is the only candidate who has said he will abide by the endorsement.