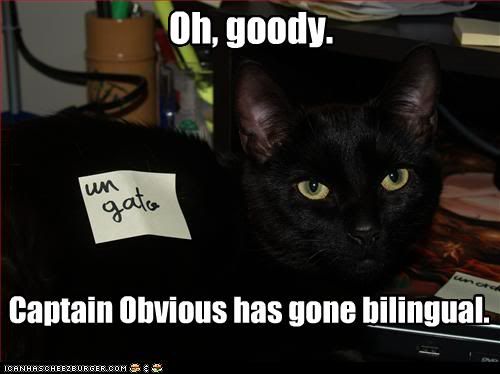 Willkommen, bienvenue, welcome! Today we are going to look at lolcats in five of the hundreds of members of the Indo-European family of languages. Included are three "Romance" languages (Spanish, French, and Italian), one Slavic language (Russian), and one West Germanic language (German). Given that the Romanic languages descend from Vulgar Latin, the language of ancient Rome, let's acknowledge the mother tongue first.
| | |
| --- | --- |
| Basement Cat is ready to pounce on your immortal soul. | |
| | |
| --- | --- |
| | Let's play John the Baptist./Do not want! |
Owr Grownd Roolz
The PWB diaries are a place to relax, share pictures and stories about our animal friends, LOL, and build community. If you like that, come on in and join us; if you don't like it, now's the time to click over to another diary. No crapping in the playground, please.
Spanish
Granada
Bless their hearts, every Wednesday (Miaucoles), Zambombazo publishes "un lolcat en español, o mejor dicho, en una versión española de lolspeak..." That's where I found some of these gems.
| | |
| --- | --- |
| Porfis = variation of "por favor" used whenever you want somebody to do you a favor no matter what...Pretty please with sugar on top. | |
| | |
| --- | --- |
| | See? I'm a catterfly. |
Italian
World's richest cat
Under Italian law, animals cannot inherit directly, but they can be beneficiaries if a suitable trustee is found. An elderly widow entrusted her cat Tommaso and his fortune (€10 million) to a friend and fellow cat-lover named Stefania, who looked after the widow during her last months.
Akshully, this photo of Tommaso makes a good illustration to accompany Dante's line from the
Divine Comedy
: "Lasciate ogne speranza, voi ch'entrate (All hope abandon, ye who enter in)."
"You were warned not to troll here!!!" "Ouch... leeve me alone... there's a Gonstituttion... there's a Demogracy..." "Mm.. iz better i get back on Facebook."

French
| | |
| --- | --- |
| Frère Jacques, frère Jacques, Dormez-vous? Dormez-vous? | |
What are you doing?
| | |
| --- | --- |
| | Mai brekfest. Ai showz u it. |
German

No critters here, but the laughs will do you good. You need not know any German.

| | |
| --- | --- |
| | Die Lorelei: Ich weiß nicht, was soll es bedeuten, Daß ich so traurig bin... |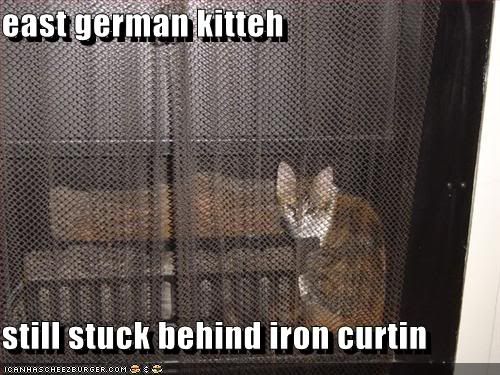 Russian

Thanks to Яolcats for all but the last picture. It's interesting to see how much grim humor is packed into Russian lolcats, focused as they are on the impact of Teh Party on everyday life.
| | |
| --- | --- |
| That we both may be a burden on the state, this thought above all others keeps me from sleep this night. | |
-I swear I spoke no ill of The Party!
-Submit with honor, and you will earn a proper burial among your fathers!
Commissar Markov has long been a loyal party member, but I fear his growing influence in state policy. Perhaps it is time to cash in a favor from my friends at the Kremlin.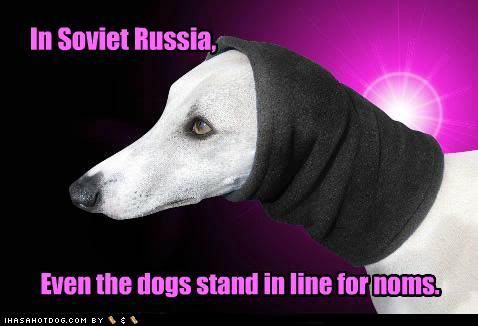 Coded by BirderWitch
Word clouds by ccmask