When this shrill harridan decided to support the Mittster, she lost the teahadist wing of the Republican Party. You could find it at freerepublic dot com, but I shan't link to it here. Wearing my HazMat suit, I've selected some of their derision, below, for your amusement and delight. But first, this disclaimer:

Ann Coulter is not a trans woman. While you'll see quotes from FReepsters that attempt to smear her by calling her a trans woman, this is not based on any known facts about her. Just as when Ann Coulter called John Edwards a "fag," slurs based on immutable characteristics such as gender orientation, sexuality, skin color, etc. do not hurt their intended targets in the way they hurt our brothers and sisters who have those characteristics. Accusations of being a trans woman imply that trans women are not women and that being transgender is somehow a bad thing to be. Anyone who intimates that Ann Coulter is transgender, or otherwise not a woman, in this diary's comments, will have their comments swiftly hidden (one hopes.) TUs, please help if necessary. I'm sorry to have to write this here, but the history is clear.
Now, onward to the
freude!
What a fool she is. When Romney gets what he wants he will dump his whore to the curb like the pimp he is. Ann tried to jump the shark and ended up being eaten by a megalodon which promptly spit her chewed body out because it had no meat on it.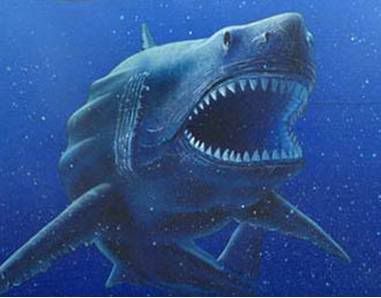 we have now jumped the Megalodon.
STFU, Ann. You no longer matter to conservatives, you sold out for political expediency and "electability," what you say no longer matters. Go home and eat a couple of Whoppers and large fries.
Yep! No longer does Ann get to be a skinny, desirable, attractive (to Republicans) woman. Since all women only have value in proportion to their looks, the Republicans now must sentence Ann to get fat.
Even if she believes Romney is the best candidate her shrill all-or-nothing hawking of him has greatly lowered her stock among conservatives.
Shrill? Are you talking about the same Ann Coulter?? heh.
Are you enjoying this as much as me?
this guy probably doesn't even know that AC is one of America's Real Action Heros: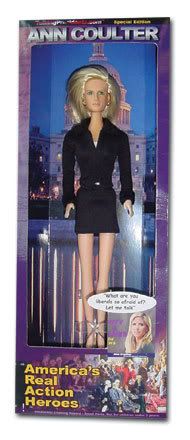 Wow. The Transsexual is utterly delusional.
Truly disgusting. Don't go there.
"you owe me and you'd better be as right-wing a President as I tell people you will be!"
A just like a typical "John" who's got what he wanted and is now done with Coulter. Romney responded, "What ever you say hon, you money's on the nightstand, I'm outta here.."
wow. How soon they forget that she's their
Champion!
It doesn't matter how sharp her "barbs" are for Romney after the election. All decent Americans will continue to despise her forever. In the most important election in our country's history, she sided with a man so far to the left that his candidacy as the "conservative" poses an exceptionally grave danger to our national survival.
b...bu...but - what about this?
Dear Ann, STFU and go away. You're now part of the problem.
You know, despite all this fun, I'd have to say it would be OK with me if she retired.
Mitt Romney is the quintessential Rockefeller Republican. He has no chance of winning the general against Obama.
Irrelevant!!!
Uh... Ann darling... you have become a Rockefeller republican and are no longer loved by the conservative movement any more than David Brock is.... Hmmm is there a connection here?
Oh, my...the burrrrn...
Ann Coulter used to be somebody. She used to be relevant.
to guys like this:
It's Romney's turn, just as it was McCain's turn, and Dole's turn. Who's turn is it next to lose to a Democrat?
Does it really matter?
The GOP is useless. I don't blame Ann Coulter, she is just revealing who she is. Didn't she date Bill Mahr? What more do you need to know beyond that? Ms. Coulter obviously loves the Washington party circuit, and is tailoring her schtick so she can stay on that circuit.
hey, and she likes the
Grateful Dead!
Bonus Sophomoric Republican Transphobia:

Who Castrated Ann Coulter?

There is no conservative writer that I admire more than Ann Coulter. She's smart as hell and, more importantly, she is courageous...But something has happened to Coulter. I don't have firsthand knowledge that she was kidnapped by RINO Team Six and taken to an offshore medical facility where she was forced to undergo a gruesome surgical procedure, but many of her recent columns suggest that something of the sort must have occurred...Which brings us to the latest evidence that Coulter has been somehow altered...Yet Coulter, once the scourge of such malleable "moderates," has gone through some sort of transformation that has rendered her blind to Romney's cheap opportunism.
Me, I just think it's nice to have so many new friends who feel about Ann as I do:
Ann's for the money,
Ann's for the Show;
If Romney gets elected,
He'll tell Ann where to GO
OK, why do I think Ann endorsed Mitt? She needs the attention, and wants to be on what she thinks will be the Winning Team. Duh, right?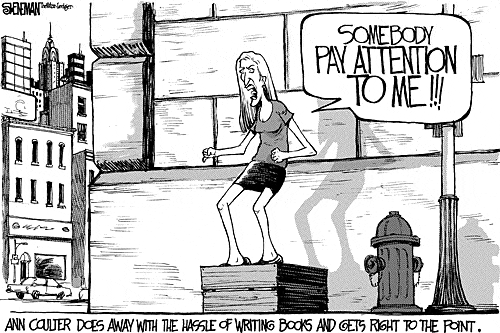 Girl's come off the rails so hard & fast, I'd put a bet on it being some flavor of hormonal/menopausal unhinging.
That, or she was one of the most convincing broad-daylight moles ever.

Either way, it's a sad spectacle . . .