This rigged settlement game remains the same for the most part since I reported on it last week, and now once again, our national mortgage/foreclosure fraud nightmare still has no real prospect of beginning to end. The claims made that there is no immunity from criminal prosecution still need to be vetted for more details on that front.
David Dayen outlines the makeup of these crumbs rather well in this piece.

In one incident described in the report, an employee of one of the servicers spent two weeks experimenting with her staff to see how long it would take to process foreclosure documents correctly. They determined it would have taken at least 1-2 weeks. This employee went to their manager and reported the information. The following week, the manager told the employee they were reducing the time spent on each file from 48 to 24 hours.

This is the kind of conduct that will be released in the settlement.

Other lawsuits, like Delaware AG Beau Biden's lawsuit against MERS, Missouri AG Chris Koster's criminal indictments against DocX, and Nevada AG Catherine Cortez Masto's suit against LPS and its employees would be able to go forward as well because the banks are not a party to them. However, it's unclear whether any of those AGs will be able to work their way up the chain to indict bank officers for the same conduct; the likely answer, I assume, would be no.

snip

But even this $35-$40 billion number, which is at best a guess since the direction of the principal reduction is mostly at the discretion of the banks, pales in comparison to the negative equity in the country, which sits at $700 billion. And the banks have three years to implement the principal reductions, drawing out the loss on their books. As the New York Times reports, banks have covered reserves for all of this, and should see major boosts to their stock price as a result of the settlement.
More details from DDay today as well.
Do this kind of conduct look like sound prospects for real foreclosure standards? Does it make you feel comfortable that these kinds of lax standards are now embodied in what will now be called "the foreclosure process?"
The answer should be no. You know? It really is unacceptable that there will be no indictment of banking officers under this settlement. Does two months' rent($1,800-$2,000) seem like restitution to you?
Do you trust that the highly inadequate 35-40 billion assumed by HUD Secretary Shaun Donovan in principal reduction out of 700 billion negative equity borrowers owe will turn out to be true? Should that be at the banks' discretion for 3 years? No.
Oh I'm sure they must be in tears to cover this paltry sum with the reserves they are choosing not to lend while they pretend; the money multiply lie they deny earning interest, never ours.
Former "over 1000 convictions" S&L regulator Bill Black outlines the problems with this settlement and why many of these crooks should be behind bars.
Bill Black on Financial Fraud Investigations

The total staffing of the working group (once completed in several months) is 55. At peak, there were roughly 1000 investigators (and hundreds of prosecutors) assigned to the S&L prosecutions 20 years ago. The current crisis caused losses far exceeding the S&L debacle and involves frauds that are massively greater than the frauds that drove the S&L debacle.

But the issue of resources is not where the discussion needs to begin. The keys are information, expertise, understanding of control fraud, and prioritization of investigations and prosecutions. Absent criminal referrals from the financial regulators and whistleblowers, absent dozens of banking regulators being "detailed" to serve with the FBI as their internal experts, absent training of the investigators and prosecutors on how to detect and prosecute control frauds (the Justice Department uses the mortgage lending industry's "definition" of mortgage fraud — and, surprise, it defines the lenders and their CEOs who made millions of fraudulent liar's loans as the good guys/victims of mortgage fraud rather than the perpetrators), and absent the immediate reversal of the current system of making smaller mortgage frauds our top criminal justice priority — absent all of these things there can be episodic prosecutorial successes, but continued systemic failure is certain.

snip

I want the elite criminals who ran the control frauds to be prosecuted and imprisoned if found guilty. Under President Bush, the Justice Department's prosecution of financial frauds was pathetic. Even though financial fraud reached unprecedented levels, the Bush administration prosecuted fewer than one-half as many financial frauds as during the S&L debacle. The bad news is that the Obama administration has proven even more disgraceful failures in holding elite criminals accountable than did the Bush administration. The Obama administration has convicted a few bankers from non-elite banks and it may eventually convict a token elite banker, but it will continue to fail systemically to hold elite bankers accountable for their frauds.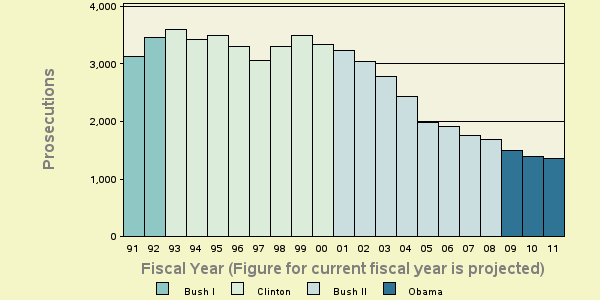 Some people deny this and the need for prosecutions stating that America was just going through it's irrational exuberance stage. Projection is an ugly thing in this case because William K. Black has a wide consensus as well as experience proving the opposite.
That's only a decent excuse to people with no sense of economic history and have more loyalty to a leader or political party than facts.

Robert Shiller – one of the top housing experts in the United States – says that the mortgage fraud is a lot like the fraud which occurred during the Great Depression. As Fortune notes:

Shiller said the danger of foreclosuregate — the scandal in which it has come to light that the biggest banks have routinely mishandled homeownership documents, putting the legality of foreclosures and related sales in doubt — is a replay of the 1930s, when Americans lost faith that institutions such as business and government were dealing fairly.

snip

Economist James K. Galbraith wrote in the introduction to his father, John Kenneth Galbraith's, definitive study of the Great Depression, The Great Crash, 1929:


The main relevance of The Great Crash, 1929 to the great crisis of 2008 is surely here. In both cases, the government knew what it should do. Both times, it declined to do it. In the summer of 1929 a few stern words from on high, a rise in the discount rate, a tough investigation into the pyramid schemes of the day, and the house of cards on Wall Street would have tumbled before its fall destroyed the whole economy. In 2004, the FBI warned publicly of "an epidemic of mortgage fraud." But the government did nothing, and less than nothing, delivering instead low interest rates, deregulation and clear signals that laws would not be enforced. The signals were not subtle: on one occasion the director of the Office of Thrift Supervision came to a conference with copies of the Federal Register and a chainsaw. There followed every manner of scheme to fleece the unsuspecting ….

This was fraud, perpetrated in the first instance by the government on the population, and by the rich on the poor.

The government that permits this to happen is complicit in a vast crime.
More from James Galbraith(who like his father was way back then, is on top of all of this today) outlining the points Bill Black makes referencing others who have written papers on control fraud.
James Galbraith: Why the 'Experts' Failed to See How Financial Fraud Collapsed the Economy

Concepts including "rational expectations," "market discipline," and the "efficient markets hypothesis" led economists to argue that speculation would stabilize prices, that sellers would act to protect their reputations, that caveat emptor could be relied on, and that widespread fraud therefore could not occur. Not all economists believed this – but most did.

Thus the study of financial fraud received little attention. Practically no research institutes exist; collaboration between economists and criminologists is rare; in the leading departments there are few specialists and very few students. Economists have soft- pedaled the role of fraud in every crisis they examined, including the Savings & Loan debacle, the Russian transition, the Asian meltdown and the dot.com bubble. They continue to do so now. At a conference sponsored by the Levy Economics Institute in New York on April 17, the closest a former Under Secretary of the Treasury, Peter Fisher, got to this question was to use the word "naughtiness." This was on the day that the SEC charged Goldman Sachs with fraud.

There are exceptions. A famous 1993 article entitled "Looting: Bankruptcy for Profit," by George Akerlof and Paul Romer, drew exceptionally on the experience of regulators who understood fraud. The criminologist-economist William K. Black of the University of Missouri-Kansas City is our leading systematic analyst of the relationship between financial crime and financial crisis. Black points out that accounting fraud is a sure thing when you can control the institution engaging in it: "the best way to rob a bank is to own one." The experience of the Savings and Loan crisis was of businesses taken over for the explicit purpose of stripping them, of bleeding them dry. This was established in court: there were over one thousand felony convictions in the wake of that debacle. Other useful chronicles of modern financial fraud include James Stewart's Den of Thieves on the Boesky-Milken era and Kurt Eichenwald's Conspiracy of Fools, on the Enron scandal. Yet a large gap between this history and formal analysis remains.
So let's not even pretend that prosecutions and convictions aren't something worth strive for. that's what is still missing in all of this and I don't feel good about the prospects under this shame of a settlement despite a few crumbs here and there. Crumbs that could fall to us anyway given already established law. This settlement is not worth the lack of accountability and real standards.
Yves Smith shows in her piece outlining how investors are being ripped off in this settlement that the courts may stand in the way of this settlement.
Investors (and Others) Realizing Their Ox is About to be Gored in Mortgage Settlement

There is a possible saving grace here. I am told by a principal that if this settlement goes through, the odds are 100% that it will be challenged on Constitutional grounds, as a violation. Taking from the first lienholders to save the second lienholders to keep otherwise insolvent banks from going under amounts to a transfer from private parties to the government, as in it saves the FDIC from needing an emergency injection from Congress, as it did in the savings and loan crisis. So as much as I'd rather see this deal scuttled, it would terribly amusing to see Obama tidy's efforts to generate pretend to help homeowners while really helping the banks sidetracked by litigation. The courts have stymied bank efforts to get away with their heist, and they may prove to be their bane yet again.
I certainly hope so. Most of the more creative excuses I've heard from some that are pushing for this deal with their pretend concern for borrows under water seem unaware of this astute insight. It's the only hope to stop fake help for home owners and moral hazards disguised as revised standards.
There are a number of Constitutional standards and rulings not being respected under this deal like a major SCOTUS decision via Carpenter v. Longan that was the basis of fairly recent decisions in NY among many others states that the MERS business model is illegal.

"The note and mortgage are inseparable; the former as essential, the latter as an incident. An assignment of the note carries the mortgage with it, while an assignment of the latter alone is a nullity. [FN 3 cites Jackson v. Blodget, 5 Cowan, 205; Jackson v. Willard, 4 Johnson, 43.] " Carpenter v. Longan, 83 U.S. 271; 21 L. Ed. 313; 1872 U.S. LEXIS 1157; 16 Wall. 271 (U.S. 1873). See: http://scholar.google.com/...
This decision will be continually cited and has national significance as most SCOTUS rulings do. Funny how it's been left out as well when I see excuses for this settlement "being practical." Its anything but and not worthy of signing onto by any of the AGs.
Banks are getting a robosigning deal for their robosigned "In Blank" non transferred note nullity foreclosure fraud. They will certainly continue those crimes. They know they won't be prosecuted for it. They know they don't have to follow legal precedent. They can defraud borrowers and in turn investors with a slap on the wrist. They might be pursued depending on which state they are in, sure, but you know what they say, capital is more mobile now than ever.
However, it certainly isn't noble. Neither is selling out. We need some real standards that are actually upheld.
8:57 AM PT: Yves Smith is on top of this as usual. A righteous update:The Top Twelve Reasons Why You Should Hate the Mortgage Settlement