Before we begin our tour of fine art as represented in paintings by random artists of Western culture, I'll take this opportunity to wish you a happy Valentine's Day via one of the most romantic works, Gustav Klimt's "The Kiss."

Now, some general observations about painting before I offer you the Italian Renaissance and work my way forward in haphazard fashion to modern art.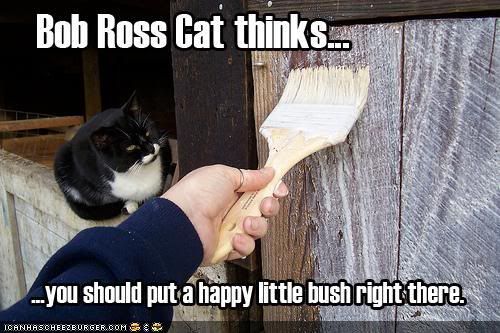 Owr Grownd Roolz
The PWB diaries are a place to relax, share pictures and stories about our animal friends, LOL, and build community. If you like that, come on in and join us; if you don't like it, now's the time to click over to another diary. No crapping in the playground, please.
Italian Renaissance
| | | |
| --- | --- | --- |
| Titian | | Bacchus and the Cat |
| | |
| --- | --- |
| Venus and Cupid with Organist | |
| Pootie n Cupid wif Organist | |
Sandro Botticelli
The Birth of Venus/Ceiling Cat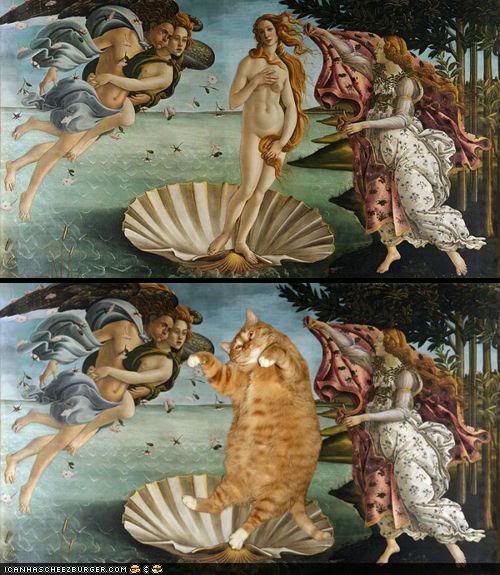 Spring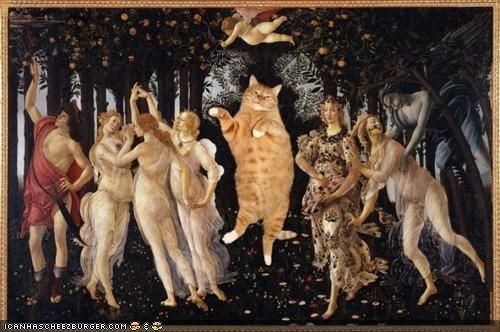 Leonardo Da Vinci
Cats appear in many of Da Vinci's works
Mona Lisa wif Kitteh
Michelangelo
Teh Creeashun ob Ceiling Cat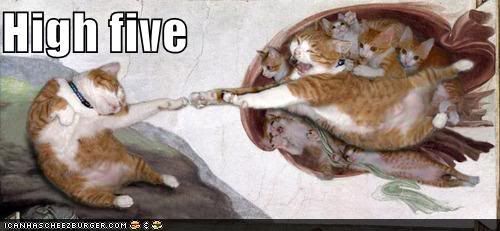 Baroque
Peter Paul Rubens, Flemish
Judgement of Paris
Jan Vermeer, Dutch
Modern Art
Edouard Manet, French, Realism --> Impressionism

| | |
| --- | --- |
| Dead Matador | |
| | Ded Catador |
James Whistler, American, Art for Art's Sake
Pierre-Auguste Renoir, French Impressionism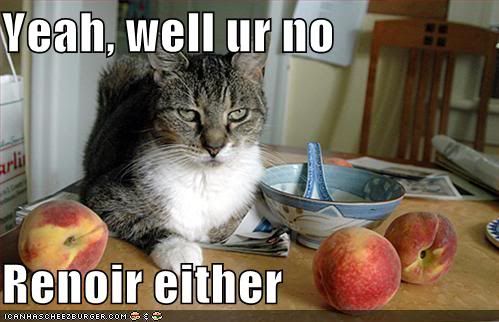 | | |
| --- | --- |
| Claude Monet, French Impressionism | Julie Monet wif Kitteh |
| | |
| --- | --- |
| Catstack at Giverny | |
Edvard Munch, Norwegian, Forerunner of Expressionism
| | |
| --- | --- |
| The Meow | |
Vincent van Gogh, Dutch,
Impressionism, Expressionism

Bedroom in Arles

Ware teh Wild Fings R
Bacon on a Starry Night

| | |
| --- | --- |
| Paul Cezanne, French, Post-Impressionism | Henri Toulouse-Lautrec, French, Post-Impressionism |
Gustav Klimt, Austrian, Art Nouveau
Rene Magritte, Belgian, Surrealism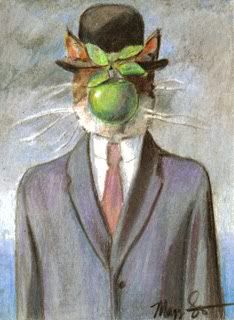 | | |
| --- | --- |
| Salvador Dali, Spanish, Surrealism | |
| | |
| --- | --- |
| | Dali Woozle |
Frida Kahlo, Mexican, Surrealism

Fernando Botero, Colombian,
Renaissance + Baroque + Latin American = "Boterismo"
Woman with Cat
Cat on a Roof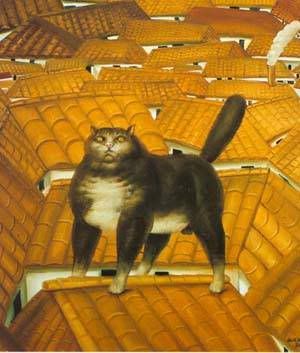 Marc Chagall, Russian-French, Modernist
The Farmyard
The Walk
Pablo Picasso, Spanish, Cubism/Abstract/Other
Edward Hopper, USA, New Realism

Coded by BirderWitch
Word clouds by ccmask