This is part two in my series looking at the political effects of what would happen if Appalachia were to become a state. The previous section discussed the region itself as well as the statewide impact on the remaining states. This part and part three will look at congressional redistricting in those states, as well as Appalachia, by using maps drawn with Dave's Redistricting App, and partisan political data.
First a few notes; you can find the framework for my alternate reality scenario in part 1, but to summarize who would control redistricting, Democrats would have control in Maryland, Republicans would have control in Appalachia, North Carolina, Ohio, and Alabama, while the remaining states would have court-drawn or non-partisan maps. Holding true to this, I tried to follow actual maps that were consistent with this situation, such as gerrymanders of Maryland and Ohio. I also tried to keep the district numbering coherent with the previous map from each state, though obviously some renumbering had to occur. Furthermore, there are obviously multiple ways these maps could be drawn, but I will offer my rationale for my chosen map as well as alternates in a few cases. Finally, all PVI's listed refer to 2008 only, unless otherwise noted.
Appalachia and the surrounding States

Mississippi
Although Republicans control the governorship and both chambers of the legislature following the 2011 elections, this was also true in the actual state of Mississippi yet they did not draw a congressional map. Subsequently, the map is court-drawn as in reality, though due to the VRA there are very few options to consider. The state loses a district and now has only three.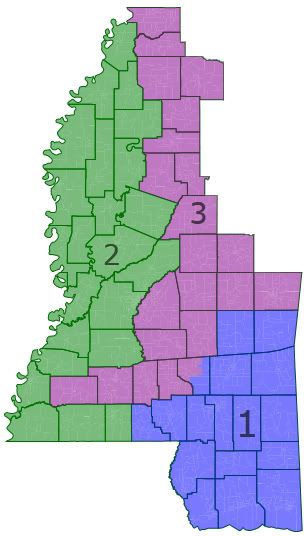 MS-01 (Old MS-04)
Steven Palazzo (R)
This district keeps all of its old territory and to make up for needed population it expands into the rest of all of its old counties and picks up Walthall County to the east. At R+21 this seat is one of the most Republican in the nation, but until 2010 it was held by Blue Dog Gene Taylor, who lost by 5% to current incumbent Steven Palazzo. If Taylor were to opt for a rematch this seat could be competitive, but otherwise Palazzo will have it for a long time.
Safe R with Palazzo
Likely R/Lean R Palazzo vs. Taylor
MS-02
Bennie Thompson (D)
The second district is a VRA required black-majority district and as such it cannot change significantly. In order to avoid having to add heavily white counties in the north of the state such as DeSoto, the 2nd has to drop Atalla, Carroll, Leake, and Montgomery counties. In exchange in picks up the remainder of Madison County, as well as Adams, Amite, Pike, and Wilkinson Counties along the Louisiana border. The district remains heavily black at nearly 59% VAP, and heavily Democratic, giving Obama 62.1% of the vote.
Safe D
MS-03
Greg Harper (R)
The 3rd district changes the most of all the districts due to the constraints of the VRA and geography. Four of its counties were removed to Appalachia and four were added to the 2nd. Now the 3rd travels all the way to the Tennessee border and the Memphis suburbs in Desoto County and spans the entire border between Mississippi and Appalachia. The core of the district from the eastern suburbs of Jackson to Meridian still remains.
Safe R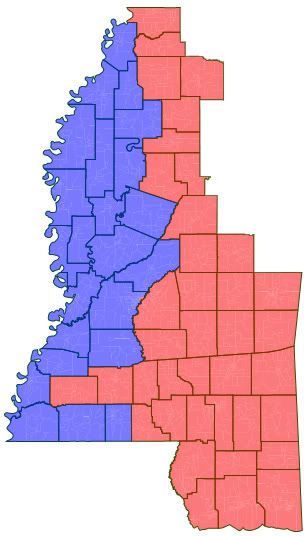 Mississippi's remaining three districts experience no change in partisan control. All three districts are fairly safe for their respective party, so none should be likely to flip during the decade.
Alabama
Like Mississippi, Alabama is reduced to just three districts, of which one is protected by the VRA. Republicans control the map drawing process though, and are able to make some changes within the constraints of the VRA that are in their favor.

AL-01
Jo Bonner (R)
The 1st district remains based in the southernmost part of the state, but due to the VRA it drops heavily black parts of Mobile and adds Butler, Conecuh, and Covington counties to the east. At R+26 this district is very staunchly Republican and the Jo Bonner should be reelected as many times as he wants, although his home in Mobile might have been drawn into the 3rd.
Safe R
AL-02
Martha Roby (R)
The 2nd district changes fairly substantially by dropping many of its westernmost counties as well as most of Montgomery and the political base of former one-term Democrat Bobby Bright. It not extends along the entire border with Georgia. Although incumbent Martha Roby is drawn into the 3rd district, she would run here and win. Bobby Bright might make this seat competitive, but without his base in Montgomery where he was a popular mayor, it is hard to see him winning such a Republican district.
Safe R
Likely R Roby vs. Bright
AL-03 (Old AL-07)
Terri Sewell (D)
This district is the successor to the old 7th district and is mandated to be majority black by the VRA. Without Birmingham and Tuscaloosa, it needs to add further minority population and Republicans use that opportunity to turn it into a vote sink. The district retains its core counties in the western part of the state's black belt and adds the most heavily black and Democratic parts of Mobile and Montgomery from the 1st and 2nd. 1st term incumbent Terri Sewell lives in Birmingham, but would most likely move back into the state to run here. At 58% black and D+12 this seat is strongly Democratic.
Safe D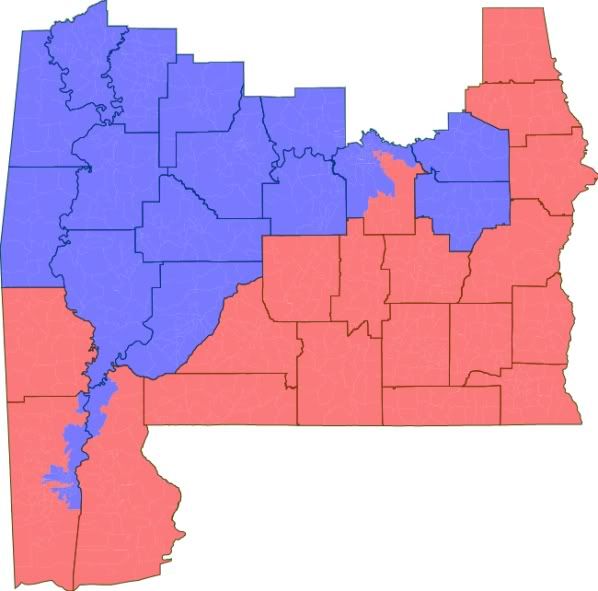 Again as with Mississippi, the VRA creates a stable 2-1 breakdown in favor of Republicans and results in no net change in the control of the state's districts.
Georgia
Georgia is the first state to see significant changes from the actual map, as well as losing 3 seats. With the loss of their strength in Appalachia, Republicans lost the governorship to Roy Barnes in 2010, which resulted in a court drawn map. Because I wasn't exactly sure how a court would draw Georgia and didn't want to risk section 5 retrogression with the 40% black 12th district, this map might be more accurately thought of as a fair map, although I would certainly like to hear feedback on how a court might draw it. As such, this is essentially a status-quo map in the original 10 districts while the newly added 11th district is a fair fight.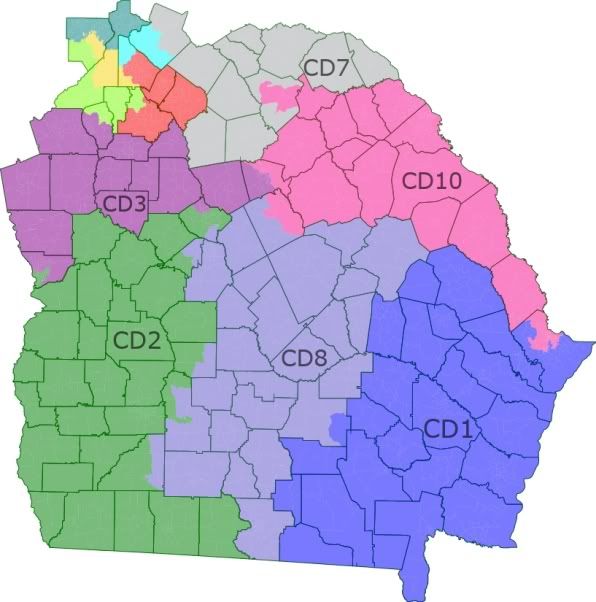 GA-01
Jack Kingston (R)
The 1st district remains based on the Georgia coast as well as some of the inland southernmost counties. The main change is that it shifts northeastward slightly by dropping towns such as Valdosta and gaining Statesboro. This district is still strongly Republican, and longtime incumbent Jack Kingston has it as long as he wants it.
Safe R
GA-02
Sanford Bishop (D)
The 2nd district is now a fully VRA protected, 50.4% black VAP majority district. Its only significant change is to add Macon from the old 8th district, which shifts the district from D+1 to a safer D+6. Considering Sanford Bishop nearly lost in 2010, indeed the race was originally called against him on election night, he will be more than happy to see his district become safer.
Safe D
GA-03
Lynn Westmorland (R)
The 3rd district loses Carroll and Henry counties to its north to Appalachia and the Atlanta districts and subsequently moves east to Milledgeville. The district is still largely the same though and due to its strong Republican nature it should give incumbent Lynn Westmorland easy reelections.
Safe R
(Atlanta districts discussed below)
GA-07
Rob Woodall (R)
The 7th district needed to shed a lot of population, but roughly 60% of the new district comes from the old iteration. The seat drops the western half of Gwinnett County and moves across the northern border of the state, picking up Athens along the way. Still, Woodall is actually made safer from demographic trends with the removal of heavy minority growth areas in western Gwinnett. This district should slowly move to the left over the decade, but for now it is still staunchly Republican.
Safe R
GA-08
Austin Scott (R)
This district moves south and east with the removal of Macon and the addition of counties from the old 1st. It also moves significantly to the right without Macon and Covington further north. Blue Dog Jim Marshall held this seat from 2002 to 2010, but it is now substantially more Republican and practically impossible for Democrats, meaning that freshman Scott should be secure.
Safe R
GA-10 (Old GA-12)
John Barrow (D)
This part of the map is where I honestly had no idea what a court would do, but since the whole state is covered by section 5 of the VRA, I figured that was a pretty good reason to keep it at 40% black VAP. It remains a Savannah to Augusta district and the only changes being that towns such as Statesboro and Milledgeville are removed while the Augusta suburbs in Columbia are added. This district is just about as Democratic as the old 12th at D+1, and given how strongly Barrow has performed in all of his previous reelection efforts, he will have little trouble holding this one. In fact he might have more to worry about from a more liberal black primary challenger.
Safe D with Barrow
Tossup/Lean D if open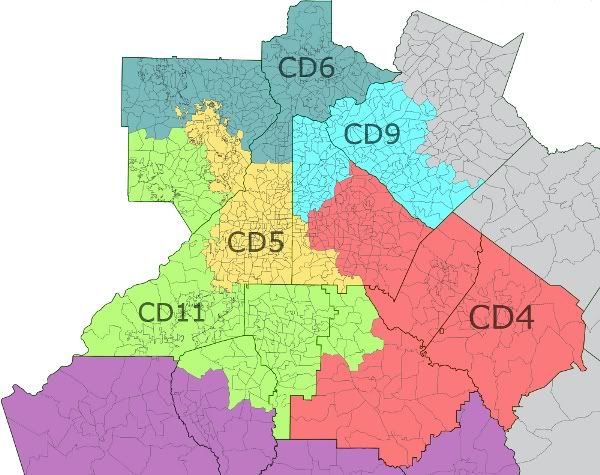 GA-04
Hank Johnson (D)
The 4th is one of the 3 VRA districts and as such is 56% black. It drops its part of Gwinnett and northern DeKalb County and in turn shifts south to add Covington and McDonough. Hank Johnson is beyond safe and this district will continue to elect black Democrats if he were to retire.
Safe D
GA-05
John Lewis (D)
The 5th is the 2nd Atlanta VRA district and is now all of Atlanta proper and to meet population requirements extends into Marietta in Cobb County. Civil Rights hero and longtime incumbent John Lewis will be reelected as many times as he wants.
Safe D
GA-06
Tom Price (R)
The 6th district has long been a bastion of suburban Republicans in Georgia, having previously sent Newt Gingrich to Congress. Because it loses Cherokee County to Appalachia, it has to pick up the remainder and whitest parts of Cobb County. Tom Price retains his home in northern Fulton County and should have no trouble winning in what is the strongest district in the state for local Republicans.
Safe R
GA-09 (New District)
Open
The 9th is an entirely new seat due to Georgia gaining a seat in reapportionment. It neatly contains the northern end of DeKalb County and the western half of Gwinnett. At only 45.5% white VAP and 41.3% by total population, this district is rapidly becoming more demographically diverse and indeed it saw the fastest growth in the minority population of any district over the previous decade. At 52% Obama and about 50-50 locally, this district will probably have close to an even CPVI in 2012 and should be a fair fight. However, the district will move leftward over the course of the decade as young minority voters enter the electorate.
Tossup/Tilt D
GA-11 (Old GA-13)
David Scott (D)
The 11th is the final Atlanta VRA district. It remains based in southern Fulton County, western Cobb, and Clayton County. At nearly 57% black and 71.5% Obama it will easily reelect David Scott.
Safe D
The electoral result of this map is that every single incumbent in the state is reelected while Democrats would probably be narrow favorites to pick up the open seat with Obama driving minority turnout. However, both the 9th and 10th could swing either way depending on the candidates and climate. Still, this is a huge improvement from the actual map where Democrats are likely to have just 4 seats after 2012.
South Carolina
Similarly to Georgia, South Carolina now has divided government since Vincent Sheheen narrowly won without Appalachia. As such, it has a court-drawn map and I wasn't quite sure how a court would put certain areas together. Unlike Georgia though, the solution seemed pretty simple: draw a second VRA district. I can't claim credit for the entirety of this map though, since it is extensively based off a very good one (with 7 districts of course) that user MattTX drew back
on SwingStateProject
.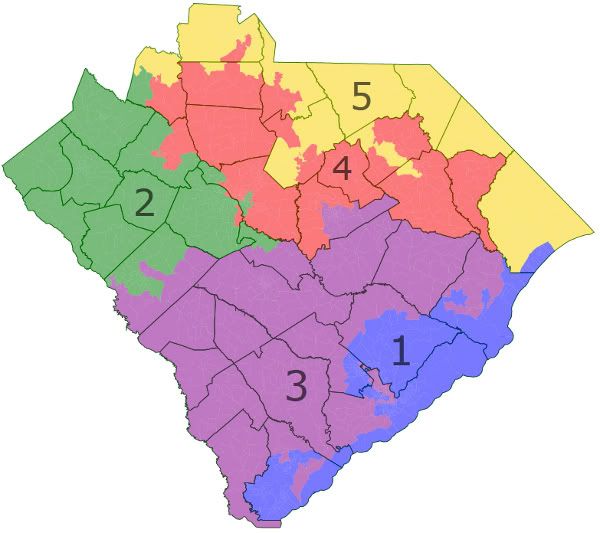 SC-01
Tim Scott (R)
This district is still anchored by the whiter and parts of Charleston, but it trades most of Horry County on the North Carolina border for most of Beaufort County, home to Hilton Head. This district actually represents a fairly coherent community of interest given how popular South Carolina's beaches are for out of state vacationers and retirees. At R+13 this district would be a very tough challenge for even a Blue Dog Democrat, but Linda Ketner came close in the previous version of the district in 2008 which was still about R+10, so it's possible that if the stars align in another 2008 style presidential wave election this one could flip, but it's very unlikely.
Safe R
SC-02
Joe Wilson (R)
The 2nd district loses its arm down to Hilton Head and instead extends to the western corner of the state. Wilson loses parts of Columbia, but keeps his Lexington County base and is now much safer than when he had relatively competitive races in 2008 and 2010.
Safe R
SC-03 (Old SC-06)
Open
This is the first of the two VRA districts and it is the more natural successor to the old 6th. It keeps most of that district aside from Richmond and gains the heavily black parts of the old 2nd along the Georgia border as well as a much larger part of Charleston. James Clyburn lives in Columbia, so it's possible he would run in the 4th district, but most of his old district is here and if he were to run in either he would probably win easily in the primary. Either way, at just over 50% black, this seat should consistently elect a black Democrat.
Safe D
SC-04 (New District)
James Clyburn (D)
The 4th district is essentially the new seat that South Carolina gained in reapportionment, having been drawn from parts of the old 5th and 6th. It stretches from Rock Hill to Marion County and contains Clyburn's home in Columbia. As with the 3rd district, Clyburn could choose either, but a black Democrat will win regardless in this 50% black district.
Safe D
SC-05
Mick Mulvaney (R)
The 5th district spans the entire border with North Carolina and only has to add Horry County to make up for population ceded to the 4th. Although Mulvaney is the first Republican to represent this area since Reconstruction, the new 5th is several points more conservative than the old version and he should be secure against any challenger.
Safe R
As with Mississippi and Alabama, the VRA seats make for a very stable split in the congressional delegation. The 2nd VRA seat provides Democrats with a guaranteed pick up.
North Carolina
This is the first state so far where one party gets to gerrymander it. Keeping true to the redistricting plan passed by the Republican legislature, this map goes pretty crazy and shoots for an 8-3 Republican advantage. Most of the changes were fairly minor to keep in line with population requirements.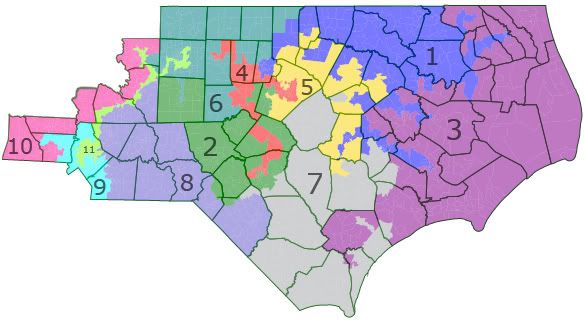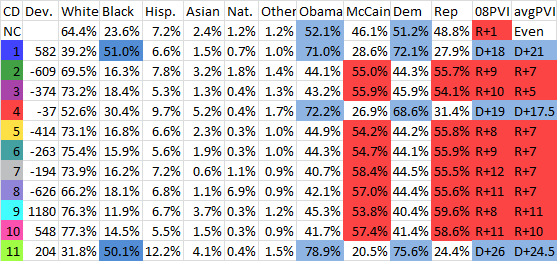 NC-01
G.K. Butterfield (D)
This is the VRA seat required in eastern North Carolina. Republicans are able to pack it significantly though by sending it into Durham to add plenty of non-black Democrats. The seat is 50.8% black and voted over 70% for Obama. The district retains all of its section 5 counties, so unfortunately it will be upheld in court.
Safe D
NC-02
Renee Ellmers (R)
Ellmers won in a bit of a fluke in 2010, but this seat makes her significantly safer by dropping its parts of Raleigh for Randolph county and other conservative areas. Nearly 3/4ths of the district is new to Ellmers, but she'll easily win reelection in this 55% McCain district.
Likely R
NC-03
Walter Jones (R)
The 3rd district is unpacked a fair amount in order to help flip the neighboring 7th. It adds heavily Democratic downtown Wilmington, but Jones is very popular among the conservative Democrats in eastern North Carolina. However, this is now the weakest of the Republican seats by local numbers and someone in the vein of Mike McIntyre would instantly make it competitive in an open seat situation. Bev Perdue likely won this seat by a large margin in 2008.
Safe R with Jones
Lean R if open
NC-04
David Price (D) (Brad Miller (D) – Retiring)
This district is the 2nd Democratic vote sink that Republicans drew to combine David Price and 13th district Rep. Brad Miller. Rather than force a primary, Miller opted to retire, which leaves Price secure in this nearly D+20 district that spans from Raleigh to Chapel Hill to Fayetteville.
Safe D
NC-05 (Old NC-13)
Open
Republicans made Brad Millers vastly more Republican to the point that he couldn't win it and even a more moderate Democrat would be the underdog. The district spans from suburban Wake County to Wayne County minus Goldsboro and has little overlap with the old 13th. Although the district is liable to trend Democratic over the course of the decade, former U.S. attorney and likely Republican nominee George Holding is the strong favorite to win the seat.
Likely R
NC-06
Howard Coble (R)
Dean of the North Carolina House delegation Howard Coble's 6th district remains based around the less liberal parts of Guilford County, but aside from that and Alamance County, about half of the district is composed of new territory comprised of Republican-friendly counties along the Virginia border. Coble, who will be 81 on election day, has had health problems and been the subject of retirement rumors. Even if this seat were to be open though, it is still strongly Republican and will likely remain so.
Safe R with Coble
Likely R when open
NC-07
Mike McIntyre (D)
The 7th district is where the Republicans were truly devious since this is such an ancestrally Democratic seat. I was able to make it a point further Republican than the actual map did, which undoubtedly endangers McIntyre, but he is a very strong incumbent. He is one of the most conservative Democrats in the house and a member of The Family, aspects that make him immensely popular among the conservative Democrats one needs in order to carry the district. The district deprives him of his Robeson County base while adding the Johnston County base of his establishment backed challenger, Republican state Senator David Rouzer. However, McIntyre is well entrenched and has continued to fundraise more than Rouzer, so he should be the slight favorite. This seat could easily go Republican in another 2010 style wave though.
Tossup/Lean D with McIntyre
Lean R if open
NC-08
Larry Kissell (D)
Larry Kissell is pretty much screwed here with the loss of heavily Democratic Fayetteville. Although he now adds Robeson County, it is more than offset by the staunchly Republican suburban and rural counties in the piedmont. If Kissell were as strong of an incumbent as McIntyre he might have a fighting chance here, but he is much less entrenched and has consistently had anemic fundraising. His only hope of surviving is if Republicans nominate Vernon Robinson, a carpet-bagging bomb thrower who has previously run for the old 5th and 13th districts and describes himself as the black Jesse Helms. More likely however is that Richard Hudson, a former staffer to Kissell's predecessor and now state party chairman Robin Hayes, will win the primary and defeat Kissell.
Likely R with Hudson or generic R vs. Kissell
Lean R Robinson vs. Kissell
NC-09
Open (Sue Myrick (R) – Retiring)
The 9th district is the most Republican in the state at the local level and has long been a stronghold of suburban Republican strength, being represented by Republicans since 1962. Popular incumbent Sue Myrick announced her surprise retirement, but even with this seat open Democrats stand little chance. However, the seat is trending Democratic due to rapid growth, especially among minorities, in the Charlotte area, so it will slowly trend Democratic.
Likely R
NC-10
Patrick McHenry (R)
McHenry is the only Republican to see his district change substantially from the Republicans' actual plan. This is necessitated by the removal of most of Virginia Foxx's territory to Appalachia. However, it remains just as deeply Republican by taking in the remaining parts of Foxx's district. She could run here, but considering most of her district as well her home are in the new state of Appalachia, that would make little sense.
Safe R
NC-11 (Old NC-12)
Mel Watt (D)
This is the final Democratic vote sink, and is quite similar to the actual version Republicans drew. I packed it even further though and got it to barely above 50% black VAP. I'm of the opinion that this district is a racial gerrymander and should be struck down in court, but since this is what the Republicans drew more or less, and the DOJ pre-approved it, I maintained it.
Safe D
Democrats get absolutely screwed by redistricting in North Carolina, even slightly more so than under the actual map. However, Mike McIntyre is a slight favorite for reelection, so Democrats will probably retain 4 seats, but that is a sizable loss from the 6 they already have here and probably would retain under a court-drawn map.
Tennessee
Tennessee is now a court-drawn map through Democratic control in the state legislature rather than a Republican gerrymander, although the outcome is the same at least in the short term. This is one of the court-drawn state maps I really like due to how well it keeps communities of interest together.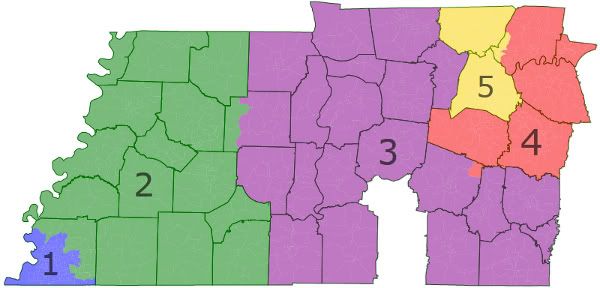 TN-01 (Old TN-09)
Steve Cohen (D)
This Memphis based VRA seat changes only slightly from its previous incarnation. It expands outward to meet population requirements by adding the small part of Memphis it lacked. Steve Cohen will probably still face black primary challengers from the Ford machine, but as 2008 and 2010 have shown, Cohen is well liked by the Democratic primary electorate. This seat is beyond safe in the general election, having voted for Obama by more than 3-1.
Safe D
TN-02 (Old TN-08)
Steven Fincher (R)
Freshman Rep. Steven Fincher's district becomes substantially more Republican by dropping locally Democratic territory along the Tennessee River for more of the heavily Republican Memphis suburbs. This district is very similar to the actual version Republicans drew, but it lacks the odd little finger into Memphis. Fincher might have had some trouble with reelection in the old version of the 8th, but here he will have no worries.
Safe R
TN-03 (Old TN-07)
Marsha Blackburn (R)
The hideously gerrymandered old 7th is completely dismantled in this map to become a district largely based in the Tennessee Valley. As such, it becomes much more Democratic at 46.7% Dem on average compared to the actual state which is only 46.4% Dem. Blackburn only keeps 250k of her current constituents, and her home and base in Williamson county are drawn into the neighboring 4th which is not only much safer, but also contains about 150k of her old district. It's possible she might run there, but in the more likely even that she runs in the 3rd she should still win reelection. However, a Blue Dog in the mold of John Tanner or Bart Gordon would keep this seat competitive, although it is probably trending away from Democrats.
Likely R with Blackburn
Lean R if open
TN-04 (Old TN-06)
Diane Black (R)
The 4th district contains the entirety old 6th still in the state in addition to adding Williamson county to become a Nashville suburbs district. Black keeps 475k of her constituents, but only won the primary in 2010 with 31%, so it's possible that Marsha Blackburn decides to run here instead of the 3rd. Regardless of the Republican nominee, this seat is safely Republican.
Safe R
TN-05
Jim Cooper (D)
The 5th district remains based on Nashville and takes in the rest of Davidson County. It adds Robertson County to the north to meet the population target and moves a point and a half to the left which should ensure that Democrats retain the seat if Cooper were to retire.
Safe D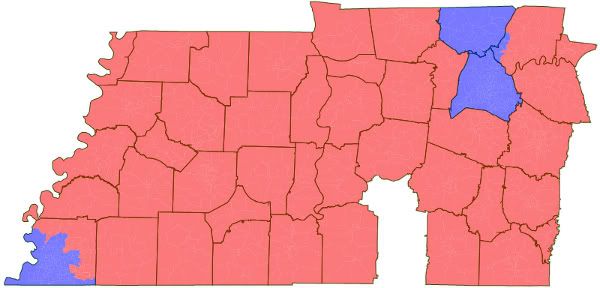 The likely outcome is that Democrats keep the 2 seats they already have and were going to have under the Republican drawn map. However, the 3rd district can be won by the right type of Democrat with a strong campaign, particularly if Blackburn were to opt for the 4th district or retire.
Virginia
Virginia now has a court-drawn map since Democrats still control the state senate. With Virginia I thought it was justified to dismantle the old 3rd district and create two districts that a black Democrat would be likely to win. This is because the old 3rd is clearly a partisan gerrymander and should be required under the Gingles criteria. Unfortunately I wasn't really satisfied with 4th and 5th districts so I also included an alternate version. Also, note that the Obama-McCain numbers are two-party vote only, and that the DRA data understates Obama's vote share by 1.5%. To correct this I applied a uniform increase to all the districts, so some are bound to be slightly more or slightly less Democratic than listed.

VA-01
Rob Whittman (R)
The 1st moves away from Northern Virginia and takes in the Eastern Shore from the 2nd. I intended for this district to consist of the northern part of the tidewater, excluding Hampton Roads, but the district needed more people so it retained some of its territory just north of Richmond. Whittman, who wasn't really vulnerable, becomes very safe with this R+10 district.
Safe R
VA-02
Scott Rigell (R) vs. Randy Forbes (R)
Randy Forbes draws the short end of the stick here with his old district being effectively dismantled. The new 2nd district contains Virginia Beach, Chesapeake, and Suffolk, and is now a McCain district. Rigell represents almost twice as many constituents here as Forbes does, but Forbes might be able to use Rigell's donations to President Obama against him. This district might be vulnerable in a 2008 style wave to a Blue Dog like Glenn Nye, but for now Republicans are favored to retain it.
Likely R
VA-03
Bobby Scott (D)
The 3rd district drops its water contiguity arm into Richmond and instead becomes completely centered on Hampton Roads. The 4 cities of Hampton, Newport News, Norfolk, and Portsmouth were just slightly smaller than an entire district, which made them seem logical to be included together. The district contains a small section of Chesapeake, and at 43.4% black VAP and a 45.6% black plurality by total population, this district should more than be able to elect a black Democrat such as Bobby Scott.
VA-04
Open
Eric Cantor lives here but sure as hell wouldn't run here. This new district centered on Richmond and parts of the southside including Petersburg is 42% black VAP and gave Obama an estimated 66.3% of the vote, making it an instant Democratic pick up. I would hope that both district and the 3rd satisfy the VRA, but if not, one of them can be made majority black by less compact line drawing.
Safe D
VA-05
Robert Hurt (R) vs. Eric Cantor (R)
Freshman Robert Hurt also gets screwed, but not because his district is made hopelessly Democratic. This district contains 250k of Hurt's constituents, while House Majority Leader Eric Cantor represents 225k and would definitely run here rather than the much more Democratic 7th district, of which he represents fewer constituents anyway. Cantor's seniority, tea party hero status, and the fundraising base both bring along with them, as well as his higher name recognition should see him win the primary here. Randy Forbes also represents about 225k of the people here, but more of his constituents, as well as his home, ended up in the 2nd where he has a better chance in the primary regardless.
Safe R
This version creates a completely Richmond based 4th and southside based 5th. Both districts are about 32% black VAP, but the 4th is 62% Obama while the 5th is only 48%. I didn't like this version as much, which is why it's the alternate version, but on the plus side it does get rid of Eric Cantor who represents almost none of the 5th and would lose in the 7th. Randy Forbes would probably run in the 5th now that it contains much more of his old district and he retains 319k of his constituents to 308k for Hurt.
VA-06 (Old VA-10)
Frank Wolf (R)
Frank Wolf's district changes substantially to shift more towards D.C. About half of it is new to him, it is considerably more Democratic at 58.1% Obama, and no longer contains his home. Wolf has always been able to hold on with ease in the past, but could be vulnerable in this district, especially in the event of a 2008 style wave. Once he retires this seat is pretty much guaranteed to go Democratic, but for now he'll probably hold on.
Likely R/Lean R with Wolf
Lean D when open
VA-07
Open
This is essentially a new district spanning from the western half of Loudon County down to Fredericksburg and Charlottesville. A lot of the territory in this district didn't really seem to go with other districts and this one arose sort of as a leftovers district. The 7th would likely be configured much differently if the Shenandoah Valley were still in the state. Its nearest predecessor was the 5th, which give it 210k constituents and one fantastic candidate in Tom Periello. At 52.3% Obama it is about 4 points more Democratic than his old district and trending Democratic. While certainly competitive, this district will be won by Democrats at some point if not in 2012.
Tossup
Lean D with Periello
VA-08
Jim Moran (D)
The 8th district changes little. It is still comprised of Arlington and Alexandria, but trades Reston for McClean. Still safe for any living, breathing Democrat, even one who's a Moran ;)
Safe D
VA-09 (Old VA-11)
Gerry Connolly (D)
Connolly's district removes its part of Prince William County and adds most of the rest of Fairfax that was outside the 8th. It becomes slightly more Democratic and should be 100% safe for Connolly who is the former chairman of the Fairfax County board of commissioners. This seat and the 8th are on their way to becoming majority-minority towards the end of the decade.
Safe D with Connolly
Likely D if open
Republicans get screwed in Virginia by having a court drawn map plus the removal of Appalachia forcing geographical constraints. They have only 3 safe seats to Democrats' 4 and both tossups are trending Democratic. After 2012, Democrats will probably hold 5 of the state's 9 congressional districts.
Kentucky
Kentucky's redistricting process is still controlled by a Democratic Governor and House with a Republican Senate. Unlike the actual redistricting map which was recently passed, the Democratic coal counties in the eastern part of the state are removed, meaning that Dems get just as much under a court-drawn map as a compromise. With this in mind I tried to draw the regions of the state into separate districts. Also note, the partisan data is estimated by using county level results, but Kerry-Bush results are also included.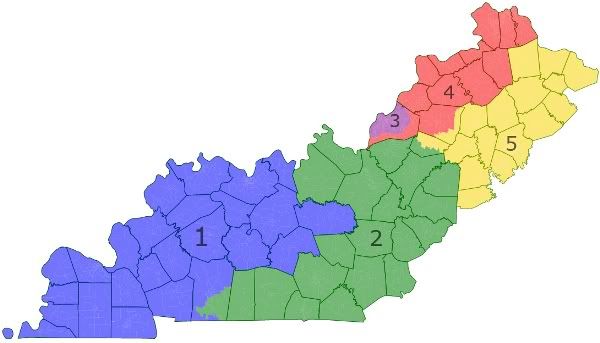 KY-01
Ed Whitfield (R)
The 1st district becomes three points more Democratic by adding Owensboro and more of the western coal fields region. Whitfield is well entrenched and is safe, but when he retires this seat's large number of conservative Democrats will easily put this seat in play.
Safe R with Whitfield
Lean R(?) if open
KY-02
Brett Guthrie (R)
The 2nd district trades Owensboro for more of the Mississippi Plateau and becomes slightly more Republican. It retains Bowling Green, so it doesn't lurch to the right, but Guthrie should be safe here pretty much regardless.
Safe R
KY-03
John Yarmuth (D)
This district is formed by the innermost part of Jefferson County. It still had to shed a lot of people, so this made calculating the political data with certainty impossible. However, the outer edges of Jefferson are almost guaranteed to be more Republican than the county as a whole, so the 3rd district is at least D+4 or greater. John Yarmuth cruised in 2010 so he should be fine.
Safe D with Yarmuth
Likely D if open
KY-04
Open (Geoff Davis (R) - Retiring)
The 4th district moves westward towards the suburbs of Louisville, which should result in the district becoming about 3 points more Republican. Though open, this district was already safe given how fast this area has trended against Democrats since Ken Lucas last won it in 2002. I tried to make this seat more of an outer bluegrass/suburban Louisville/Cincinnati seat, especially since it lost its more rural Appalachian counties.
Safe R
KY-05 (Old KY-06)
Ben Chandler (D)
The 5th district shifts north and west to make up for the loss of its Appalachian territory. I tried to keep this district in the inner bluegrass region, but it needed to expand somewhat beyond it. The result is that district becomes 2 points more Democratic which was fairly similar to the actual compromise map. This district should remain fairly stable since the areas it had that were trending Republican the fastest were removed to Appalachia and if Chandler decides to run for senate or governor later in the decade Democrats should still be able to hold the seat.
Safe D with Chandler
Tossup/Lean D if open
The congressional delegation will remain the same after 2012, but the 1st district will be competitive if Ed Whitfield retires, and the 5th district will be more likely to elect a Democrat if Chandler leaves to run statewide.
Minnesota
Minnesota is of course nowhere near Appalachia, but it loses its 8th congressional seat as a result of the changes in reapportionment. As with the real state, this map would be court-drawn and I tried to preserve communities of interest. Fortunately, Democrats get the bonus of no longer having to deal with Michele Bachmann in Congress.

MN-01
Tim Walz (D)
The 1st district sheds its counties along the South Dakota border and moves slightly northward while still largely avoiding the metro area exurbs. The district shifts slightly to the left, and given how entrenched Tim Walz is becoming should be an easy hold for him. About 3/4ths of the district is composed of his old constituents while slightly less than 1/4th belongs to John Kline.
Likely D with Walz
Tossup if open
MN-02
John Kline (R) vs. Michele Bachmann (R)
The 2nd district changes somewhat significantly by adding rural counties to the west of the metro area, although John Kline's base and most of his district are still here. Michele Bachmann doesn't live here, but this district is the only one she could possibly win either a primary or general in. At 51.7% McCain, this is the most Republican district in the state.
Safe R
MN-03
Erik Paulsen (R)
The 3rd district remains a suburban district based in Hennepin County. Because the two urban districts needed to gain population, the 3rd adds most of Anoka county which makes it a McCain district. Erik Paulsen, who was fairly well entrenched in the prior iteration of the district after only 2 terms, should have this seat for as long as he wants it given the local strength of the Republican party here.
Safe R with Paulsen
Likely R if open
MN-04
Betty McCollum (D)
The 4th district remains centered on St. Paul and adds the entirety of Washington County as well as a small sliver of Dakota County. Michele Bachmann lives here, but would get absolutely crushed if she tried to run here. At D+8, this is the second most Democratic district in the state.
Safe D
MN-05
Keith Ellison (D)
The 5th district is the most Democratic district by far and contains all of Minneapolis as well as the closer ring of suburbs. Keith Ellison has this seat for as long as he wants it.
Safe Dem
MN-06 (Old MN-08)
Chip Cravaack (R)
The new 2nd is still primarily based in the iron range and the only significant change is that it reaches down to add St. Cloud. This district is still quite DFL locally, and although it is weakened slightly by Obama numbers, should still be too Democratic for Chip Cravaack to survive in 2012. With St. Cloud, former state Senator Tarryl Clark might have a greater shot at winning the primary. Regardless of whether the nominee is Clark, former Rep. Richard Nolan, or Duluth city councilman Jeff Anderson, Democrats are favored to win the seat.
Lean D
MN-07
Collin Peterson (D)
The 7th district remains a rural and agriculture based district spanning the entire North and South Dakota border. It becomes about a point more Republican, but local Democrats perform a few points better than national Dems, and longtime incumbent Collin Peterson is well entrenched. However, once Peterson who will be 68 by election day 2012 finally decides to retire, this seat will probably flip to Republicans.
Safe D with Peterson
Lean R when open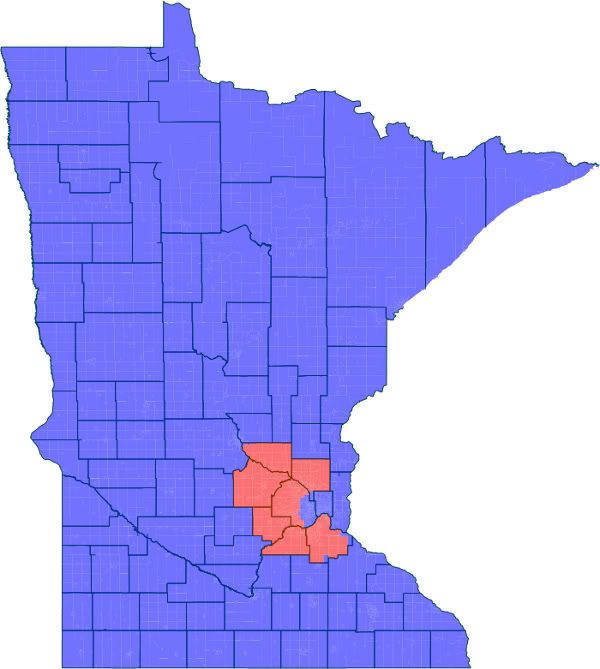 This map should result in a 5-2 Democratic delegation following the 2012 election, with both Michele Bachman and Chip Cravaack being eliminated. However, once Collin Peterson retires his seat will probably go Republican, and both the 1st and 6th districts could flip in a 2010 style wave.
End of part 2
To keep this segment from being far longer than it already is, I'll discuss the final states of Maryland, Ohio, Pennsylvania, and Appalachia in part 3.