Hi again: I am this week's guest host for WAYWO ( What Are You Working On) which is a Community Diary for all things crafty in a variety of mediums and techniques.
You may volunteer to guest host by signing up at this yahoo group ( http://groups.yahoo.com/....), which is checked from time to time. Also by joining this group, you will receive one email a week when the diary is posted.
If you wish to write a WAYWO and would like directions go here: (http://www.dailykos.com/....)
I have cleaned the basement---it flooded--needed a new sump pump so no potting or crocheting for a while and the two grandsons have been trying to keep me young 3 days a week!
Brought the old sewing machine up from the basement....but since it hadn't been used in almost 20 years...it needed oiling badly. Found a YouTube video that showed exactly how to oil my machine. At first, it still sounded clunky like a bad bearing, so I cried that I ruined my machine and put it away for a while...but not back in the basement!
Then I discovered the Teacher's Conference I was attending in March in Springfield, IL was having a Civil War era "dress-up" dinner and President and Mrs. Lincoln were attending! Oh, I was excited!
BEWARE of SUDDEN IMPULSES!!!!!!
Although making a costume was not necessary, just wearing a long black skirt was all that was needed...but I found a pattern for a "Day Dress" online for $15! Silly me, I bought it. It arrived quickly, within days and I ran out to select fabric and notions...since I hadn't done any sewing for a long time(Since transferring to High School teaching and retiring- about 20 years total). $68 later, I'm all worked up and excited and....my sewing machine doesn't work........ I may have to buy a new one!!! This impulse is going to cost a lot.
Good news, when I drag the sewing machine out, all that oiling seeped through and the machine positively purrs! And it is so quiet! WOW! God Bless YouTube!
I am a little rusty, but I lay of the fabric, pin the patterns down, check fabric direction/grain and repin and cut...not noticing that there are no markings for seam width/allowances.
and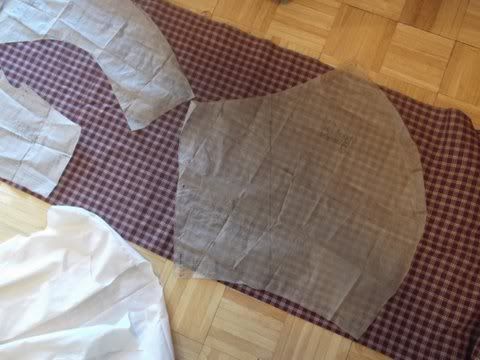 The directions say to sew the bodice lining together to get the fit correctly, so I do that and when it is correct, I remove the sleeves to sew onto the bodice...the whole outfit has a lining which is sewed to the dress fabric.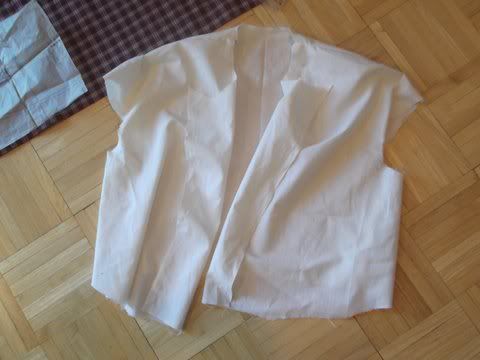 And when I fit it all together, I get a bodice!
Now for the skirt...no real pattern, just suggestions and a tape measure.
Then I work on the pleats! Sheesh, THREE kinds of pleats!!!!!! On the skirt!!! and I didn't even use as much skirt fabric as recommended! I left out about 12 inches!
Cartridge pleats, knife pleats and box pleats! All that pinning, measuring basting...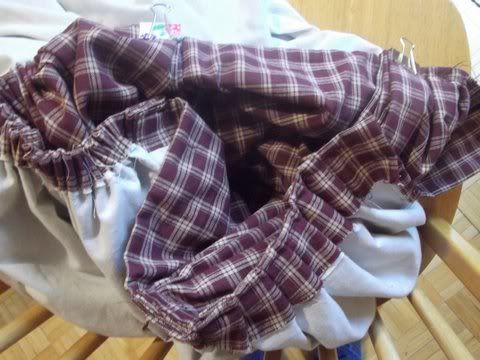 with the lining included....this is going the weigh a lot!
Oh, dear! The skirt gets sewn to the bodice! My sewing machine foot doesn't give me enough room to fit all that fabric! Plus the skirt is too wide for the bodice and I have to redo my pleats and I mess up the box pleats on one side!
I redo them several times, then decide..."ch"uck it, it is only a costume!
So I hand sew inside and outside so that the bodice lies flat and neat on the skirt. Yes, I had to rip out a section and redo twice!
I add some old "mother-of-pearl" buttons from my mother-in-law's button stash. The bodice requires 10 buttons, but I have only 8 of the correct size and 2 of a larger size. Hey, they made their own clothes in those days too, so they must have made sacrifices for buttons!
And here is where I am now!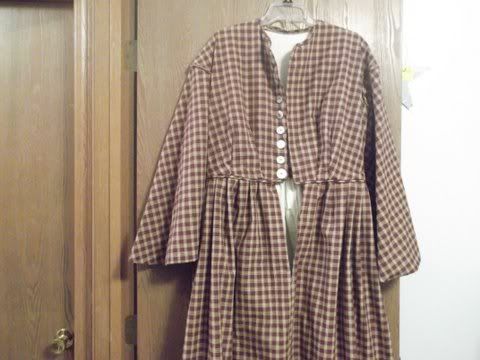 In spite of the frustrations, I am having fun doing this project and will be looking forward to wearing this costume at Civil War themed events for the next few years!
Next week...undies...can't have a dress without the proper undergarments! And accessories!
So tell me about your projects! Time for everyone to share!