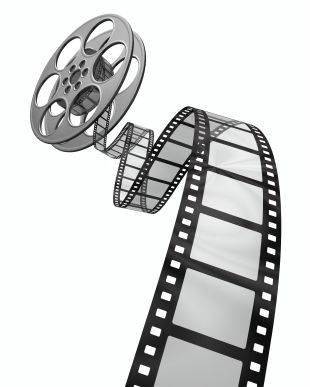 ---
The Greatest Films can't be measured scientifically because greatness is extremely subjective. The artistic greatness of films (and other works of art) can never be rated or quantified, although critics, reviewers, and fans still make ten best lists, hundred best lists, all-time greatest lists, favorites lists, awards lists, and generate results of polls...
This selection of 100 Greatest Films in the last century of film-making covers - by conscious choice - a wide range of genres, decades, stars and directors. They are film selections that have undoubtedly left an indelible mark upon our lives and reflect the defining moments of the last 100 years - films that give us pieces of time we can never forget... These are films that give us pieces of time that we can never forget. They have the power to entertain, enchant, inform, and move us emotionally - and change our perceptions of things. link
This is a subject that always generates endless debate. How does one classify something as "the best of" and doesn't it depend on the genre of films one has seen? Tastes vary, preferences change over the years, and important historical events color our perceptions. And, yet, certain films endure. They remain the standard by which we judge future movies. A few that one might include in this category are Lawrence of Arabia, Casablanca, and Dr. Zhivago.
Personal preferences aside, here are what many people consider to be some of the greatest movies ever made.
---
The fresh, sophisticated, and classic masterpiece, Citizen Kane (1941), is probably the world's most famous and highly-rated film, with its many remarkable scenes and performances, cinematic and narrative techniques and experimental innovations (in photography, editing, and sound). Its director, star, and producer were all the same genius individual - Orson Welles (in his film debut at age 25!)... The film engendered controversy (and efforts at suppression in early 1941 through intimidation, blackmail, newspaper smears, discrediting and FBI investigations) before it premiered in New York City on May 1, 1941, because it appeared to fictionalize and caricaturize certain events and individuals in the life of William Randolph Hearst - a powerful newspaper magnate and publisher.
Its complex and pessimistic theme of a spiritually-failed man is told from several, unreliable perspectives and points-of-view (also metaphorically communicated by the jigsaw puzzle) by several different characters (the associates and friends of the deceased) - providing a sometimes contradictory, non-sequential, and enigmatic portrait. The film tells the thought-provoking, tragic epic story of a 'rags-to-riches' child who inherited a fortune, was taken away from his humble surroundings and his father and mother, was raised by a banker, and became a fabulously wealthy, arrogant, and energetic newspaperman. He made his reputation as the generous, idealistic champion of the underprivileged, and set his egotistical mind on a political career, until those political dreams were shattered after the revelation of an ill-advised 'love-nest' affair with a singer. Kane's life was corrupted and ultimately self-destructed by a lust to fulfill the American dream of success, fame, wealth, power and immortality. After two failed marriages and a transformation into a morose, grotesque, and tyrannical monster, his final days were spent alone, morose, and unhappy before his death in a reclusive refuge of his own making - an ominous castle filled with innumerable possessions to compensate for his life's emptiness. link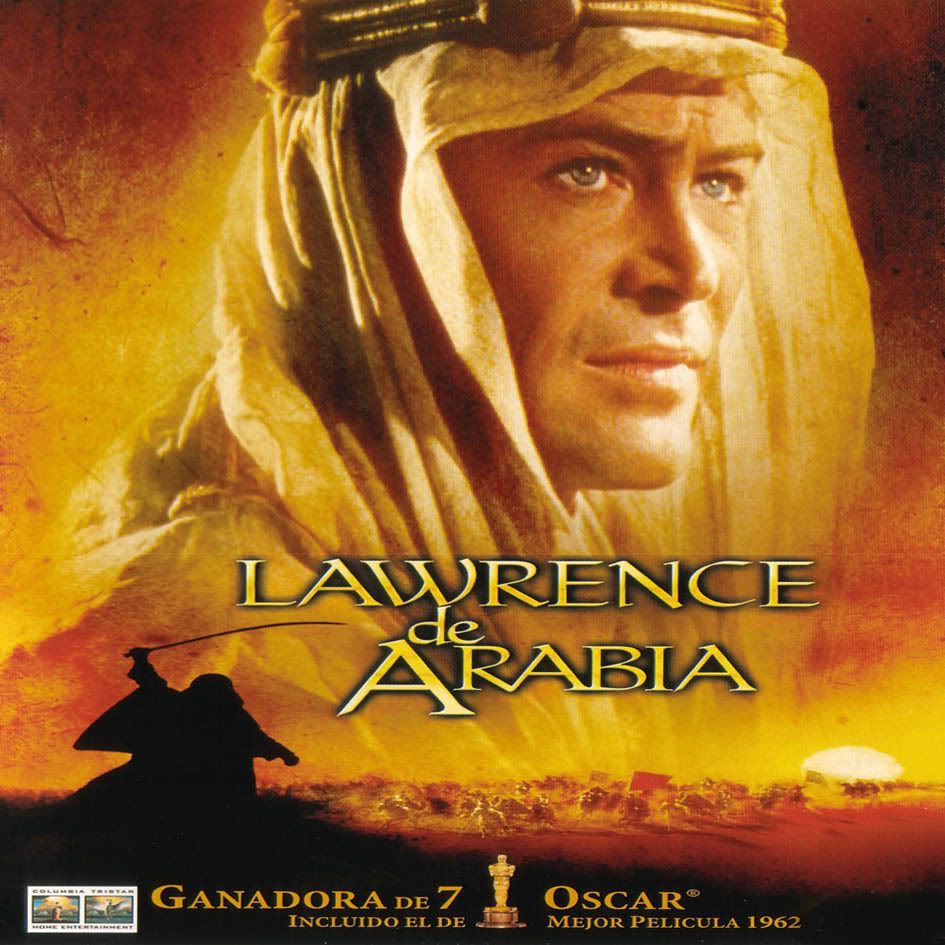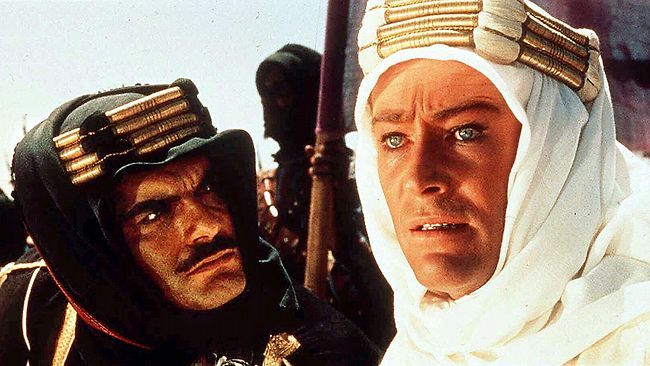 ---
Lawrence of Arabia is the filmic retelling of Britishman T. E. Lawrence's heroic, autobiographical account of his own Arabian adventure, published in "The Seven Pillars of Wisdom"...
The Arabian desert functions as a majestic backdrop and metaphysical land for Lawrence's exploits. Its two most famous shots and cinematographic images are the mirage shot - to announce the arrival of Sherif Ali, and the jump-cut from the burning match in Lawrence's fingers to the rising desert sun. Lean admitted that almost all of the film's movement was from left to right, to emphasize the journey theme of the film.
The film conveys the enigmatic, complex life and exploits of an eccentric, rebellious, desert-loving, messianic, Oxford-bred British Army officer cartographer (repeatedly referred to as an "Englishman"), who unites the desert-dwelling Arabian Bedouins against the oppressive Turks (allies of Germany) during World War I. His extraordinary knowledge of the politics and culture of the Mideast allows him to organize the various, willful Arab tribes to repel enemies of the British. link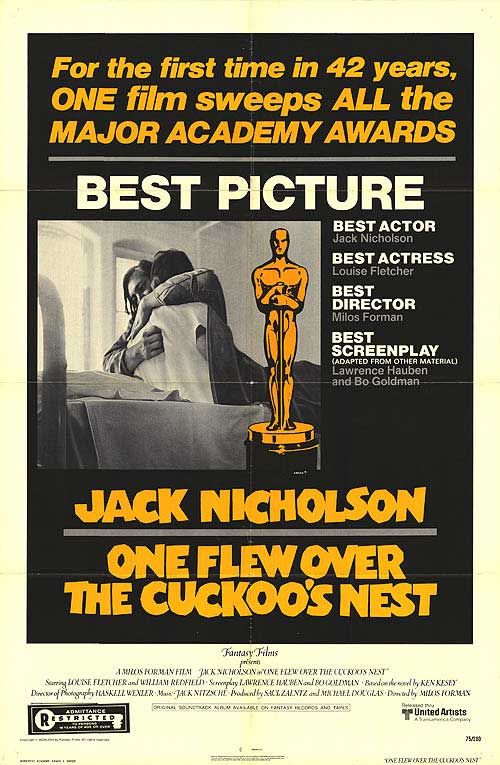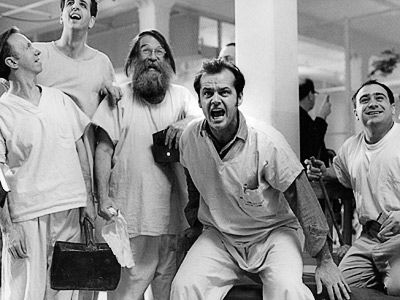 ---
One Flew Over the Cuckoo's Nest is one of the greatest American films of all time - a $4.4 million dollar effort directed by Czech Milos Forman. Its allegorical theme is set in the world of an authentic mental hospital (Oregon State Hospital in Salem, Oregon), a place of rebellion exhibited by a energetic, flamboyant, wise-guy anti-hero against the Establishment, institutional authority and status-quo attitudes (personified by the patients' supervisory nurse). [Forman himself noted that the asylum was a metaphor for the Soviet Union (embodied as Nurse Ratched) and the desire to escape.] Expressing his basic human rights and impulses, the protagonist protests against heavy-handed rules about watching the World Series, and illegally stages both a fishing trip and a drinking party in the ward - leading to his own paralyzing lobotomy.
Jack Nicholson's acting persona as the heroic rebel McMurphy, who lives free or dies (through an act of mercy killing), had earlier been set with his performances in Easy Rider (1969) and Five Easy Pieces (1970). The mid-70s baby-boomers' counter-culture was ripe for a film dramatizing rebellion and insubordination against oppressive bureaucracy and an insistence upon rights, self-expression, and freedom.
The role of the sexually-repressed, domineering Nurse Ratched was turned down by five actresses - Anne Bancroft, Colleen Dewhurst, Geraldine Page, Ellen Burstyn, and Angela Lansbury - until Louise Fletcher accepted casting (in her debut film) only a week before filming began. link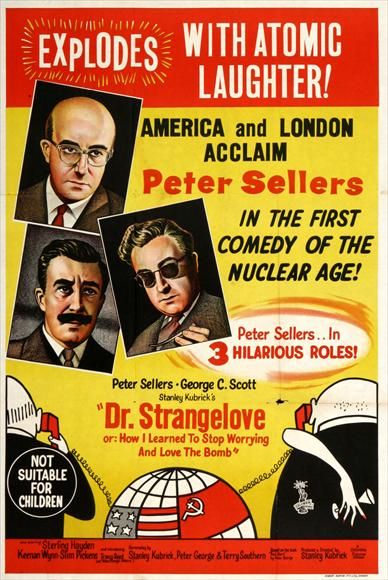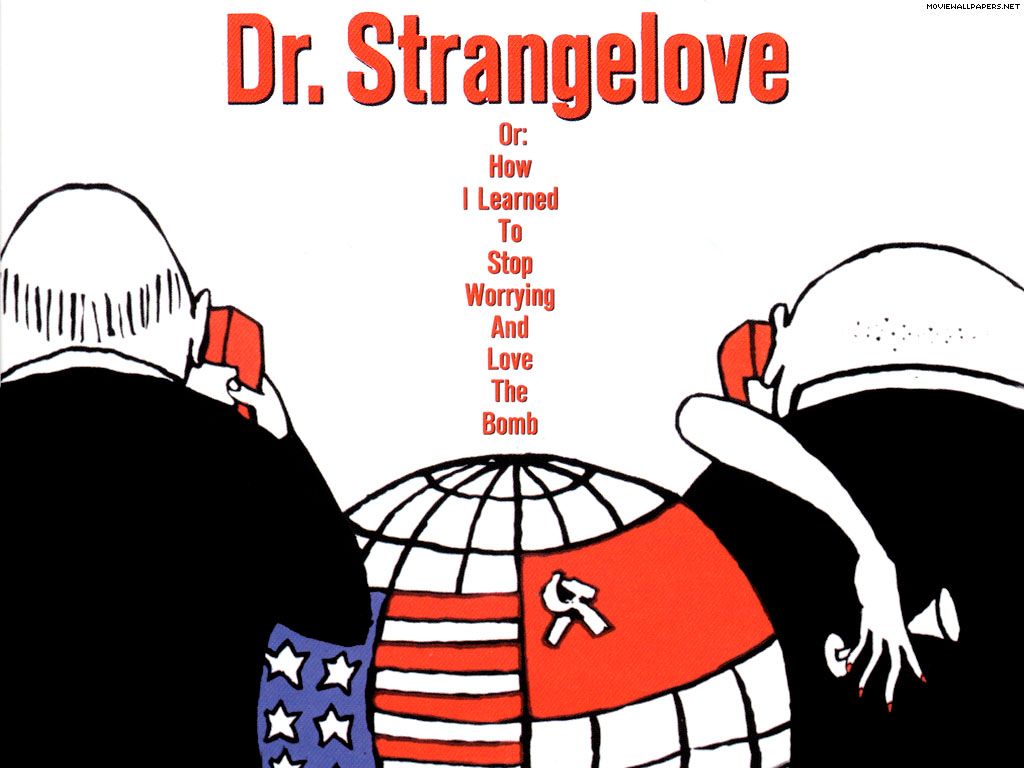 ---
Dr. Strangelove, Or: How I Learned to Stop Worrying and Love the Bomb is producer/director Stanley Kubrick's brilliant, satirical, provocative black comedy/fantasy regarding doomsday and Cold War politics that features an accidental, inadvertent, pre-emptive nuclear attack... The mid-1960s film's nightmarish, apocalyptic theme was about how technology had gone haywire and had dominated humanity. The film's anti-war fears actually became a plausible scenario, shortly after the assassination of President Kennedy, the Bay of Pigs fiasco and the heated-up intensification of the Cold War and nuclear arms race. [The satirical film's release was delayed from December 12, 1963 to late January, 1964 due to Kennedy's assassination in late November]...
In addition to numerous sexual images and jokes throughout the film (including large phallic cigars, mating airplanes, guns, Ripper's impotent "loss of essence", and the orgasmic atomic bomb that Kong rides between his legs), many of the absurd, omnipresent names of the male, military characters (caricatures) have sexual connotations or allegorical references that suggest the connection between war, sexual obsession and the male sex drive. link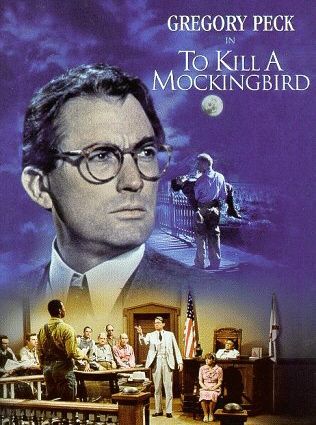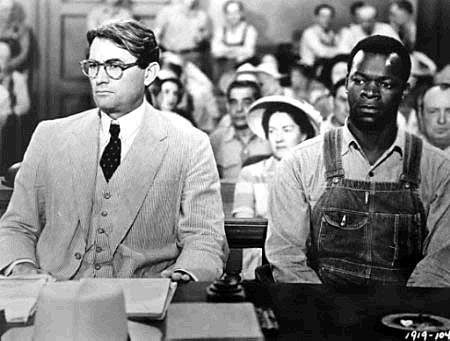 ---
To Kill A Mockingbird is a much-loved, critically-acclaimed, classic trial film. It exhibits a dramatic tour-de-force of acting, a portrayal of childhood innocence (told from a matured adult understanding), and a progressive, enlightened 60s message about racial prejudice, violence, moral tolerance and dignified courage...
The film begins by portraying the innocence and world of play of a tomboyish six year-old girl named Scout (Mary Badham) and her ten year-old brother Jem (Phillip Alford), and their perceptions of their widower attorney father Atticus (Gregory Peck). They also fantasize about a 'boogeyman' recluse who inhabits a mysterious house in their neighborhood. They are abruptly brought out of their insulated and carefree world by their father's unpopular but courageous defense of a black man named Tom Robinson (Brock Peters) falsely accused of raping a Southern white woman. Although racism dooms the accused man, a prejudiced adult vengefully attacks the children on a dark night - they are unexpectedly delivered from real harm in the film's climax by the reclusive neighbor, "Boo" Radley. link
The rest of the movies listed on the diary poll are...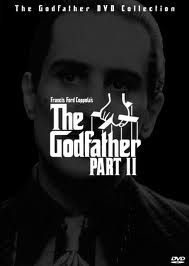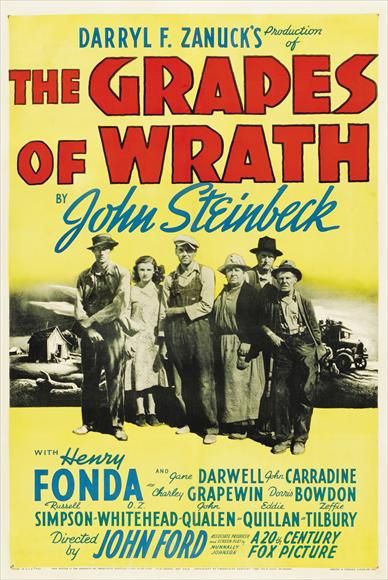 The Godfather Part II (1974) and The Grapes of Wrath (1940)


Casablanca (1942), Dr. Zhivago (1965), The Wizard of Oz (1939), The Shawshank Redemption (1994), and Seven Samurai (1954)


Raging Bull (1980) and Sunset Boulevard (1950)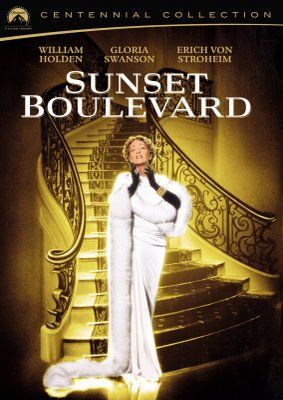 A Note About the Diary Poll
---
This is hardly the complete list of the best-ever, greatest movies. If your favorite movie is not included in the diary poll, do mention it in the comments section. Tell us why you like it so much, what characters or images stand out for you, and what you have learned from the movie.
You can consult more movies on these lists