This is part three in my series looking at the political effects of what would happen if Appalachia were to become a state. Part one discussed the region itself as well as the statewide impact on the remaining states. Part two looked at congressional redistricting in the South plus Minnesota. This part will look at congressional redistricting in the states of Maryland, Ohio, Pennsylvania, and finally Appalachia, by using maps drawn with Dave's Redistricting App, and partisan political data.
Appalachia and the surrounding States

Maryland
Maryland is the only state that does not lose a congressional district, despite losing about 250,000 people. This made it easier to shore up the state Democrats' 7-1 map since the three panhandle counties were quite conservative. An 8-0 map, or at the very least 7-0-1 would now be even easier, but since that ruffled to many local Democrats' feathers during actual redistricting I stayed true to 7-1. Drawing a 3rd majority black district would also be made easier. I tried to maintain the unnecessarily hideous lines from the real map as best I could.

MD-01
Andy Harris (R)
The first district is the sole Republican vote sink under this map, just as it is in real life. It drops some favorable territory in Baltimore County for more conservative parts of Anne Arundel County. Coupled with the entirety of the Eastern Shore, the district moves slightly to the right even as it loses population. Although Harris was defeated in 2008 in a similar district and has the reputation for being a partisan ideologue, even Frank Kratovil would struggle here as is evidenced by his declining to run in 2012.
Safe R
MD-02
Dutch Ruppersberger (D)
Part of the reason, supposedly, that the 2nd and 3rd look so bad is that Ruppersberger and 3rd district incumbent John Sarbane's hometowns are so close together. Regardless, this district still gets the job done. The 2nd curves around Baltimore, taking in the more Democratic parts of Baltimore County and Harford County. This is the weakest Democratic district by Obama numbers at 58.4%, but Obama underperformed the statewide average here so Ruppersberger should be fine.
Safe D with Ruppersberger
Likely D if open
MD-03
John Sarbanes (D)
The 3rd district is easily the most contorted on the map, forming a Rorschach test for whatever animal you think it might be. It looks somewhat like a lobster to me. Anyway, this district follows the 2nd to form an inner curve around Baltimore, while also containing the more Democratic parts of Anne Arundel and Howard counties. Sarbanes is widely speculated about for a potential senate run to succeed Ben Cardin, who himself succeeded Sarbanes' father Paul in 2006. At D+7 this seat should ensure that Sarbanes, or his Democratic successor are able to hold the seat.
Safe D
MD-04
Donna Edwards (D)
This is the first of two VRA districts and is home to progressive hero and 'reformist' Donna Edwards. Edwards, who successfully primaried conservadem (for MD anyway) Al Wynn, tried to prevent her district from dropping Montgomery County in redistricting, but was ultimately unsuccessful. That was really for the best though, since it allows the 6th to be flipped, and Edwards avoided any significant primary challenge anyway. The district does indeed drop all of its Montgomery County territory in exchange for Republican parts of Anne Arundel County, trading white liberals for white conservatives in the process. The district is still significantly black, at 57%, and Democratic at 81% Obama, meaning Edwards will have absolutely no trouble getting reelected.
Safe D
MD-05
Steny Hoyer (D)
House Minority Whip Steny Hoyer's district changes the least out of all the districts. It loses a few thousand people on the Prince George's/Montgomery County line. Other than that, it is still formed by the whiter parts of Prince George's, Calvert, Charles, and St. Mary's counties. At 35.6% black and only 51.8% white, this district has a good chance of sending a minority Democrat to Congress if Hoyer were to retire in the next decade.
Safe D
MD-06 (New District)
Roscoe Bartlett (R) (Open)
This iteration of the 6th has very little in common with the old 6th and is really a new district, even though Barlett does live here. He would very likely run in the district in Appalachia containing the 250k constituents of his that is far more conservative rather than this one that only keeps slightly more at 254k. It combines all of Frederick County with most of Montgomery, and shifts nearly 20% to the left. At 59.7% Obama it should be an easy pick up for state Senator Rob Garagiola. This district is considerably safer than the 56% Obama district under the actual map.
Safe D
MD-07
Elijah Cummings (D)
The 7th is the other VRA district and it changes only very slightly without the need to soak up those comically dedicated racists in Carroll County. It still contains the core and blackest parts of Baltimore (which makes me think of The Wire every time), as well as most of Howard County. At 55% black and 77.6% Obama, Cummings will be safe.
Safe D
MD-08
Chris van Hollen (D)
Van Hollen's 8th district changes pretty dramatically by removing the western half of Montgomery County in exchange for all of Carroll County. This unpacks the district substantially from super safe to just a quite safe D+11. Van Hollen had a close race in 2002 against incumbent Connie Morella, but liberal Republicans as popular as she was are quite rare these days and Montgomery County has moved to the left considerably, so he should have nothing to worry about.
Safe D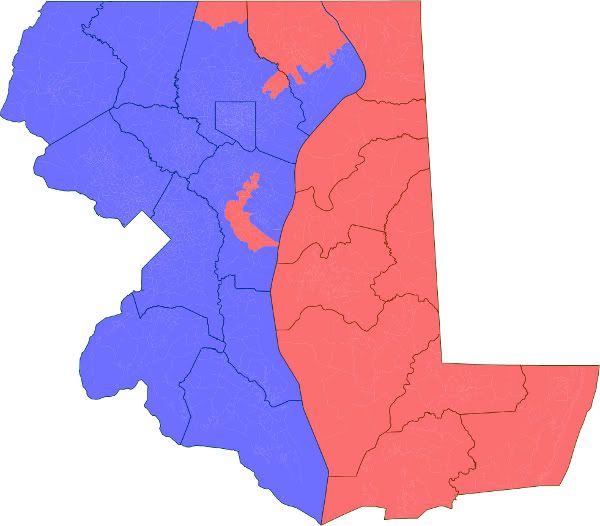 Even more so than the actual map, this map should ensure a 7-1 split in the delegation for the entire decade barring a huge scandal. Every Democratic district is at least D+5.5, which is more Democratic than every single district held by a Republican. Furthermore, the 6th becomes so Democratic and trending more every cycle that it is almost impossible for Democrats not to flip it.
Pennsylvania
This is my favorite map from the entire set. Pennsylvania now has a court drawn map since Governor Onorato would have won by a few hundred votes. Instead of the incredibly gerrymandered mess Republicans drew, the state now has very clean, compact lines that try to avoid splitting counties or municipalities.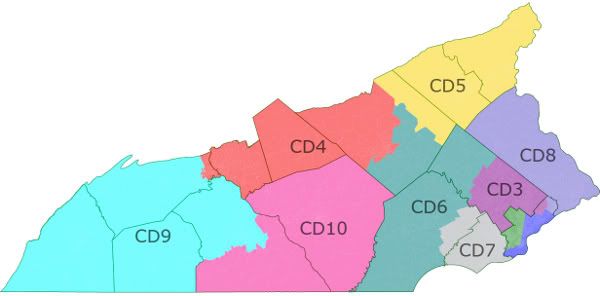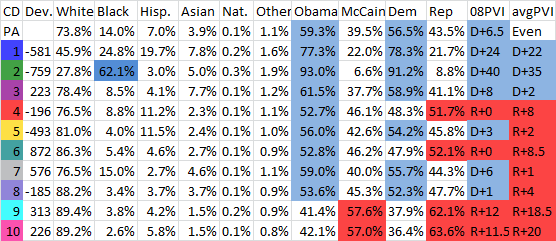 PA-01
Bob Brady (D)
The 1st district is home to Philadelphia Democratic Party Chairman Bob Brady and incidentally becomes even more favorable to him. Instead of traveling into Chester to soak up Democrats, this district is formed by all of Philadelphia east of Broad Street, which to this outsider seemed like the division between east and west in the city. The district becomes substantially less black and with it Democratic as a result, but is still incredibly safe for any Democrat.
Safe D
PA-02
Chaka Fattah (D)
This is the VRA seat required in Pennsylvania, comprising heavily black west Philadelphia. Rather than venture into Montgomery County to pack Democrats, it stays within Philadelphia. At 93% Obama this would be one of the most Democratic districts in the nation, and at 62% black should ensure minority representation.
Safe D
PA-03 (Old PA-13)
Alyson Schwartz (D)
The 3rd is now almost entirely within Montgomery County, taking up the eastern 2/3rds of it and a small sliver of eastern Philadelphia. It becomes a couple points more Democratic with the inclusion of territory closer to Philadelphia and Schwartz becomes safer, though she wasn't vulnerable to begin with.
Safe D with Schwartz
Likely D if open
PA-04 (Old PA-17)
Tim Holden (D)
The 4th changes dramatically from what Republicans actually drew from Tim Holden. It is mostly the same as the old 17th, including all of Lebanon and Dauphin counties still in Pennsylvania. To make up for population it adds the western suburbs of Harrisburg in Cumberland County, as well as Reading in Berks County. Holden has represented almost all of this territory before and even though it no longer contains his base in Schuylkill County, this is certainly where he would run. The district moves 5% to the left, which coupled with Holden's strong crossover appeal make him absolutely secure here, but at just an even PVI would be very competitive if he retired.
Safe D with Holden
Tossup/Lean R if open
PA-05 (Old PA-15)
Charlie Dent (R)
This district is almost exactly the same as its predecessor, merely trading its small part of Montgomery County for a small sliver of Berks County to meet the population requirement. The core of the district is formed by Northampton and Lehigh counties, containing Allentown and Bethlehem. Dent faced a top tier challenger in 2010, but cruised due to the national environment. However, he could potentially be vulnerable as this district is moving to the left along with the rest of the Philadelphia suburbs. Still, Dent is not the right wing ideologue like his predecessor Pat Toomey was, at least in appearance, so he would be tough to dislodge even in this 56% Obama district.
Likely R with Dent
Tossup/Lean D if open
PA-06
Jim Gerlach (R)
Gerlach is the luckiest member of the state's Republican delegation given how close his elections were from 2002-2008. Never getting more than 52% of the vote in his 58% Obama district until 2010, he should be quite secure in this PVI even district encompassing Chester County, outlying Montgomery County, and eastern Berks. Just as with the 4th, this district would still be difficult for Democrats if open due to the historically Republican nature of the Philadelphia suburbs (really southeast Pennsylvania), but is trending Democratic so it could flip if Gerlach retires or runs statewide.
Safe R with Gerlach
Tossup/Lean R if open
PA-07
Pat Meehan (R)
Pat Meehan gets screwed over here with his district actually becoming 3% more Democratic rather than several points more Republican under the real map. This district contains all of Delaware County, as well as the inner part of Chester County. With the addition of the heavily Democratic city of Chester, Meehan shouldn't be able to hold on to what would be the most Democratic district held by a Republican in the nation in 2012, especially if ex-Rep Joe Sestak , who earned my undying admiration in his senate run in 2010, were to run again.
Likely D Sestak vs. Meehan
Lean D otherwise
PA-08
Mike FitzPatrick (R)
This is essentially the same district as the old one and the new Republican version since it is a cardinal sin to split Bucks County in redistricting. The district is the entirety of Bucks, plus a small portion of the most northeastern part of Philadelphia, and as such does not change much at all from its D+1 predecessor. The district is fairly Republican on the local level though, and FitzPatrick has outperformed national Republicans here so he should hang on. Only former Rep. and all around awesome dude Patrick Murphy would make this competitive in 2012, but since he is running for state Attorney General I won't even consider that match up. Still, this district should trend leftward over the decade and if Democrats have another year like 2006 or if FitzPatrick unexpectedly retires this seat could be in play.
Likely R with FitzPatrick
Tossup if open
PA-09 (Old PA-19)
Open (Todd Platts (R) – Retiring)
The 9th is formed from the core of the eliminated 19th district and is home to retiring Rep. and moderate for his district Todd Platts. The district contains the westernmost edge of Pennsylvania and shares Adams County and most of York County (and all of the city itself) with the old 19th. In addition it contains Franklin and most of Cumberland County. This district is very, very Republican, especially at the local level, and will be safe even without an incumbent.
Safe R
PA-10 (Old PA-16)
Joe Pitts (R)
Pitts actually lives in Chester County, but since this contains the majority of his constituents and is much safer he would run here. The new 10th is formed by the entirety of Lancaster County and the southern part of York County. I had wanted to draw a Lancaster to York district but it was far too populous for a single district to compactly hold. Obama nearly won the old 16th, but without southern Chester County and central Reading, this is now the most Republican district in the state by local performance. Pitts and any Republican succeeding him should he retire are beyond safe here.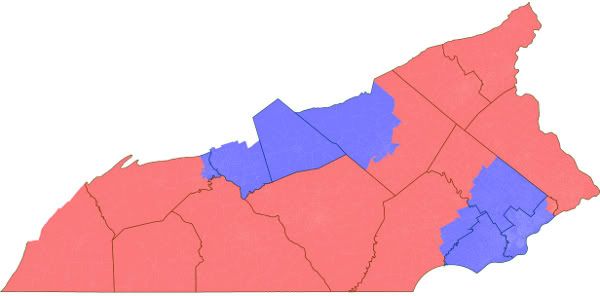 Without the aggressive Republican gerrymander, Democrats should be able to gain two seats here if one counts the 4th as a pick up for incumbent Holden given how Pennsylvania Republicans coupled him with Scranton. This map contains several competitive seats though and could result in anywhere from 8D-2R to 3D-7R depending on the national environment and local candidates.
Ohio
Unfortunately for Democrats, the exclusion of Appalachia (in any of its forms) doesn't help Ted Strickland who had his base there. As such, he still would have lost the 2010 gubernatorial race and John Kasich would still be governor. Therefore, Ohio Republicans still get to gerrymander the map, although it now has only 15 seats instead of 16. Ohio was actually pretty fun to do, because I was able to draw an even more effective map than the one Republicans drew although I usually don't draw Republican maps. Unlike the actual map though, I eliminated Jim Jordan, whom establishment Republicans don't seem to like.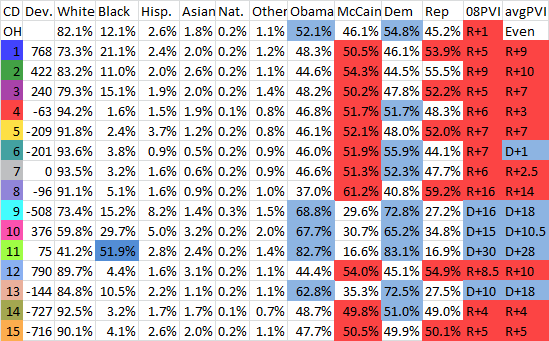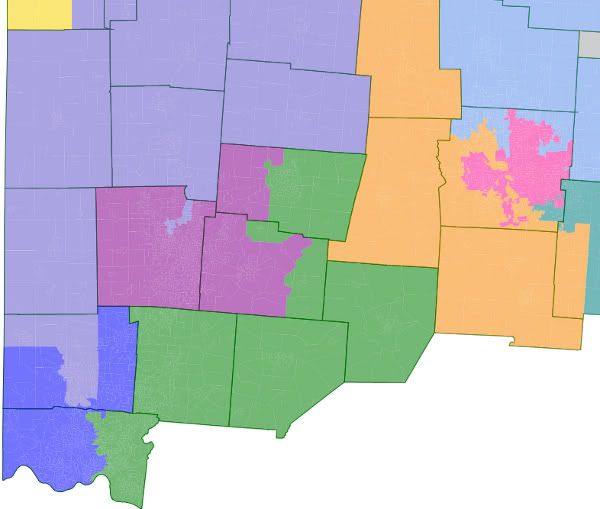 OH-01
Steve Chabot (R)
Chabot, who narrowly won in 2006, narrowly lost in 2008, and narrowly lost in 2010 to 2008's winner Steve Driehaus, becomes substantially safer. The 1st trades parts of Cincinnati for eastern Butler County and becomes 7 points more Republican. Chabot, who has long outperformed the Democratic share of his district, should be secure here even in another Democratic wave.
Safe D with Chabot
Likely R if open
OH-02
Jean Schmidt (R) (Open)
Schmidt barely won in a more Republican district in 2005, 2006, and 2008, but without the inclusion of several traditionally Democratic counties along the Ohio River would probably be more secure here. Though about half of the district is new, more than half of the Republican primary electorate is new to her, so Schmidt would probably run in the successor to the 2nd district in the state of Appalachia. Either way, this district spanning from eastern Hamilton County to Springfield should be a Republican hold, although Schmidt has been a very weak incumbent in the past.
Likely R with Schmidt
Safe R otherwise
OH-03 (Old OH-03)
Mike Turner (R) (Steve Austria (R) – Retiring)
Ohio Republicans deathmatched incumbents Turner and Austria in their actual map, which made sense given how close the two live to each other. This district, as with the real one, gives a substantial advantage to Turner, who as the popular mayor of Dayton retains his base. Austria's district is mostly dismantled, or sent to the 2nd, so he might reconsider retirement and run there, but otherwise he has no district to run in. This district narrowly went for McCain, so ordinarily it should be nominally competitive, but with Turner's crossover appeal from his time as Mayor, no Democrat could hope to win.
Safe R with Turner
Likely R otherwise
Northeast Ohio discussed below
OH-05
Bob Latta (R)
The 5th remains based in northwestern Ohio, but trades several of its eastern counties for Findlay and part of Toledo to unpack it somewhat. Latta is still quite safe, although this district is slowly trending Democratic.
Likely R
OH-06 (Old OH-06/New District)
Bill Johnson (R)
The 6th district changes dramatically due to its loss of the Ohio River valley to Appalachia. Thus, the district only retains 230k of its constituents, which might prompt Johnson to seek the corresponding Appalachia district that has roughly the same amount (shown later on). Still, his home in Mahoning County is now added and the district becomes 2% more Republican and trending more so. Previous Democratic incumbent Charlie Wilson is seeking a rematch here, but without his home in St. Clairsville or cities from his old senate district such as New Philadelphia, he is decidedly an underdog.
Lean R Johnson vs. Wilson or if open
Likely R otherwise
OH-08
John Boehner (R) vs. Jim Jordan (R)
The 8th district still remains the most Republican in Ohio, but Speaker Boehner can afford to shed some Republicans to the surrounding districts. The district sheds eastern Butler County in exchange for towns such as Lima. Though Jim Jordan lives here and really has nowhere else to run, he would get crushed since most of the territory belongs to Boehner and as Speaker of the House he would have a large institutional and monetary advantage.
Safe R
OH-09
Marcy Kaptur (D) vs. Dennis Kucinich (D)
This is the 1st Democratic vote sink of the map, and unfortunately favors Dennis Kucinich more so than the actual map does. The district spans from Toledo to western Cleveland via water contiguity and is nearly 69% Obama. Kaptur should be favored in the primary due to Kucinich's apostasies and bizarre behavior, but either way this seat is safely Democratic.
Safe D
OH-10 (New District/New OH-03)
Open
This district is a Democratic vote sink centered on Columbus and is quite similar to the district Republicans actually drew. Former one term Rep. Mary Jo Kilroy, who is running again after losing in 2010, should be the favorite to win the primary here and the general in this nearly 68% Obama district.
Safe D
OH-12
Pat Tiberi (R)
The 12th becomes much more Republican without having to crack heavily Democratic Columbus. It now ventures north to snag Mansfield and other parts of the 4th to eliminate Jim Jordan. Tiberi never really had close races in his old D+1 district, so he should easily be able to hold down this heavily Republican seat.
Safe R
OH-15
Steve Stivers (R)
Stivers barely lost in 2008 and easily won a rematch in 2010 when this district contained half of Columbus. Instead of venturing into southern Ohio as the real district does, my new 15th goes north to Elyria and almost to Lake Erie, thus making the dismantling of Jordan's district complete. Stivers becomes much safer without Columbus, although the district could potentially flip in a wave year with the right candidate, or if Stivers retires.
Safe R with Stivers
Likely R if open
OH-04 (Old OH-16)
Jim Renacci (R) vs. Betty Sutton (D)
Betty Sutton gets an even worse district here than in the actual map. This district combines her with freshman Rep. Jim Renacci in a district spanning from outside Canton to outside western Cleveland and taking in very little of Sutton's old district. She has always performed beyond her old district's PVI, but at only 46.8% Obama this district would be quite a challenge.
Lean R Sutton vs. Renacci
Likely R otherwise
OH-07 (Old OH-18)
Bob Gibbs (R)
The new 7th district is based on Bob Gibbs old state legislative seats and spans from the outside of Canton to Lorain, avoiding both cities largely. Gibbs would be vulnerable if Democrats actually ran a top tier challenger such as former Reps John Boccieri or Zack Space, but no strong candidate stepped up to the plate in the actual district which is quite similar to this.
Likely R
Tossup/Lean R if open or Gibbs vs. Boccieri
OH-11
Marcia Fudge (D)
The 11th remains the Cleveland VRA district, and although it is probably not required to be majority black, Republicans sent it down into Akron to pack Democrats which results in a nearly 52% black district. This is also the most Democratic seat in the state at a dark blue D+30, and Marcia Fudge will be reelected as long as she wants.
Safe D
OH-13 (Old OH-17)
Tim Ryan (D)
The 13th remains based in Youngstown and Akron with some slight changes to make it a more efficient vote sink. Tim Ryan is a possible future candidate for statewide office, but even if this seat were open Republicans wouldn't be able to win it. Local Democrats outperform Obama significantly here as well.
Safe D
OH-14
Steve LaTourette (R)
LaTourette's district remains largely the same but becomes slightly more Republican. It is based in the northeast corner of Ohio, wedged between the 11th and 13th. LaTourette, who is very popular in the district due to his 'moderate' profile, will have no trouble holding down the seat, but it could be competitive if he were to retire.
Safe R with LaTourette
Lean R if open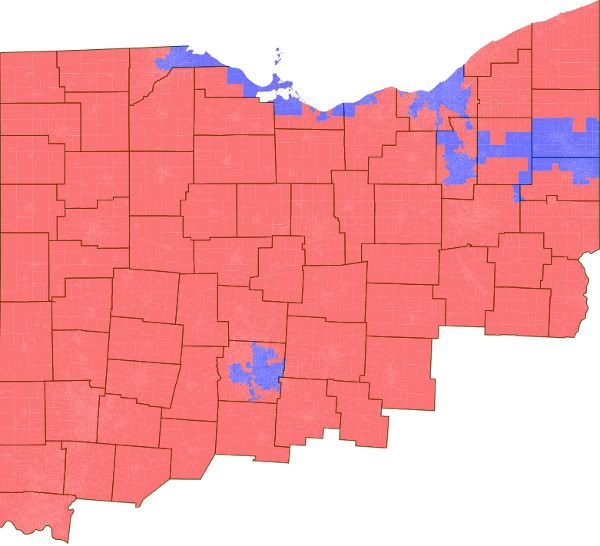 This map should result in an 11-4 split in favor of Republicans, limiting Democrats to the same 4 seats they are likely to have under the real map. Renacci's and Johnson's districts are even more Republican which should help them dispatch their strong Democratic opponents, although both seats could flip in a wave election.
Appalachia
Finally we have the state of Appalachia, which was by far the hardest to map with 32 districts across 12 separate DRA maps. Since Republicans get to draw the lines here, I tried to give incumbents districts they would like while also taking into account actual Republican drawn maps in the region. There are only 2 Democratic vote sinks and one other district that leans Democratic. All other districts should be at least Likely R, however if Republicans didn't feel that was safe enough they could draw one additional Dem vote sink in place of the lean Dem district. Only 2 districts were carried by Obama. With accurate precinct level data, Republicans could probably draw 31 likely R or better districts, but that would require Pennsylvania/Ohio level district ugliness.
Additionally, since some of the states here don't have partisan data for DRA and Obama numbers diverge significantly from local Democratic strength I have calculated numbers for Kerry-Bush and estimated both those and Obama numbers where counties were split. Kerry-Bush numbers are bolded and given a lighter background in the Dem/Rep column. All partisan numbers refer to two-party vote share only.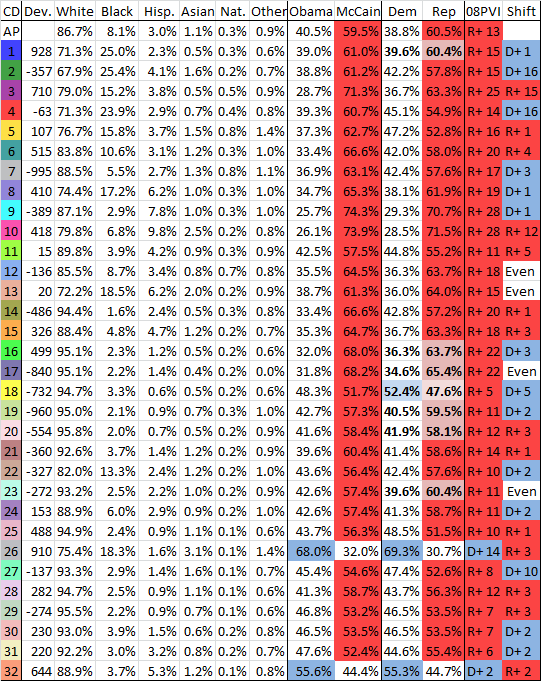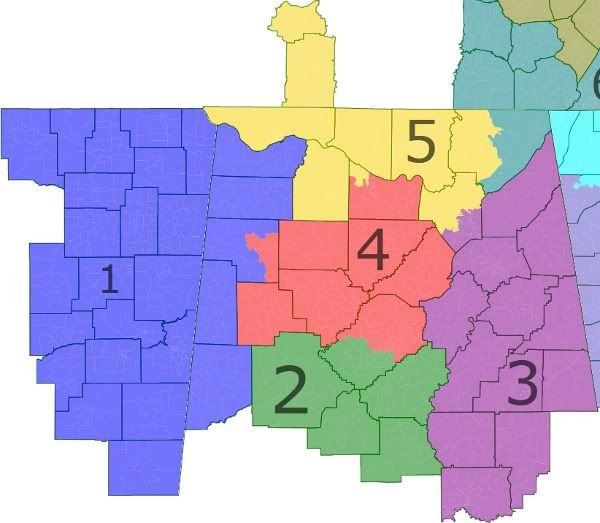 AP-01 (Old MS-01)
Alan Nunnelee (R)
The 1st district moves eastward with the loss of its westernmost counties. Although long a bastion of southern conservative Democrats and held by Blue Dog Travis Childers from 2008-2010, this area has trended strongly Republican and it is hard to imagine even Childers being able to win here.
Safe R
AP-02 (Old AL-06)
Spencer Bachus (R)
The 2nd district is one of two Republicans use to crack Birmingham and becomes significantly more Democratic from one of the most Republican districts in the nation to a mere still overwhelmingly Republican R+15. It spans from southern Jefferson County to Tuscaloosa to Chilton County to the south. Democrats would have pretty much no hope of ever carrying this district, which should suit incumbent Rep. Spencer Bachus just fine.
Safe R
AP-03 (Old AL-03)
Mike Rogers (R)
The 3rd district shifts north to make up for population lost to Alabama and becomes significantly more Republican without part of the Montgomery area. Rogers, who had narrow races in 2002 and 2008 is entirely safe in what would be the 3rd best district for John McCain in the state, giving him 71.3% of the vote.
Safe R
AP-04 (Old AL-04)
Robert Aderholt (R)
The 4th takes in the remaining part of Birmingham and drowns it out with the blood red counties to its north and west. Aderholt's old district was almost won by Al Gore, but was one of the districts to trend Republican the fastest between 2000 and 2008. Though it becomes significantly more Democratic with Birmingham, Aderholt is still secure in this district where McCain received 60.7%. If Republicans wanted to make this district or the 6th more Republican, they could do so by unpacking the 3rd, however that configuration would be a lot less compact.
Safe R
AP-05 (Old AL-05)
Mo Brooks (R)
The 5th district has long been a bastion of conservative Democrats, never being won by Republicans until 2010. However, this seat, based in the Huntsville area, was won by Republican Mo Brooks who shows little sign of being vulnerable. The district becomes slightly more Republican and Brooks should be safe. Democrats might have a chance if the seat was open and the environment was favorable.
Safe R with Brooks
Likely R if open
AP-06 (Old TN-03)
Chuck Fleischmann (R)
The 6th district remains based around Chattanooga and shifts to the east to take in some of the Blue Dog counties from the old TN-04. It still shifts to the right by a few points though and is very solidly Republican. Fleischmann still retains most of his old seat and shouldn't have trouble winning the Republican primary.
Safe R
AP-07 (Old TN-02)
Jimmy Duncan (R)
The 7th is based in Knoxville, but it now ventures eastward into what was western North Carolina to help screw over Heath Shuler. It becomes a few points more Democratic, but the district was heavily Republican to begin with and this region has long been a bastion of the Republican party, so Duncan will be safe.
Safe R
AP-08 (Old GA-11)
Phil Gingrey (R)
The 8th loses Cobb County to Georgia and with it Gingrey's home, but he would move to run here since it contains most of his old district. Without Cobb, the district has to venture north to meet the population target, but it remains more or less the same politically. Although Gingrey had a close race in 2002 under the Democratic gerrymander, this seat, like his old one, are much more Republican than that version of the district and Gingrey is practically guaranteed reelection.
Safe R
AP-09 (Old GA-09)
Tom Graves (R)
The 9th is fairly similar to its old version, but now contains Cherokee county which had to be abandoned by the old 6th, now in Georgia. This was John McCain's best district in Appalachia, which he carried with 74.3% of the vote. Jesus himself couldn't win this district for Democrats, and Graves has run and won the district in the primary and runoff 4 times in 2010, so this district is his as long as he wants it.
Safe R
AP-10 (Old GA-10)
Paul Broun (R)
The 10th district retains most of its former territory, including the Democratic town of Athens. That gets drowned out by several of the more rural counties to its north that are blood red. The district also includes Gainesville and loses the suburbs of Augusta to the state of Georgia. Broun, who has been the subject of primary challenge rumors in his actual district, should be more secure in the primary here and safe in the general in what was John McCain's second best district.
Safe R
AP-11 (Old NC-11)
Open (Heath Shuler (D) – Retiring)
The 11th becomes substantially more Republican by trading Dem-friendly counties west of Ashville for heavily Republican counties east of Knoxville. The district became so Republican that Heath Shuler retired, though even if he were running he would have faced a significant challenge. Republicans shouldn't have much trouble picking up this seat since it is open.
Safe R
Tossup/Lean R if Shuler ran
AP-12 (Old SC-03)
Jeff Duncan (R)
The 12th district keeps Anderson, Pickens, and Oconee counties, but has to make up for the population ceded to South Carolina. It now ventures north and east to wrap around the 13th and stays just as safely Republican as before. Duncan no longer lives here, but would most likely run here to avoid a primary with Joe Wilson in South Carolina.
Safe R
AP-13 (Old SC-04)
Trey Gowdy (R)
The 13th district is comprised of Greenville and Spartanburg and every single constituent comes from its predecessor district. Gowdy easily knocked off incumbent Rep. Bob Inglis in the 2010 primary, so he should have zero problems at all in winning reelection. The district also stays practically the same politically.
Safe R
AP-14 (Old TN-04)
Scott DesJarlais (R)
The old 4th district was held with ease from 2002-2008 by Blue Dog Rep. Lincoln Davis, but he lost by nearly 20 points in 2010. This district drops several of the ancestrally Democratic counties from its western half and becomes slightly more Republican. DesJarlais now lives in the 6th, but he would run here. Local Republicans have also demonstrated that they couldn't care less about protecting him in the primary, so they would probably be fine with giving him a lot of new territory.
Safe R
AP-15 (Old NC-05)
Virginia Foxx (R)
The 15th remains mostly the same, taking in the northwestern corner of what was formerly in North Carolina. Without the bluer parts of Winston-Salem, Virginia Foxx should be safe for reelection, although she probably still performs worse than a generic Republican.
Safe R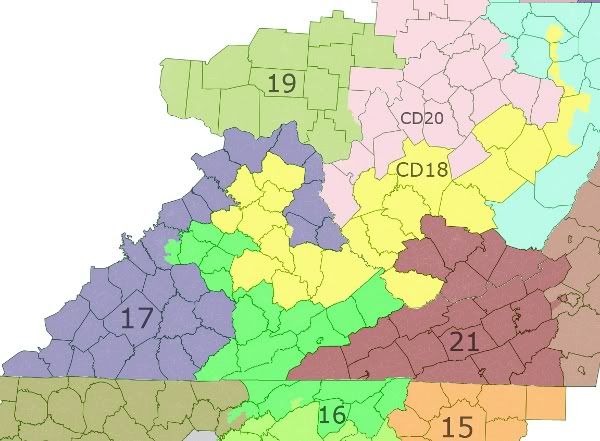 AP-16 (Old TN-01)
Phil Roe (R)
The 16th district is centered on Johnson City, but is unpacked a considerable amount by taking in some of the ancestrally Democratic counties in Kentucky and Virginia. Obama only got 32% of the vote here lower than John Kerry's 36.3%, which should ensure that this seat continues to elect Republicans.
Safe R
AP-17 (Old KY-05)
Hal Rogers (R)
The 17th takes up the westernmost part of what used to be Kentucky and is anchored by the most Republican parts of that region. The old district was one trending Republican very quickly this seat should result in a Republican succeeding Hal Rogers if or when he retires.
Safe R
AP-18 (Old WV-02/WV-03)
Shelly Moore Capito (R) vs. Nick Rahall (D)
This is the first Democratic vote sink and it combines Nick Rahall and Shelly Moore Capito. Capito would more likely run in the neighboring 20th, but this seat contains more of her constituents and she might not want to face a primary, especially if Bill Johnson decides to run there. The district is comprised of some of the more Democratic territory in West Virginia and Kentucky and gave Obama 48% of the vote. John Kerry actually won the district with 52.4% and the 2004 election numbers were really the basis of drawing this district together. Rahall is probably safe here even against Capito, but she has a very strong favorability rating with West Virginians even outside her district and is probably the only one who could make it competitive.
Safe D with Rahall
Likely D/Lean D(?) with Rahall vs. Capito
AP-19 (Old OH-02/New District)
Jean Schmidt (R)
Schmidt actually has two choices of which district she wants to face a primary in as her old district, the 2nd is split in half, with the other half going to Ohio. She'll probably run here though since it contains more of her Republican constituents and is slightly more Republican overall. The district itself is made up of several fairly conservative counties along the Ohio River and also picks up Athens to drown out Democratic voters there. Schmidt faced close races in good Democratic years, so if she's the nominee Dems would definitely have a chance in anything resembling 2006 or 2008. John Kerry got 40.5% of the vote here which is an improvement of over 4% from her old district. Still, with a generic Republican this district would be a solid hold.
Likely R/Lean R with Schmidt
Likely R if open
AP-20 (Old OH-06/WV-02)
Open (Bill Johnson (R), Shelly Moore Capito (R))
This district takes in much of the more Republican parts of the old OH-06 and WV-02 and subsequently includes the home of neither district's incumbent. Johnson represents more of the district currently, but Capito would still be formidable in the primary due to her longer tenure and famous last name in the West Virginian part. Capito would probably win in the primary even though she's pro-choice, but since Johnson could agree to run in the new OH-06, the district would likely be cleared for her. John Kerry performed only slightly better than Barack Obama with 41.9% to Obama's 41.6%.
Safe R with Capito
Likely R/Lean R otherwise
AP-21 (Old VA-09)
Morgan Griffith (R)
The 9th was held by long time Rep. Rick Boucher until he got caught sleeping in the 2010 wave. Still, incumbent Rep. Morgan Griffith seems safe so far in the real district, and this one is even safer for him by dropping some counties Kerry won in its west for some that Bush won in West Virginia. If Rick Boucher opted for a rematch this seat would be competitive, but it is trending quickly towards Republicans and Griffith will be reelected easily.
Safe R
Lean R Griffith vs. Boucher
AP-22 (Old VA-06)
Bob Goodlatte (R)
The 22nd is very similar to its predecessor VA-06. This district takes in the more historically Republican parts of Appalachian Virginia, as well as cities such as Roanoke and Lynchburg, but now trades Harrisonville for Martinsville. Goodlatte will win reelection as many times as he wants to.
Safe R
AP-23 (Old WV-01)
David McKinley (R)
The 23rd needed to be shored up due to the strong performance of moderate Democrats there. Freshman Rep. David McKinley won a very narrow race in 2010 and probably would have lost in 2012 if Democrats had nominated a suitable moderate to conservative candidate. This district sheds Fairmont and gains some more Republican counties to the east and south. John Kerry's vote share decreased by 3% to 39.6%, but Obama's stayed about the same. This district is probably trending away from Democrats as the Republican trending western half outpaces the Democratic trending eastern part.
Likely R
Lean R if open
AP-24 (New District/Old MD-06)
Open (Roscoe Bartlett (R))
The 24th is practically a new district created from northern Virginia, the Maryland panhandle, eastern West Virginia, and part of southwestern Pennsylvania. Bartlett currently represents 250k people here and would most likely run here. The district is a few points more Democrat than his old district, but still strongly Republican.
Safe R
AP-25 (Old PA-18)
Tim Murphy (R)
This district is quite similar to the one actually drawn by Republicans in Pennsylvania. It includes the southwest corner of what was formerly in Pennsylvania, as well as the southern suburbs of Pittsburgh. Despite this area being ancestrally Democratic, Murphy performed strongly in his old district and the area is trending Republican quickly. The district is just slightly more Republican than before.
Safe R with Murphy
Lean R/Likely R if open
AP-26 (Old PA-14)
Mike Doyle (D)
This is the second Democratic vote sink and one of just two districts Obama actually won. It contains the entire city of Pittsburgh as well as its more Democratic suburbs. Mike Doyle will be completely safe here as would any Democrat in this 68% Obama district.
Safe D
AP-27 (Old PA-09/PA-12)
Bill Shuster (R) vs. Mark Critz (D)
In this map, Critz is matched up against Shuster rather than fellow Democrat Jason Altmire, because I figured Republicans in the Pennsylvanian section of Appalachia would be just as aggressive as they were in reality and this was the more efficient way to eliminate Altmire. The district mostly belongs to Shuster who retains 338k constituents his base in the south/central part of the T. Critz also keeps his base in Johnstown though as well as 249k of his constituents, so he would be completely screwed. Still, this district is several points more Republican than the old 12th, both by Obama's performance and local Democratic strength, so Shuster should ultimately prevail
Lean R Shuster vs. Critz or open
Likely R with Shuster
AP-28 (Old PA-04)
Jason Altmire (D)
This district attempts to screw over Jason Altmire and over half of it is new to him. Additionally, it is 3% more Republican than his old district and gave Obama only 41.3%, unlike the actual district which became more Democratic. The seat contains Altmire's home and base in the Pittsburgh suburbs, but ventures east into staunchly Republican parts of the T, aka Pennsyltucky. Without Democratic strongholds of places like New Castle, Altmire will probably lose, but like Heath Shuler if he had run for reelection, would still be competitive and the only Democrat who makes it so.
Lean R with Altmire
Safe R otherwise
AP-29 (Old PA-03)
Mike Kelly (R)
Kelly, who actually lives just outside the district, becomes several points safer without the Democratic core of Erie. The district now extends further south and east to help beat Jason Altmire, but Kelly, who easily won in 2010, shouldn't have too much trouble winning reelection. This seat could potentially flip in another 2008 type of situation, but former Rep. Kathy Dahlkemper only narrowly won then and likely would have still lost this seat in 2008.
Safe R with Kelly
Likely R if open
AP-30 (Old PA-05)
Glenn "G.T." Thompson (R)
The 30th district becomes slightly less Republican as it is used to crack Erie and New Castle to protect Mike Kelly and defeat Jason Altmire. Those Democratic bastions are balanced out by the removal of State College in the center of Pennsylvania. The seat is still based in the north/central part of the T, which is Republican enough that Thompson should easily win reelection. This seat is about as Republican as the new 29th, so it could go Democratic if the stars aligned, but that is fairly unlikely.
Safe R with Thompson
Likely R if open
AP-31 (Old PA-10)
Tom Marino (R)
Under this map I assumed that Republicans didn't feel the need to concede a 3rd vote sink, but if they did then another one could be drawn along both this district and the 32nd or another district to become safer. Without that vote sink, this district moves 2% to the left. Marino ousted moderate Rep. Chris Carney in the 2010 wave, but significantly underperformed the Republican lean of his district due to his association with corruption. Carney would instantly be competitive here, though probably still an underdog in anything other than a Democratic wave, but I'm betting Republicans don't make a 3rd vote sink, because even if they lose this seat the odds are they'll get it back with a generic Republican.
Lean R Marino vs. Carney
Likely R otherwise or if open
AP-32 (Old PA-11)
Lou Barletta (R)
Barletta won what is one of the most Democratic districts currently held by a Republican in 2010 by defeating longtime Rep. Paul Kanjorski who had become quite unpopular in his district. This seat attempts to give Barletta a district he can win, but is clearly still Democratic leaning. It moves 2% towards Republicans, but Obama still received 55.6% of the vote here making it about D+2. The only alternative to this district that would protect Barletta would be to draw another Pittsburgh area/West Virginia vote sink and allow Thompson's district to crack Scranton. Otherwise, Republicans might vote sink Scranton, Wilkes-Barre, and Carbondale to protect Marino. Much like the actual map, Democrat Tim Holden's base and home in Schuylkill County are also drawn in, but he faces a much more favorable district in Pennsylvania. However, if Republicans though he would run wherever Schuylkill county ended up regardless of how Democratic or Republican that district was they might just vote sink the 32nd since Holden would crush Barletta.
Tossup with Barletta
Lean D if open
As you can see, Republicans are able to do very well drawing the lines in Appalachia, with 29 out of 32 seats strongly favoring them. No more than 3 vote sinks would possibly be necessary given how fast the central part of Appalachia is trending towards them, but as I have drawn it several of the north-central Appalachian seats could flip to Democrats if the stars were to align. However, these Likely R seats are just that: likely to remain Republican and I believe they would feel comfortable drawing them. Still, at 3 seats, Democrats would only have 1 less than they are likely to have under the real maps due to the loss of Jason Altmire.
This is more than made up for by gains in the surrounding states though. Compared to the actual maps, I would project that Democrats would gain an additional 6 seats from Appalachia becoming its own state: GA-09, GA-10, SC-04, VA-04, VA-07, PA-04, and PA-07 minus AP-28 (Altmire). Additionally, Democrats become more competitive in many of the seats they would still probably lose in 2012 such as Charlie Dent's PA-05 or Frank Wolf's VA-06.
This concludes my series on what if Appalachia became its own state. I hope you have enjoyed it and I will appreciate any constructive feedback or criticism you have on the way I drew these maps. Furthermore, understand that drawing Appalachia was limited by the lack of appropriate partisan data, both in DRA and the unreliability of Obama/McCain numbers, but that I tried my best to make what I believe is a realistic Republican gerrymander.