My Mother died when I was six. I knew her, but I didn't know her. I do have fleeting memories of our lives together. Once when my brother "taught" me to ride a bike, she was there to console me after I ghost rode down the hill and into the car. Not knowing it was her, I shook her off and yelled that I wanted my Mom. Oh, it was her. I recall nestling myself into her arms at that moment.
I know that this can seem personal. When my grandmother asked me how I felt about losing my mother, I could only tell her that it is part of what makes me who I am. As much as I would have loved to have her in my life, I realize that I am the sum total of my experiences.
It's a matter of whether or not one is able to deal with those experiences in a productive manner.
It's a matter of whether or not one is able to deal with those experiences in a productive manner.
Every once in a while I am treated to a box of her life. I know almost nothing about her life as a child. I know only what my Grandmother would tell me during our regular Saturday morning marathon phone calls. I still feel badly that I told her she didn't have to worry about the idiot from Texas, because there was no way that he would win a second term.
One recent box was full of letters and other memorabilia from her high school years. I reached into the box for a small envelope and pulled a lock her hair from the packet. She was one of those red heads with lightly freckled skin, but the red was still somewhat dark. It's amazing how hair retains a lot of the same color over decades of storage.
The envelope contained a surprise.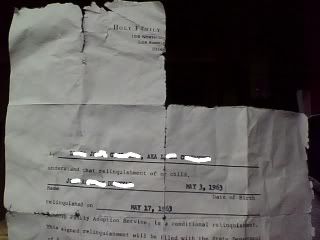 The text is a little tough to read, but here is what it says:

I, LJC Understand that relinquishment of my child, JAD (May 3, 1963) relinquished on May 17, 19 63 by ... family Adoption Services is a conditional reliquishment...
This is her child. She had this child when she was 16 years old. She was sent to California to stay with the other family, and be cared for by a Catholic charity, far across the country from her home in small town Iowa. After she gave birth to what would be her oldest son, she was most likely required to adopt the child out, and she was returned to her previous life as a high school teenager in a Catholic School.
My Grandmother was an incredibly devoted Catholic. Birth Control of any kind was simply not an option. People talk. People talk.
Even though she was living in a decent sized town, I suspect that the issue of birth control of any kind would be well known within days.
It wasn't even until 1965 that US citizens were made secure in their right to birth control! Imagine that. We spend the entire 20th century making technological advances. We spend the entire 20th century advancing human rights and improving the standard of living of the world, and we have to wait until 1965 to even be secure in our right to prevent ourselves from unwanted children.
My Grandmother told me once that they had an attorney on retainer for the 3 boys. They had more than one unintended pregnancy between their Catholic schoolboy selves. The problems were solved. hush hush.
In those days, especially being part of the Catholic community, it was all hush hush. Oh, I know everybody knew about my Mother's unwanted pregnancy. It was written about at length in the many letters that were saved in the box. I wonder if someone didn't put that box away to prevent anyone from learning about it. They may have, but they didn't have the conviction to simply destroy the information. Still... hush hush.
So we chalk up one unintended pregnancy, and a trip across country to hide and give birth. Leave the child you conceived with your prom date on the West Coast, return home, never talk about it again. Later I would contact the granddaughter of the Father. I showed her the certificate. She told me that she would talk to him. She never replied to me again. hush hush.
I'm reading through the letters from her friends to her, and I find one that is a note written from one of the girls in the hospital or whatever where the pregnant teen girls were staying. It reads like this clique of girls who share in common the fact that they have all been, or are pregnant teens.

You should all see J...'s baby, it's real light complected.
I'm sure you can understand what was being hinted at here.
The letter written in my Mother's hand is remarkable in its treatment of the birth as something unremarkable. There is no conversation in her letter about the child whatsoever. Only one mention of the possibility that it would be 3 pounds, but that it turned out to be 5.5 pounds.

Well hi, I was so glad to hear from you. I didn't know what to think after I didn't hear from you in so long. I'm so glad for you! I mean, for you and J... It's great that your trip to California (Euphemism for hidden away time during pregnancy) didn't matter to him...
I got a darling picture of my baby. S... and I are still going together. Still plan on getting married in two years.
As she grew into an adult, she was mistreated by men. She writes in her journal about how awful the man in her life is. Yet, she wishes to stay with him.
I realize that this is not a clear case of A led to B. It is clear to me, however, that the inability of a young woman to control her own reproductive processes led to a bad situation. It was a situation that almost certainly exacerbated any tendencies which might have existed for things like depression, alcoholism, drug addiction, and the suicide which would eventually end her life.
The situation she lived through as a teenager is exactly the situation which would be commonplace in a world that is run on the decrepit moral structure of the Republican Party.