A couple of years ago several things happened at about the same time, which changed my reading habits, perhaps even my life.
The first was the realization that it was likely I didn't have all that many years remaining, and if I was going read the great works of human thought which I hadn't gotten around to yet, I better get started.
The second and third discoveries were that new and very hightly recommended translations of Homer and Dante had been done relatively recently. So I made a little list and started reading, and in due course I got to Robert and Jean Hollander's translation of Dante's Inferno. I figured if I liked it I would continue on to Purgatory and from thence to Paradise. It turned out I loved their translation, and I wound up reading all three volumes, devoting an entire summer to the project.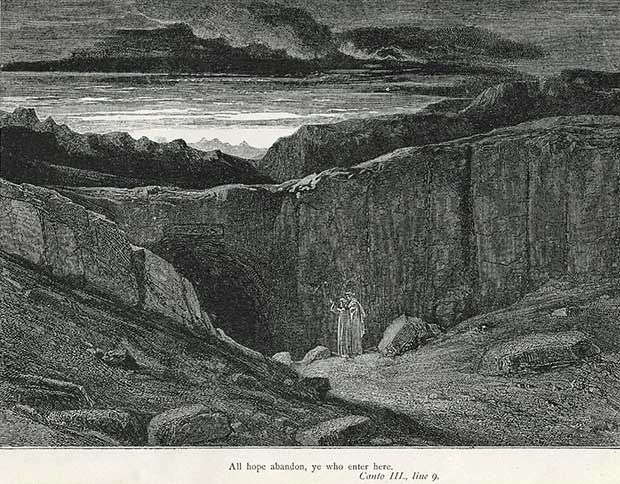 I had in my possession three other Dante translations, one including some of the illustrations by William Blake, and had dabbled at reading parts of the Inferno over the years, but had never been really serious about it. But now I had a truly wonderful translation, and that makes all the difference. Let's compare the opening lines from the versions I have:
In the midway of this our mortal life,
I found me in a gloomy wood, astray
Gone from the path direct: and e'en to tell....
--Henry Cary
Midway the journey of this life I was 'ware
That I had strayed into a dark forest,
And the right path appeared not anywhere...
--Binyon
Midway the path of life that men pursue
I found me in a darkling wood astray,
For the direct way had been lost to view.
--Anderson
Midway in the journey of our life
I came to myself in a dark wood
for the straight way was lost.
--Hollander
I was completely hooked by the Hollanders' very first tercet, and happily read straight thru that first Canto, and then proceeded on to the footnotes--which are even longer than the Cantos are. The Hollanders' writing method is based on the fact that Robert is a renowned Dante scholar and translator, and Jean is an actual poet. When you combine their skills you get accuracy, modern English, and lyricism. Lovely!
Furthermore this is the age of computers, and you can find all sorts of additional aids online. I would read a Canto or two every night, and take some brief notes about things I didn't understand or wanted to know more about. Then in the morning when I sat down in front of the computer I would do a search on the topics I had noted the night before. I also collected all the Blake illustrations, and for good measure found a web site that had Gustav Doré's illustrations in the appropriate places in Cary's translation. I would download the upcoming ones for my evening's reading every morning. For particularly thorny issues that required some discussion I had another resource, not available to most: my best friend had been working on a doctorate in Italian once upon a time, and had of course read Dante in Italian, and still had his Italian version and some memory of the sorts of issues that grad students were forced to deal with. So I would call him and get an expert consultation.
In his expert opinion what I am about to say next is absolutely anathema to any and all right thinking literary doctoral students: I just flat out don't like allegory and pretty much ignored it as I read the Divine Comedy. Below is an illustration that I hope will, if not excuse, at least obtain some understanding for my attitude. It is a photo of a purely allegorical statue, one that we are all familiar with, namely Justice, compared to what might be called a narrative or historical piece of sculpture, depicting Mary Magdalene in the desert near the end of her life: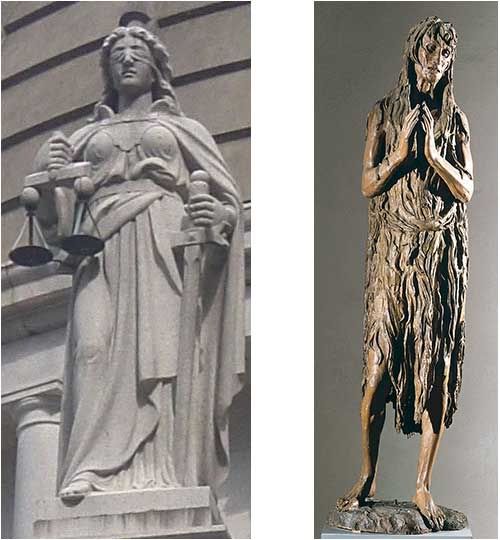 OK, so it is probably cheating more than a little to compare some random modern public statue with the work of a sublime genius like Donatello, but I think it does make the point that to the modern mind historical narrative is much more emotionally engaging than allegory. Not to mention more interesting.
However even my expert agreed that Dante himself said there were 4 different levels or kinds of meaning in his poem, and that none of the greatest experts had ever managed to identify all four sorts for all the tercets in the Cantos. The four sorts of meaning are:
1. The allegorical--this was the one latched onto immediately by readers and commentators, since the Medieval Mind just loved allegory, and Dante was a Medieval writer. The Inferno was written 700 years ago, sometime between 1306 and 1315. This was before the Enlightenment, before the Renaissance, before the birth of anything we would regard as science--the science Dante knew was based on Latin translations of a bit of Aristotle, as interpreted by monks.
2. The historical or literal or narrative--this is the sense of the poem that I prefer to follow when reading it, as I like it and it is way more familiar to me than allegory. Even if the "facts" are made up, as is the case in novels (which hadn't been invented when Dante was writing), I readily enter into the "suspension of disbelief" state while reading and play along with the writer, pretending that I am being told a real true story, even though I'm not. Dante goes to great lengths to play this very modern game between reader and writer, doing all in his power to make his story "real" in this sense, and to me this is the easiest and most enjoyable way to read the poem. He is walking thru the woods, feeling really down, and meets the shade of Virgil, who guides him on a marvelous adventure. It is just as easy for me to follow this story as it is to read a contemporary sci fi or fantasy novel.
3. The moral--OK, I admit I don't really get this one very well, but I would suppose it would apply when one reads of the suffering of a soul in the story and applies the lesson to oneself and one's own life. There are some arresting ideas along this line that I did experience while reading the poem.
4. The anagogical--this is frankly incomprehensible to me. To quote Hollander: "...the anagogical sense is found only after the end of time..." I have no idea what that means, or how to apply it while reading. I suppose the old gospel song might have bearing here: "Further along we'll know all about it, further along we'll undstand why...."
These four modes of meaning in a communication were created by theologians to specify how the Bible was to be read and understood, and Dante explicitly says his poem is pretty much like the Bible. Dante did not suffer from any self-esteem issues.
Before I started Dante I had been reading the Aeneid by Virgil. I had discovered that Robert Fagles, whose translations of Homer I had just finished, had also translated this most important of Roman poems. I had read some of the Aeneid, even a tiny bit in Latin, and studied it kind of generally in the courses I took in Classics as an undergraduate, but never just sat down and read it cover to cover. Unfortunately I still haven't--I got about three-quarters of the way thru and ground to a halt during the war with the Latins. Turns out I just don't like Virgil. After Homer he seemed like a bit of a phony, not to mention something of a sycophant, sucking up to the Emperor Augustus.
I'm glad I got as far as I did in Virgil, since it really is pretty important to any reading of Dante. There's a reason Virgil is Dante's guide to the Underworld--a great deal of the structure and method Dante used for his poem is straight out of Virgil. If you don't want to read Virgil, that's perfectly reasonable, but you really should read at least a summary of his description of Aeneas' trip to the nether regions, which is in Book VI. Oh, and of course Virgil borrows his idea from Homer.... but we'll stop with Virgil. And next time we'll dive straight into Dante.