For military families, Deployment is a dirty word. It not only means our loved one will be leaving, first for weeks of training, then for months on end in Afghanistan or the surrounding area. It means they go to war.
When I was asked to write a diary to support the Netroots for the Troops fundraising drive, I thought, no problem, piece of cake. Boy, was I ever wrong. My rough draft led me to my cache of photos... I wanted to include a picture of some things we had sent to my husband during his first deployment. I had taken a lot of photos because I didn't want my husband to miss one minute of our childrens' growing up. Our pictures show smiles, for the most part, but inside, each one of us was struggling in our own way. That trip down memory lane made me cry, big time - Deployment really is a dirty word. It puts stresses on families that are indescribable and that, years later, still haunt us.
But we don't think of those things when deployment is staring us in the face. Instead, we look at the positives. My friend, Missy, has a great approach. She recently posted a blog about finding 100 positive things about deployment. Here are ten of my favorites:

Independence
The t.v.remote all to yourself
What better way to reconnect with your spouse by not taking for granted a 3 minute phone call or a quick email waiting for you every morning. More is said in those quick moments than hours on a couch.
Less Laundry
It's a good way to find out who your friends are!
The sleep number bed can be set at 45 on BOTH sides!
More frequent coffee dates with my girlfriends.
I get to see my boys be proud of their father.
One last family vacation before he leaves.
I get the boys all to myself.
Spouses like both Missy and myself are practiced hands at finding survival strategies to get through it all. And laughter takes us a long way! It's what we do to make deployment easier for our husbands, too, not just ourselves. If we're handling life okay, they can focus on the job they were sent to do.
My husband's first 'real' deployment happened while he was a commander. It just so happened that many of those under his command deployed at the same time, which isn't always usual for the Air Force. That made me the commander's wife, and the designated person to lead any squadron level support activities for families facing seperation. Mind you, no one ever said I had to do it. But it would take a rare commander's spouse to ignore other families in need.
Our base offered a pre-deployment briefing for kids - men and women in military uniform ran our kids through a pretend deployment line handing out donated goodies and giving them tours of airplanes and military vehicles. Each kid took a picture with their mom or dad who was about to deploy and the Family Support Center had them printed on big pillow cases so that each child could have a picture of their mom and dad to take with them to bed each night.
They also offered pre-deployment briefings for spouses. Ours weren't as much fun but we got to learn about the importance of powers-of-attorney and to hear about the process of notification if something goes wrong. A pre-deployment briefing is a good thing because we can ask some standard questions like Can we move out of base housing to go home and stay with family or If we have trouble with the car, who should we call? For our squadron, we handed out business cards with the name of our First Sergeant and the names of three spouses, myself and two senior NCO wives, and hoped to hell people would use them before things got too tough.
Our main concern was the kids. We tried to plan enough activities during deployment so that we could see the families with kids and make sure morale was pretty high. The base helped... they offered a once a month event where deployed families could eat dinner together cafeteria style. The base commander, several of the remaining squadron commanders, and the First Sergeants served the food and then tried their best to hang out and socialize. It is really hard for a young airman's wife to make casual conversation with the ranking old guy on base, but attempts were made. Around the room were tables of things for kids to do, crafts to make and animals in tanks to look at. There were also information tables for the parents... yet more information to help us through deployment. Fun stuff for the kids, serious stuff for the parents. I wish now I would have recommended a massage chair in the corner! That would have been the best therapy for many of us!
To help young kids understand the length of deployment, our squadron spouses handed out jars of M&M's with a prescription label affixed to them - Prescription for Deployment - take one pill daily, when jar is almost empty, it's time for Mom or Dad to come home. Of course, deployment return dates aren't alway set in stone, so we would warn moms and dads to have a few spare candies just in case the jar needed a little adjustment toward the end. Military families should always remain flexible. Not everyone wanted to use the jars, but for some families they became a good way to count down the days. Little kids have a really hard time with calendars.
For the spouses, we gave them the traditional Blue Star to hang in their windows so that neighbors could know that they had a loved one at war. A group of us got together and cut out felt stars of blue and backgrounds of white and red. We assembled the small banners and then hung them from a gold cord. Occasionally, you will see banners with more than one star; they generally belong to a parent that has sent more than one child to the theatre. If you have seen one with a gold star in the center, that means the loved one did not return alive. It's where the term Gold Star Mother comes from.
My favorite event happened about half way through our deployment. I arranged for our families to visit the Arts and Crafts center. Our off-base squadron sponsor, a local business man and his wife, funded the trip. Each child could paint one mug or one tile to send to their deployed mom or dad. We traced the hands of the youngest kids and used that as a template for the tiles. Kids grow so fast and it seemed a small way to send a little piece of that loveable little child to their mom or dad.
And, finally, we filled care packages. I remember doing it twice during that short deployment of six months... twice as a group that is. As a family, we sent them more often. Funny thing is that half the time, my husband didn't really need anymore but he would share with those that did. Not everyone has family to send care packages. Not every family can afford to do so - it costs $14.95 to mail a large Priority box to Afghanistan... and that's before you've paid for the stuff to fill it. For some of our young married troops, that could buy 1/2 a jumbo box of diapers for the baby; over a six month deployment, it adds up to a lot of baby diapers. Imagine deployment for a year or more, which is what most Army and Marine families have to face every couple of years.
When you donate to Netroots for the Troops, you aren't just helping the troops overseas, you're helping families at home as well. We want what is best for our men and women in uniform and we know that those care packages bring smiles to their faces. It's especially important this year - as missions are drawing down the American public increasingly forgets that we are at war and that we still have deployed military members overseas.
And Netroots is taking it one step further this year, a step that makes me very proud to offer them my support. Your donation will help send care packages to wounded veterans. I can't think of a better way to transition from war to peace time than by helping our veterans here at home!
If you haven't already, please consider donating to this very worthy cause. If you have already donated, thank you so very much for caring! Can't donate but want to do something to help - then spread the word! You don't have to be a DailyKos member to help out this cause. Let your friends and family know about this fundraising effort and see if they are willing to give a little to help bring a smile to some faces that could use a boost of morale! I'll be checking those Facebook and Twitter links up above and I hope to see high numbers!
Netroots For The Troops Blogathon: February 20-24, 2012
---
Netroots For The Troops® is holding a blogathon this week to raise funds to send Care Packages to our soldiers stationed overseas. For the first time this year, we will also be sending Care Packages domestically to troops rehabilitating at Veterans Administration Hospitals around the country.
We are asking all of you to support our efforts and to also make a contribution for this worthwhile cause.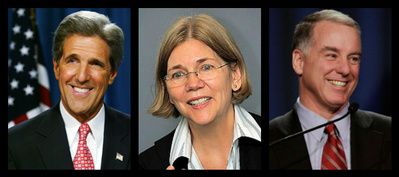 We are honored and delighted that Senator John Kerry (D-MA); Democratic Candidate for the United States Senate from Massachusetts, Ms. Elizabeth Warren; and former Governor Howard Dean (D-VT) will be joining us through this week. Many Kossacks will also be contributing their thoughts, ideas, and support during the week.
Over the years, many soldiers have sent letters to express their appreciation for these Care Packages and even posted thanks at Daily Kos

It was in the middle six months of my assignment in Afghanistan that the packages started arriving. I received an array of things from them… letters, candy, toothpaste, floss, baby wipes, razors, food, socks, books, dvd's. The list could go on and on. It was amazing. Netroots for the Troops was always there... The packages were a reminder that our country knows about our fight. Every day, because of their support, I knew that if it was going to be my last day, I would be remembered and I would be honored.

Please make a donation HERE. Thank you from the entire 2012 NFTT Team.
Netroots For The Troops® is a project of Netroots for the Troops, Inc., a Virginia non-profit corporation. The organization raises money for the assembly, mailing and delivery of Care Packages to American military in war zones and to provide assistance to military families in the United States. Netroots For The Troops, Inc. is a 501(c)3 tax-exempt organization.