This fundraiser for our military is one that is near and dear my heart. As I wrote about last year, I am the very proud mom of a U. S. Marine, who did three deployments in three years. I wrote about the emotions, concerns and certainly worries as a Mom to a child who was in harms way, having to say "see you later", witnessing the detachments from family as we put him on an airplane right before the deployments.
After those three deployments and four years active duty service in the Marine Corps, my son left his permanent duty station in Jacksonville, NC. I remember the day he started his journey back home to the Midwest. It was on my birthday, February 6th, 2008. His first words were "hey mom" and then he said: "I just drove through the gates for the last time." I, of course, knew what he meant. His active duty was done. That translated to me – no more deployments. And it meant he survived. I prayed a lot for him and I always ended with "Dear Lord, please bring him home alive, I can deal with anything."
The "anything"(s) have included: TBI, hearing loss, nerve damage and PTSD. While I am concerned about all of them, as my son is still young, it is the PTSD of which I am most afraid. I live out on the west coast and my son lives in the midwest, so most of our communications is through telephone calls. But even on the phone, I know when he is struggling with life. Sometimes he can be pretty gabby, other times, not so much. It is those times that my concern grows for his wellbeing. And there is nothing I can do for him, to help him, to try to aid in his effort to heal, except those prayers I mentioned above.
When he was a little boy, momma could always fix problems and nurse him back to health when he needed it. Then he had to grow up on me and join the Marine Corps. When he was deployed, I could let him know that I cared by writing letters and sending care packages. I learned after he got out of the service, how much those packages meant to not only him, but to the others in his group. They would share the packages with one another and sometimes they would give phone cards, batteries and other items to those who received nothing from home. I just can't imagine what that was like for those folks who had no support from their loved ones. Ugh!
It is important that we help to acknowledge the sacrifices of our heroes, and that's where you all come in. Can you donate $1, $5, or $10? We need to let our Heroes know that we do support them, remember them and appreciate them.

Netroots For The Troops Blogathon: February 20-24, 2012
---
Netroots For The Troops® is holding a blogathon this week to raise funds to send Care Packages to our soldiers stationed overseas. For the first time this year, we will also be sending Care Packages domestically to troops rehabilitating at Veterans Administration Hospitals around the country.
We are asking all of you to support our efforts and to also make a contribution for this worthwhile cause.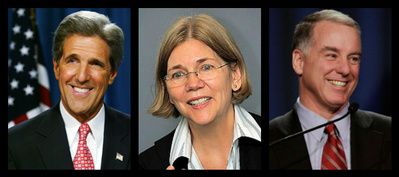 We are honored and delighted that Senator John Kerry (D-MA); Democratic Candidate for the United States Senate from Massachusetts, Ms. Elizabeth Warren; and former Governor Howard Dean (D-VT) will be joining us through this week. Many Kossacks will also be contributing their thoughts, ideas, and support during the week.
Over the years, many soldiers have sent letters to express their appreciation for these Care Packages and even posted thanks at Daily Kos

It was in the middle six months of my assignment in Afghanistan that the packages started arriving. I received an array of things from them… letters, candy, toothpaste, floss, baby wipes, razors, food, socks, books, dvd's. The list could go on and on. It was amazing. Netroots for the Troops was always there... The packages were a reminder that our country knows about our fight. Every day, because of their support, I knew that if it was going to be my last day, I would be remembered and I would be honored.

Please make a donation HERE. Thank you from the entire 2012 NFTT Team.
Netroots For The Troops® is a project of Netroots for the Troops, Inc., a Virginia non-profit corporation. The organization raises money for the assembly, mailing and delivery of Care Packages to American military in war zones and to provide assistance to military families in the United States. Netroots For The Troops, Inc. is a 501(c)3 tax-exempt organization.